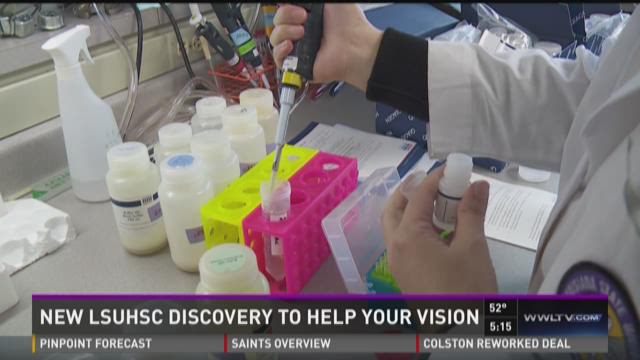 NEW ORLEANS - Local researchers have made a discovery that could help prevent and slow down the progression of diseases of the retina that cause blindness.
And while the scientific details may seem complicated, the discovery highlights key nutrients you need in your diet to save your vision.
It's a new key piece to the puzzle of degenerative eye conditions and blindness that happen as we age and in children who inherit them. The discovery of a key protein in the cells of the retina in the eye that we need for sight.
"The big surprise in our research was that when we silenced that protein, removed it genetically, the protein all of a sudden, the animals become blind," explained Dr. Nicolas Bazan, the Director of the LSU Health Sciences Center's Neuroscience Center of Excellence.
Why is this so important? The cells need omega-3 fatty acid to function. That can be found in cold water fish such as salmon, tuna, sardines, and fish oil supplements. The newly-discovered protein grabs the fish oil you eat from you bloodstream so your vision neurons or cells can function properly. Omega-3 fatty acid is the cells' building block.
This opens up opportunities to understand other neurodegenerative diseases because the retina is part of the brain," said Dr. Bazan.
The discovery that came out of the lab at the LSU Neuroscience Center in New Orleans is the first time in the world the connection had ever been made and it could lead to new treatments.
"This is good news from the point of view of therapies for many of these diseases. A lot of them, the brain and retina have no cure today. This is one of the big riddles of medicine," Dr. Bazan said.
And if the protein is not working to pick up and use the omega-3 fatty acids you eat, the very important vitamin A in your diet will also be ineffective in keeping the retina from functioning properly. So the bottom line, it's all about a nutritious diet from womb to tomb. We all, including expectant and breastfeeding mothers, children and adults, need omega-3 fatty acids and vitamin A to help protect our brain and eyes.
Dr. Bazan's labs also made another recent discovery about fish oil, that it may prevent and slow down the bad consequences of seizures after a head injury.