NEW ORLEANS -- Incorrect license plate numbers, inaccurate hearing dates, model and make errors.
These are some of the mistakes made on nearly 9,000 parking tickets issued in the City of New Orleans each year.
A public letter from the New Orleans Office of Inspector General (OIG) released Tuesday, claims the mistakes not only cost the city $190,000 to issue and dismiss the mistaken tickets but also prevented the City from earning over $200,000 in parking citation revenue, if they were all written for the minimum $30 fine.
The letter was sent to the City's Parking Division, part of Department of Public Works, the entity who provides enforcement of parking regulations and manages the curb space in New Orleans.
Hayne Rainey, Press Secretary for the City New Orleans, said DPW is fully cooperating with the OIG's office to address the matter.
"After a thorough review, we have taken the necessary, recommended steps to better ensure parking citations are properly issued which will result in fewer tickets issued in error and save the City money," Rainey said.
According to OIG, most of the mistakes happened when parking enforcement officers entered incorrect license plate numbers or letters on the parking tickets.
That meant people not involved in parking violations received the tickets in error and were deemed responsible for all payments, fines and late fees.
And according to OIG, that number comes to 7,000 people each year.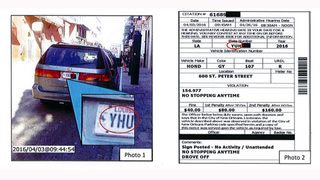 Other mistakes included inaccurate administrative hearing dates, some of which occurred prior to the date the ticket was written.
If you received an inaccurate parking ticket, you can contest the citation by filing a complaint with the Administrative Hearing Center. Parking tickets may be contested in person at the Administrative Hearing Center, 1300 Perdido St., Rm 1W09 on or before the date indicated on the face of the ticket. The Administrative Hearing Center is open from Monday-Friday from 8 a.m. to 5:00 p.m.
If requested, the ticket writer, for parking citations only, will attend the hearing on the originally scheduled date indicated on the face of the citation. During in-person hearings, citizens may bring additional evidence or documentation with them to support their claim.
Contests can also be made online: http://www.nola.gov/pay-tickets/
To read the full letter sent by the OIG to the DPW, click here.