LAPLACE, La. -- One young man from St. John Parish is warming hearts around the country after his teachers pitched in to help him pull off a special promposal.
Gabe Landry met his girlfriend Lexi Duhe in their special education class at East St. John High School.
He wanted to surprise Lexi and invite her to prom this year. With the help of his parents and teachers, Gabe hid inside a huge box and popped out with roses when Lexi opened it.
CLICK HERE to see video of the promposal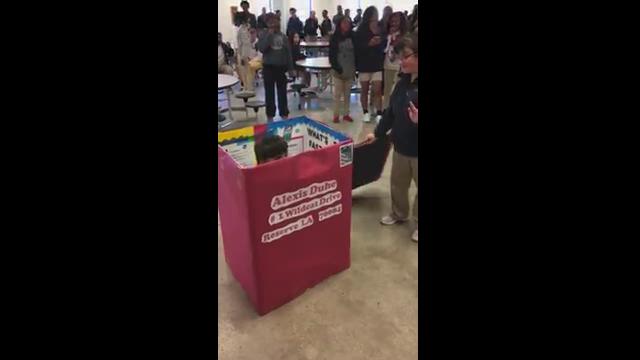 "We both started crying. Happy," Gabe said.
Gabe and Lexi's parents cried too.
"It will choke you up," Gabe's father Tracy Landry said.
Gabe's mom agreed.
"We've been crying for a couple days," Julia Landry said.
Gabe and Lexi's parents give all the credit to their children's teachers, Melissa Robinson and Ryshique Williams. They've been there for every milestone along the way.
"When Lexi first started in the system, she couldn't write a word," Lexi's mom, Christina Duhe, said. "And within a couple of weeks into the special education class, she was writing her name."
The staff has been there alongside the students from the beginning.
"Me and Gabe go back 17 years," Williams said. "They're my babies. It's where my heart is. It's all I've known since forever, are my kids."
Other teachers agreed.
"I'd never find another job like this," Robinson added.
Now, parents and teachers will watch Gabe and Lexi go to their senior prom.
"I'm going to wear a suit, a nice jacket," Gabe said.
"I'm going to wear a gold dress," Lexi exclaimed.
Together Gabe and Lexi share a moment that will last a lifetime.
"To see two people who care about each other," Julia Landry said. "It's just so sweet."