CONVENT, La. - Two people were killed, 30 people were taken to the hospital and 100 trailers were damaged when a suspected tornado slammed into the Sugar Hill RV Park near Convent, Louisiana Tuesday afternoon, according to the St. James Parish Office of Emergency Preparedness.
St. James Parish Sheriff Willy Martin said that first responders were in a 'search and rescue' mode as of late Tuesday as rescuers went 'door to door.' Martin also said that of those transported to the hospital, 7 are listed as critical and 2 did not make it. 
A photo taken by Chris Nakamoto of WBRZ showed the devastation with multiple ambulances on the scene and reports of people trapped in the debris. 
"I want to thank all of the responders here," said Governor John Bel Edwards. "We've got a lot of work still going on. There are a lot of people unaccounted for, but that doesn't mean there are any more injuries or any more fatalities."

Edwards said it was a "modern miracle" that we are talking about two fatalities and not more. 
Parish officials asked that anyone who lives in Sugar Hill and is okay, please call the dispatch center at 225-562-2200.
A shelter was being set up at the Lutcher Senior Center at 2631 Louisiana Avenue in Lutcher for those displaced by the tornado.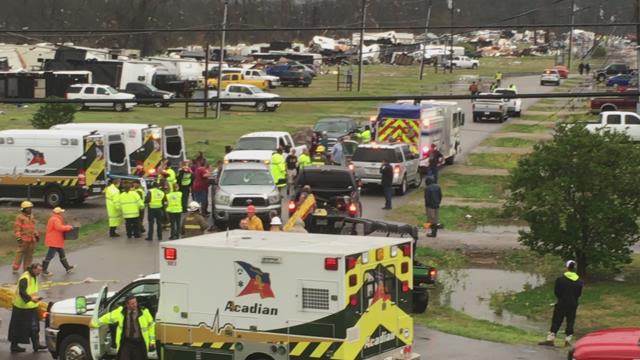 The suspected tornado, which struck about 3:30 p.m., was part of a line of strong storms that slammed through southeast Louisiana Tuesday afternoon.