NEW ORLEANS - The voice is unmistakable. Every Saints fan knows it. "First Down, Saints!" or "Touchdown, Saints!" It's the voice of Jerry Romig, who died in December and was the voice at Tulane Stadium and in the Superdome for 44 straight seasons.
"He'd live and die with how the team played, and would be down or up. And in the early years, we had a lot of downs, as you can remember," said his son, Jay Romig. Jay's brother, Mark, took over as Saints announcer for his dad two seasons ago. Their sisters also served as spotters and assistants in the announcer's booth, cementing the Romigs' role as the first family of Saints football.

Not long after Jerry Romig became the public address announcer at Saints games, his son Jay began selling programs at games in Tulane Stadium, while he was in high school. That was 1972.

Five years later, as Romig was graduating from UNO, hoping to become a high school teacher and athletic trainer, the situation changed.
"The trainer for the Saints at the time, Dean Kleinschmidt, was good friends with the trainer out at UNO, where I was a trainer. They needed somebody to come in and work the final two weeks of the 1977 training camp. It was in Vero Beach, Florida, and one of Dean's assistants had to go back to college."
So Jay met the team at a preseason game in Tulane Stadium and went back to Vero Beach with the team after the game. They asked him to stay for the season, helping trainers and the equipment staff. "And then the offseason came, and they said, 'Hey, can you stay for the offseason?' I said yeah and I've never left."

A team photo from 1978 shows Romig standing behind Archie Manning. Soon after, he got started on the Saints' first computer system and he's now the team's administrative director. One of his big duties is coordinating everything with training camp. He's done so for 30 years.
Strolling through the rebuilt Saints Hall of Fame Museum at the Mercedes-Benz Superdome, Jay Romig recognizes everything. "Every picture, you can think of something. You remember something about when it was taken," he said.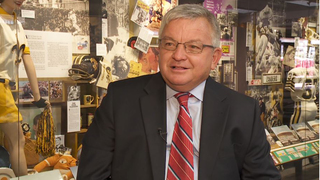 Romig was there when coach Jim Mora turned the organization around and earned its first playoff berth. But he saw a ton of losing football as well, before Sean Payton arrived. Romig says that's when the organization changed.
"You could feel it from the first day he took over. It was all sort of that rebuilding feeling you got, with the city and with the team. And he, sort of, inspired that through the organization."

And Jay Romig shared the Super Bowl win with his parents, Jerry and Janice, in Miami. "They're right by an escalator that everybody had to come up. Staff, players, to get up to the big ballroom area where the postgame party was. And they were just sitting there, greeting everybody, and dad was on top of the world, and mom, they both were."

Jay Romig has now been with the Saints for forty years, longer than any other current employee, as the team has charted New Orleans history.
"A lot of times, I'm maybe humble, you don't want to say it (that he works for the Saints). But a lot of times, you want to say it. And people are amazed. They say, are you kidding? That's great. And I'm proud of it."

And he should be.