The Krewe of Bacchus has rolled Uptown for more than a half century, but is headed west this year for its parade, which salutes the "Wild Wild West."
More than two dozen original theme floats, constructed by Kern Studios, depict such western icons as Wyatt Earp, Buffalo Bill Cody, John Wayne, Mae West and traditional Native Americans.
Other floats depicts explorers Lewis and Clark, the Transcontinental Railroad, riverboats, the Pony Express and the Gold Rush.
PHOTOS: Bacchus parade goes to the "Wild Wild West"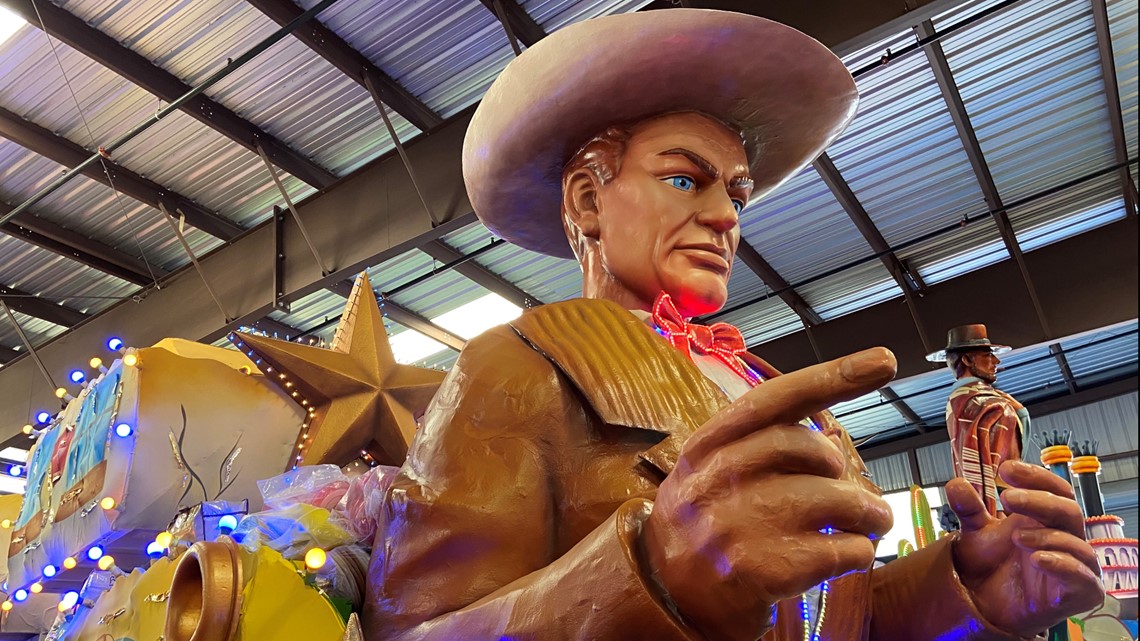 The krewe held an open house to preview the floats to its members and their families on Sunday.
In addition to the original theme floats, returning to the parade lineup this year will be the familiar signature floats, including the Kong family, Bacchasaurus, Bacchawhoppa whale, Bacchagator, as well as its iconic king's float and officers float, both of which have been refurbished and redesigned. In 2018, the krewe also introduced the new Bacchaneer pirate ship float, complete with high-tech lighting, smoke and sound effects.
This year's Bacchus monarch is singer/songwriter/record producer Robin Thicke. He follows in the footsteps of his father, actor/comedian Alan Thicke, who reigned as Bacchus 1988.
Robin Thicke will join the ranks of past Bacchus kings including last year's monarch, actor Jensen Ackles, as well as Academy Award winner J.K. Simmons, Danny Kaye (the first Bacchus) and Bob Hope, Will Ferrell, Anthony Mackie, Harry Connick Jr., Perry Como, Andy Garcia, Ron Howard, Henry Winkler, Raymond Burr and many more.
Bacchus was founded in 1968 by restaurateur Owen "Pip" Brennan, Jr. and is now celebrated as one of the most important and popular krewes in Carnival history. The parade, which started out with just 250 members, has now grown to more than 1,600 members. Its first parade rolled in 1969.
Bacchus is once again partnering with WWL-TV for exclusive coverage of the parade from the Ernest N. Morial Convention Center where the Bacchus Rendezvous is held each year. The parade will air Feb. 23 at 10 p.m. on Channel 4, WWLTV.com, WWL-TV's mobile app, YouTube and Facebook pages.