NEW ORLEANS — Stepping inside the Rex float den truly is like stepping back in time. The artistry and craftsmanship you find there remind you a lot of what you might see in the earliest days of the Rex parade, in the 19th century.
"If someone who worked on those parades in the 1880s or 1890s arrived here at the den, we'd put them to work. They'd know exactly what to do with these materials because they're the very same materials and a very similar approach," said Dr. Stephen Hales, the Rex archivist and a former King of Carnival.
As it emphasizes the artistry of its floats, this year Rex is doing so with a new float builder. After more than 60 years with Blaine Kern and the company he founded, Kern Studios, Rex has hired a new float builder - Royal Artists.
"Royal Artists is a company started by a man named Herbert Jahncke. They did a lot of the smaller old-line krewes like Proteus and Comus," said Errol Laborde, a Carnival historian and editor of New Orleans Magazine. "They do good work, very good traditional work. They've never done anything the size of Rex, they've never done a major daytime parade at least in New Orleans."
Step inside the Rex den for a preview of this year's parade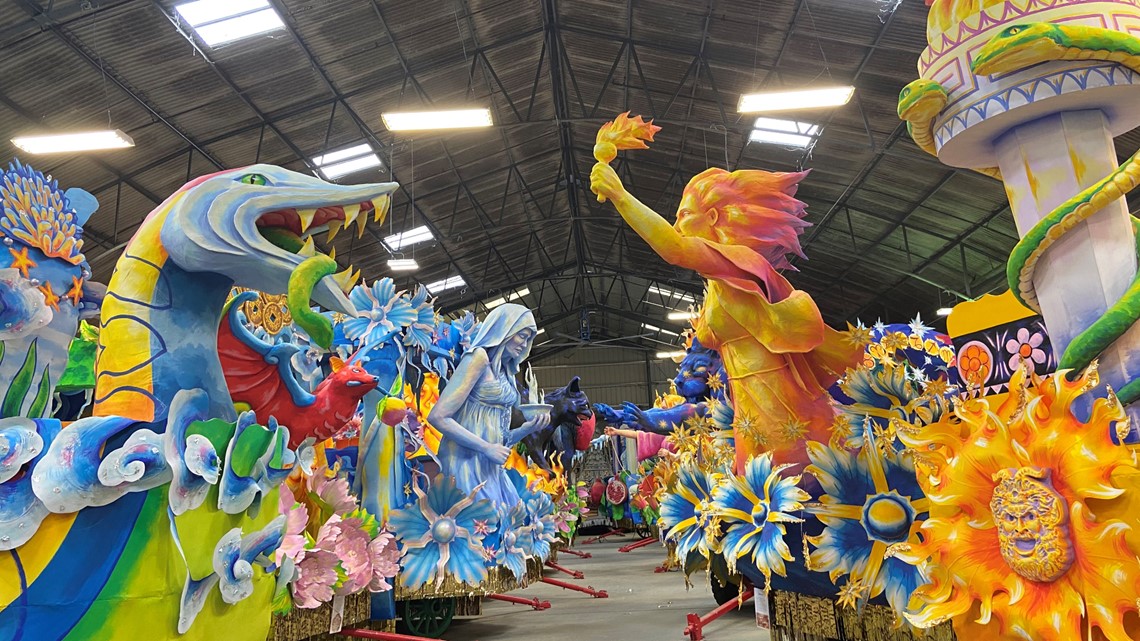 "It feels good," said Royal Artists owner Richard Valadie. "It's a lot of responsibility, it's the King of Carnival. It's a great opportunity. It really is a once in a lifetime opportunity considering it hasn't been available very often."
"We have 4 parades in New Orleans: Rex, Proteus, Chaos, and Le Krewe D'etat," Valadie explained. "And we have 5 parades in Mobile."
Most of those are nighttime parades. So taking on Rex has brought some new challenges.
"I would say the daytime parades definitely get a lot more scrutiny as far as being out there in the daylight instead of the dark," Valadie said. "I think with Rex, everybody expects it to look tip-top and really fresh and be really the best, most well-executed. And I think the color is more important, the saturation of the color. At night you kind of rely more on things you can do with lighting but on the day parade there's only one light – the big one in the sky."
Valadie explained the process his artists use to construct their floats.
"All the props are made by hand and they're done in a really basic way, somewhat on the low-tech side. Most of the props have wood armatures, which I would usually build that part, and then we have sculptors who do the cardboard and the paper mache and then the painters really bring them to life."
This theme of this year's Rex parade, which was designed by artistic director Henri Schindler, is "Omens and Auguries." Floats depict various prophetic signs and symbols, including a black cat, lucky ladybugs, symbols of the zodiac, an albatross, the three witches of "Macbeth" and even Edgar Allan Poe's "The Raven."
"Omens, portends prophecies, dreams. Man has always wanted to know what was going to come, whether it was good or bad," Hales said. "So seeking signs and visions of dreams - that's the inspiration for this year's parade."
All 20 of Rex's theme floats are redesigned and rebuilt each year. And even with a new float builder, don't expect to see any changes to the iconic signature floats like the King's float and Boeuf Gras.
"Rex prides itself on its tradition and they do love the floats that they have and I don't see any radical changes to any of that," Valadie said. "There may be some plans in the works for a new float or two in the future but as it stands now we're not making any radical changes to that."
Even though those floats may not change, designing a Mardi Gras parade gives the Royal Artists an opportunity to create something new and beautiful each year. And that too has been part of Rex's mission since day one.
"When Rex was incorporated in 1872, the name they incorporated under was the School of Design. Nobody stopped at that time to record exactly why they picked that, so we get to imagine. I think they would be pleased with the kind of art we create here now," Hales said.
"The collaboration with Royal Artists has just gone very, very well. The Rex den is an artistic studio that preserves an art form that is deep in the tradition of this city and a really unique art form but it is real art."
RELATED: Mardi Gras 2020 Parade Schedule
RELATED: Preview this year's Rex parade: "Omens and Auguries"
► Get breaking news from your neighborhood delivered directly to you by downloading the new FREE WWL-TV News app now in the IOS App Store or Google Play.