NEW ORLEANS - To the Carnival crowds, Bacchus is a superkrewe, known for its celebrity king (technically, a god), a first-rate parade featuring spectacular floats and special throws - even a menagerie of oversized animals. To the experts, Bacchus is about rewriting Carnival history.
"I think if you look back at the history of New Orleans Carnival that Bacchus' role was enormous as a catalyst and as an influence," said Mardi Gras historian Errol Laborde, editor of New Orleans Magazine.
The men who founded Bacchus in 1968 were leaders in the city's hospitality industry and felt that Mardi Gras in the 1960s needed a boost. "We felt that Mardi Gras was regressing, from the standpoint of a visitor to the city. The hotel occupancy for Mardi Gras weekend was running 40 percent or less," explained Owen "Pip" Brennan Jr., founding captain of the krewe.
In the 1960s, the weekend before Mardi Gras was nothing like it is now, with just a handful of small parades. Endymion first rolled in 1967 but was a small Gentilly neighborhood krewe and not the mega-parade it would later become. To Brennan and his friends and colleagues in the hospitality business, there was a need for some new energy.
After the 1968 Mardi Gras, Brennan and other early founders of Bacchus staged a few organizational meetings at Brennan's Restaurant, which the captain's father founded. Later, a membership meeting was held at the Royal Orleans Hotel. "We had pretty close to 500 men show up and right there that night we had about 250 join," Pip Brennan said. "And I believe we rode with maybe 350 and 15 floats our first parade. It just showed in our opinion the need for people who were interested in participating as well as trying to do something quite different."
So what was so different?
"It was much larger, animated floats that really depicted the theme that we felt that most people viewing the parade could understand," Brennan said.
Legendary float builder Blaine Kern remembers his first meeting with Brennan to discuss the idea of forming a new krewe. Kern was introduced to Brennan by Larry Youngblood, a charter member who would later become the krewe's costume designer.
"They said, 'We're going to make floats bigger and better than everybody else.' And they did," Kern said. "In those days, my gosh, the float would hold about eight people, ten people. They made floats right off the bat with like 25 and 30 people – huge."
Brennan explained that what would be thrown off those huge floats was also a key ingredient. "We wanted to be sure that the riders were going to throw a lot of beads and a lot of doubloons and a lot of trinkets because, after all, that is New Orleans. And then we wanted to be sure we had plenty outstanding marching bands and what I think really captured a lot of people, especially New Orleanians, when we decided to bring the parade into the Rivergate (convention hall) and the whole parade go through. Nothing like that had been done before."
What got even more attention was the celebrity king. "We wanted to have a celebrity king that would bring a lot of publicity to the city and to the celebration," he said.
The first Bacchus was entertainer Danny Kaye, a frequent guest of Brennan's restaurant and close friend of Pip's aunt, Ella Brennan. "We were in the stage of asking what do we do to get a celebrity king? So she said 'Well, I have an idea. Why don't I call Danny Kaye and see what's what?' So she called him and gave him whatever information we could give him, because remember we had never done this before. And he said, 'That sounds like fun, I'll be glad to do that!'"
Kaye would be the first in a line of 50 celebrity Bacchuses: actors, comedians, musicians, and more - all of whom had had many starring roles but never as the mythological god of wine.
Thinking back on the past 50 years, Pip Brennan has his favorites. His list includes Bob Hope (1973) and Perry Como (1976), both of whom broadcast nationally-televised shows from New Orleans after their reigns. Other favorites are Dom DeLuise (1982), Perry Como (1976), Charlton Heston (1983), Kirk Douglas (1984), Steve Guttenberg (1991) and Henry Winkler (1977).
Brennan remembers having to scrounge up a blanket for Kaye, who worried that freezing February temperatures during the first parade would send him to the emergency room. Kaye asked for an electric blanket on his king's float and Brennan, doing his best to please the king, assured him that the blanket was plugged in and ready for the ride (it wasn't). Once Kaye saw the thousands of people on the streets, he instantly warmed up.
"When they see that crowd and as they start rolling, of course they think all those people are out there just for them and their adrenaline kicks in and man they're on stage the whole way," Brennan said. "And then when they pull into the Convention Center, it's something else. Bob Hope told us, 'I've been just about all over the world and I have never seen anything like this.'"
This year's Bacchus, Academy Award-winning actor J.K. Simmons, will be joined at the 50th anniversary parade by several former kings returning to ride once more, a testament to the fun memories the celebrities leave New Orleans with after their reign.
From that first parade on Feb. 16, 1969, which rolled with the theme "The Best Things in Life," Bacchus was an instant hit. "It was the talk of the town because it was a parade unlike anything people had ever seen," Laborde said. "People talk about Danny Kaye, but really I think the lasting impression was the size of the floats. They were really big floats, all double decker floats, and then also the throws. They got away from throwing little beads to really just deluging the streets with throws."
Laborde said that Bacchus was so influential that other krewes started to try to follow its lead. "Every year for that first decade or so when the parade schedule would come out, no matter what all the other parades were doing, people would say, 'Well, yeah but what's Bacchus going to do?'"
In the 1970s, Bacchus introduced the first of its signature floats – a towering figure of King Kong. Blaine Kern, who loved the King Kong character since childhood, said his creation was so unique that it drew the attention of Walt Disney, who offered Kern a job. He fortunately said no, and Bacchus was better for it. Within a few years, there were also Queen Kong and Baby Kong. And that was just the beginning. "The Bacchasaurus, that was one of my favorite ones. Still is," Kern said, describing the giant gentle dinosaur's head bobbing up and down as the float moves down the street. The Bacchasaurus premiered in 1972. "The entire city of New Orleans had never seen anything like that and especially with the animation and it was so popular," Brennan said.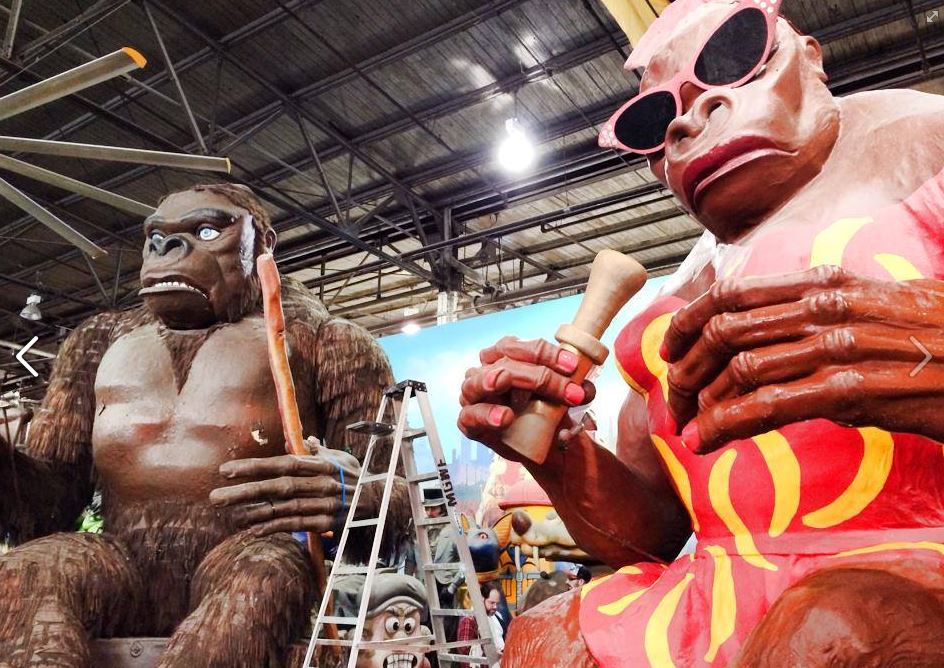 Kern and then-captain August Perez III introduced the 106-foot-long Bacchagator float in 1986. "I did (mermaid and alligator sculptures for) the World's Fair, I did the gate," Kern said, "And I had those giant alligators, just 20-foot-long heads, tails and all that. Naturally, it became part of Mardi Gras and to this day it still is." The tandem float was the first of its kind in Carnival, with a design inspired by Perez, a noted architect. While sitting in a plane on the tarmac at New Orleans International Airport one day, he noticed the wagons pulling luggage carts and how each cart turned at the same spot where the previous one had. Ideas began to click and the concept of a multi-part tandem float, designed with similar turning technology, evolved.
In 1991, a whale of a float, the 85-foot-long Bacchawhoppa, entered the parade lineup. "That was my wife's idea," Brennan said. "She thought about it, she drew it and finally with the Burger King Whopper sandwich, we said, 'Oh man, we can call this the Bacchawhoppa.'"
From the super floats to the superstars, Bacchus continues to write Carnival history. Now it's in the hands of Pip Brennan's son, Clark, as captain, and Blaine Kern's son Barry, as the float builder. And the founder says they continue to build on a legacy of fun.
"All you have to do is look at the crowds and hear the comments. And the greatest compliment in the world is to be copied. And just about everything Bacchus did, other people followed and did the same thing," Brennan said. "Then I think we played a big part in causing Mardi Gras weekend to become alive again and in fact not too long after we started, the press and the people started referring to it as Bacchus Sunday. That's a pretty big compliment."
WWL-TV will broadcast exclusive coverage of the 50th anniversary Bacchus parade, from Rendezvous at the Morial Convention Center on Sunday, Feb. 11 at 10 p.m. on Channel 4, Facebook, WWLTV.com and the WWL-TV mobile app.