LAWRENCEVILLE, Ga. — Eating a grape can seem like a routine task, yet it almost became deadly for one metro Atlanta boy.
Sincere Spann, an 8-year-old boy from Lawrenceville, has tragically been left unable to communicate after a freak medical accident left him with a traumatic brain injury.
Sincere was just 4 years old on Aug. 11, 2019, when he attempted to eat just a single grape. The grape got lodged in Sincere's throat, which deprived his brain of oxygen for at least four minutes, leading him to suffer from anoxic brain injury, his family told 11Alive on Sunday.
In spite of countless efforts from medical professionals, Sincere has been left with minimal consciousness and can no longer talk or walk.
Now, his single mother is left facing mounting medical expenses, which has led Sincere's mother's aunt Towanda Harris to create an online fundraiser to help raise money in an effort to alleviate the medical treatment, specialized care, and equipment Sincere needs almost four years later.
Sincere's family is now putting out a warning for other parents who they hope never have to go through this pain.
"Sincere was like a son of mine," Harris said. "Every time you see him he'll give you a hug. He likes to laugh, dance — just has a great sense of humor."
The picture on the left is Sincere at age 4, just months before the accident that changed his life forever. On the right is Sincere today. His family calls the situation a "nightmare."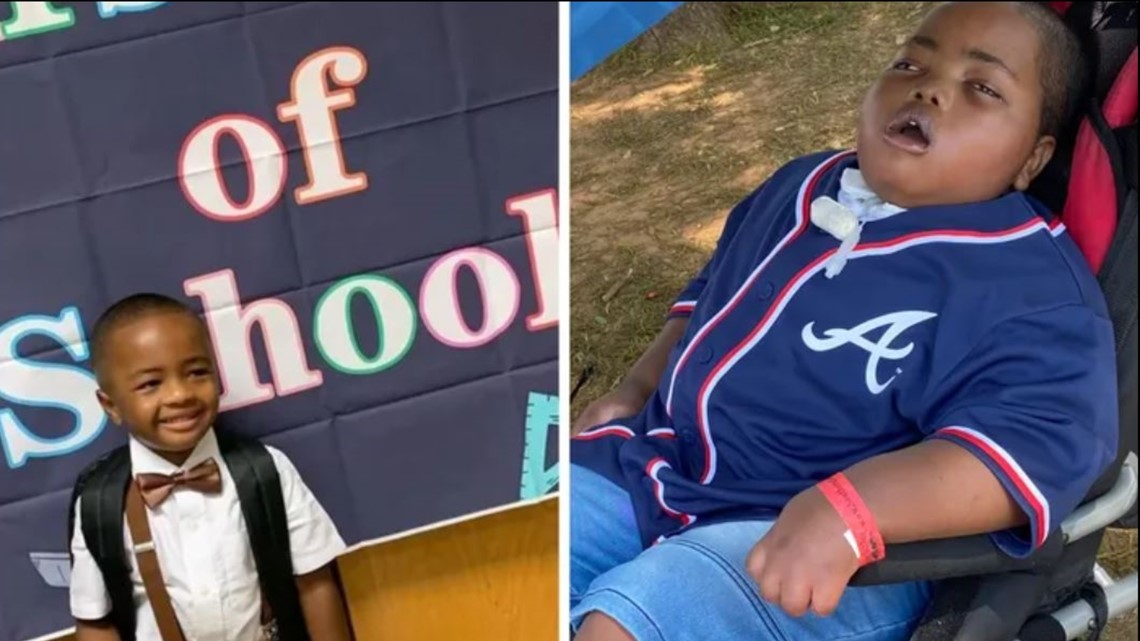 "We have to pretty much do everything from feeding him, bathing him, clothing him," Sincere's other aunt Dalandra Belcher said.
It'll be four years ago next month that Sincere was at home having a snack when all of a sudden he ate a grape and couldn't breathe.
"He started gasping for air. And that's immediately when my son came and started doing the Heimlick," Harris said.
Sincere lost consciousness and when Harris called 911, she said she was put on hold. They then rushed Sincere to the hospital five minutes away from their home. The doctors tried everything they could.
"It took them several efforts to try and get the grape dislodged from his throat, as well as to make him responsive," Belcher explained.
Just one grape, and one chance, but after over a month in the hospital, doctors told his family that Sincere only had a one percent chance of survival.
In a miracle, Sincere pulled through. However, it takes a village to get him where he needs to go.
Dr. Joana Dolgoff with Wellstar Health Systems said she's seen other cases such as this one. And it can happen from foods parents give their kids all the time.
"Anoxic brain injury is when the brain does not get enough oxygen and then brain cells start to die," Dolgoff explained. "Once it's more severe — when you have the death of brain cells — it's irreversible."
Dolgoff said to avoid giving younger children grapes, hot dogs, popcorn, chunks of meat and cheese, and nuts and seeds.
She also said you should always monitor young children while they are eating, take a CPR class, and if they do start choking, do the five-and-five.
"Five back blows between the shoulder blades and then five abdominal thrusts," she said. "And then you're going to alternate back and forth."
Sincere's family hopes no one else has to watch a loved one go through this.
"This is a fruit that kids like. You know, it's a normal, healthy fruit," Harris said. "We would have never known that it will cause this nightmare."
And they're trying to give Sincere as normal a life as he can possibly have — learning from one accident they will never repeat.
"My daughter is Sincere's age as well. I do not serve her grapes anymore," Belcher said.
Sincere's mom, Jushaylian Spann, has now quit her job so she can move to care for her son full-time at their Lawrenceville home. She's a single mom. Harris said that Jushaylian also totaled her car on June 12 and is in need of a medically-equipped van to help move Sincere from place to place.
"Sincere was a vibrant child with an infectious smile that would light up any room," Harris said in the fundraiser. "The accident has left our family devastated and burdened with enormous medical expenses and ongoing care needs. As a community, we believe in the power of collective kindness and the extraordinary impact it can have on this precious life."