NEW ORLEANS — Happy National Junk Food Day everyone! Everybody needs a fun snack every once and a while -- check these out, one savory and one sweet!
Here's the list of ingredients
Cheesy Bacon Poutine (Savory)
Oil for frying
Large potatoes, cut into thin strips
5 slices bacon, chopped
1 onion, minced
3 cloves garlic, minced
3 Tbsp. all-purpose flour
1 1/2 cup chicken stock
1 Tbsp. Creole seasoning
1/2 tsp. salt
1 Tbsp. Worchestershire sauce
1/2 cup white cheddar, cubed
1/2 cup mild cheddar, cubed
1 cup Monterey Jack, shredded
Oreo Whipped Dip (Sweet)
8 oz. cream cheese (softened)
4 cups whipped cream
1 cup powdered sugar
1 tsp. vanilla extract
15 Oreos, chopped
Oreos,Graham Crackers, Nilla wafers, pretzels or your favorite cookie for dipping.
Here's what to do
Poutine
Heat oil in a pot to 360 degrees.
Add cut fries into the oil and fry for 6-8 minutes. Remove and drain onto a sheet pan lined with paper towels.
Allow oil to reheat to temperature and place potatoes back into the oil and fry for 5 minutes or until crispy. Remove and drain.
Add chopped bacon to a medium skillet and heat over medium heat until crisp. Remove from pan and set aside.
In the same pan, add the onions, stirring until soft.
Add garlic and cook for one minute.
Add flour, stirring constantly, until the flour becomes a golden color.
Slowly pour in the chicken stock, continuing to stir constantly.
Add the Creole seasoning, salt and Worchestershire sauce and continue stirring until the gravy thickens (3-5 minutes) and comes to a simmer.
Place the fries into an oven proof pan or skillet and top with cubed cheeses, gravy, Monterey Jack, and cooked bacon pieces.
Transfer the fries into the oven for about 5 minutes, or until the cheese melts.

NOTE: you can use frozen fries, tater tots, waffle fries, curly fries or steak fries if you don't want to go through frying your fries from scratch. Just start with the cooking up your bacon and go from there.

Oreo Whipped Dip
Mix softened cream cheese and powdered sugar in a bowl until cream cheese is light and fluffy.
Fold in whipped cream and vanilla extract and stir to combine.
Stir in chopped Oreos.
Serve with additional Oreos, Graham Crackers, Nilla wafers, pretzels or your favorite cookie for dipping.

NOTE: you can make this easy on yourself and get whipped cream or you can make your own whipped cream in which case you will need 2 cups of heavy cream to yield 4 cups of whipped cream.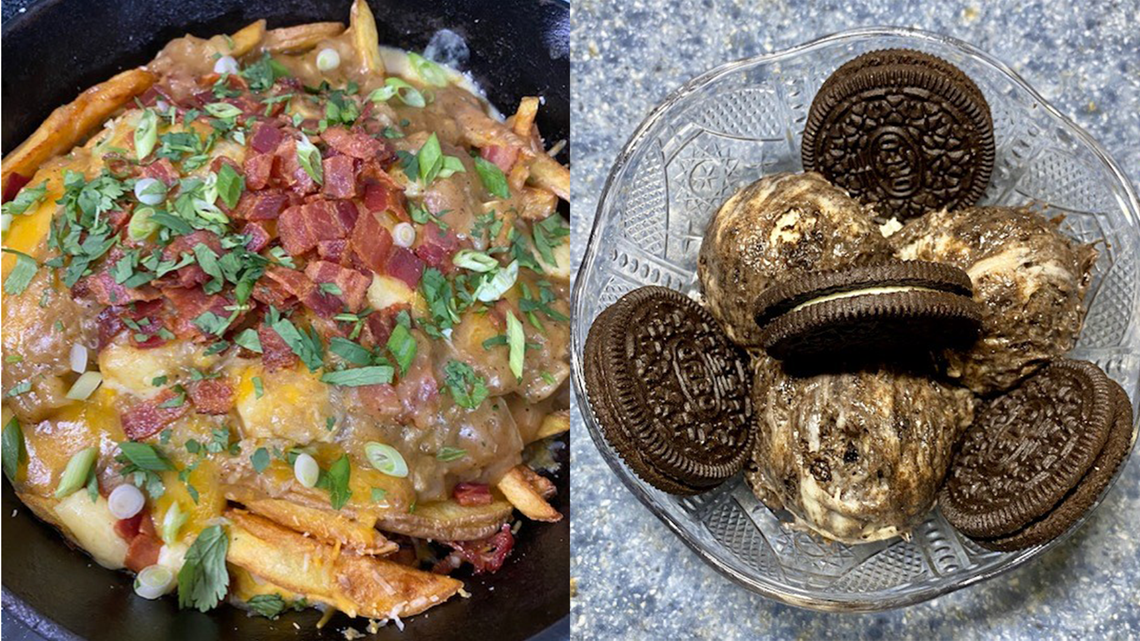 ► Get breaking news from your neighborhood delivered directly to you by downloading the FREE WWL-TV News app now in the IOS App Store or Google Play.