NEW ORLEANS — Over the course of its 300-year history, New Orleans' cuisine has been one of its greatest gifts to the world. Now, as we celebrate the city's 300th birthday and WWL-TV's 60th anniversary, our gift to you is a free e-cookbook, with 'New Twists' on popular recipes.
Mummy Meatloaf
Ingredients:
2 lbs. ground beef
1 onion, diced
3 eggs
1 cup bread crumbs
1 1/2 cup Parmesan cheese
1/2 cup barbeque sauce
2 tbsp Worcestershire sauce
1 onion peeled and chopped
2 Tbsp. Creole seasoning
1 tsp salt
6-8 slices bacon
decorations - garlic, olives, tomatoes or onions
1 Tbsp. brown sugar
1/4 cup barbeque sauce
1/4 cup mustard
Directions:
Preheat oven to 375 degrees.
Mix together the all of the ingredients. Mix to combine, but do not over-mix.
Place parchment paper on a rack above a pan. Poke holes in the parchment paper to allow the fat to drain.
Shape the meatloaf into an oval. Add slices of bacon to "wrap" the mummy. Use onion rings, olives, sliced garlic and cherry tomatoes to make eyes and mouth.
Mix together brown sugar, barbeque sauce and mustard and slather over the mummy.
Bake for approximately 1 hr. 15 minutes or until your meat thermometer reaches 155 degrees
Butternut Squash Soup
Ingredients:
1 Tbsp olive oil
1 butternut squash
2-3 large potatoes, diced
2 carrots, diced
1 onion diced
1 Tbsp. Creole seasoning
1 1/2 cups stock
1 chili pepper
1 tsp grated ginger
1 Tbsp. lemon juice
1 tsp cumin
1 cup heavy whipping cream
Topping:
3-5 thin slices of bacon, cooked, and chopped
1 crisp apple, cut in small dices, dressed in juice from ½ lemon + ½ teaspoon honey
1 jalapeno or serrano pepper, thinly sliced
sour cream
Directions:
Microwave the whole butternut squash for 2 minutes to soften it a bit, making it easier to cut.
Cut it in half, peel, deseed and dice the butternut squash.
Sauté the vegetables, and Creole seasoning in a large pot in olive oil for a few minutes. Add stock, chili, ginger, lemon juice and cumin. Bring it to a boil and cover it and cook it for 15-20 minutes, until the squash is tender.
Purée the soup in batches in a blender until smooth or you can also use an immersion blender.
Add the cream and season the soup with lemon juice, salt and pepper, heat soup through before serving.
Serve the soup hot with your favorite garnish and a slice of good bread.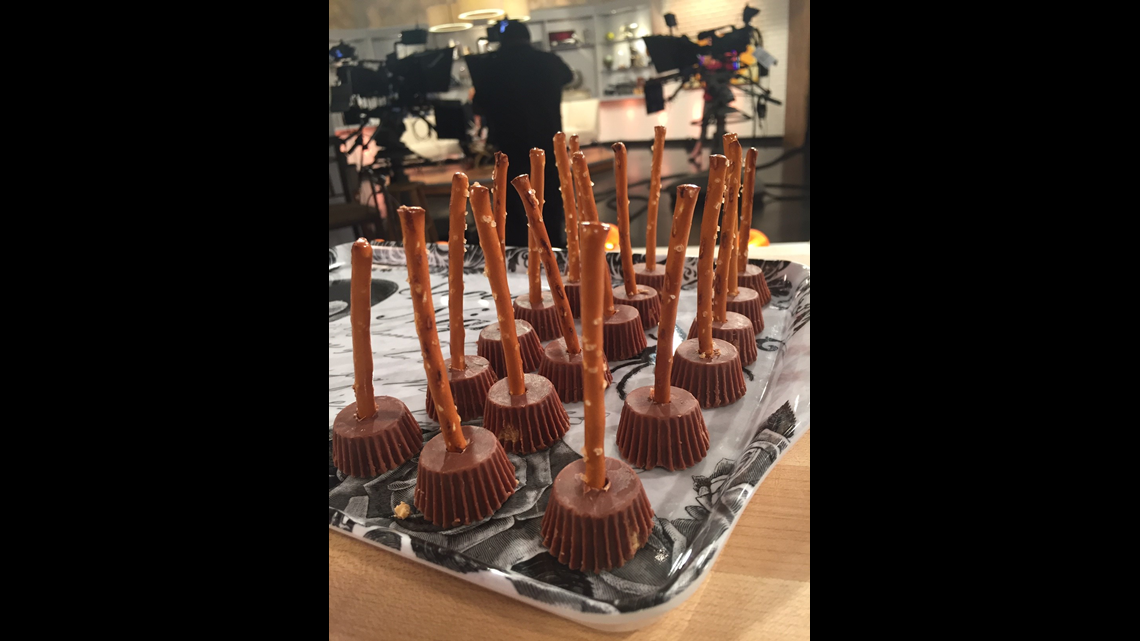 Witches Broomsticks
Ingredients:
Mini pretzel sticks
Mini Reece's peanut butter cups
Directions:
Use something sharp to create a hole in the bottom of the peanut butter cup then insert the pretzel into it. You are done!
More Recipes by Chef Kevin Belton:
Watch Chef Kevin Belton every Tuesday morning on Eyewitness Morning News on WWL-TV and WUPL.