It's 4:48 on a Tuesday morning. Amber Ball exits her house loaded down with bags.
One bag is filled with meals — for her and other teachers for whom she cooks each week. One bag has clothes and makeup she'll need after her early morning workout.
A third bag has supplies she'll need to teach her middle school classes of English, Spanish and reading.
It's the first of many times today Ball is juggling, physically and mentally — a sign of being a teacher in 2018.
Growing demands on the profession mean teachers don't work eight-hour days. Today many teachers work two or more jobs, lead extracurricular activities, spend their own money on classroom decorations and basic supplies like Band-Aids and tampons for students who need them.
Ball, 26, in her "be the change" T-shirt and flowy, pink skirt, is one of those teachers. The tall brunette teaches eighth-grade reading, English and Spanish at Caldwell Parish Junior High in the tiny northeast Louisiana town of Columbia.
It's her second year at the school that operates only four days a week to save money on transportation and energy costs. This is her fifth year to teach.
She'll stay at school today until 5:30 p.m. to coach dance. She'll grade papers at home afterward. She'll give up her planning period and lunch hour for training and lunch duty.
All of this she does in the hopes that she will impact the lives of students today.
"I teach because I'm good at it. I'm not trying to sound cocky. I really feel like I can make a difference," she said. "What else am i supposed to do? ... I might as well make a difference in kids' lives and teach them they can be loved and cared about."
Her shirt bears a globe on it, mirroring other inspirational sayings throughout her room that show the thought and effort put into every bit of her job, even decoration.
The last thing students see when they leave her room is a wooden reminder to "think positive" above her door. A sign that looks like a map above the whiteboard tells them to "never stop exploring."
This motivates her to come to work every day, to come back after quitting to wait tables for a year. She made more money.
"You just don't feel like you're doing anything important, and even though sometimes our country doesn't act like teaching is important, it really is," Ball said.
She's also one who agrees with the 72 percent of Louisiana teachers and school staff reported their work is "often" or "always" stressful in last year's Educator Quality of Work Life Survey.
"There's not enough time in the day!" she said, banging her hand on the arm of a chair for emphasis. "And, man, sometimes you just really just gotta go to the bathroom and you can't. You need two planning periods, and sometimes you don't even get one."
Her principal agrees that teachers today face higher demands. He said it comes from things like the federal education act and other accountability standards like high-stakes testing and student performance. These factors might be well-intentioned, but "all increase pressure placed on today's educators," Principal Troy Bell said.
Ball gets up insanely early to fit in a workout with friend and fellow teacher Rachel Morgan before their 10-plus-hour workdays.
Each leads an extracurricular that practices after school, so if they don't exercise before school they just don't exercise.
"Why should certain people not be able to do certain things (because of their job)?" Morgan asks.
After an hour at the gym the teachers make breakfast and get ready before heading to school at 7:20 a.m.
The school features red, white and blue painted hallways with positive signs posted on doors and inside the teacher's lounge.
Ball walks into her classroom, painted cool grey and dimly lit with lamps and twinkling lights around the whiteboard.
There's a flurry of movement to turn on lamps and her computer, get papers ready for first hour and talk with co-teacher Miranda Morgan about aligning their lessons for the day.
At 7:49 a.m. Ball stands at her classroom door and gives high-fives to kids as they walk in. They get their books, take chairs off a table and prepare for the first bell, which rings a minute later.
They call her Ms. Amber, not Ms. Ball, as they answer questions during the lesson on analyzing the development of suspense.
"Who sets the tone?" Ball asks.
"Author," student Genesis Clay replies, sitting cross-legged on the floor near over-sized pillows Ball sewed with her granny. The pile of pillows and mosquito netting make up a reading corner, one of Ball's flexible seating options for students.
"Who feels the mood?" the teacher asks Genesis. "Us," she answers.
These are the moments that remind her why she teaches and why she felt guilty that year she wasn't teaching. She felt like she was letting kids down by not being there for them.
In second hour Ball teaches the same reading lesson to a new class of children, but it still demands a lot of her both mentally and physically.
Throughout the day she goes from sitting to standing and sitting again in different places around her room.
She paces across the classroom to punch holes in participation cards each time a student answers a question. She sits with students at what she calls "the family table" to help them write sentences using conditional mood.
She glances at the clock at 9:12 a.m. while asking her class about Jack London's shift in tone. She only has until 9:43 to fit in everything.
At 11:29 a.m. she'll check the clock again during fourth hour as she tells students to turn to page 47 and answer questions with a partner.
Ball also teaches Spanish, a first for the rural middle school, and English Language Arts.
In fifth hour ELA, Delmarion Williams reads aloud his creative writing response. The class had a few minutes at the beginning of class to write from the perspective of an ant.
"Oh my gosh, the ant says," Delmarion says in an alarmed voice, providing another one of those warm and fuzzy why-I-teach moments.
"(Teaching) is constantly waiting for something to go wrong, but loving every second when it goes right," Ball says later.
Ball also uses funny voices during class, reading action words in a different way each time to keep the kids interested.
"Teaching is a lot like acting," she says. "It's a performance."
That always being "on," always engaging can be exhausting. But that and the structure she provides in class might make all the difference to students, she said.
"They might have chaos outside of school, but during my hour they know what to expect," Ball said. "Sometimes I only have one hour to be a safe haven for a kid or one hour to teach them. One hour can make a difference."
Like when she rewards one student, Jordan Gomez, with positive words after he reads his sentences out loud.
"You're killing it today, Jordan," Amber says from the other end of the table.
Or the times she gives students Band-Aids, tampons, snacks, bottled water and even a second chance to complete an assignment for some points rather than none.
Ball uses flexible seating and groupwork in her classroom. She assigns students class jobs like passing out journals. All of this takes planning, more time and effort on her part.
Her classroom runs like a well-oiled machine, which all goes back to that structure she says kids need.
There are brightly colored folders marking different classes, drawers to hold participation cards and snacks, cubbies for dancers' sparkly red bags for afternoon practice. She tries to think of everything ahead of time to keep class moving and students learning.
"Organization, routines and consistency are what make a classroom run smoothly," Ball said. "I can't stress enough how important that is."
As her students move from table to floor or reading corner Ball tells them to "take two minutes to get your wiggles out and get your lives together." That's a luxury Ball doesn't get herself.
She didn't get her "brain break" today because of training that replaced her usual planning period.
They're also called "off hours," though teachers are anything but off. Ball usually spends this time creating lesson plans, making copies, grabbing a snack or using the bathroom.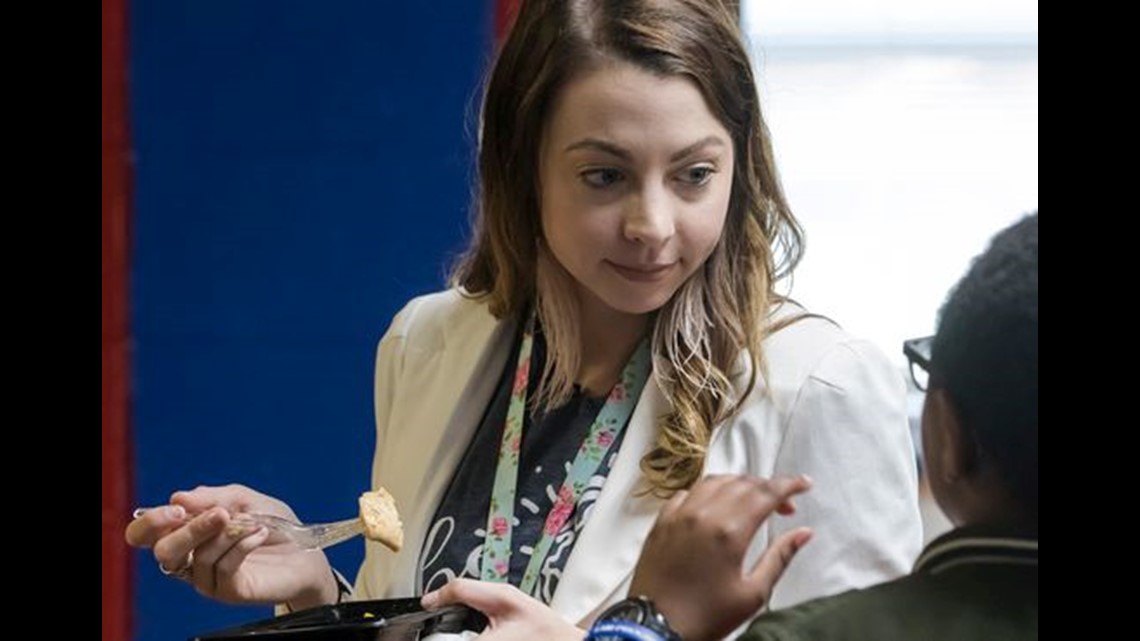 She'll spend her next two weeks of planning periods in the teacher's lounge completing a training on the guidebooks she uses in English Language Arts class. This is to make up for the all-day training she didn't make on Monday, her day off.
She doesn't get a break for lunch either. Like all teachers, she takes turns having lunch duty and afternoon recess duty.
She eats her lunch — the one she made yesterday for herself and her coworkers — while standing and walking along cafeteria tables full of students.
During her afternoon Spanish class she gets to put her time in Spain to use a little. She earned a master's in teaching there while teaching.
But Louisiana doesn't recognize her master's, so she's currently completing a teacher certification program while teaching and coaching dance after school.
Ball has students stand in two concentric circles and practice a short conversation about their favorite color, anything to get them using the language.
Then it's time to head outside, where it's 94 degrees, for eighth-hour dance. Today the team does conditioning with the color guard from the high school located on the same campus.
Ball has traded her long pink skirt for workout clothes and a black hat to block some of the sun.
"All right, workout positions," she says, leading the Baby Blues dance team in jumping jacks, squats and stretches.
Then the girls run stadiums and walk back inside for the dismissal bell at 4:15 p.m. It's been nearly 12 hours since Ball left her house this morning.
She sneaks in a bag of Cool Ranch Doritos before more dance practice, where her team practices a dance they'll perform at a game in two days.
Ball hits play on her laptop to start "Move Your Body" by Sia a sixth time as the girls practice the routine yet again.
To end practice, which included some constructive criticism, Ball has the girls circle up for a talk. She doesn't want the last thing they experience at school today to be negative.
Practice is over at 5:30 p.m. She grabs dinner and heads home. She cries in the car when she hears what her students said about her class, how they like her and see how much she cares.
"They get it," she says quietly.
At 6:53 p.m. she pulls into her driveway. She still has papers to grade because she couldn't do them during her planning period.
She brings her salmon-colored backpack to the hammock held between two trees beside the house. It's comfortable to lie in but not comfortable to grade papers in, she says, which is what she needs. If she takes the papers inside she knows she won't grade them.
Ball starts with her "Mundo Martes" projects in which students had to present an infographic about different Spanish-speaking countries. She assigned this after learning many of her students thought Mexico was the only one.
She's hurt to see 13 out of 25 didn't turn one in or turned in one without their name. This is not one of those warm and fuzzy moments.
But now it's time for bed, so she can get up and do it all over again tomorrow.