NEW ORLEANS — The Plaza Tower is an outlier in the CBD -- literally and figuratively.
Many other high rises have been renovated in recent years, but the Plaza Tower -- several blocks from the city's business and financial center -- sits vacant.
It's one of several high-profile properties, both publicly and privately owned, in the city that seems prime for redevelopment yet remains unused.
But aside from issuing fines when properties become blighted, there is little that local government can do to try to force work to happen if a building or property meets minimum standards as determined by the city.
Among those, a building or property must be secure, not overgrown, have no hazards on site and, preferably, a fence around it.
New Orleans Deputy Chief Administrative Officer for Land Use Chad Dyer pointed out that a vacant building is not necessarily a blighted building.
"We live in a country where you can own something and not necessarily occupy it," Dyer said. "So a lot of the properties that would be vacant but not blighted, it may just be that the owner hasn't quite determined what they want to do with it.
Story continues under video:
Trying to figure out what to do with a property is often the easy part, said Pres Kabacoff, who made a name for himself in the 1980s by redeveloping many of the abandoned warehouses that now make up the Warehouse District.
"These large projects are very complicated and very difficult," he said. Many factors come into play: money, legal hurdles, location, size of a property and finding the right business model.
"As my father always told me, it was 10 percent inspiration and 90 percent perspiration," Kabacoff said. "You need to have a vision, but then you need to work your ass off to accomplish it -- and it takes a lot of features."
Here is a look at some of the most notable abandoned buildings across the city, why they remain in the state they're in and what plans, if any, there are for their futures.
Charity Hospital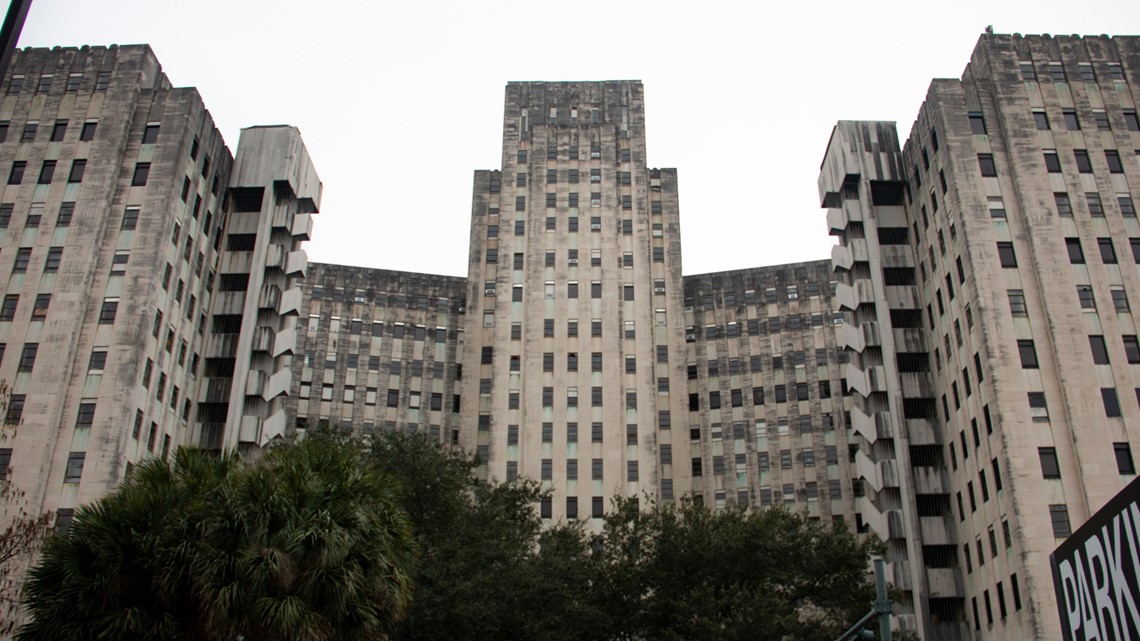 Perhaps most high profile of the abandoned buildings in the city is the former Charity Hospital, which closed after Hurricane Katrina flooded its basement. Controversy has surrounded its future since.
Many fought to have it reopened as a hospital, even as ground was broken for the new University Medical Center. There were also plans for the 80-year-old building to house City Hall and local government offices.
Now, though, after many stops and starts, a possible redevelopment could be in the works.
1532 Tulane Partners, the firm tapped to redevelop Charity, has visions of transforming it into a $250 million office, residential and retail building.
In recent days, the LSU Board of Supervisors signed an agreement with 1532 Tulane Partners to let them review the building, a process that could take as long as a year.
But it all goes well during that process, a lease could then be signed and work could begin.
Plaza Tower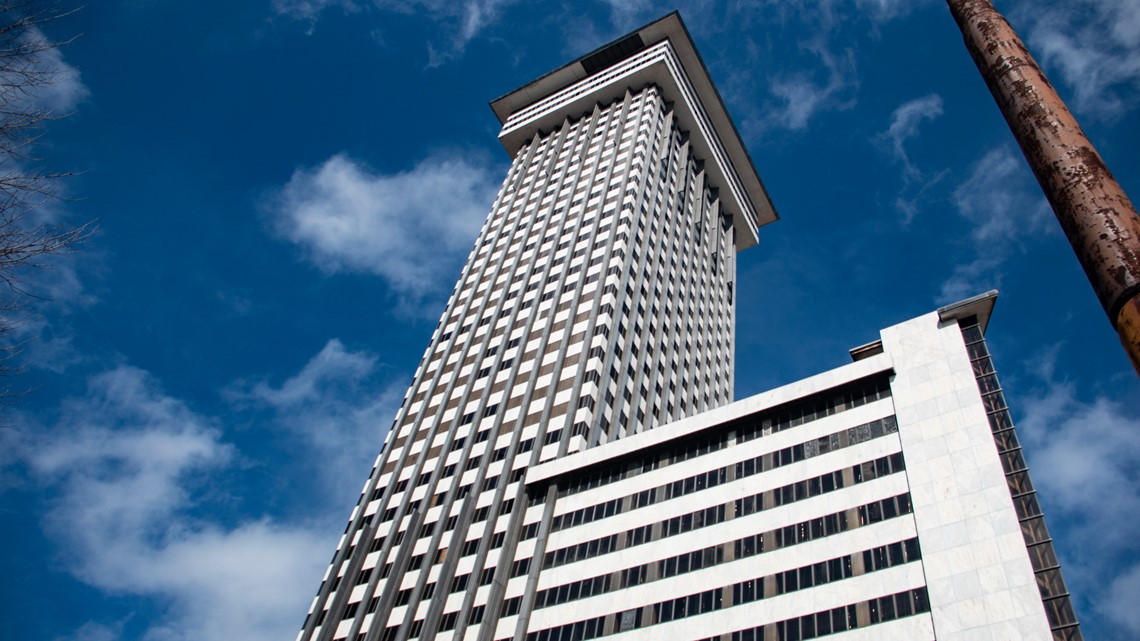 Plaza Tower was among the first skyscrapers in the city, and business leaders thought its location on Howard Avenue would be the ideal place to put it since that area was envisioned to be the city's financial center.
But Poydras Street was later widened and most of the high-rises sprung up along that corridor.
Over the years, tenants slowly moved out of the tower, which opened in 1969. They complained about issues with asbestos and toxic mold, and several class-action lawsuits were filed against the building's owner. Plaza Tower was vacant before Hurricane Katrina.
A marquee still bears the name "Crescent City Towers," a failed plan to transform the office building into apartment. Its owner at the time defaulted on the mortgage, sending the tower to auction. Since then, it has changed hands several times and in 2014 was bought by Alexandra Land & Development Co. Calls to the company were not returned.
While it was once on the outside of development, work has in recent years crept closer to the Plaza Tower. Yet there are no announced plans for the building. But as areas such as the South Market District expand, the time could be right for redevelopment of the tower.
Municipal Auditorium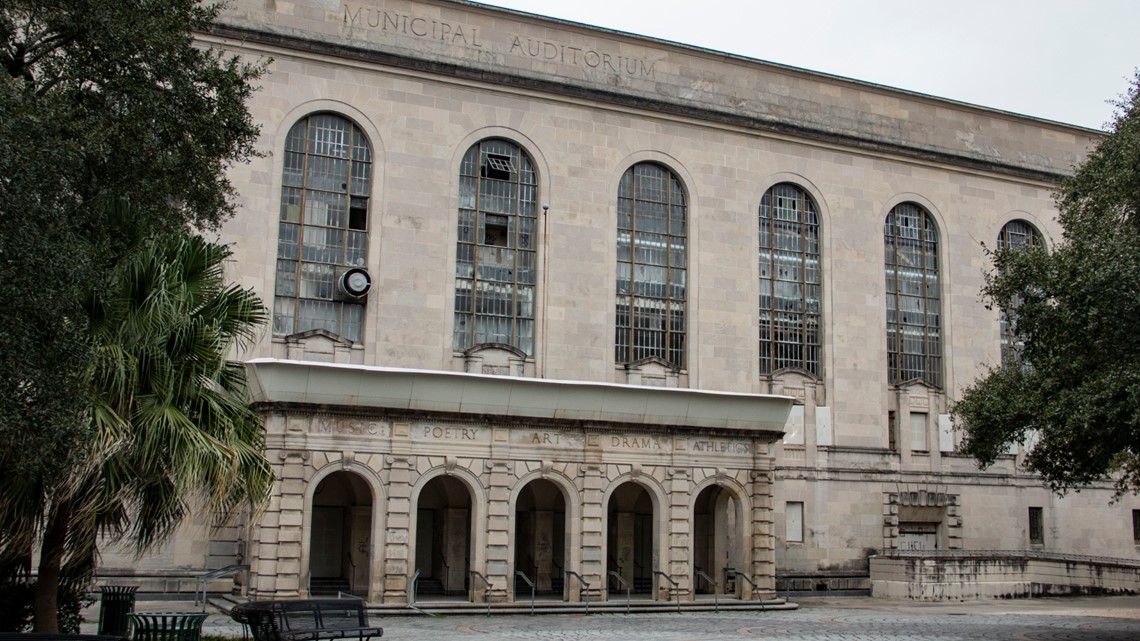 Once the location of swanky Carnival balls, high school graduations and concerts, the Municipal Auditorium is now nothing more than another boarded up building.
There was a plan under the Nagin administration to convert it into a space with room for production companies, a culinary institute, studios and a museum. But concerns the city's Inspector General and City Council had about the plan halted it, and former Mayor Mitch Landrieu ultimately killed it.
For years, neighbors complained about people breaking into the auditorium and living inside of it. Those problems seem to have largely been solved.
Fights about federal dollars to help restore it are at the heart of the restoration, or lack thereof. The city had asked FEMA for $89 million to restore the entire building. All it was willing to give was $38.3 million for major renovations.
Poland Avenue Navy Base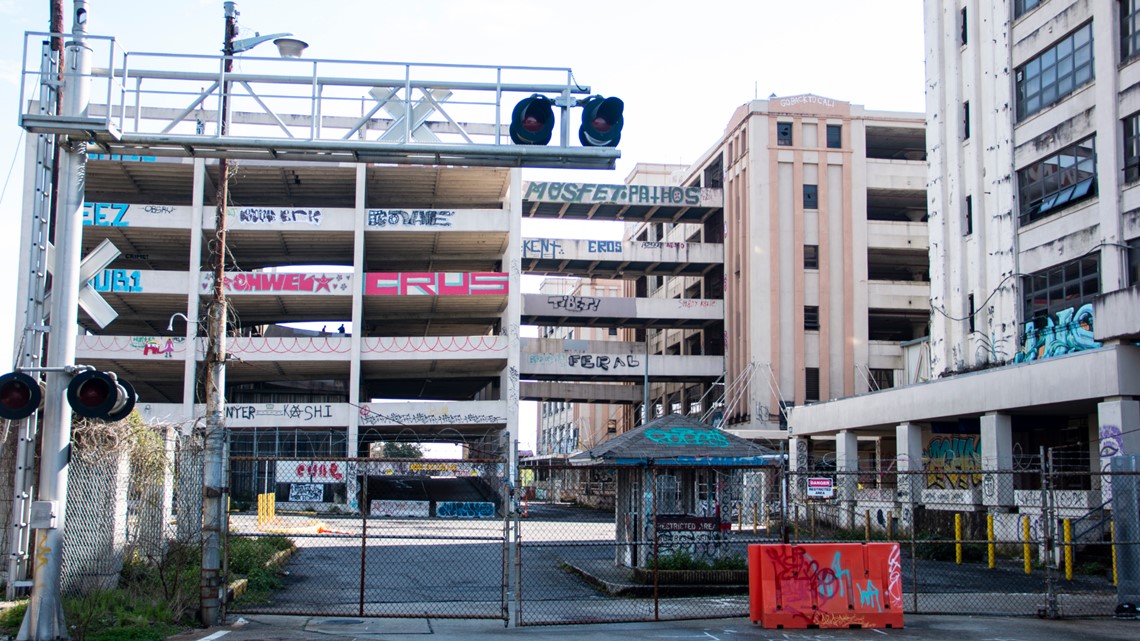 The U.S. Navy transferred its former Naval Support Activity Center on Poland Avenue to the city in 2013 with the idea that it would be used as a state-of-the-art disaster response center.
But those plans went nowhere after an Eyewitness Investigation found that the Landrieu administration diverted at least $40 million in federal grants from that project to others.
Since then, the former base has sat vacant and has become covered in graffiti and overrun by vagrants.
Meanwhile, contractors selected as part of the Navy base's redevelopment complained about the project going nowhere.
The city says it could sign a new lease with developer Joe Jaeger as soon as June, at which point some work could possibly begin.
Former Holy Cross School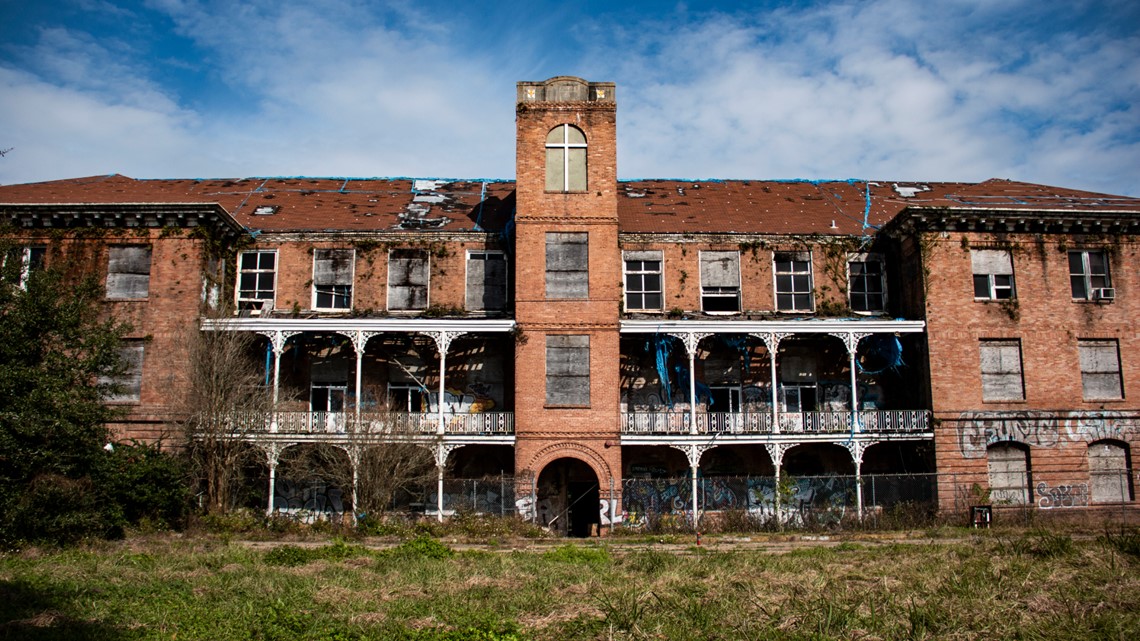 One the home to a bustling campus, the old Holy Cross School in the Lower 9th Ward is nothing more than one vacant building and acres of empty land.
The historic school flooded during Hurricane Katrina and leaders later relocated to a new campus in Gentilly. Since then, plans to build mixed-income housing have gone nowhere.
Plans announced in 2013 initially were panned because of the size of the proposed project. Now, though, there seems to be some consensus that the latest idea -- a 140-apartment complex in the old school building and a handful of new buildings -- is the best idea.
City records show it has been cited in the past for nearly two-dozen violations, including demolition by neglect and lack of maintenance. Two of those cases remain open, according to city records.
But Angela O'Byrne, the developer and president of Perez Architects, recently said work is expected to begin by the end of the year, something city officials confirmed.
She said the Historic District Landmarks Committee recently approved the new design, and she was hopeful the City Council would soon follow with its OK. It will then be getting a series of permits from various agencies and final meetings with investors once that happens.
One major issue was the downfall of First NBC, which was set to back the project, and changes to tax credits, O'Byrne said.
"I've been working on it since 2012," she said of the project. "I thought I was going to finish the deal in the first two years."
Lindy Boggs Medical Center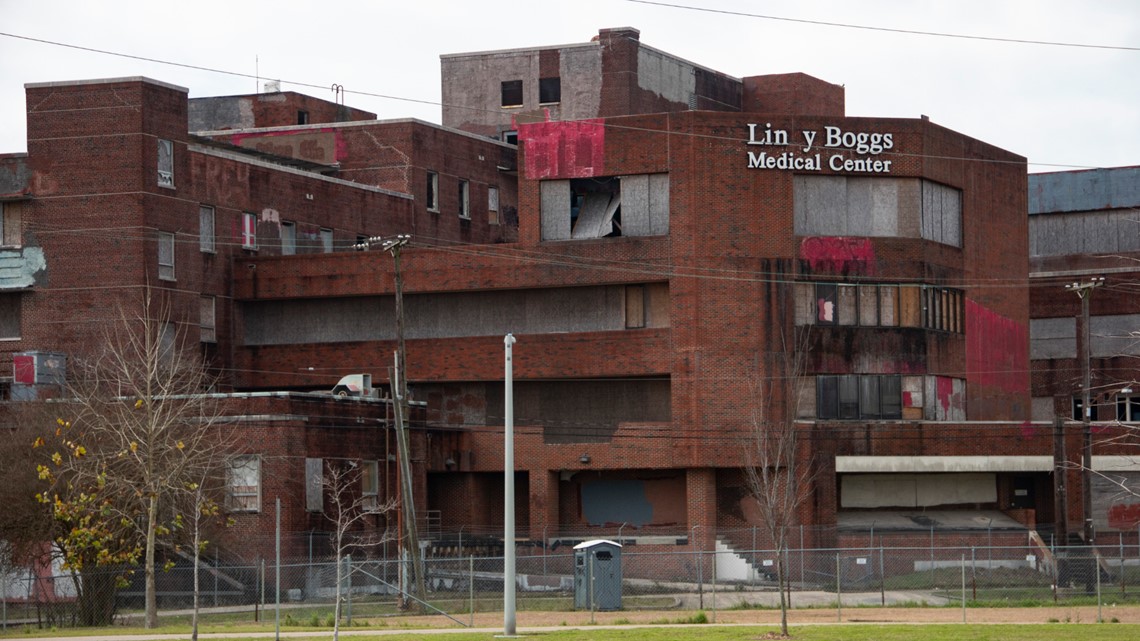 Parts of Mid-City have boomed since Hurricane Katrina's flood waters inundated it, but the old Lindy Boggs Medical Center remains an eyesore, and a recent Eyewitness News report found no solid plans for the building.
Water often pools in a lower-level ramp near what used to be an emergency room drop off. Trash can also be seen near the fence that rings the property.
The old hospital at North Jefferson Davis Parkway and Bienville Avenue is owned by St. Margaret's Foundation, according to Orleans Parish Assessor's Office records. MCC Real Estate, a real estate company owned by developer Joe Jaeger, has been brought on as a partner.
But other than MCC recently telling a neighborhood group that the building had been cleared of asbestos and debris, there are few plans. One idea to turn it into a cardiovascular hospital fell through after the state pulled out and decided to focus on University Medical Center.
Lake Forest Plaza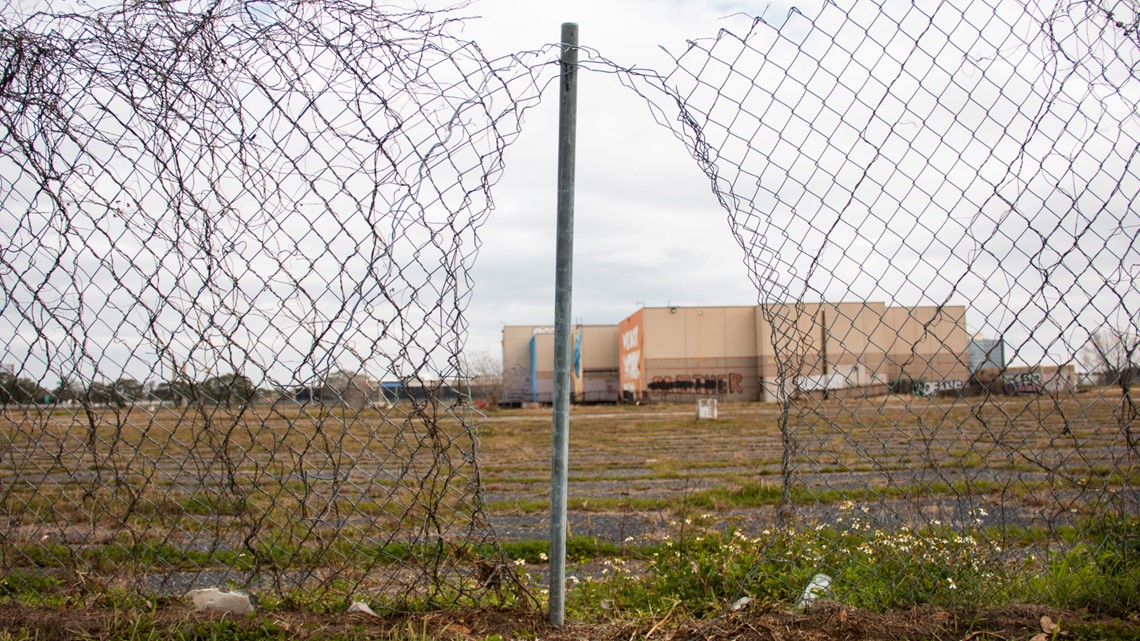 The Lake Forest Plaza was once the largest shopping center in the state when it opened in 1973. The mall had already begun its decline when it flooded during Hurricane Katrina, but the storm was its final demise.
Bulldozers leveled the mall amid much fanfare in 2007 and headlines blared that a town center-style development would take its place with stores, hotels and housing. But aside from a Lowe's Home Improvement store opening, the site remains empty.
Stephen I. Dwyer, an attorney who represents the property's owner, said in late January that work should soon start at the site.
He said sales are pending for parts of the property that front Read Boulevard. One developer, whom he declined to name, has envisioned building restaurants and a strip mall. Another plans to open a gas station and convenience store, Dwyer said.
Six Flags New Orleans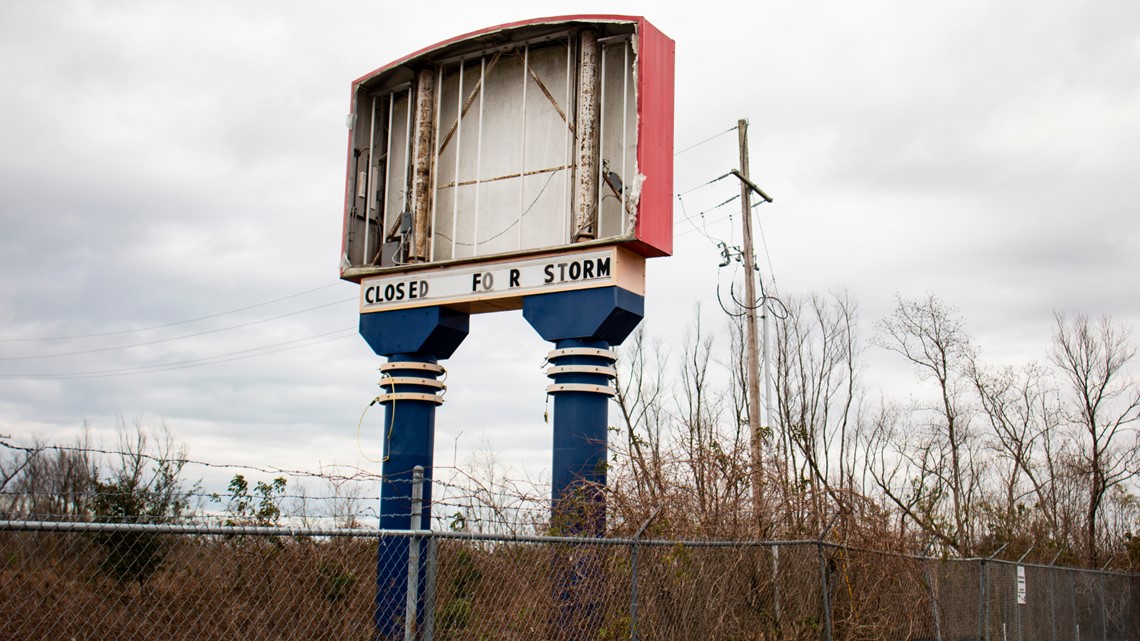 Another victim of Katrina, the former Six Flags Amusement Park has been locked up since the storm.
Many ideas about reopening it have been floated, such as transforming it into an outlet mall, but none have gone anywhere. In 2017, the Industrial Development Board voted to enter into an agreement with the Landrieu administration to redevelop the site.
PHOTOS: Inside the amusement park devastated by Hurricane Katrina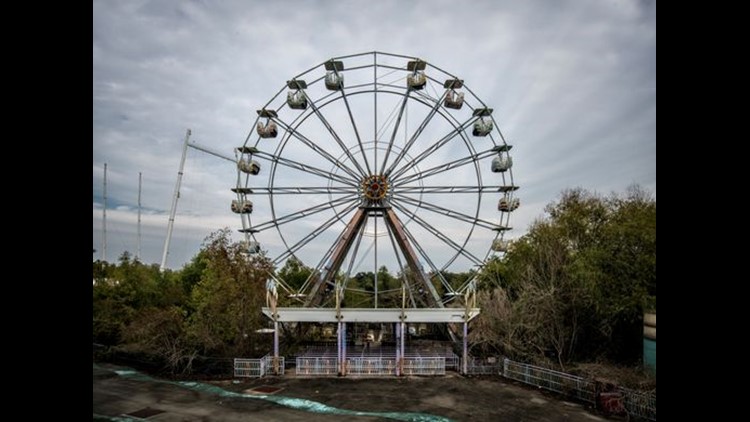 The IDB entered into a similar agreement in June 2018 with the Cantrell administration, giving the mayor's office a year to start the redevelopment process of the site. But the board also noted it's running out of money to maintain and secure the site, with costs running about $19,000 a month.
A unique hurdle is that the abandoned theme park's roller coaster and other rides still remain, something that could cost at least $1 million to remove.