Imagine being in pain, but current treatments don't help. Imagine suffering from clinical depression and current medications and therapy don't help.
That is why some people are turning to a doctor in Covington, Louisiana for a medication that is considered controversial by some, but safe and effective by others in the medical community.
At only 25-years-old, Laura Coatney's life dramatically changed several years ago, when she tripped while in college at Cornell. Her Complex Regional Pain Syndrome (CRPS) means she feels pain just by being touched.
"I'm in constant pain. On a scale from one-to-ten, my normal day's a six or a seven, which is a lot better than it used to be," Coatney said.
In her early 70s, Desire Krenning had excruciating back pain. She became a shut-in, unable to hold and enjoy time with her great grandchildren, grandchildren and children.
"Emotionally, I was getting depressed," Krennings said. "My husband saw it more and more. And I just sat in the chair and went from my bed to the chair, and that was horrible,"
Also, a middle aged man, with a good job has been suffering from a different kind of chronic pain -- severe clinical depression.
"They gave me a test, so my scores were like extremely depressed, and I was, you know, like maybe possibly in danger," explained the man, who asked to remain anonymous.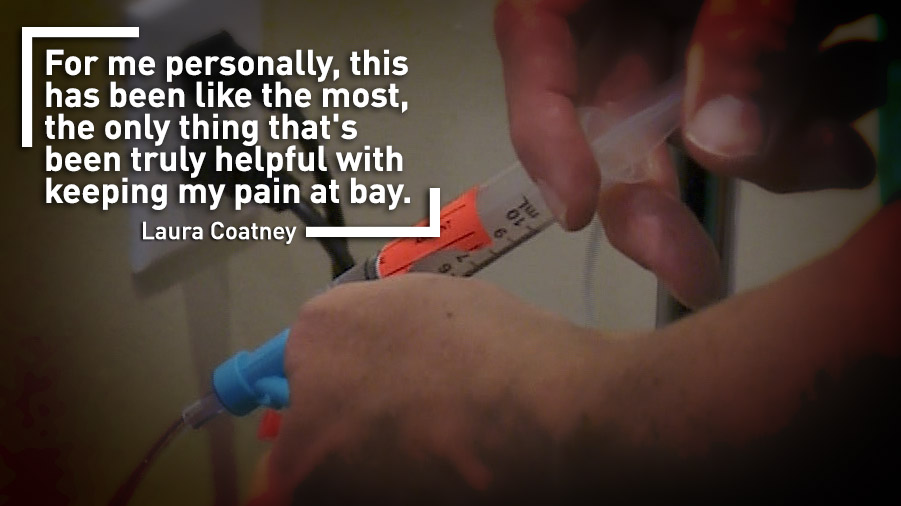 All of them had a variety of expert, evidence-based medical treatments, but they say their lives changed, and conditions dramatically improved when they discovered something different. It's something the Louisiana State Board of Medical Examiners says is not FDA approved, could potentially harm patients, and warns doctors it's ill-advised in a clinical setting.
"For me personally, this has been like the most, the only thing that's been truly helpful with keeping my pain at bay," Coatney said.
"I love him. I call him my miracle worker," said Krenning of the doctor. "He's given me back my life."
When asked if he felt differently about life after the treatments, the anonymous chronic depression patient responded, "Oh yeah. Oh yes. Absolutely."
The three patients are among the first in Louisiana to use infusions of Ketamine for chronic pain or chronic depression.
Ketamine
Ketamine's been used for five decades as an anesthesia. The world health organization considers it one of the most effective and safe medicines. Licensed veterinarians say it's essential to their practices.
However, because it puts people in a trance while providing pain relief, sedation and memory loss, it has also been used as a date rape drug and taken illicitly in clubs, known as 'Special K.' It's even killed abusers who wanted a short-term out-of-body experience.
"You don't get an infusion here unless you're referred from a physician. So, you can't walk in the door here and say, 'Hey, I want Ketamine.' Doesn't happen," said Dr. Brian Ball, Director of Ketamine Infusion Center in Covington.
Dr. Ball is a board certified anesthesiologist, and Director of Anesthesiology at Lakeview Regional Medical Center in Covington. He's been using Ketamine in the operating room for 30 years. A year ago, he opened the first and only Ketamine infusion center in Louisiana.
"Surprisingly, a large number of my patients are physicians, or physicians' family because they see it. They see the benefit," Dr. Ball said.
Dr. Ball says the Louisiana State Board of Medical Examiners gave him the OK to open his clinic, but with many restrictions. He has treated more than 350 patients, and prefers to work alongside patients' regular pain doctors or psychiatrists. Patients range from 17-years-old into their senior years.
"I get the worst of the worst. I don't get patients that just start having a little ache or pain. I get them when everyone else has failed," Dr. Ball noted.
Cautious optimism
"I totally understand the drive behind this. The reality is our treatments for depression are getting better and better, but there are still too many people who have their lives ruined with this illness or even kill themselves because of depression," said Dr. James Barbee, a psychiatrist in private practice who is also a professor of clinical psychiatry at LSUHSC and Tulane.
Dr. Barbee is a board certified psychiatrist, credited by many patients for their success. He typically gets patients after a dozen medications have failed to help their mental illness. He's had six patients get Ketamine infusions, some out of state. Two have shown short-term improvement.
Dr. Barbee is not using Ketamine now because, for this treatment resistant population, he has not seen studies that it can help them.
What he has seen with Ketamine treating depression, is compelling, but he wants to wait for more science to assure that it works, is safe and doesn't have long-term side effects to the brain -- as was seen in an animal study at higher doses.
"Even though we are using much lower doses in humans, it appears that the effect of Ketamine in depression is relatively transient and lasts maybe a couple of weeks to four weeks on average. In some people it's only a matter of days," Dr. Barbee said.
"Almost invariably, the toughest ones are the patients with treatment resistant depression," Dr. Ball agreed.
Dr. Ball says there are patients who need six infusions over two weeks, then regular booster infusions later. But some fibromyalgia patients are one-and-done. There are migraine, diabetic neuropathy and phantom limb pain patients.
Pharmaceutical companies are doing studies now and the FDA has it on the fast-track for major depression disorder, but still, he can tell early on those who will not be helped.
"It breaks my heart to tell a patient that, because usually I get the patients that are at the end of their rope," Dr. Ball said.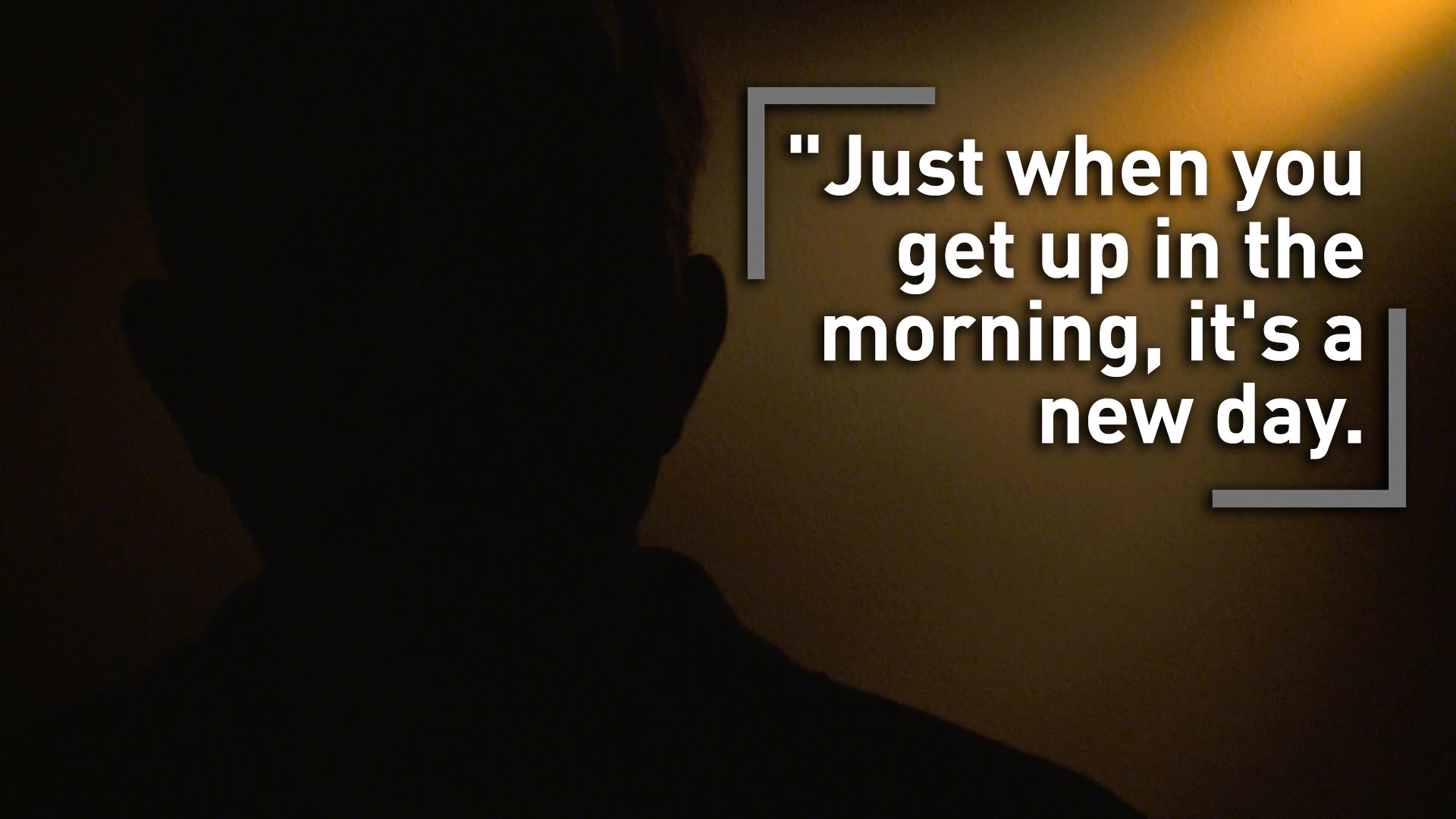 But the three patients that talked to Eyewitness News are believers.
"I can get up and down. I have not had pain in my back since my last shot. Nothing," Krenning said
"It doesn't get rid of it, but it makes it so much more manageable," Coatney said.
"Just when you get up in the morning, it's a new day," said the anonymous chronic depression patient.
The cost is $350 for an hour infusion of Ketamine, which is what most patients need. Insurance does not pay for the treatment.
For more on the Ketamine Infusion Center in Covington call 985-317-9242 or visit their website by clicking here.