NEW ORLEANS — Flames leapt off a 154 year old mansion as onlookers paid their respects to an architectural and cultural icon in the Garden District of New Orleans.
According to the Preservation Resource Center - this home at 2525 St. Charles Avenue was built by famed architect Henry Howard for businessman Charles Miltenberger sometime prior to 1865.
Noted architect Thomas Sully did substantial renovations to the home in 1888.
Architectural historian Robby Cangelosi said he features the mansion in a class he teaches at Tulane University.
"It's a very early example of the colonial revival style in New Orleans," Cangelosi said. "The Daily Picayune in 1888 said it was described as being a neo-colonial style and wIth all the new modern conveniences of 1888 being put into the house there."
PRC Director Danielle Del Sol described the mansion as a Victorian Era, Queen Anne home.
"So, if you look at the front of the building it has an asymmetrical facade," Del Sol said. "It has a very gracious balcony on the second floor and front porch on the first floor. To lose such an architecturally significant home in the Garden District like this is truly a real loss for our city."
The home is now known as the Downman mansion.
It is famous during Mardi Gras as a toasting stop during the Rex parade.
Charles H. Downman bought the home in 1906 and was Rex in 1907.
Lawrence Beron and Howard Hunter used to play in the home as kids.
"We'd go over here and have a great time, especially on Mardi Gras," Beron said. "Rex would stop here and toast. Rex diverts from the riverside of St. Charles over to the lakeside to make a toast to this house."
Hunter described the mansion as a welcoming home.
"It's not a museum it's a place of people who feel very strongly about their family and friends and their city," Hunter said. "That's the tragedy of this."
At least six generations of the Downman-Kock-Montgomery-Grace family have lived in the home during the past 100 years.
Historic St. Charles home burns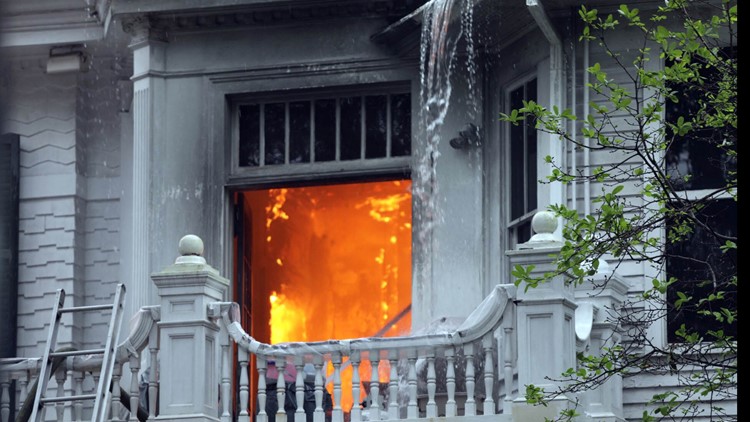 Christopher Montgomery was hoping to some how save the mansion.
"I'm convinced that we're obviously going to repair and build," Montgomery said. "The fire department is doing a great job as they did the last time. We get it under control and we just evaluate and start over. I'm fairly confident we will still do Mardi Gras."
The family did rebuild after an attic fire in this home in 2007.
It's unclear how much of the mansion will be left standing after this fire, but from what we can see, much of the home appears to be heavily damaged.