Scammers are using fake IDs, forged documents to sell vacant lots they don't own
The proliferation of online real estate transactions, in which computerized signatures replace ink-on-paper sale agreements, is fueling a rise in scams.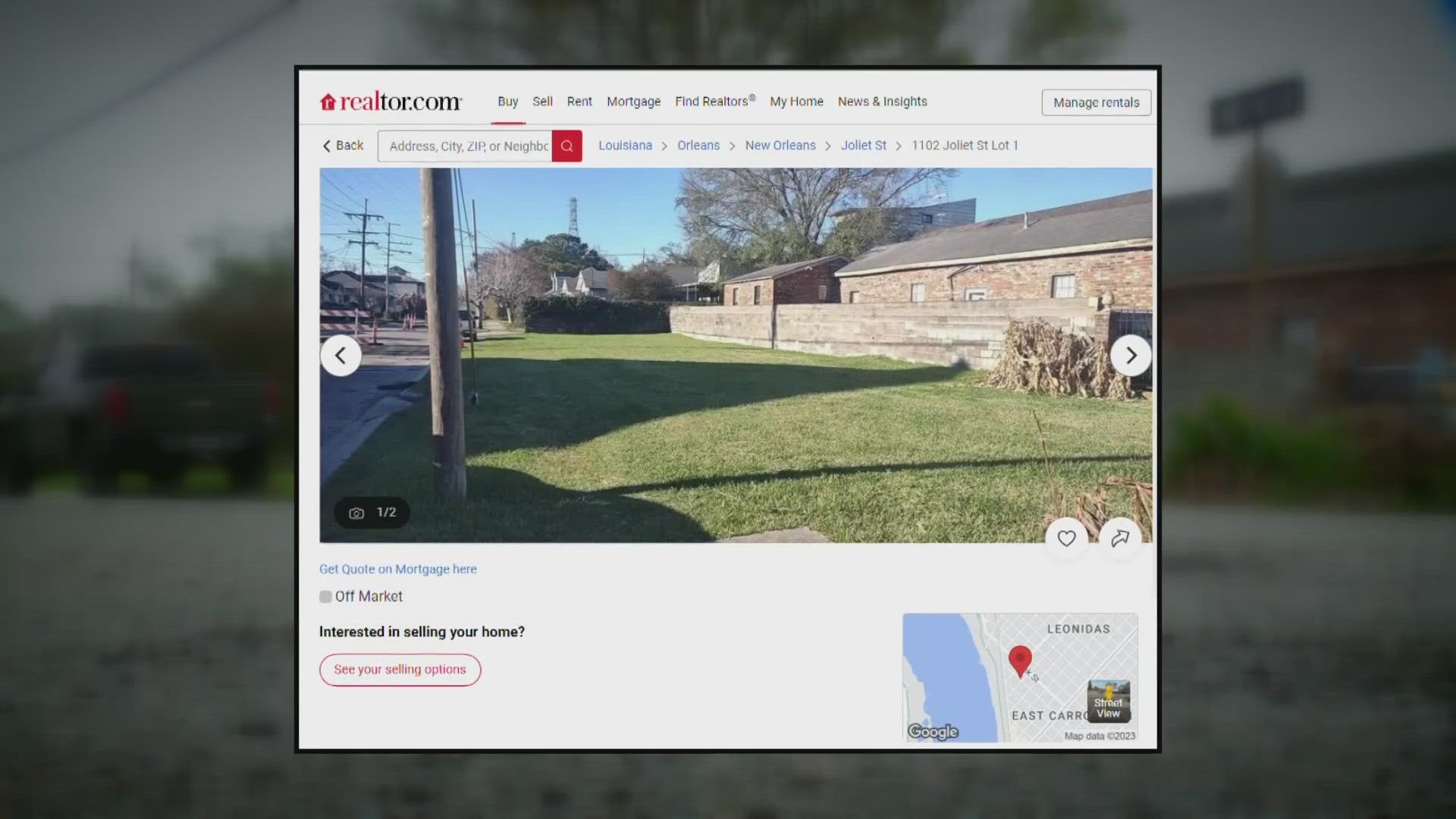 A new real estate scam is sweeping the country, hitting the New Orleans housing market especially hard in the last few weeks.
Scammers have stolen the identity of at least seven property owners and used fake documents to try to sell their land out from under them, according to a local title company that has documented the cases and worked to combat the scam. Anecdotally, real estate brokers and agents reported additional cases of attempted fraud to WWL-TV in recent weeks.
Not For Sale
:
'I have no idea what's going on'
The proliferation of online real estate transactions, in which computerized signatures replace "wet" ink-on-paper sale agreements, is fueling a rise in seller impersonation scams. It's become such a popular scheme in the last few weeks that a national title insurance company is now offering real estate agents and attorneys webinar training on how to stop it.
One New Orleans property owner, Daniel Tan, was planning to build his dream home on a corner lot in the Riverbend neighborhood when he discovered it was under contract to be sold by someone claiming to be him earlier this month.
The sale might have gone through if Tan's neighbors hadn't been looking out for him. Drew Ward lives two doors from the lot and reached out to Tan to say the neighbor living between their two properties wanted to make a higher offer than the listing price of $140,000.
Already feeling foggy from a tough bout with Covid, Tan sent Ward a text: "Hey, man, I have no idea what's going on. I'm not selling my lot."
Tan called the listing Realtor, Lynn Dufrechou, and said he was calling about the lot at Joliet and Zimpel streets.
"And she goes, 'Oh, I'm sorry, it's under contract.'" Tan said. "And I'm like, 'It really shouldn't be because I'm the owner, and my name is Daniel Tan and I don't recall hiring you.'"
The Fake Daniel Tan
:
How scammers almost made the sale
Dufrechou said she already had a gut feeling something wasn't right. The purported Daniel Tan who hired her had told her he only wanted to communicate by text. When she sent the purchase agreement to the real estate attorneys at Crescent Title for a closing, she warned them she had never met her client.
Crescent Title real estate attorney Lauren Griffin said it's good to be on guard, especially with vacant lots.
"Because they can be anywhere across the country and they don't need to go meet with anyone because it's a vacant lot," she said. "You don't need to inspect a vacant lot with your seller there."
The fake Daniel Tan created a slew of authentic-looking records, including wiring instructions to a bank account in Houston that was quickly closed, notarized sale documents that the notary confirmed had been falsified and a scan of Tan's driver's license with the correct license number and address, but a blue-eyed White man's face on it. The real Daniel Tan is Asian.
Luckily, Crescent Title confirmed with the real Daniel Tan that his lot was not for sale before any money was transferred by the would-be buyer to the Houston account.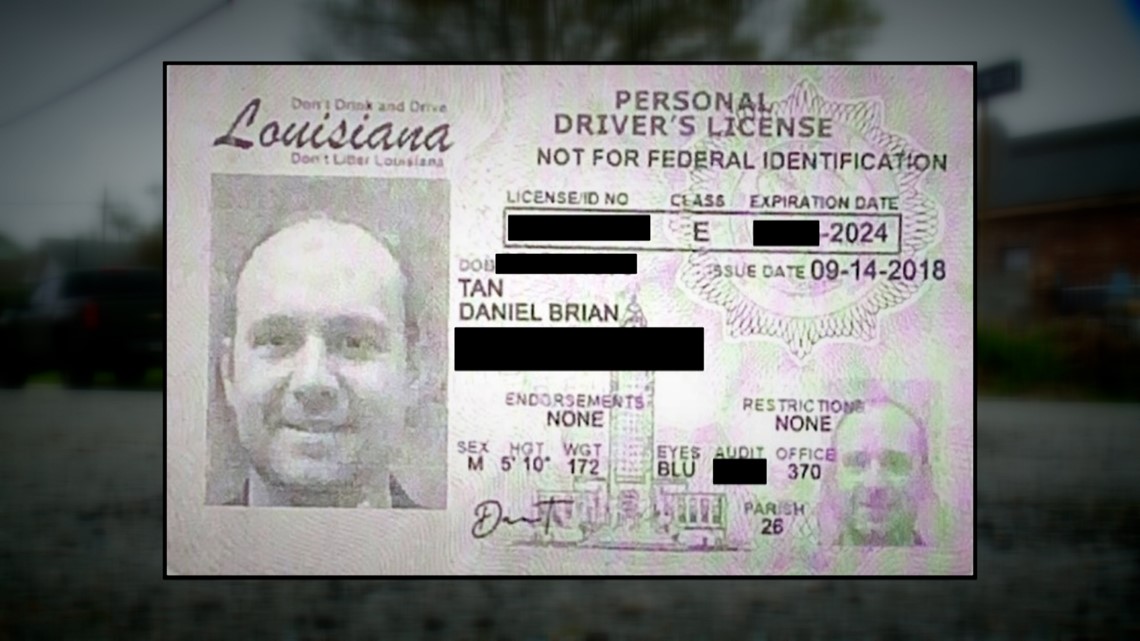 New Protocols
:
How Title Companies are Fighting Back
Another would-be purchaser of a different vacant lot in New Orleans wasn't so lucky. He agreed to send a fake seller a $5,000 deposit through Zelle after seeing a scanned image of the purported seller's driver's license. The District of Columbia license showed a gray-haired White man. Crescent Title did more research and discovered the real owner of the lot had the same name on the license, but is actually a Black man.
Again, Griffin noticed some problems before approving the property transfer. The would-be seller claimed to be in North Carolina, used a notary from New Orleans and sent the signed documents from another state, she said. Crescent Title spoke to the notary, who said she hadn't notarized the documents in question, Griffin said.
Crescent Title has implemented new protocols as a result, Griffin said.
"We do have checklists in place," she said. "We make sure we have certain questions that we want to ask all of our sellers and all of our buyers and the agents."
That includes asking sellers for multiple forms of identification and checking prior sales by the same owner to make sure the signatures and photo IDs match.
She said it's more important than ever for buyers to get title insurance, so anything they pay for a bogus sale won't be lost.
Griffin is also advising real estate agents to take certain steps when someone they've never met asks them to list a property for sale.
"Make sure that you're able to meet with them in person. If not, do a Zoom call, but make sure that they're visible," she said.
Dufrechou also took action that may have helped save other would-be buyers of Tan's lot, by placing a note in the MLS real estate listing service that said, "Beware – The person who signed the listing agreement was a fraud."
"And I got a call from another agent who saw that and was able to refuse another effort to sell that lot," Dufrechou said. "You can search for phone numbers. It's still another step we can take, find the phone number for the actual person. And if we don't know the person personally, let the title company know it's not a direct referral. We are discussing it at our sales meetings, how we can better protect the listing. But the criminals are getting more and more sophisticated every day."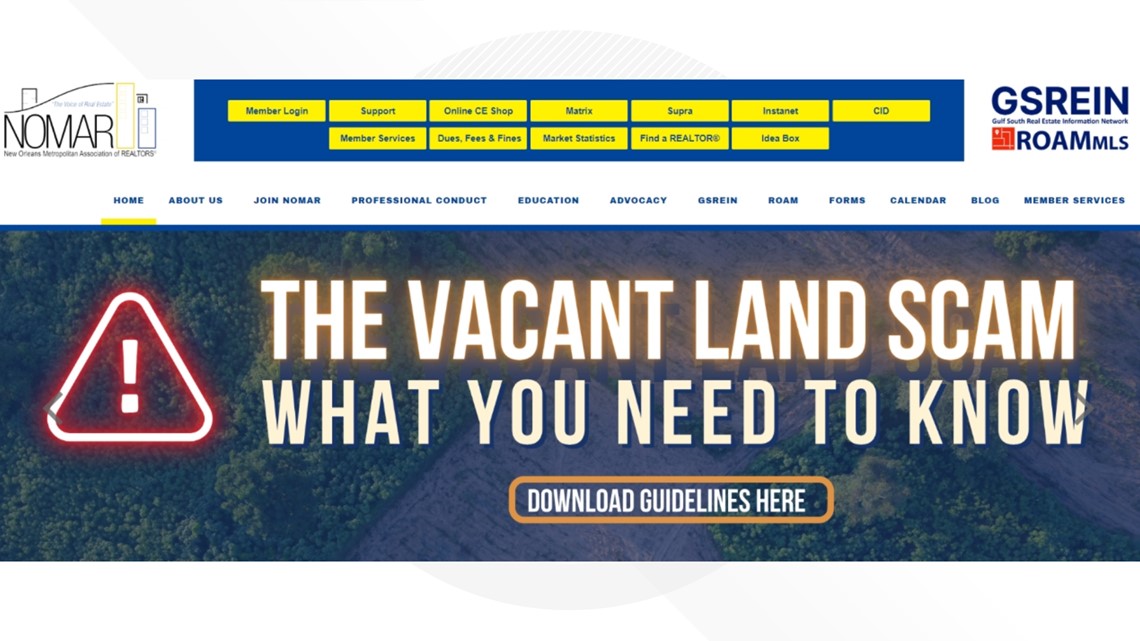 Kelli Starrett, executive director of the New Orleans Metropolitan Association of Realtors, said NOMAR is also concerned about the physical safety of its member real estate agents. The group issued a notification on the MLS this month, passing along a warning from the St. Tammany Parish Sheriff's Office about a man who was trying to lure female Realtors to meet him at vacant homes listed for sale. Starrett said NOMAR recommends agents use online verification services to check the identities of people who contact them, both prospective buyers and sellers. At least one online service, Forewarn, is specifically marketed to real estate agents as a way to do instant background checks on prospective buyers, but its website doesn't mention potential scams by people who want to sell property.
No notices specifically focused on the seller impersonation scam have been posted on the MLS. An alert about the "Vacant Land Scam" linked to information about Forewarn and other tools appeared on the NOMAR.org website Tuesday afternoon.
No Protection
:
Daniel Tan coming up with legal solutions on his own
Tan said he's frustrated by the lack of built-in protections for property owners. He noted, for instance, if the scam had succeeded, he would have been forced to take action against the purchaser to regain clear title, even though that person was also victimized by the scam.
When he notified Chase Bank in Houston that an account there was being used in the scheme, the bank simply closed the account, Tan said. He complained to local and federal law enforcement in New Orleans and Houston, but said he hadn't heard back.
An NOPD spokesman said Tuesday the department is actively investigating Tan's complaint and another one but the detective on Tan's case "had been out on medical leave, but is returning this week and will resume the investigation immediately."
NOPD promised to pursue all similar cases and encouraged anyone with information to call the department's White Collar Crimes Unit at 504-658-5334.
At Crescent Title's suggestion, Tan has taken out mortgages with himself on the lots he owns outright, just so there's an encumbrance recorded that would require him to receive notice of any sale.
Tan, who is an attorney, said he plans to come up with some legal solutions, both to warn property owners of a pending transfer and to punish the scammers.
"If I don't know the locks on my front door don't work when I go to bed, I don't know that I need to take some extra precautions or even fix that front door," he said. "And right now, we don't have anything to notify us that our front door is broken."
► Get breaking news from your neighborhood delivered directly to you by downloading the new FREE WWL-TV News app now in the IOS App Store or Google Play.