Unraveling massive 'roofing scheme' leaving storm insurance payouts in limbo
Thousands of Louisiana homeowners' insurance claims have been thrust into limbo since early March.

One federal judge in New Orleans ruled the attorneys at Houston-based law firm McClenny, Moseley and Associates lied to him, lied to storm victims and lied to their insurance companies in the wake of damaging storms in what he called "a pattern of misconduct on a scale likely never before seen here."
Another federal judge in Lake Charles accused MMA of trying "to prey on people" in western Louisiana after they were victimized by devastating twin hurricanes in 2020.
And the Louisiana insurance commissioner has accused MMA of "a fraudulent scheme" and "unfair trade practices."
The actions of the Texas law firm and its former Louisiana managing partner, William Huye, have turned the state's civil court system on its ear for over a year. MMA, which had never practiced in Louisiana until 2021, appeared seemingly out of nowhere and signed up 15,000 Louisiana storm victims as clients, according to founding partner Zach Moseley's own estimate.
Moseley and Huye bragged they were using new technology to help more storm victims than ever before. At first, the brash newcomers were merely a nuisance for Louisiana courts trying to handle a massive caseload of storm insurance disputes. But six months after the young lawyers' first testy hearings in front of skeptical judges, the scope of MMA's impact is now becoming clearer.
Money in Limbo
:
Thousands of Louisiana homeowners' insurance claims have been thrust into limbo since early March, after Huye's suspension by the Louisiana Supreme Court and an order in federal court in western Louisiana stopping approximately 1,600 cases brought by MMA, at least until new lawyers without ties to MMA can be hired.
U.S. Magistrate Judge Michael North in New Orleans found MMA falsely claimed to represent hundreds of storm victims who had never hired the firm. U.S. Magistrate Judge Kathleen Kay in Lake Charles found MMA repeatedly filed lawsuits for homeowners who had either not responded to messages from MMA seeking approval to file suit or had outright refused the firm's services.

Kay and U.S. District Judge James Cain also found dozens of cases in western Louisiana in which MMA tried to negotiate insurance settlements and collect legal fees from the wrong insurance company or on behalf of homeowners who already had hired other lawyers.
And as a result, all three jurists have questioned the whereabouts of potentially millions of dollars in proceeds from insurance settlements negotiated by MMA.
Separate Schemes
:
In an order March 16, North said MMA was running two separate "schemes." In one, he found MMA had paid millions of dollars for marketing technology – including automated text messages, emails and social media – to generate clients. In the other, he determined MMA had used Alabama-based roofer Apex Roofing and Restoration to knock on doors in the New Orleans area and sign up clients.

Slidell resident Nicole Smith is an Apex customer who said she hired MMA last year without realizing it. Her home was one of many in the area damaged by wind and hail in a line of strong storms that hit St. Tammany Parish on May 25, 2022. She filed an insurance claim and started doing repairs on her back fence and gates but hadn't found anyone to fix hail damage to her roof. One day in September, a salesman for Apex knocked on her door.
Smith hired Apex and signed forms, including an "assignment of benefits." That form is a normal part of the process, giving contractors like Apex the first right to collect payment for roof repairs directly from the insurance company.
But North found MMA, acting as Apex's lawyer and holding itself out as the homeowner's lawyer, was using the assignment of benefits as the first step in what he called the law firm's "roofing scheme."

A month after Apex's salesman knocked on her door, Smith said an Apex representative told her to sign another form, saying it would help move the process along. Smith said Apex told her that second form came from Apex's lawyers at MMA.
She said she didn't realize it at the time, but by signing that form, she was hiring MMA to be her attorneys too.
Apex Responds
:
North called Apex one of MMA's "far-flung agents of chaos." But the attorney who recently replaced MMA as the roofer's lawyer said Apex was simply recommending its attorneys to its clients, not acting as MMA's agents to sign them up with the law firm.

"Apex's position is that it was not the agent for MMA, ever," said the new attorney, Peter Butler. "To the contrary, by law, as Apex's attorney, MMA became Apex's agent."
Butler said Apex was not given a chance to respond to North's order in court. Now, it's suing Huye, MMA and its founding partners James McClenny and Zach Moseley for malpractice, claiming they prevented Apex from starting jobs and collecting payments after the Alabama company hustled up new business in Louisiana, focused on hail damage on the north shore of Lake Pontchartrain.
"Apex has lost well in excess of $1 million in its foray into Louisiana to attempt to provide roofs to people who suffer roof damage after a wind and hail storm event," Butler said.
Asked why, Butler said, "Because of mostly MMA."
'A check that's just still sitting'
:
Moseley, along with Huye and the firm's other former Louisiana attorneys Cameron Snowden, Claude Reynaud III and Grant Gardiner, initially represented themselves in front of harsh questioning and condemnation by judges. Now, founding partner James McClenny has left to start a new Texas law firm and Moseley alone remains at MMA.
He hired a leading criminal defense attorney, Billy Gibbens, to represent the firm in court. Insurance Commissioner Jim Donelon announced the firm is the subject of an insurance fraud investigation, and several attorneys at other law firms said they've seen FBI agents attending some of the hearings.

At one court hearing in New Orleans on March 3, Judge North asked Gibbens about an insurance check made out to an Apex customer, but endorsed by Moseley and never signed by the homeowner.
"That should not have happened; and, yes, it's a problem," Gibbens said, according to court transcripts. "We're trying to figure out how and why that happened, Judge."
When North asked where another Apex customer's insurance check was, Gibbens said: "That is probably a check that's just still sitting."
"Sitting there like lots and lots and lots of checks," North said.
"Yes. We know that," Gibbens replied.
Gibbens did not respond to our requests for comment. His associate, Gwyneth O'Neill declined comment on Moseley's behalf at a hearing in Lake Charles last week. Huye also declined comment.
Where Did the Money Go?
:
Like those other storm victims, Smith has no idea what happened to her insurance money.
In December, Apex quoted her a little over $12,000 for a new roof. In January, she got a settlement notice for $22,600. A breakdown of the settlement stated $12,500 would go to Smith, and the other 44 percent of it – about $10,000 – would go to cover legal fees and expenses on a claim where no lawsuit had been filed.
The settlement document also granted MMA "limited power of attorney to endorse all checks for settlement proceeds... on your behalf." Smith signed it but has never seen any of the money and her roof is still not fixed.

Butler said Apex hasn't seen any of that money either, and the roofer "is not happy about that."
Recently, Smith's mother-in-law saw a TV ad by New Orleans injury lawyer Morris Bart, encouraging MMA clients to hire his firm instead. Smith is one of more than 600 former MMA clients to hire Bart associate Austin Marks to represent her. Marks said he was able to get Smith's insurance company to void any settlement checks that MMA had endorsed.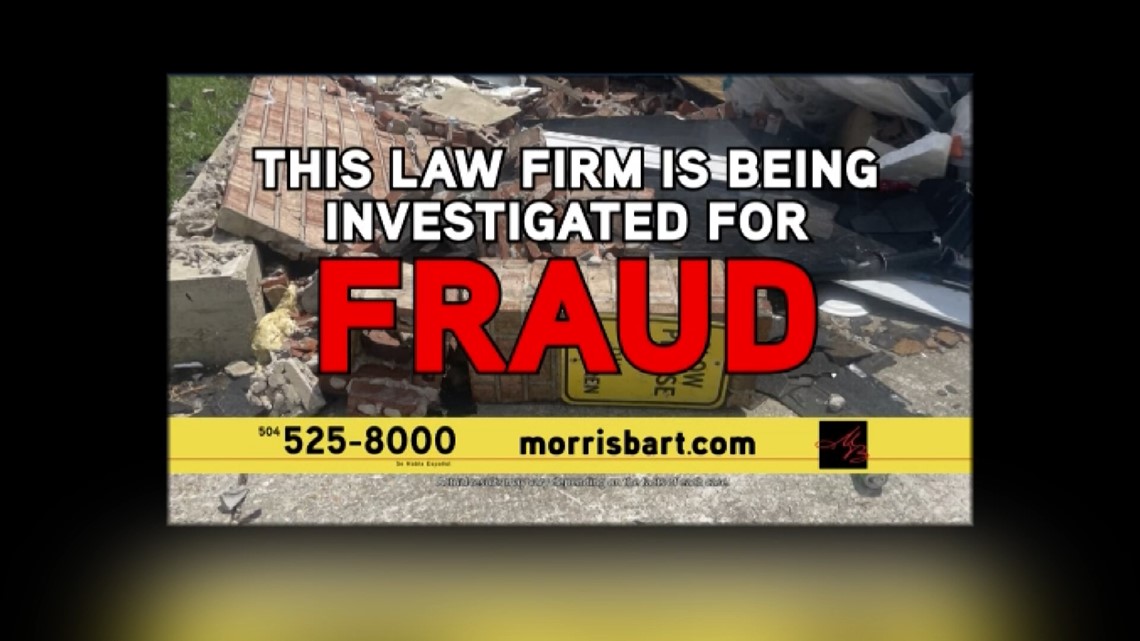 "They took advantage of homeowners. They took advantage of insurance companies," Marks said. "They lied, cheated and stole from everyone."
Smith wonders how she could have protected herself from something Judge North called "an unprecedented tableau of misconduct."
"If the judge don't know what to say, like if no one has even seen this before, where do we go from here?"
"Insured to Lose" continues Tuesday (March 2) with Part 2, describing what Judge North describes as a separate part of MMA's "scheme."
► Get breaking news from your neighborhood delivered directly to you by downloading the new FREE WWL-TV News app now in the IOS App Store or Google Play.