METAIRIE, La. — At one of the busiest intersections in Metairie, at the corner of Veterans and Clearview, a building stands vacant. But inside, tens of thousands of dollars of publicly-funded construction material is piled up and abandoned, gathering mold and dust, threatened by seeping water, and invaded by wasps and rats.
What has been happening inside the building at 4545 Veterans – or more accurately, what has not been happening – has been a secret not just to the public, but to parish leaders.
"They let this matter just linger on, so now it's costing the taxpayers of Jefferson about $43,000 a month to lease an empty building," said longtime political figure and attorney Vinny Mosca.
Deal was for stand-alone emergency room in visible location
In 2016, East Jefferson General Hospital signed a 10-year lease to occupy the building. After getting special zoning by the parish council, the publicly-owned hospital unveiled plans for a stand-alone emergency room, following a national trend and to keep competing hospitals from encroaching on its backyard.
The enthusiasm for the project didn't last long.
Within a year, the emergency room idea was scrapped. But the lease payments, $43,000 a month, continue to flow to the building's owner, a corporation called Cella III.
Inside the building, it looks like a neutron bomb was detonated: no signs of life, but rooms full of construction material abruptly left behind. Even a full set of construction blueprints was left in plain view. Outside, a brand-new $38,000 generator sits unused, hooked up to nothing.
How much has this failed project cost the parish-owned hospital?
Lease payments made so far are $931,000 and counting, and the hospital remains on the hook for a full 10 years of rent, which would add up to $5.2 million. In response to a public records request, the hospital stated that another $3 million was spent on the abandoned construction and materials, meaning that more than $8 million in public dollars have been obligated so far.
EJGH building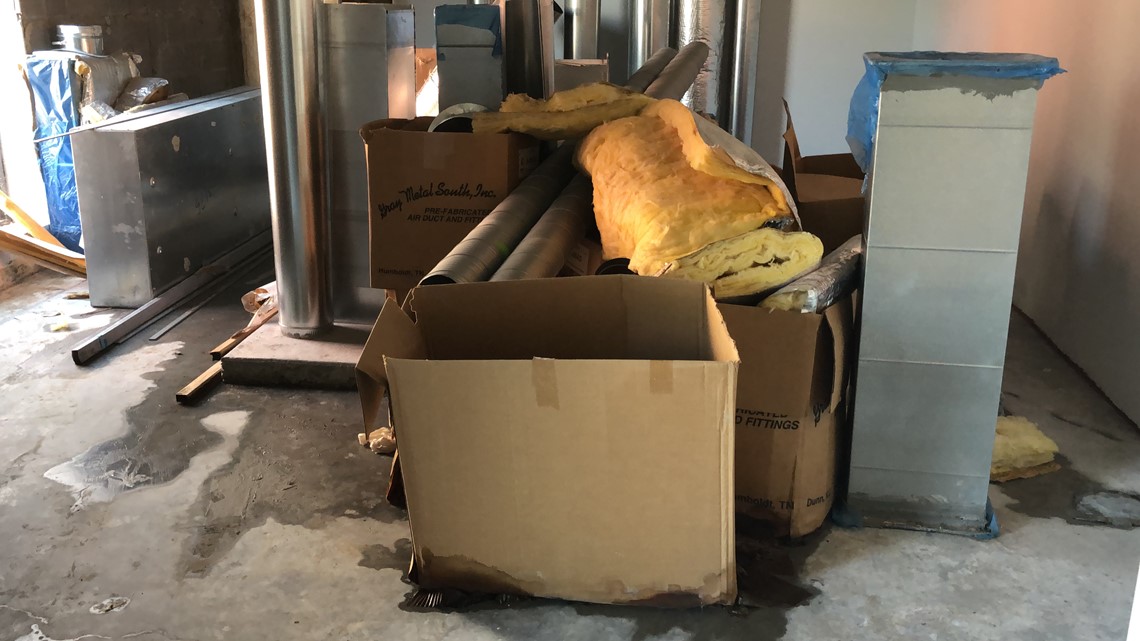 Hospital Board member Newell Normand, the former Jefferson Parish sheriff, said rapidly changing market conditions led the hospital to abandon the project in mid-construction.
"Because of the regulatory changes, because of the changes in the market, we decided to pull the plug," said Normand, now a radio talk show host with WWL Radio.
While thousands of motorists pass by the building every day, the abandoned project is nearly invisible from the outside. One clue is the parking lot, which was rebuilt for an emergency room, complete with a sloped ramp for ambulances. On the inside, some wiring and fixtures have been installed, but stacks of ducts and pipes and sheet rock remain piled up throughout the 11,000-square foot interior.
Hospital has tried to cut its losses
By early 2018, the hospital quietly attempted to sub-lease the privately-owned building, hiring real estate broker Lane Hindermann to advertise the property. In comments at the bottom of the real estate flyer, Hindermann notes, "This was going to be an emergency room. Construction halted mid-stream."
The "base monthly rent" quoted on the listing is $32,985 to $42,375, less than what the hospital is paying.
The real estate listing is what tipped off the owner to the hospital's sudden change of plans. That sparked a series of five formal demand letters to the hospital from owner George Cella III and his attorney, Paul Lea Jr. The letters claim a breach of the lease and include a demand for negotiations to end it.
Lease owner not happy, taking legal action
When the hospital declined, the owner in September filed a breach-of-lease lawsuit, claiming the building has been left to deteriorate and the change of course has devalued the property.
"The very expensive improvements to the building are currently rotting in place and the damages could be in excess of $20 million," Lea wrote in a statement. The lawsuit cites a long list of damage to the property, including mold, mildew, rat infestation and water damage.
Now, on top of the lease payments and cost of the abandoned project, the hospital is paying attorneys to fight the lawsuit.
The hospital declined to disclose how much attorneys have been paid to fight the lawsuit, citing an "enhanced ability to compete" exception to state public records law.
"Attorneys' fees mount up pretty quickly," said Mosca, who has been following the litigation from its inception. "And it doesn't serve a useful purpose for the attorney's fees to mount up without some sort of an attempt to resolve the matter. Taxpayer money being is spent day after day after day."
T.J. Pipitone
The hospital, governed by a board of directors and the parish council, appears to be bracing for an all-out court battle. Normand maintains that the hospital is still in compliance with the lease, and is actively looking at other uses for that prime estate.
"We can use that property for any purposes that we desire pursuant to the lease," he said. "And the purposes pursuant to the lease are broad. He's receiving the lease payments. I don't know what else to tell you."
Abandoned project not East Jeff Hospital's only money woe
The vacant building is yet another money drain on the troubled 420-bed hospital, one of the last public stand-alone hospitals left in the region.
"East Jefferson Hospital is in dire financial straits right now," said Tulane finance professor David Lesmond after reviewing the hospital's financial outlook.
Both Moody's and Standard and Poor's rate the hospital's financial condition as poor – and deteriorating.
"The negative outlook reflects our view of EJGH's mounting operational challenges and inability to generate cash flow," stated a Jan. 2019 report by Standard & Poor's.
Financed by a bond debt of $142 million, the hospital has been hit by five rating downgrades in five years.
Revenues have been declining precipitously," Lesmond said.
According to the financial documents, the hospital suffered a nearly $28 million operating loss in 2017.
The ongoing red ink leaves East Jefferson General with limited options: bankruptcy, a taxpayer bailout, or finding a merger partner.
The parish's other public hospital, West Jefferson Medical Center entered into a partnership in 2015 with LCMC, a local network that includes University Medical Center as well as Touro, New Orleans East and Children's hospitals.
East Jefferson has tried for years to find a merger partner, but negotiations between the hospital and national player HCA fizzled last year.
"They've gone to the dance without a partner," Lesmond said. "And everybody else was partnering up and they're left holding the bag."
Normand said new partnership talks are ongoing, but admits that East Jefferson's future depends on a breakthrough. He said the hospital gets high marks for patient satisfaction and should be an enticing merger target.
"We desire a partner," he said. "There's no doubt about that. You're not going to see single stand-alone hospitals forever. It's just not going to happen."
And if partnership talks fizzle?
"I can't imagine legislators stepping in and anteing up any more money for this," Lesmond said. "They're going to force a bankruptcy in this regard. That's East Jefferson's future in my opinion."