Previous complaints, discipline against Woodfork likely to be considered in NOPD search
Experts say a spotless record is rare in police work and that the nature and severity of complaints against an officer should be key considerations in hiring.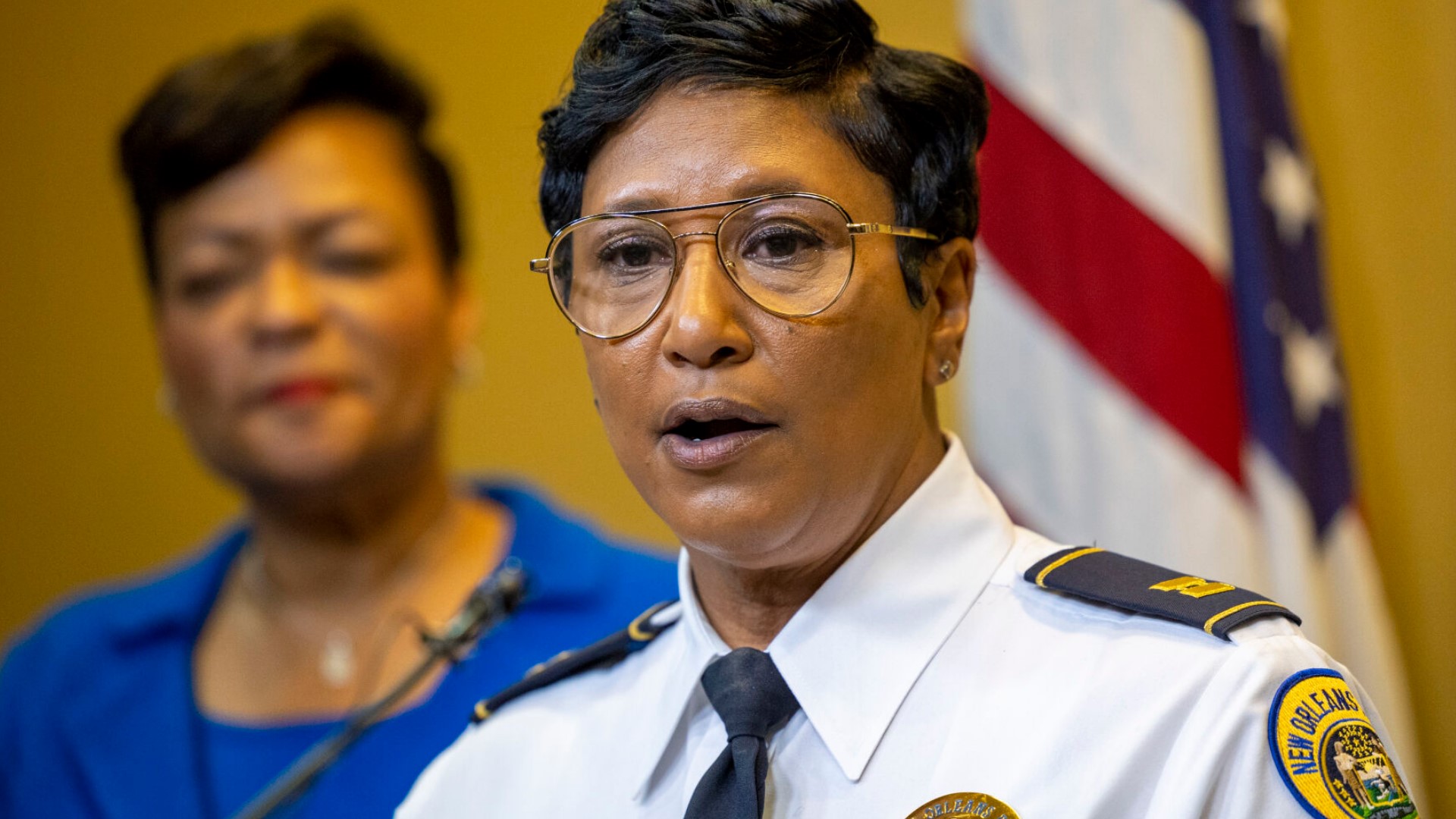 The International Association of Chiefs of Police is expected to help New Orleans conduct a national search for a new police Superintendent and in doing so, will dig deep into the candidates' employment histories, according to a news release issued by the Cantrell administration announcing the IACP agreement.
At the time she appointed Michelle Woodfork as Interim Superintendent, Mayor LaToya Cantrell said any national search should begin with Woodfork.
"It's a search with a real focus on leadership that we have within. I believe it one hundred percent that starts with Michelle Woodfork but also other men and women within our department that deserve fair considerations," Cantrell said.
While a look at Woodfork's 34-year, NOPD work history shows few administrative complaints against her in the past ten years, a search of civil service and court records revealed allegations of domestic violence that will likely be considered during the national search.
The allegations involved romantic relationships Woodfork had with fellow NOPD officers, and they date back 20 to 30 years.
Three complaints tied to those relationships resulted in suspensions for Woodfork after investigators found she lied to them. Throughout her career, she served 65 days in suspensions. Pay for 30 of those days was later returned to her after the Civil Service Commission overturned the punishment for one of the suspensions on appeal.
Criminal justice and policing experts said a spotless record is rare in police work and that the nature and severity of complaints against an officer should be key considerations in any hiring process.
"In law enforcement, because it's such a high profile, you know, position, you want to look at that and really do your due diligence in making sure, even if it was 20 years ago, you know, why did you do it? Did you learn from it? Because we've all done things that that we regret," said Dillard University Associate Professor of Criminal Justice, Dr. Ashraf Esmail.
The Long Sheet
: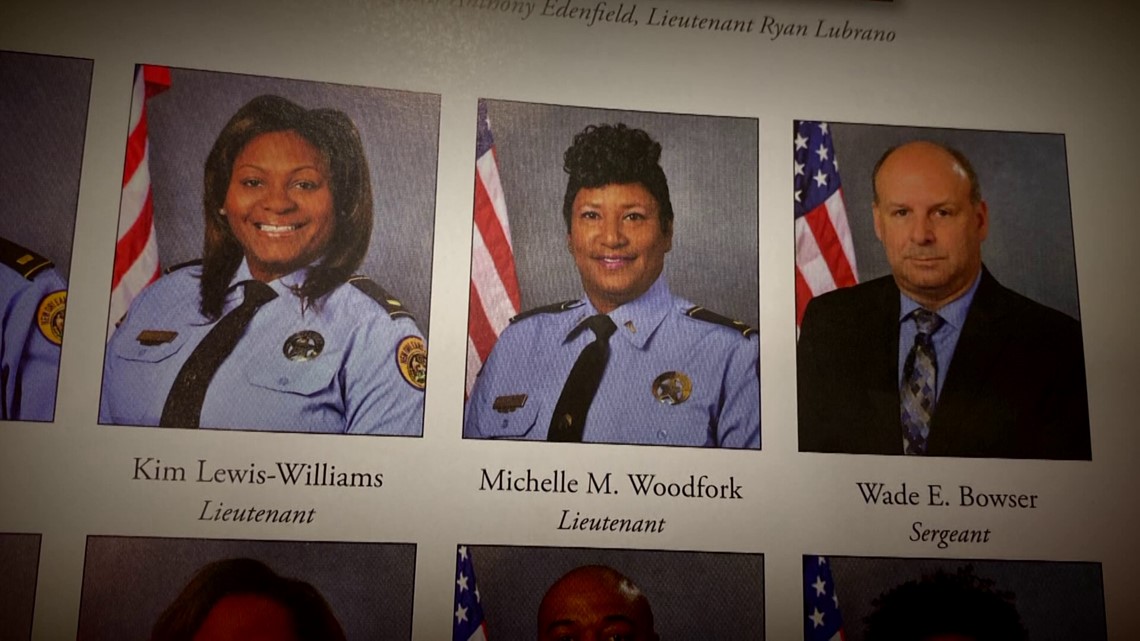 WWL-TV requested the so-called long sheet for Woodfork via public records request to review her work history, but Civil Service Commission records and source interviews indicated that the list the station received was incomplete.
The long sheet should contain a detailed list of all the complaints made against an officer throughout their career. But Woodfork's only listed four, with just one of them sustained. She was exonerated on two of them and a third was determined by investigators to be unfounded.
Woodfork received a letter of reprimand for neglect of duty for the fourth complaint. In 2013, her Captain assigned her to do some administrative tasks, but documents from the NOPD's internal investigation indicate Woodfork told her boss, "It's not my job. It's yours and I'm not doing it."
Civil service and court records combined with information from sources to piece together a more complete picture of Woodfork's past. The NOPD ultimately confirmed all the information.
Our search unearthed three more incidents prior to the ones on Woodfork's long sheet. All of them involved relationships Woodfork had with fellow NOPD officers between 1994 and 2005.
Two of them involved allegations of domestic violence.
While Woodfork declined three requests for an interview about her record, the NOPD confirmed she was investigated, suspended and demoted for her actions that included lying to internal investigators in two of the incidents.
NOPD Spokesperson Reese Harper emailed a statement to WWL-TV in lieu of an interview that reads, "Woodfork maintains her innocence in each of these incidents. Again, these incidents do not reflect the person she is today, nor have they hindered her in being an effective sergeant, lieutenant, captain, or her ability to lead the NOPD as superintendent."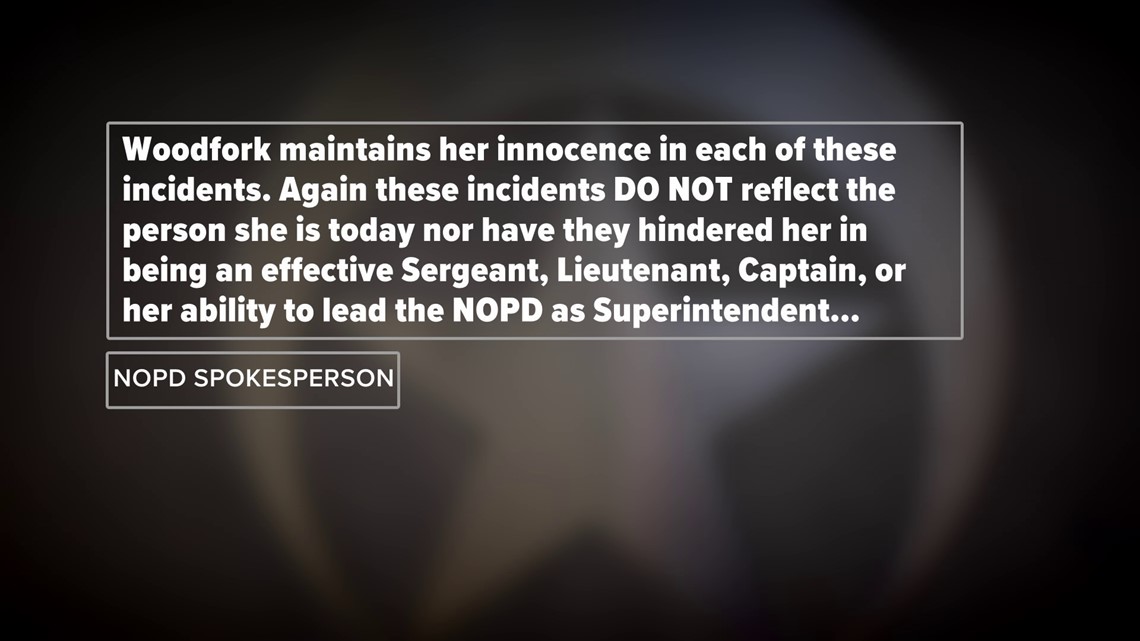 Esmail said interviews with people close to the candidate will likely come into play as the IACP considers who might be the best to lead the department.
"People change. You know, like I said, I've made mistakes. I'm sure you've made, we've all made mistakes," he continued, "When you're doing a check, I mean, you're also interviewing people around you, you know. You know, what did they think?"
At the heart of the questioning, Esmail said, is the circumstance surrounding the past discipline to determine whether the person's behavior has changed.
Civil Service Records
:
The civil service records paint a picture of a tumultuous relationship between Woodfork and former NOPD Officer Angela Davis. Civil Court records indicate they were in a lengthy relationship in the 2000's.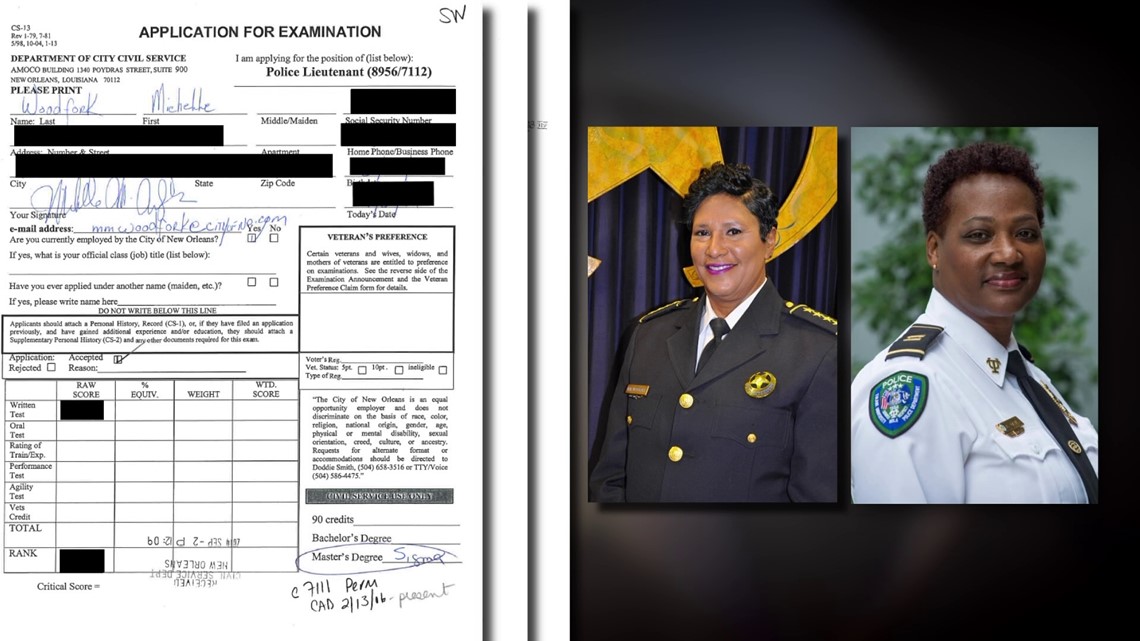 In December of 2003, a witness called police saying Davis and Woodfork had gotten into a fist fight outside Davis' New Orleans East home. After the brawl ended, the witness told investigators Woodfork broke a window to the home and poured transmission fluid through it on the wall and the carpet.
The NOPD investigated it, generating an incident report and an administrative investigation, but records indicate they did not charge Woodfork with a crime. Civil service documents show internal investigators found Woodfork lied to them about breaking the window and she was suspended from the force in June of 2004 for 20 working days.
A month later, Woodfork was investigated for another incident involving Davis. Woodfork was at the scene of a fight between Davis and two other officers at Tulane Hospital and the resulting letter of reprimand found Woodfork violated NOPD policies in how she handled it and how she reported what happened.
Investigators again determined Woodfork lied to investigators about what she saw and the actions she took. Then-NOPD Superintendent Eddie Compass recommended that Woodfork be suspended for 30 days and demoted from sergeant to police officer. While she did serve the 30-day suspension, it was later overturned on appeal by the Civil Service Commission. Her rank was re-instated and she was given back pay for the days she missed.
The NOPD confirmed to WWL-TV that Woodfork had also been suspended ten years prior, in 1994.
Sources, who spoke on the condition of anonymity said Woodfork, in uniform with her gun on, verbally confronted the ex-girlfriend of a male NOPD officer Woodfork was in a relationship with at the time.
She received a 15-day suspension for the intimidation.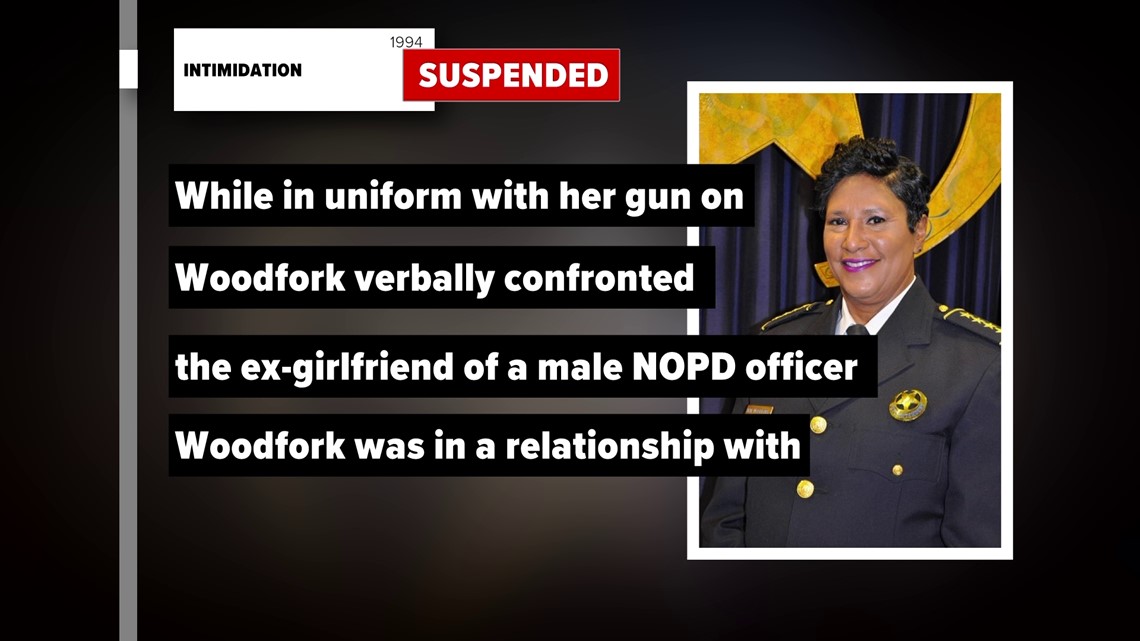 Under the Microscope
:
How much weight the incidents, decades in her past, will carry is unclear. Former NOPD Superintendent Ronal Serpas, who is now a Criminal Justice Associate Professor at Loyola University, said the process looks at everything.
Serpas was known for his "you lie, you die" stance on internal investigations, meaning, officers on his watch could get fired for lying to investigators. And while he would not comment specifically on Woodfork, he said, "Having a public search means that the candidates are going to be vetted in every possible way. As a person who's been candidate in multiple searches and has assisted in searches, these are crucial for the mayor or governor to make the best choice."
In this case, the New Orleans City Council, for the first time, will have the final say in who runs the NOPD. The voters changed the City Charter to require more council oversight in the selection of key city appointments.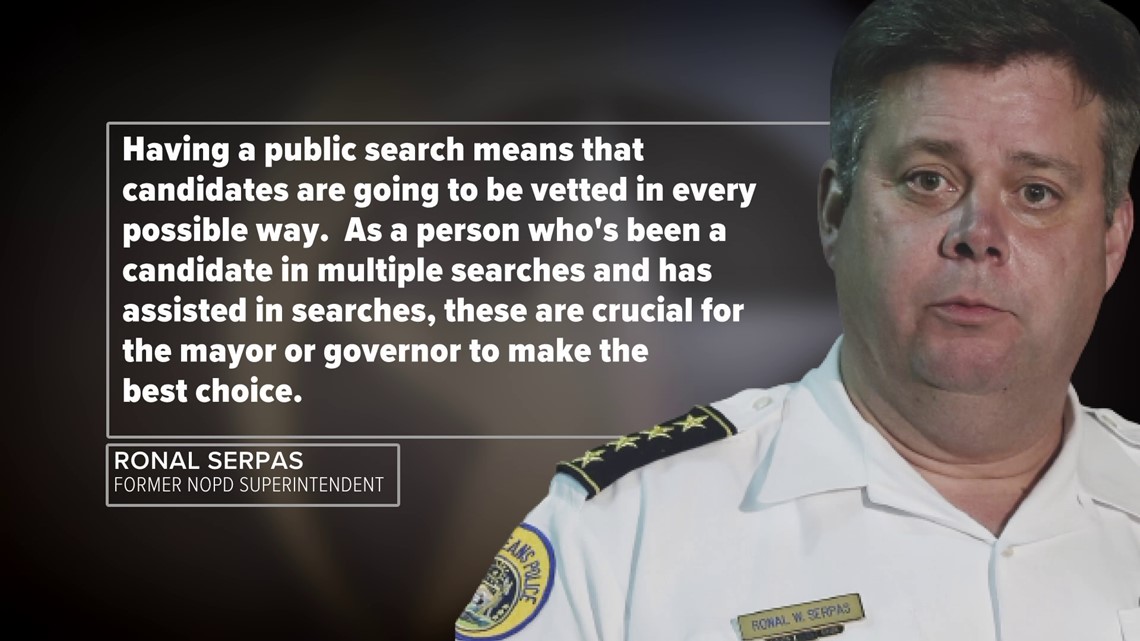 In announcing the national search, a news release from the Cantrell administration read, "Once a pool of qualified candidates has been identified, further information about each candidate's employment history, news stories and social media accounts will be compiled. At this stage, the search team will have enough information to form an accurate understanding of each candidate's background and qualifications."
Around the time of the domestic-related incidents involving Woodfork, the IACP, the same agency planned to conduct the search, issued a "zero tolerance" best practices policy to prevent and identify domestic violence involving police officers. In 2020, a US Department of Justice newsletter cited the IACP policy saying, "At each phase of the hiring process, certification agencies and law enforcement agencies should investigate candidates for a history of domestic violence, including asking candidates about their past behavior and using a psychological assessment that screens for indicators of abuse."
It's a clear indication the incidents involving Woodfork will be a consideration in the hiring process.
► Get breaking news from your neighborhood delivered directly to you by downloading the new FREE WWL-TV News app now in the IOS App Store or Google Play.