ST. TAMMANY PARISH, La. — While Mark Finn's criminal history paints the picture of a career criminal, it provides a glimpse of the insidious relationship between Finn and the man he claims sexually abused him as a child, former St. Tammany Parish Sheriff Jack Strain.
Finn's criminal history, in St. Tammany alone, dates back to 1987, with arrests for aggravated battery, battery on a police officer, DWIs, drug charges and public intimidation. In a parish known for being tough on crime, legal experts who looked at Finn's record said he got more breaks than most.
"It certainly looks like, when you look at the extensive criminal history of Mr. Finn that he got preferential treatment in one of the toughest jurisdictions in Louisiana and that is St. Tammany Parish," said WWL-TV Legal Analyst Chick Foret.
Foret and former St Tammany Parish prosecutor Jack Hoffstadt said Finn's extensive criminal history could have allowed prosecutors to pursue harsher penalties over the years. The tough-on-crime parish is known for using the state's habitual offender law for career criminals, something that was never used for Finn.
Finn claims to be Strain's Godson, adding their fathers were close friends when they were growing up in Abita Springs.
Just three days out of his latest stint in prison on a drug charge, Mark Finn detailed the sexual abuse he claims to have suffered from Strain, starting with he was 6-years-old.
"He used to molest me. I'd say it probably started when I was around 6-years-old up to 12-years-old. And then it got to the point that he started raping me," Finn said.
He is now 49 and Strain is seven years his senior. Through his attorney, Billy Gibbens, Strain has strongly denied Finn's allegations, questioning his integrity as a self-admitted career criminal.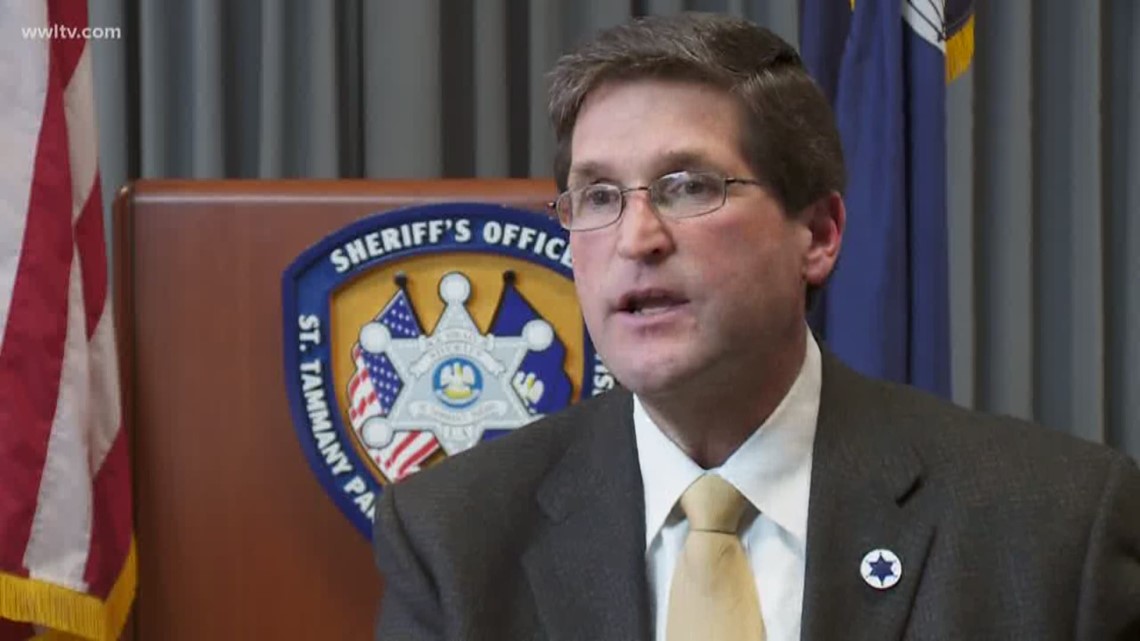 Gibbens did not return a call seeking comment about the alleged special treatment.
The current St. Tammany Sheriff, Randy Smith, confirmed state and federal investigators have been looking into whether Strain sexually abused at least four people, dating back decades.
Finn claims he is one of those alleged victims.
"It's embarrassing to say this, but the records show it. I've got over 20 years in prison. 22 to 27 years all together," Finn said.
"Call Boo-Boo"
Aside from five years spent in a Texas prison for an aggravated robbery in which Finn was found guilty of dragging a woman with his car while trying to rob her of her purse, Finn spent much of his time incarcerated in the St. Tammany Parish jail under Strain's watch.
Some who were once in Strain's ranks at the sheriff's office said the connection between Finn and Strain was well-known, and if it wasn't, Finn made it known.
In at least two cases, court records show Finn told the arresting officer to "call Boo-Boo," his nickname for Strain, before taking him in.
One of those arrests happened in 2012, when Finn and another man were pulled over on the suspicion they were buying up supplies used to manufacture methamphetamine.
"Mark Finn was immediately throwing out Sheriff Strain's name and 'Do you know who I am'. 'You're gonna be in a lot of trouble,'" said a former deputy with knowledge of the case, who asked not to be identified.
"I couldn't even get out, 'This is why I'm stopping you. This is what's going on,'" he said.
Former STPSO Detective Brian Danigole wrote the report and arrest affidavit for that arrest, detailing evidence of meth-making supplies found in the car Finn was pulled over in, and even the threats Finn made about 'Boo-Boo.'
Sources said supervisors in Strain's administration picked apart the report on the arrest and soon afterwards, Danigole was transferred out of narcotics, losing out on a high-profile, better-paid position on an FBI narcotics task force.
"There was a lot of drama over that report and shortly after that, he was put back on criminal patrol," the former deputy said.
The deputies involved in the arrest had to defend their actions in an email to Strain's Chief Deputy. In that email, obtained through a public records request, former deputy Christopher Comeaux, the arresting officer, claims Finn grabbed his shoulder refusing to let go and spit in his face.
Finn was arrested on the suspicion he was operating a meth lab and for alleged battery of a police officer. But former St. Tammany Parish District Attorney Walter Reed only charged him with one count of misdemeanor resisting arrest.
Finn maintains he had no idea there were supplies in the car, and that he should not have been arrested for it in the first place.
"There was a jail phone call that we listened to. He talked to, I believe a girlfriend, bragging about how he went to the courthouse and he had met with Boo-Boo and told him what was going on," the deputy said.
WWL-TV and partner newspaper the New Orleans Advocate obtained the calls through a public records request. On the recordings, Finn can be heard talking to girlfriends and even his mother about the case against him. At one point, he told his mom to "ask Boo-Boo" whether he should hire a lawyer.
"The sheriff came by and talked to me, pulled me out and f&*%ing talked to me for like an hour and a half day before yesterday," Finn told a woman on July 13, 2012.
He was released on good time a few days later.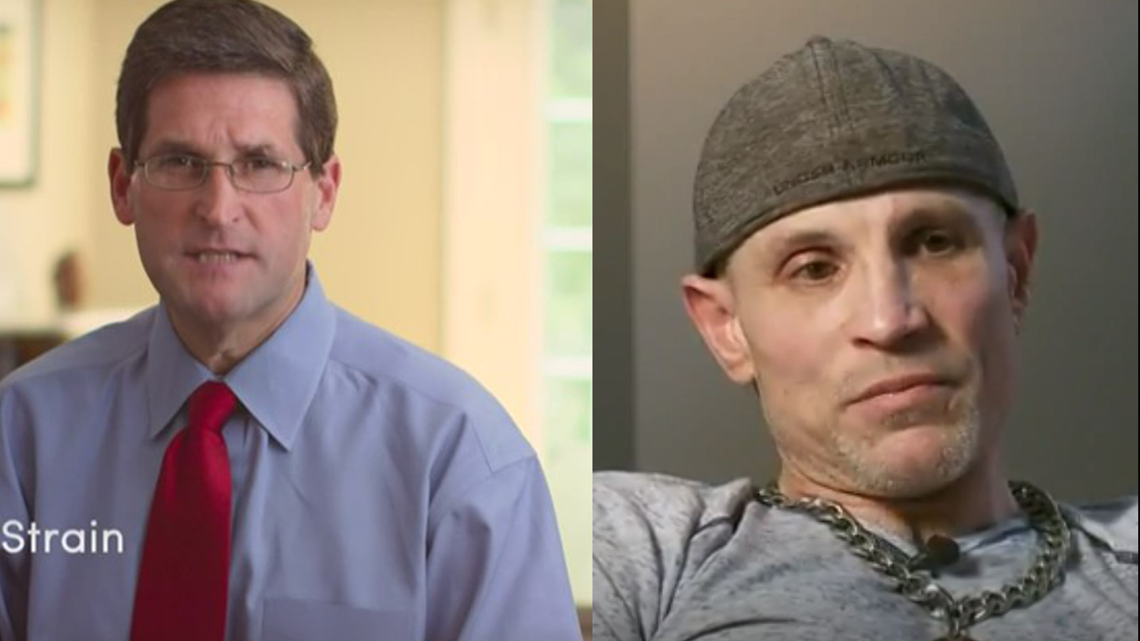 In one of the jail calls, Finn's Mother said, "Boo-Boo doesn't judge you Mark. He loves you like his own brother."
Less than two months after he pleaded guilty to resisting arrest in October 2012, Finn was pulled over again for his fourth DWI, hit and run and public intimidation.
"The lady I was with, I did see if she could call Jack. And she did call Jack. And his words were like this here: Who's got him pulled over? She said, 'one of your guys pulled him over,' but a state trooper pulled up. And he said, 'well, I can't do anything on that,'" Finn said.
The DA's office, under Reed, prosecuted him for his fourth DWI, unauthorized use of a motor vehicle and hit and run. He was not formally charged with public intimidation but pleaded guilty to the other charges.
The Halfway House
Finn admits the years he served in prison were made easier by special assignments from Strain, such as his ability to serve his time at the Slidell work release facility, commonly called "the halfway house," instead of being housed at the jail.
"I did a lot at the halfway house, a lot of time over there. A lot," Finn continued, "I can say I've been there probably 5 times or 6 times."
And he wasn't just housed in the halfway house like all the other inmates assigned there. He had a makeshift apartment in a separate building above a workshop used by the sheriff's office to repair things.
That apartment is now used by STPSO for storage but it once had a bed in it. It sits above an office decked out with a private shower and kitchenette.
That office belonged to Skip Keen, another of Finn's childhood friends, who court documents show pleaded guilty in U.S. District Court to a kickback scheme tied to the work release program and allegedly to Strain.
Strain has not been charged with any crime.
"You always saw Mark Finn, dressed in plain clothes, blue jeans, T-shirt. If you just walked in off the street you wouldn't know if he was an inmate or not. He wasn't wearing trusty clothing," the unidentified deputy said.
Finn spent years at the work release even though court records reveal he was arrested and charged with another crime while in the program in 1999.
The detailed police report in the case said the narcotics task force recorded Finn trying to sell then-Deputy Christian Garner illegal steroids.
Reed dropped charges against Finn after the arresting deputy was fired.
Finn says he was set up by Deputy Garner.
"I was threatened by the deputy, that if I didn't get him steroids, my ass was gonna be in a bind," Finn said.
Garner did not return calls seeking comment.
But Garner wasn't the only cop involved in the operation. Hoffstadt described the arrest as a "no-lose" case.
"It was well known in the office that there were individuals and/or families who received different treatment for alleged criminal activities," Hofstadt said.
Strain's Deputy Chief of the Criminal Enforcement Division, Michael Core, later sent a letter on behalf of himself and the sheriff to the state parole board, saying Finn's arrest wasn't "relevant to his parole hearing... because the deputy was fired for allegedly violating departmental policy and criminal statutes violations."
There is no indication in court records that deputy Christian Garner was ever charged with a crime.
"I felt like he owed me," Finn said about Strain's special treatment.
He said everyone was aware of the favors.
"I didn't live bad at the halfway house. But it still doesn't take what he did to me. You could give me everything in the world but let me tell you one thing, I'm not gonna be happy until he is locked up," Finn said about Strain.
Sources said Finn's claims, and the way in which Strain handled Finn and others, are at the heart of the federal investigation into the former sheriff.