'You killed my uncle' | Nursing homes had history of poor care before deadly warehouse evacuation
Even before the deadly evacuation to an Independence warehouse for Ida, Bob Dean's nursing homes had a troubling history of improper resident care.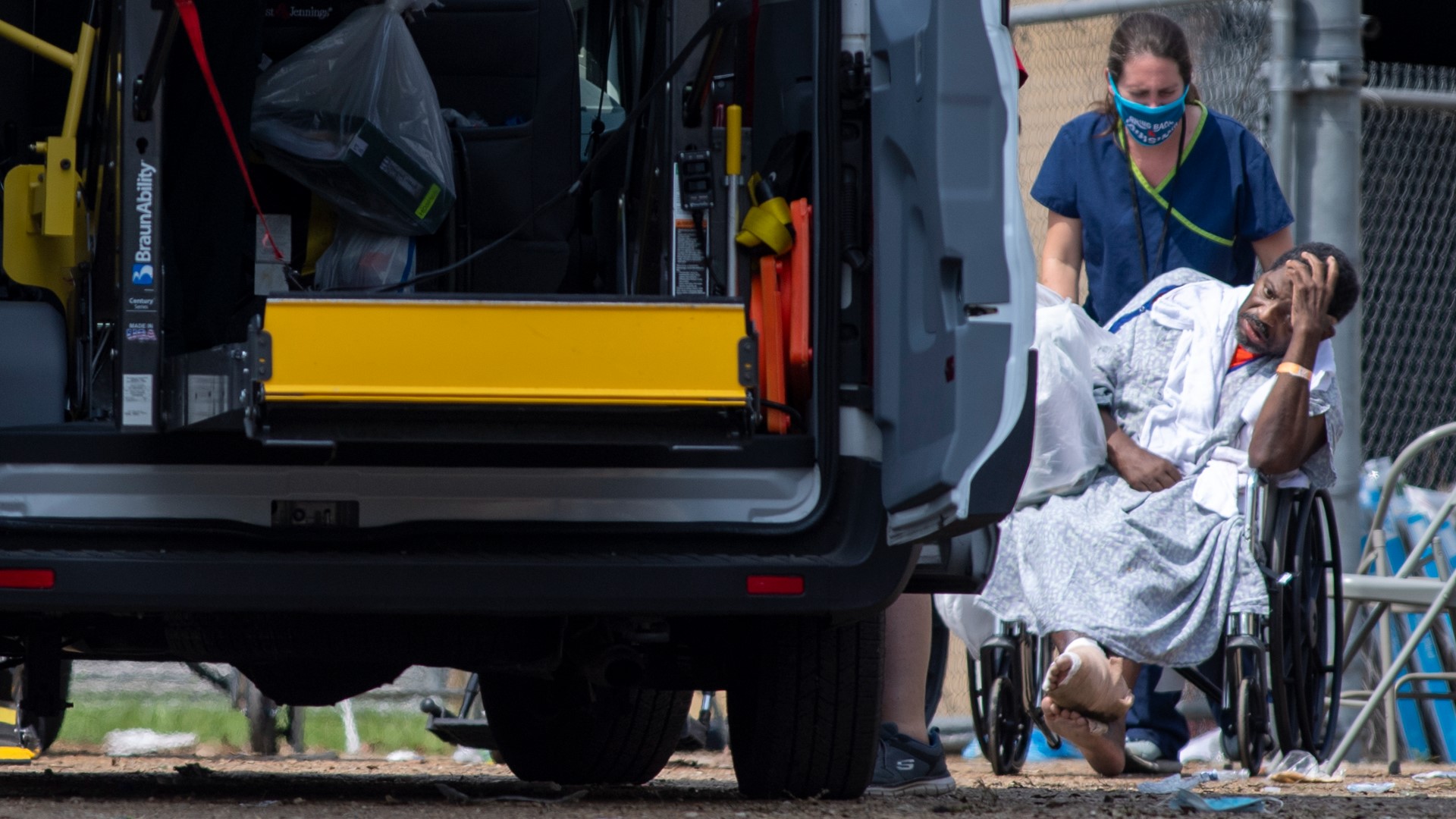 Lionel Evans was quieter than his wife Marian, whom he had been beside for more than half a century. Three years before Hurricane Ida, inseparable, they checked themselves into Maison Orleans Health Care Center together.
If they hadn't, Lionel's family says he might still be alive.
A Pattern of Poor Care
:
Lionel, 88, was identified by family members as one of the dozens of people who died after the evacuation of seven nursing homes to a warehouse in Independence, La.
Five of those deaths have been described as storm-related; While Lionel's death, from an infection his family says he got at the warehouse, has not been definitively connected to the storm, his nephew Karon Evans and Karon's wife Zelma say even before Ida, they watched him waste away at the nursing home.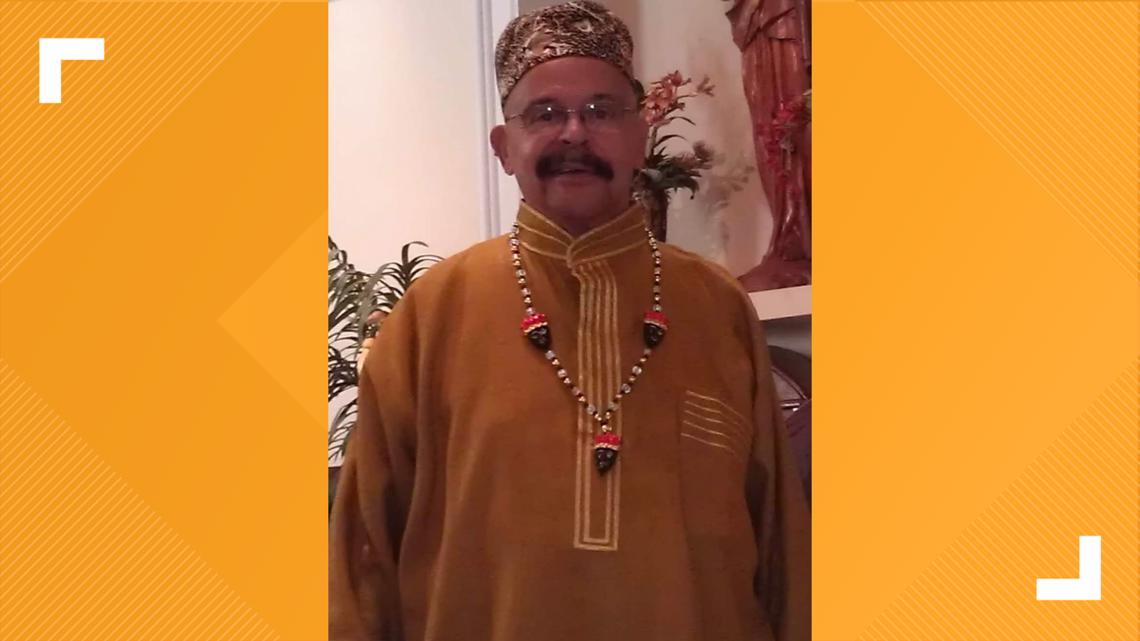 Lionel was always humble and generously loving, Zelma said. He accepted her into the family easily and enthusiastically.
"We were going to the same church," she remembered. "When he found out I was marrying his nephew, every time at church we'd be talking ... He'd tell people 'this is my niece, did you know my niece? She's singing in the choir!'"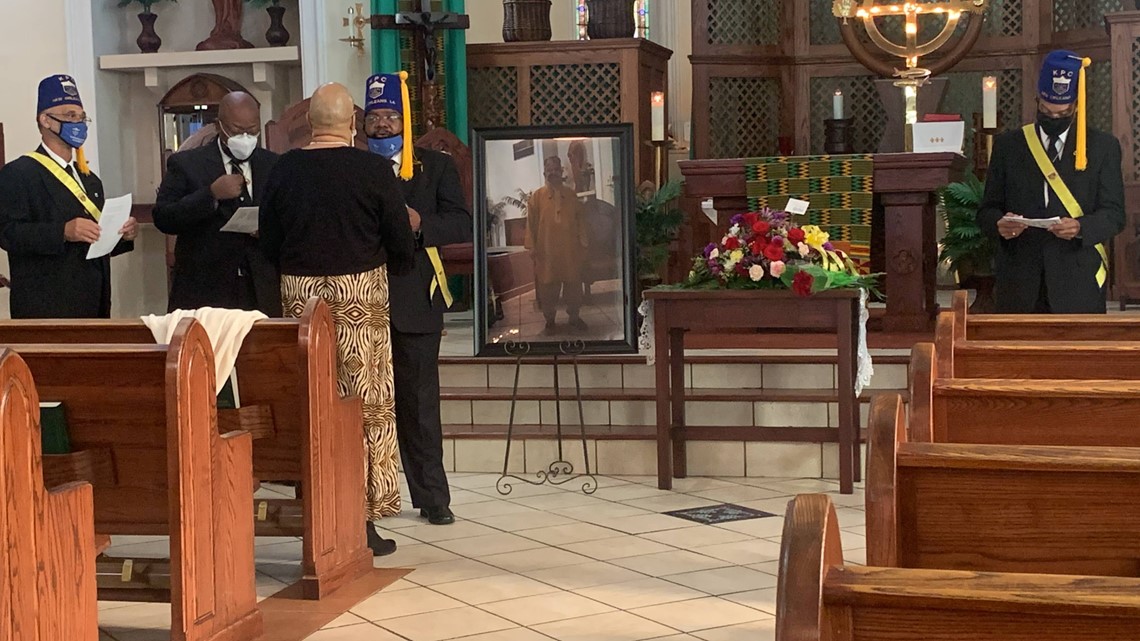 Marian was always the one in charge, but despite that, the couple was rarely apart.
"Aunt Marian was a little bit more aggressive, but Uncle Lionel accepted that. That was his wife. She felt like she could handle a lot of things herself," Zelma said. "Him and Aunt Marian were connected at the hip."
When he checked in to Maison Orleans sometime in 2019, family members say Lionel weighed over 200 lbs. When he died on Sept. 9, 2021 they say he was barely 113 lbs. and was much more frail.
They believe he wouldn't have deteriorated so quickly and that the fatal infection he got at the Independence warehouse may not have been deadly if he had received better care over those three years.
"His underwear was full of urine. He wasn't getting no food," Karon Evans said.
'We're Stuck Here.'
:
Medicare inspection records from 2019 to 2021 paint all seven nursing homes as among the worst in the state. Of the seven, all but one have a one-star rating based on a combination of health inspection results, staffing numbers and quality of care.
Below is a gallery of the ratings for all seven nursing homes that evacuated to the Independence warehouse. Story continues below the embedded gallery.
Inspection ratings for Bob Dean-owned nursing homes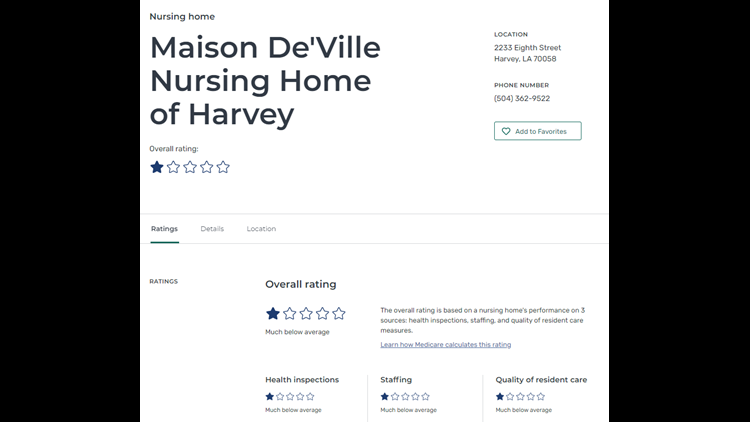 Former residents, their families and federal records all claim the facilities had repeated problems with properly caring for the people living there.
For example, at South Lafourche Nursing & Rehab, one of the seven nursing homes, a Sept. 2020 report found that when a nursing assistant was trying to get a resident, who had lost both feet from amputation, from her bed to a wheelchair, the sling supporting the elderly patient ripped, sending her tumbling to the floor.
The report noted that the supervisor in charge of that wing hadn't been checking the slings monthly as they were supposed to.
The patient suffered a broken leg, as well as cuts and bruises.
Below are the most recent health inspections for the seven nursing homes. Story continues below the embedded documents.
Safety compliance reports released to WWL-TV by the Louisiana Department of Health tell a similar story.
At several of the nursing homes, deficiencies were noted with the fire systems. At one, marked exits led to closed-in patios that didn't have a way out onto the street. Documents showed another had obstructions in the hallways that would make it difficult for residents — many of whom used wheelchairs or walkers — to get out safely.
At Maison De'Ville of Harvey, inspectors documented the fire alarm in one section of the building was simply disconnected. Their system hadn't been checked since 2018.
Former patients tell WWL-TV that poor care was the standard.
Darline Barraco said she was sent to Maison De'Ville in Harvey, La., after a multiple-month hospitalization for liver failure in December 2020 left her unable to walk on her own.
"The first night I was there, that nurse came in and was pulling me up to make me stand up," Baccaro said. "I kept telling her I can't stand up."
But Baccaro said the nurse wouldn't listen: "Yeah you can, they never told me nothing about you can't stand," she remembered the nurse saying.
"And I fell. She wanted to say I sat down," Barraco said. "Of course, my legs were Jello, I never stood up in months. If they'd have listened to me that would have never happened, and it could have turned really dangerous."
She and others say the care throughout their stay was unacceptably poor. Although she was able to leave Maison De'Ville a few months before the evacuation to Independence, she said she wasn't at all surprised that the situation deteriorated there, and said her experience mirrored many of the details that have come out from that warehouse.
"I waited three or four hours for a bedpan, hurting like crazy. I'd have to keep calling the administrator before I could get a bedpan," Barraco said. "I didn't want to go in a diaper because they weren't coming around to change it."
Multiple nursing homes also had pest and vermin infestations that went unchecked even when they threatened patient safety, some residents claim.
"They had mice and roaches like crazy. I got bit on the toe by a mouse," Barraco said. "I felt something and I looked down and I (saw) it. My leg flew up then to kick it off. They made me go to the hospital for that."
Medicaid inspectors touring that facility also noted a serious rat problem.
Lionel and Marian Evans' room at Maison Orleans was covered in cockroaches, according to Zelma. When she visited them in June, she demanded the room be cleaned.
"There were some roaches in the room. And when I told the nurse about the roaches, she said they were going to send the maintenance man," Zelma said
When the worker began spraying around the bathroom, bugs erupted from around the room and scurried off.
"The roaches came out everywhere," she said. "They were on the ceiling, on the floor, on the air condition vent. They were everywhere. Everywhere."
After the roaches were cleared, Zelma said Marian broke down.
"'We're stuck here,'" she remembered Marian telling her.
"She just cried a little bit more, then she just stopped crying."
Inside the Warehouse:
:
The first residents began arriving at the warehouse on Aug. 27, by ambulance, bus and van. According to state records, the decision to evacuate all seven nursing homes, including Maison Orleans, where Lionel and Mariam were housed, was made by the owner of the facilities: a real-estate mogul named Bob Dean.
As late as Aug. 28, the day before Ida hit, state inspectors appeared to have no concerns about the facility. Residents were evacuated to three separate but connected shelter rooms with plenty of supplies. But those inspection records appear to show the facility was checked before a vast majority of the residents arrived, meaning they were unable to see how cramped the floors became after conditions worsened.
By the next evening, as Ida raged, water began pouring into the facility. Residents had to be moved together with most ending up in one main room filled with mattresses, wheelchairs and other equipment.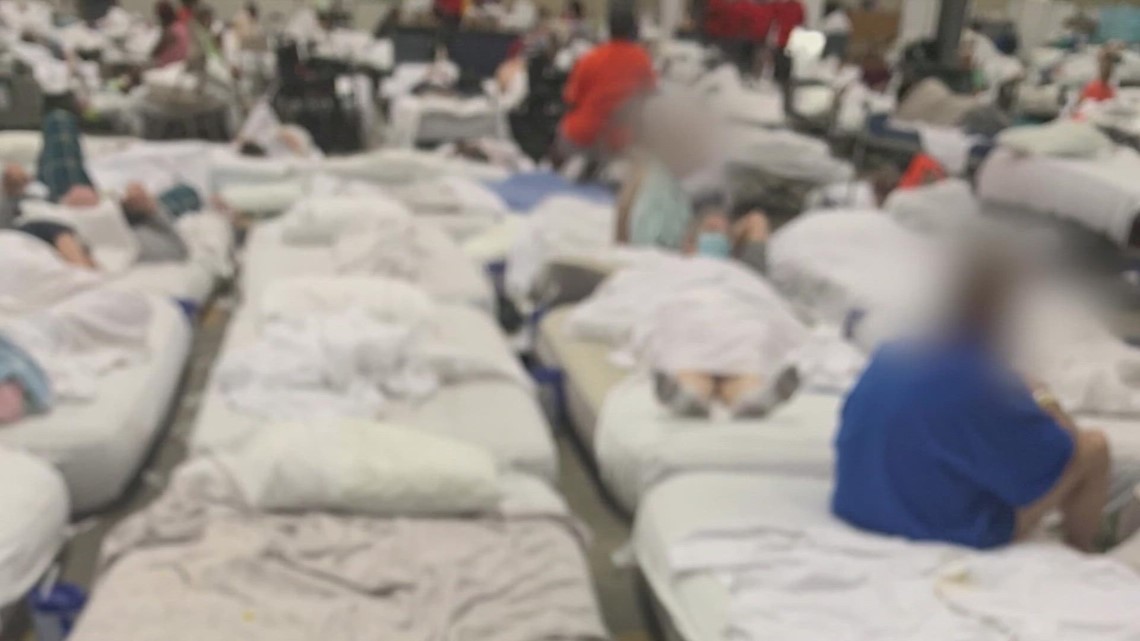 Over the next few days, inspectors detailed rapidly deteriorating conditions, as well as efforts by Dean to keep them out of the facility through expletive-laden phone calls, texts and voicemail messages.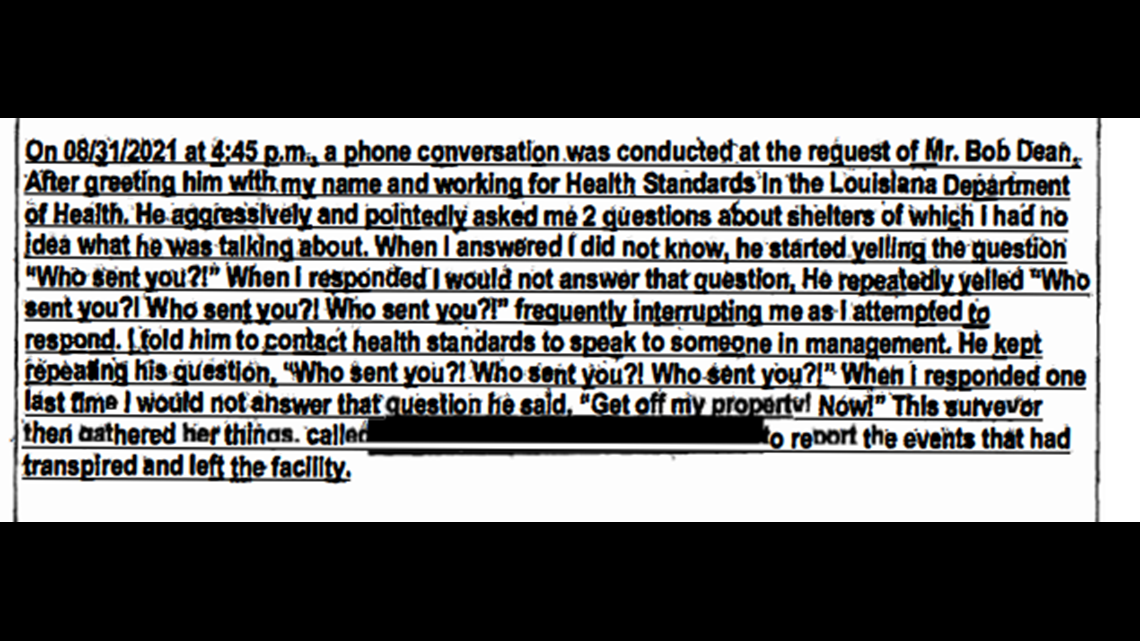 One inspector from LDH expressed numerous concerns through written notes about the standard of care in the warehouse, including that the residents were being underfed.
Looking at lunch on Aug. 31, "the ravioli was 10 small noodles in a tomato sauce," the inspector's notes said. Other meal portions were observed to be similarly minute, they wrote.
Johnnie Commena, a former resident of Maison De'Ville in Houma, La., weighs 430 lbs. and was at the nursing home for rehab to help her lose weight. To get around, she needs a walker or a wheelchair. But because of the crowded conditions, they took her walker even before the storm struck
"They moved my walker, so I didn't have anything. I didn't have any way of trying to lift myself up on my own. I didn't have any aid with me. I just had to lay down flat."
This was especially difficult when she needed to use the restroom. Many of the residents reported that staff members allowed them to soil themselves on their mattresses and that it wasn't a certainty that they would come by to change the residents after.
Even if they did, Commena said she and other residents were still subjected to public humiliation.
"You had to holler for them for help," she said. "When they did come, I had to deal with no privacy.
She told a nurse changing her at one point "'I don't want to be naked in front of all these people,'" without a privacy screen of any kind. In response, the nurse asked her "'at this point, does it even matter?'"
Throughout the facility, the smell of urine and waste permeated, with poor ventilation and cramped, humid conditions compounding the problem.
"When I walked through the door the smell of feces and urine was the strongest out of all 3 areas," the surveyor noted on Aug. 31. "This was a powerful odor even with a mask on."
Zelma and Karom said Lionel's death wasn't solely caused by being in the warehouse, but that the care at Maison Orleans put him in a condition where getting an infection at the Independence facility was a death sentence.
Zelma said the people responsible should be brought to justice for the pain Lionel's death brought to their family.
If she was able to speak with the owner of the nursing home and the warehouse, she would have one thing to say, she said:
"You killed my uncle. Because when you neglect someone from nourishment, and you purposely neglect it .... and you have ways and means to do something about it. Yeah, I can say that you neglected him, which means you killed him."
Consistent Problems
:
Bob Dean's nursing homes have had questionable records for years, according to Centers for Medicare and Medicaid data compiled for WWL-TV by analysts with SeniorCareData.com.
The seven homes were universally placed at or near the bottom of federal rankings when compared to other skilled nursing facilities within a 25-mile radius.
Citations and deficiencies were also far more common at the Dean facilities than at others nearby. Maison Orleans, for example, has racked up 29 deficiencies during inspections by state officials. The average for facilities within 25 miles (excluding other Dean-run nursing homes) was 14.
According to the analysis of federal data, nursing home residents were left alone for much of the day.
Of the six facilities where staffing data was available (Park Place did not provide those numbers) only residents at West Jefferson Health Care Center got more than four hours of interaction with staff members per day.
That includes assistance using the bathroom, eating food or going to therapy.
These consistent poor statistics could bolster the case of any wrongful death lawsuits against Dean and the nursing homes he owns in the wake of the evacuation, according to multiple attorneys familiar with nursing home lawsuits.
Lionel's case especially is an actionable claim, according to personal injury attorney Lewis Gertler.
"You have to relate that injury to the lack of care," he said. "You don't need to die under (those conditions)."
Still, Gertler said, in general, the deck is stacked against nursing home residents looking to claim abuse or families seeking restitution for a wrongful death in a way that he calls "extremely unfair to victims."
After Hurricane Katrina, the Louisiana Legislature passed a law, called the Louisiana Health Emergency Powers Act, allowing the governor to raise the standard required for victims to claim medical malpractice.
According to that law, during a statewide public health emergency, healthcare facilities such as nursing homes can only be sued if they committed "gross negligence," which the state defines as an extreme departure from normal care, or simply the lack of care at all.
When the COVID-19 was first diagnosed in Louisiana in March 2020, an ongoing public health emergency began as Gov. John Bel Edwards began issuing executive orders related to the pandemic.
One of those executive orders activated the Louisiana Health Emergency Powers Act. By flipping that switch, Edwards made it more difficult to sue nursing homes for their handling of the coronavirus pandemic.
The unintended consequence, according to Gertler, is that former residents from Dean-owned nursing homes face a higher legal burden to prove their case.
But the unique circumstances of the warehouse evacuation could work in their favor.
For Lionel's family, who are still debating their legal options, the history of negligent care at Dean's nursing homes could form a pattern that will help them prove gross negligence in his death.
Attorneys who spoke with WWL-TV were split on whether it would be provable that Lionel's death was caused by negligence while he was at Maison Orleans.
Bradley Egenberg, another attorney familiar with Louisiana nursing home lawsuits, said sending the weakened 88-year-old to the warehouse met the definition of gross negligence.
"It was gross negligence by any standard," he said. "The guy was weak, you knew he was weak, and that was what you put him through?"
Egenberg and Gertler agreed that if Lionel's family could prove that he was receiving less-than-adequate care at the nursing home, it would bolster a wrongful death suit over the fatal infection he got at the warehouse.
"The duty of a nursing home to its residents is the same as a hospital to its patients," Gertler said.
Still Scattered
:
When LDH employees and ambulances arrived en masse to move the residents out of the warehouse, they split up the couple. Lionel was taken to a hospital in Hammond, La.
Marian was separated from her husband for the first time in half a century and taken to Flannery Oaks Guest House, a nursing home in Baton Rouge.
Almost all of the residents rescued from the Independence warehouse have been moved to what the state calls "more permanent housing" at various facilities across the state. Many have ended up in Bossier City, New Iberia and Lake Charles among other locations, hundreds of miles from their families in Southeast Louisiana.
A spokesperson for the Louisiana Department of Health said they are proactively reaching out to families, but dozens who have spoken with WWL-TV say they didn't receive any information from the state and had to search themselves.
Zelma said she was listed as an emergency contact for Marian, and got a call from a staff member at Flannery Oaks on Sept. 3, nearly a week after Hurricane Ida.
Zelma and Karon say they haven't been able to see Marian since learning where she was.
And it's likely that Marian will stay there, at least for the foreseeable future.
Mindy Faciane, a spokesperson for LDH, said finding nursing homes able to take in new patients after Ida has proven to be a challenge.
"We found immediate placements, largely at our medical special needs shelters, with the knowledge that we would then quickly begin proactively working with family members to find homes that were more permanent than a temporary shelter," Faciane said in an email. "That has been really tough to do in the Greater New Orleans and south-central areas because they remain in recovery mode. Many homes are still unstable or in the process of rebuilding, and some families remain evacuated and are unable to return home."
The state revoked the licenses for all seven nursing homes and terminated their Medicaid contracts. Dean has appealed that decision.
A Final Show of Love
:
For Lionel and Marian, the tragic experience ended with a final moment together. On Sept. 9, their family was told Lionel wasn't expected to make it through the night.
With Marian still at the nursing home in Baton Rouge, he could easily have died alone. But Zelma said he was driven in the back of an ambulance to the nursing home where his wife was waiting. They were able to spend his last moments together.
"He was asking for his wife," she said. "He said he just wanted to hear her voice and see her face because they had been married for so long and were so close."
They sent him by ambulance from North Oaks Hospital in Hammond, where doctors had been caring for him since evacuating him from Independence, to Flannery Oaks.
According to a nurse at the Baton Rouge nursing home, the couple had one last private conversation before Lionel passed.
"They talked to each other even though his voice was very weak and very low ... But they talked to each other," Zelma said. "After that, he passed away. And she kept trying to talk to him, and then she said, 'Well he must be in the arms of Jesus.'"
More Stories:
► Get breaking news from your neighborhood delivered directly to you by downloading the new FREE WWL-TV News app now in the IOS App Store or Google Play.