NEW ORLEANS and MOSCOW – When a New Orleans businessman seized on the American shale revolution in 2014 and created a new ethane gas export company in Louisiana, a group of Russian investors provided most of the seed money.
And these weren't just any Russians. They were among the world's richest men, with strong ties to Russian President Vladimir Putin. One of them had been Putin's chief of staff. Two others are among the richest oligarchs in Russia. Another is now in the news for having funded the Russian gun-rights campaign of Maria Butina – a young, red-headed woman who was arrested last month for allegedly acting as a covert Russian agent to influence U.S. politics.
These Russians joined with New Orleans lawyer and entrepreneur John Houghtaling to form American Ethane Company in 2014. And records obtained by WWL-TV and its Russian reporting partners show that American lobbyists who were trying to influence members of Congress on American Ethane's behalf failed to disclose the identities of any of the Russians who owned about 90 percent of the company.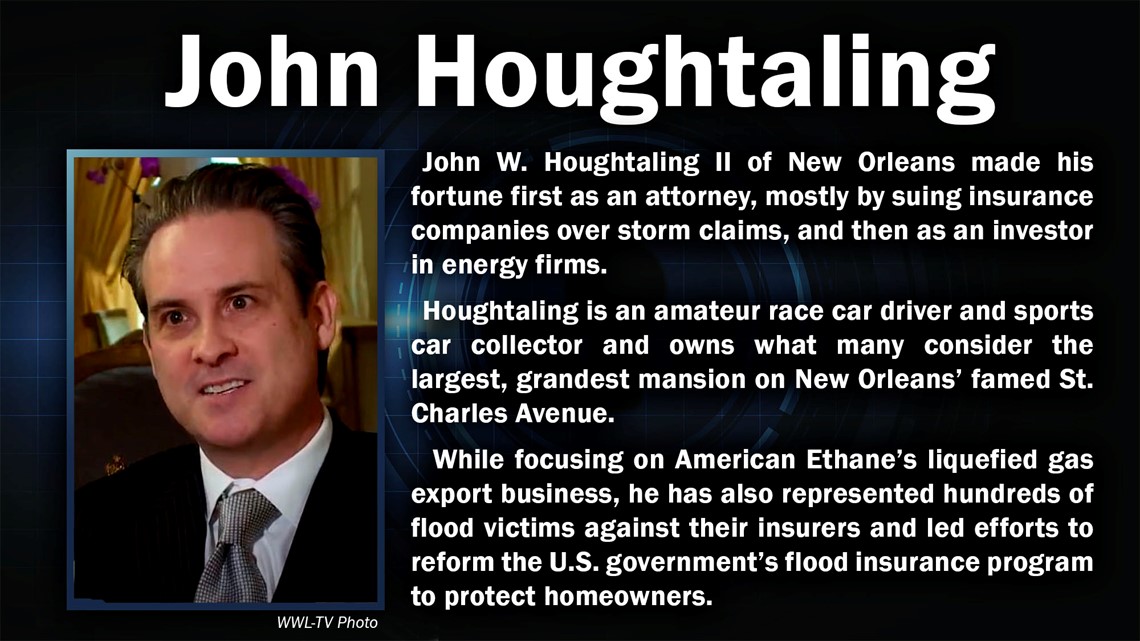 That's significant because American law requires major foreign ownership shares to be disclosed, so members of Congress know whether they are being asked to support activities that could benefit foreign entities or maybe even compromise U.S. national security.
The nonprofit organization Transparency International gathered public disclosure forms filed by American Ethane's lobbyists and discovered the company's Russian shareholders were not disclosed until two weeks ago, after their ownership interests had already been reported by WWL-TV.
Section 4(b) of the Lobbying Disclosure Act of 1995 requires lobbyists to report any foreign investors with a greater than 20-percent ownership stake in their clients when they register the lobbying relationship: "Each registration under this section shall contain … the approximate percentage of equitable ownership in the client (if any) of any foreign entity that … holds at least 20 percent equitable ownership in the client."
The act defines "foreign entity" as a "foreign principal" under the Foreign Agents Registration Act, which includes any person outside the U.S. who is not a U.S. citizen residing in the U.S., or any company with its principal place of business outside the U.S.
In 2014, a Moscow-based company called LLC Alternative, controlled by Russian billionaires Roman Abramovich and Alexander Abramov, owned just under 50 percent of American Ethane, according to corporate documents filed in a lawsuit in Orleans Parish Civil District Court.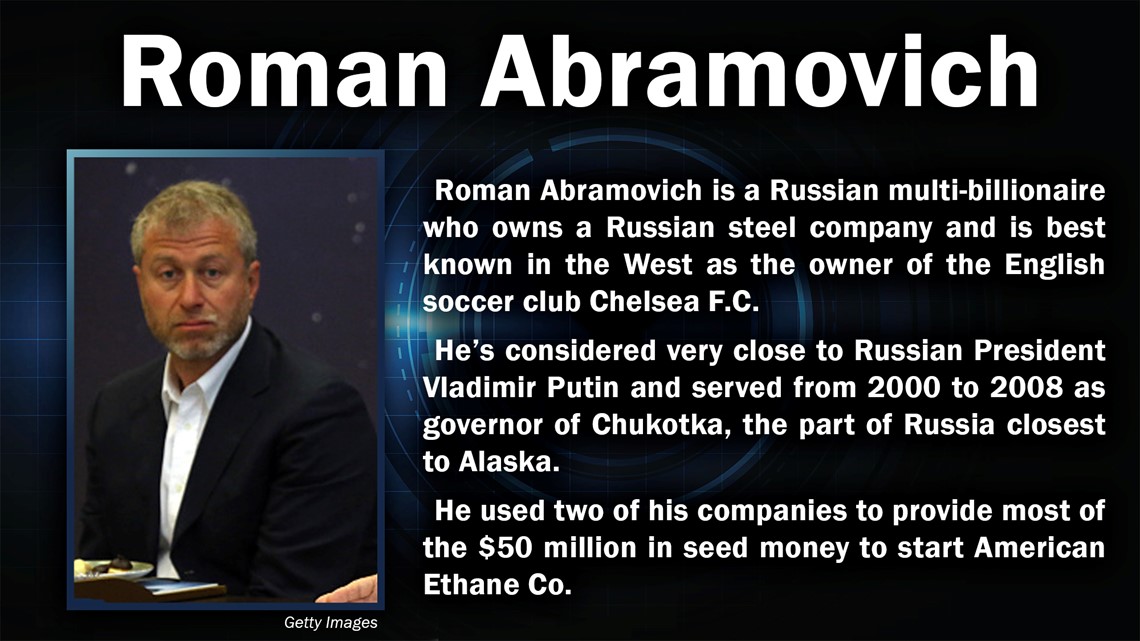 Houghtaling said he wasn't involved with the hiring of lobbyists BGR Government Affairs to represent American Ethane from April 2014 to early 2015. But in less than a year, American Ethane paid BGR $220,000 to represent it in Washington.
"We hired lobbying firms to work with U.S. programs that support U.S. exports overseas," Houghtaling said. "We discussed the company ownership structure and control, including ultimate beneficiaries, with these lobbying firms."
Asked why he didn't report the Russian owners of American Ethane on disclosure forms, BGR general counsel Dan Murphy said BGR met all requirements under the U.S. Lobbying Disclosure Act.
"Our registration speaks for itself. Above that, we do not discuss our work for our clients," Murphy said in an email last week.
Since 2015, American Ethane's other partners have bought out the shares controlled by Abramovich and Abramov, but according to new lobbying disclosure forms filed July 20, three of the four remaining Russian shareholders still own 88 percent of American Ethane.
In October 2017, American Ethane hired two other lobbying firms: Bold Strategies, based in Baton Rouge, and Sander Resources, based in Austin, Texas.
As those lobbyists worked for American Ethane in the halls of power, Louisiana's two U.S. senators, Bill Cassidy and John Kennedy, were contacting the U.S. Commerce Department to draw attention to a massive 20-year, $26 billion ethane export deal the company had negotiated with Chinese energy firm Nanshan Group.
Within weeks of hiring the lobbyists, Houghtaling was at a signing ceremony in Beijing with U.S. President Donald Trump and Chinese President Xi Jinping sitting nearby. Trump then touted the deals signed by American Ethane and three other U.S. firms with their Chinese counterparts, calling them critical in reducing America's trade deficit with China.
Since then, American Ethane has negotiated two other contracts with Chinese energy companies. If they come to fruition, the deals would be worth an estimated $72 billion and would nearly triple the total amount of ethane now being exported by all U.S. producers.
Bold Strategies is still lobbying for American Ethane, and Houghtaling just returned from a trip to China where he and a Commerce Department official met with the mayor of a city on China's coast – one of the potential ports in line to receive liquefied ethane shipments from American Ethane.
Bold Strategies' president, Kyle Ruckert, filed an amended disclosure form July 20, disclosing the three Russians who hold more than 20 percent of American Ethane's shares.
"American Ethane has a complex multi-level ownership where it is not clear how ownership interests flow," Ruckert said in an email last week. "I consulted lobbying counsel throughout the process and updated my LDA registration in an abundance of caution."
Ruckert was the longtime chief of staff for former U.S. Sen. David Vitter, R-La., who attended a key meeting Houghtaling and his partners had with Abramovich and Abramov at Houghtaling's St. Charles Avenue mansion on Jan. 22, 2014, according to a lawsuit filed by one of the other Russian partners in American Ethane, Konstantin Nikolaev.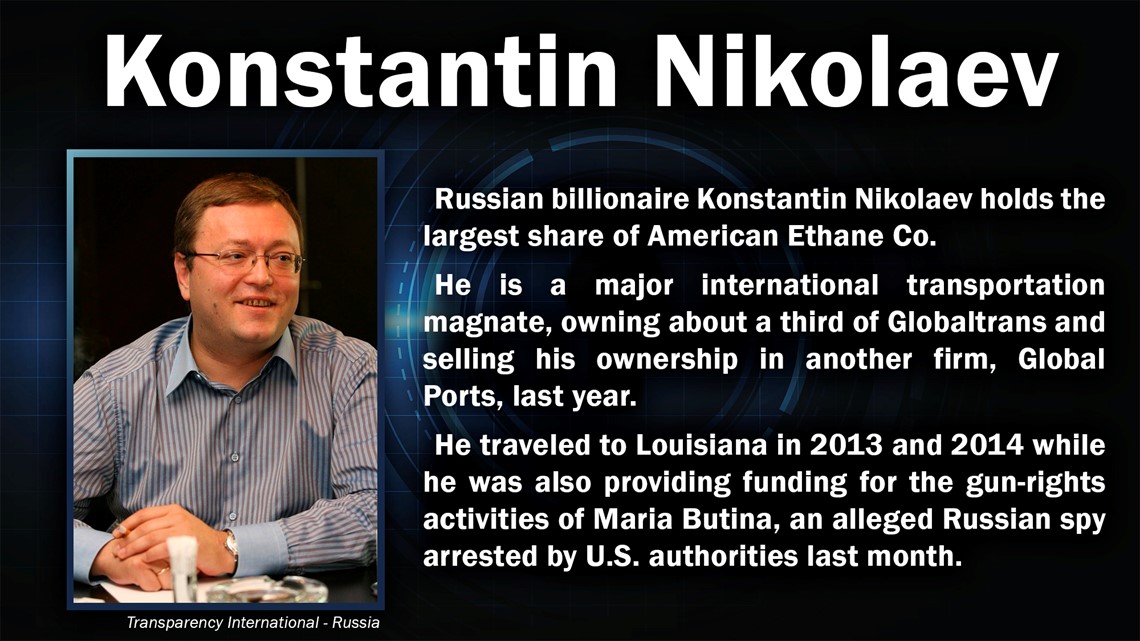 Nikolaev, a billionaire who owns the major transportation company Globaltrans, filed the lawsuit to try to stop Abramovich from shutting down American Ethane. Abramovich had not only put in $25 million to start American Ethane, but also loaned the other partners $18.75 million and had placed them in default.
Abramovich "believed in the project in 2014, when there was not an ethane export terminal operating in the United States… (but) before it was successful, he wanted to shut the project down, so we fought in court to keep it open," Houghtaling said.
Nikolaev's lawsuit in New Orleans and a federal bankruptcy case allowed the partners enough time to work out a settlement and buy out Abramovich. The terms of the buyout were not disclosed.
Bold Strategies' latest disclosure form states that Nikolaev holds 30 percent of American Ethane shares and former Russian legislator Mikhail Yuriev and television station founder Andrey Kunatbaev each hold 29 percent.
Houghtaling says he and those three Russians picked up additional shares after buying out Abramovich and Abramov in an undisclosed settlement early in 2017. Houghtaling confirmed that Alexander Voloshin, who served as chief of staff to former Russian President Boris Yeltsin and in Putin's first administration from 2000-2003, still owns the same 2.5 percent he had when American Ethane was formed.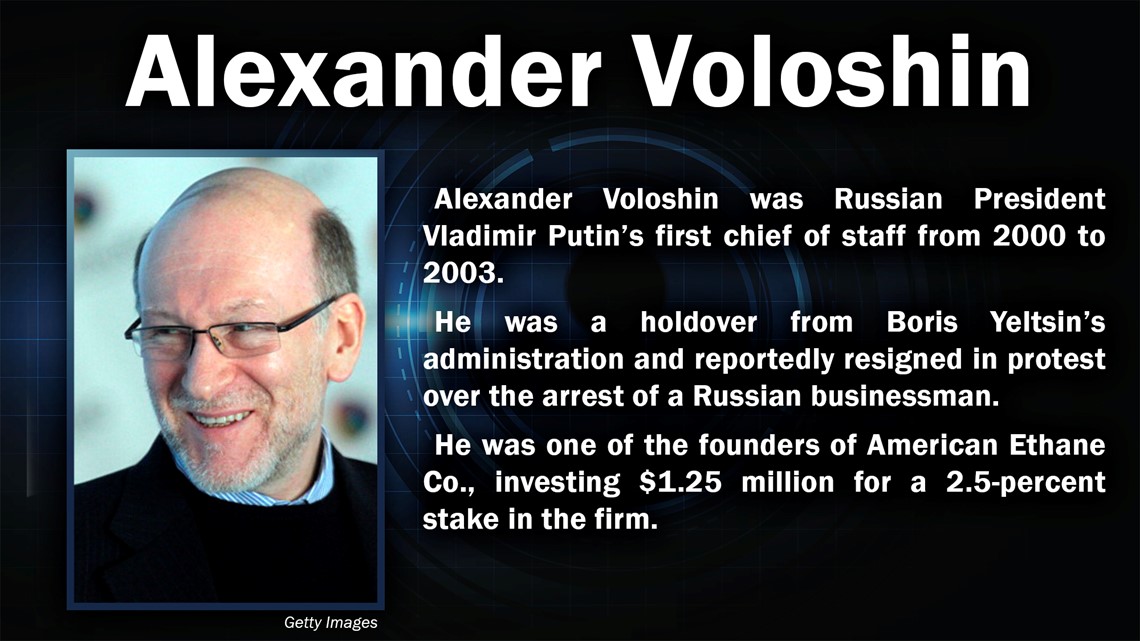 None of the Russian partners have been targeted for U.S. sanctions. But Voloshin, Abramovich, Nikolaev and Yuriev are all classified as PEPs – Politically Exposed Persons – by the international Financial Action Task Force on Money Laundering, singling them out for greater regulatory scrutiny because of their exceptional power and worldwide financial reach.
Nikolaev also has been a big name in the news lately after he acknowledged providing financial backing to Butina, the accused Russian spy.
Nikolaev's representative confirmed to the Russian newspaper Kommersant last week that Nikolaev financed the activities of Butina's gun-rights organization "Right to Bear Arms," from 2012 to 2014, but only for its efforts inside Russia.
Nikolaev's representative said Nikolaev has not been in contact with Butina since 2015, and an FBI affidavit alleges her criminal activity in the U.S. started in 2016.
Timmy Teepell, a representative of the ex-governor, said that Jindal had not met with Butina before or since. Teepell said Butina just approached Jindal and asked for a photograph and Jindal never saw her again.
But that meeting came just a few months after Butina's financier, Nikolaev, had met with Jindal about the potential of building a petrochemical plant at the Shady Grove Plantation, in St. James Parish. Nikolaev and partners, including Houghtaling, had a preliminary agreement to purchase a 500-acre tract there and the company had spent millions of dollars on engineering the facility.
Nikolaev's lawsuit says he and his partners met with several Louisiana politicians, including Jindal, Vitter and former U.S. Sen. Mary Landrieu, to learn "how they could receive over $100 million from the state of Louisiana in tax incentives."
Vitter couldn't be reached for comment about his meeting at Houghtaling's mansion in January 2014. But Landrieu told WWL-TV she met with Houghtaling and one of his partners separately.
"At John Houghtaling's request, I met with John and one of his associates. I don't remember who that was. All I knew was, he told me they were Russian and interested in building a plant in Louisiana," Landrieu said in a telephone interview with WWL-TV. "I told them that they need to speak with the (state of Louisiana's) Department of Economic Development, and this is the last I heard of it."
The group never did apply to Louisiana Economic Development for tax credits. After plans fell through to build a pipeline from Eunice, La., through Shady Grove, American Ethane abandoned the idea of establishing port operations in Louisiana. It let its business license in Louisiana lapse. It's now based in Houston and plans to build its multibillion-dollar export facility in Mont Belvieu, Texas.
Lily Dobrovolskaya is an investigative reporter based in Moscow for the anti-corruption watchdog nonprofit Transparency International – Russia. Transparency International (transparency.org) is based in Berlin and has chapters in more than 100 countries.