Another major Carnival parade, the krewe of Bacchus, announced Tuesday that it is joining the list of parades stepping up efforts to "go green" this year by reducing the amount of plastic beads and waste they generate.
Bacchus captain Clark Brennan said that the krewe's green initiative actually dates back five years but has picked up steam in recent years. This year's parade rolls on Feb. 23.
"In 2015 our members threw more than 20,000 gross bags of plastic beads. This year we will throw less than half as much - 9,648 gross bags," said Brennan.
Besides reducing the amount of plastic beads, for the past two years, the krewe has also thrown collectible glass beads, harkening back to the beads thrown by Carnival krewes in the 1940s and 1950s.
Bacchus, founded in 1968, claims to be the first krewe to throw reusable plastic cups in the 1980s and it continues that idea this year with what it calls "useful" throws.
"This year our theme bead is magnetic and can be reused as a refrigerator magnet after the parade," said Bacchus board member George Schiaffino.
One particular Bacchus float, the Bacchatality float, which is made up of riders who work in the tourism and hospitality industry, has taken the "useful" throw idea to new levels. This year, more than half of that float's special throws are something other than beads.
"That includes aprons, cooking spoons, spatulas, two types of potholders, a chef's hat, a silicone wine glass and a pop-up rain hat," said board member David Blitch.
PHOTOS: Bacchus parade goes to the "Wild Wild West"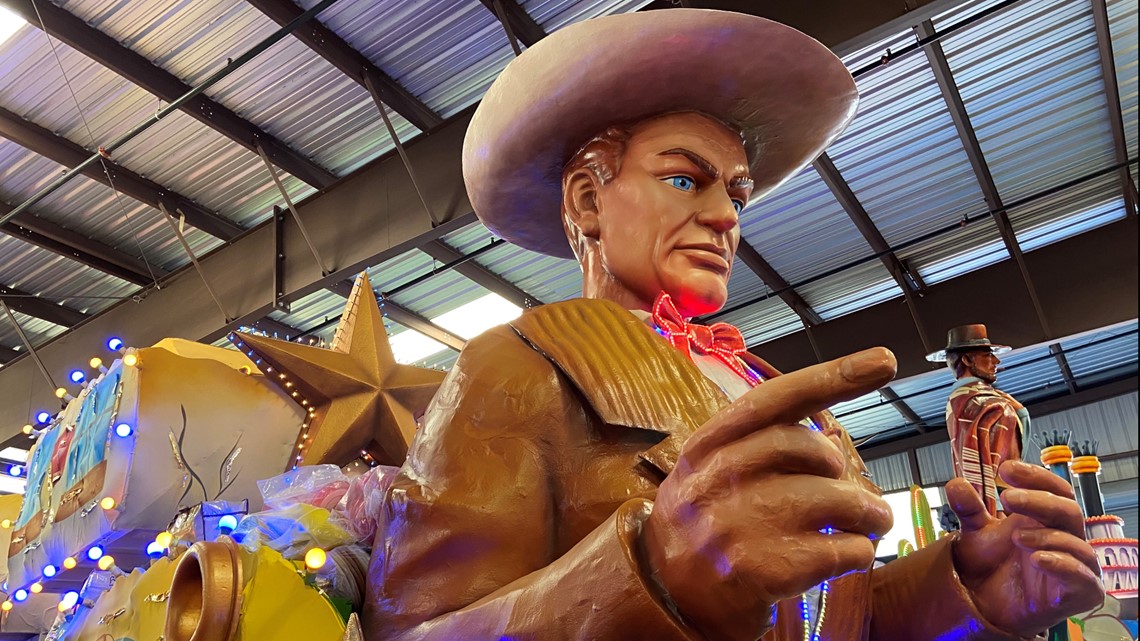 Other Bacchus throws this years will be wearable, fitting the parade's "Wild Wild West" theme - including cowboy hats, a sheriff's badge and toy gun, light up Frisbees, flip flops and sunglasses. Riders will also hand out 10,000 t-shirts.
Bacchus joins a growing list of krewes working to reduce the amount of plastic beads and other products they and their members generate.
The krewes of Rex, Excalibur and Centurions are making it a point to get many of their beads from ArcGNO, the non-profit that employs people with intellectual or developmental disabilities.
Another effort by the nonprofit Grounds Krewe involves creating usable, biodegradable and even edible throws to offer to parade riders.
The New Orleans City Council also passed an ordinance prohibiting krewe members from throwing empty cardboard boxes, non-biodegradable paper streamers and single-use plastic bags for bulk items from floats. The city hopes these new rules will limit litter from clogging drainage catch basins and filling trees with beads and streamers that are hard to remove.