This summer's flooding in New Orleans underscored just how badly the city needs to shore up the power supply to its drainage pumps. And Mayor Mitch Landrieu's administration is weighing various options for improving the system's reliability.
Yet one significant and relatively inexpensive upgrade, which could also save the Sewerage & Water Board tens of millions in operational costs going forward, has been on the table for years and languished.
Five years ago, an independent task force recommended that the city's Sewerage & Water Board change the way it gets electricity from Entergy, suggesting the utility start building a substation at the board's Claiborne Avenue power plant within a year.
A dedicated substation would mean that power for drainage, water and sewer systems would come from Entergy's high-voltage transmission lines, which run underground and typically feed big industrial customers. It would then feed into the Sewerage & Water Board's own underground grid, which takes power to the various pumping stations spread throughout the city.
Right now, Entergy provides power to the Sewerage & Water Board via smaller, overhead distribution lines, which are more vulnerable to outages. The board relies on its own turbines, which have failed repeatedly, for several key functions, including maintaining potable water pressure and drainage during big rain storms.
In 2013, the city lobbied the Army Corps of Engineers for federal money to build the substation, since it would also help power the Corps' pumps on the lakefront. But the proposal was rejected.
Public records obtained by WWL-TV show that Entergy responded to a Sewerage and Water Board request with a formal proposal for a new substation in October 2016, estimating that it would take two years to build and cost about $12.5 million.
Cedric Grant, who was then serving as the Sewerage & Water Board's executive director, was receptive to the proposal, but responded with a snarky put-down about the reliability of Entergy's existing feed: "To provide electrical service to our main plant that services most of the city from overhead residential line feeders located on a pole outside Five Happiness Restaurant is unacceptable for our industrial usage."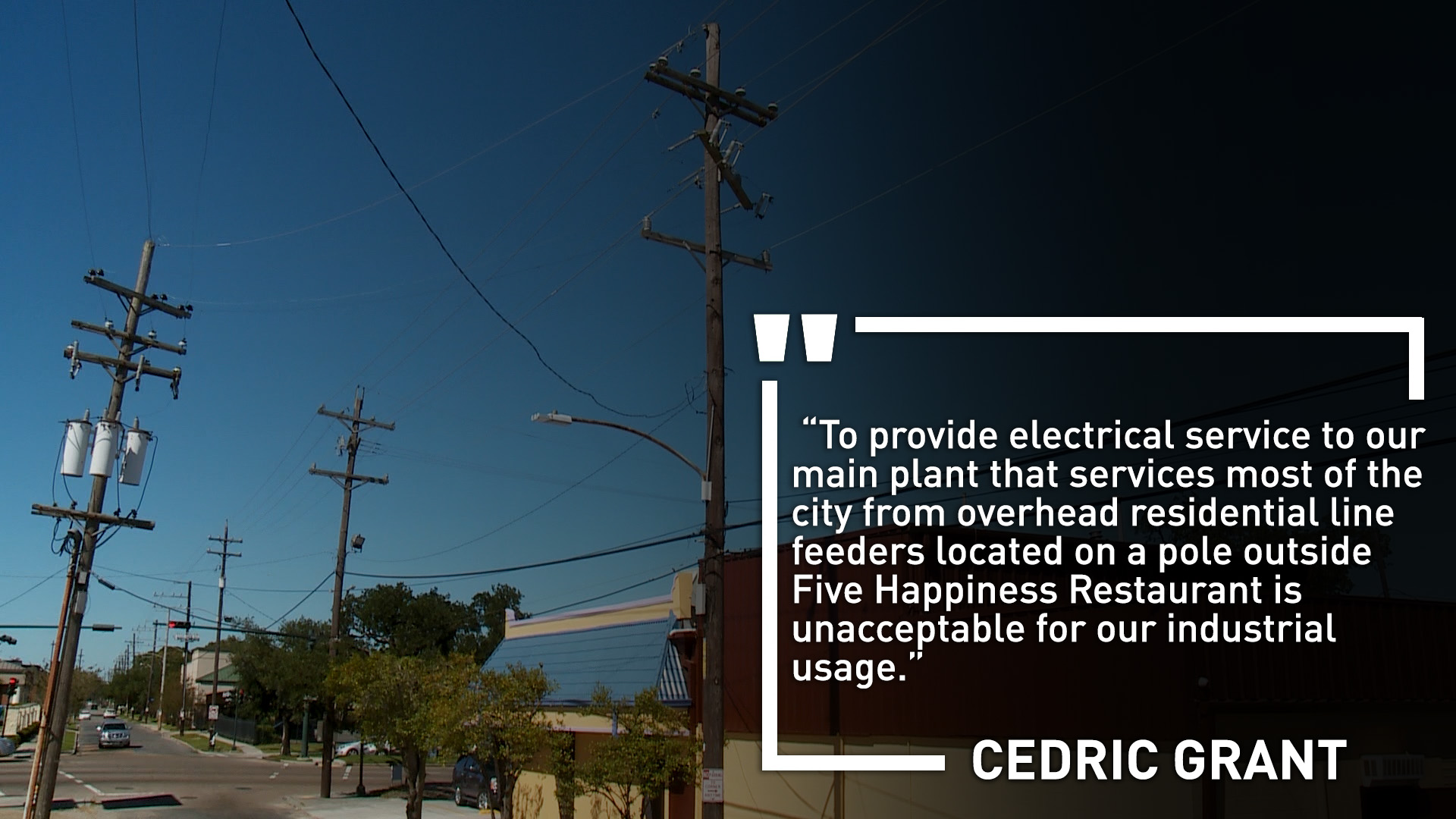 Grant insisted, however, that Entergy should pay for the new substation, arguing that it was a part of the company's "duty to provide safe and reliable service to its customers."
Emails obtained through a public records request show that representatives from the board and Entergy met several times early this year and expressed hope that they would be able to start construction by August.
That didn't happen. An update from former Sewerage & Water Board General Superintendent Joe Becker on Aug. 6 indicated they had only selected a site for the future substation.
Entergy wasn't always completely helpful in moving the project along. The Sewerage & Water Board at one point had the City Council request detailed information from Entergy about the reliability of its transmission system, including a list of recent outages. Entergy refused to turn over the information, saying it was confidential.
It also remains unclear who will pay for it. On Sept. 7, Entergy sales representative Drew Thompson sent an email to Bruce Adams, now the interim executive director of the Sewerage & Water Board, asking, "Who is going to pay for the substation(?)"
Adams replied: "I cannot worry about who will pay. That is not my decision. I just need to get as much advanced as possible in anticipation of that decision."
The mayor, meanwhile, has not been convinced a new substation is the best option. At a Sewerage & Water Board meeting on Sept. 21, former board member Alan Arnold pushed the substation project but ran into skepticism from Landrieu.
"The best option would be to go to Entergy and work something out and have it as the major source of our energy," Arnold said.
Landrieu pushed back, suggesting the substation would be too expensive to build: "The substation for Entergy went from costing potentially $10 million to $100 million."
It is not clear where Landrieu got the $100 million figure, which never appears in communications between the board and Entergy.
In fact, 11 minutes after Landrieu made that comment, his deputy mayor for communications, Ryan Berni, sent an email to Entergy's Thompson saying: "Here with mayor at Sewerage & Water Board meeting... Do you have the estimates for the substation options yet?"
Thompson responded with an updated plan to supply 33 to 40 megawatts of power. The cost had risen slightly from last year's 20 megawatt proposal, from $12.5 million to $14.3 million.
Asked for clarification in an interview, the mayor said $100 million was the price to "harden" a substation. Berni said the hardening cost would include adding ancillary equipment, such as new feeder lines and frequency converters to make the Entergy power compatible with the city's pumps.
But a separate analysis by a Swiss electrical engineering firm estimates the cost of those frequency converters would be about $10 million – nothing on the order of the price increase Landrieu cited.
In defending his comments, the mayor also brought up Entergy's embarrassing power failure at the 2013 Super Bowl, pointing out that the Superdome has its own substation but still lost power at a critical moment.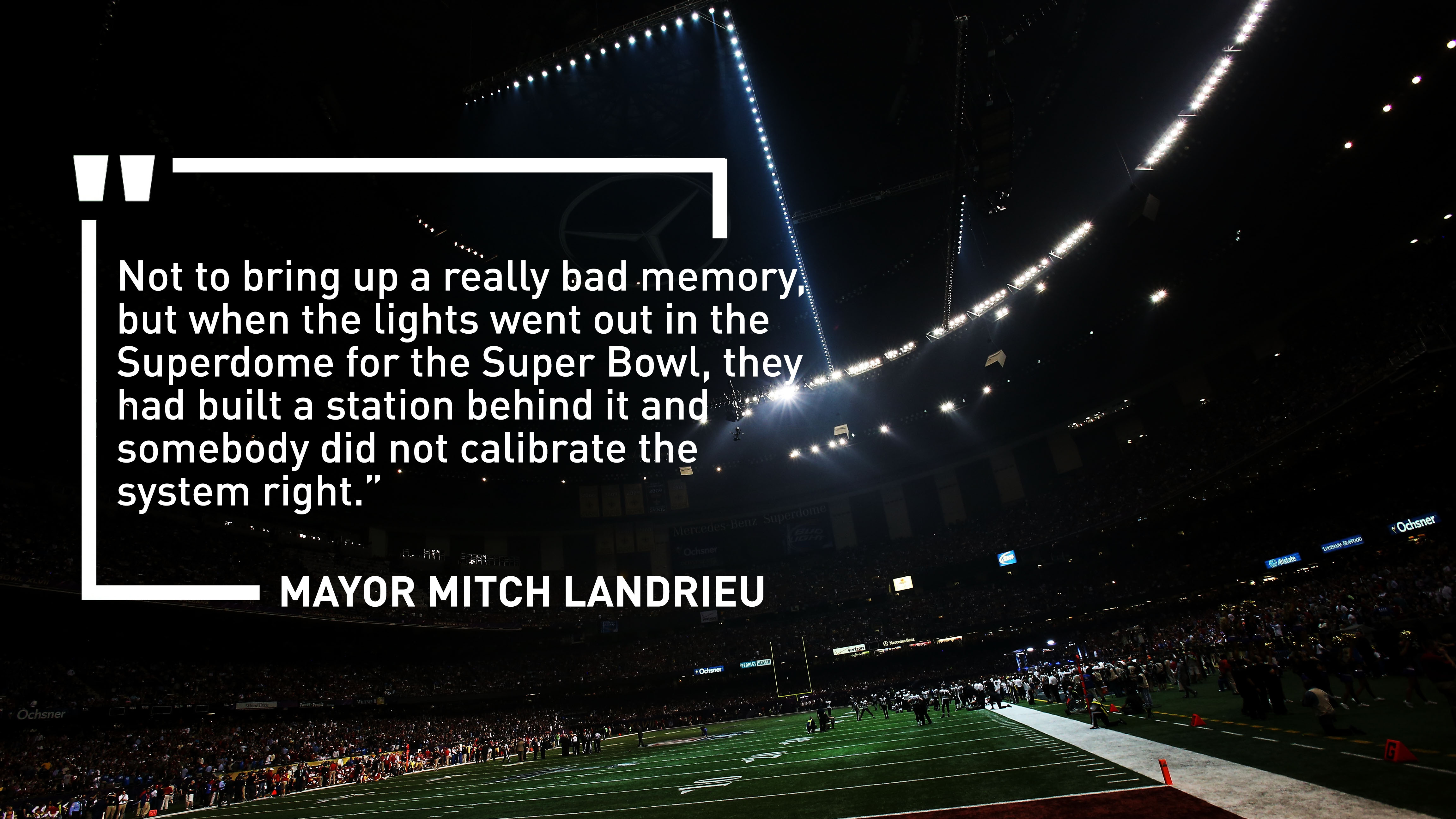 "Not to bring up a really bad memory, but when the lights went out in the Superdome for the Super Bowl, they had built a station behind it and somebody did not calibrate the system right," Landrieu said.
Entergy CEO Charles Rice declined to comment in response, except to say that it's up to the customer – in this case, the Sewerage & Water Board – to request a substation.
Sewerage & Water Board financial records show that it's about four times cheaper for the agency to buy its power from Entergy than it is to make it in-house. That's because the agency uses an antiquated and inefficient system in which natural gas is used to heat water in huge boilers, the steam turns the turbines, the turbines power generators and the generators make electricity to send on a grid to pump stations.
The recent crises at the board's own power plant has cost the city as well. Drainage pumps were unable to get power during major rainstorms July 22, Aug. 5 and Oct. 2, leading to flooding in some neighborhoods. The Sewerage and Water Board declared emergencies and spent more than $41 million on backup power and turbine repairs.
One of those emergency measures was to purchase five massive generators and install them as backups at the power plant. The cost: $14 million, or about the same as a new Entergy substation.