Ed Renwick, the veteran local pollster, professor and former WWL-TV political analyst whose insights helped shape politics and political coverage for four decades in New Orleans, died Friday. He was 81.
In 2008, Renwick retired from Loyola University New Orleans, where for 38 years he served as an associate professor of political science and director of the Loyola University Institute of Politics.
He served as political analyst for WWL-TV from 1979 through 2008, adding his insights to nearly 30 years of election night coverage and political stories chronicling the administrations of five governors, four New Orleans mayors and lawmakers forced to grapple with everything from the oil boom and bust to Hurricane Katrina.
Renwick was renowned for predicting the outcome of major races during WWL-TV's election night coverage, using vote returns called in by workers deployed to sample precincts he selected from across the region. His election analysis, frequently punctuated by his dry wit and unmistakable laugh, was highly regarded by political watchers statewide.

"In his heyday, no one was better at political analysis," remembered longtime WWL-TV anchor Angela Hill on Saturday. "He was such a special man – smart, with a wonderful sense of humor, which he often used to help explain the rough and tumble world of politics."
In 2008, Times-Picayune reporter Elizabeth Mullener called Renwick "the Nash Roberts of politics," likening him to the legendary weather forecaster. She said Renwick, like Roberts, was "the unassuming authority New Orleanians turn to for answers, for explanations."
"For almost four decades, Renwick's ego-free style, his placid demeanor and his thoughtful, plain-spoken delivery have been applied to the boisterous complexities of Louisiana's political scene," Mullener wrote. "And for all those years, there has not been a trace of arrogance or sensationalism in his presentation."
Remembering Dr. Ed Renwick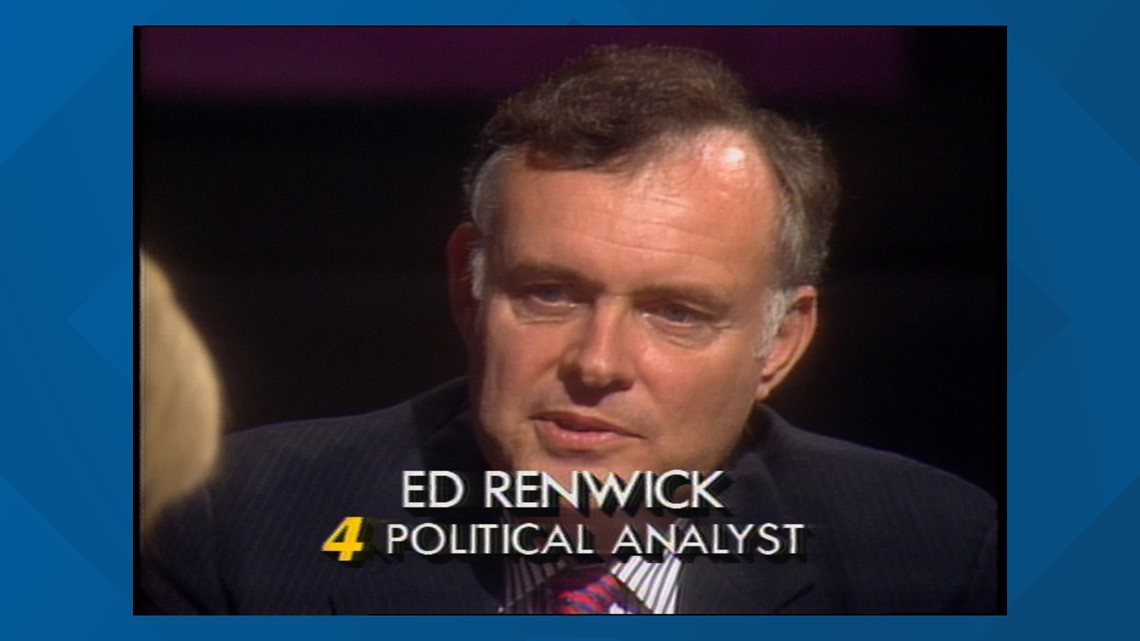 As a respected pollster, Renwick was highly sought after for his insights not just by WWL but by The Times-Picayune, The Advocate and national media outlets, as well as by candidates and campaigns. Among the many candidates he polled and consulted for were former Gov. Edwin Edwards, Mayor Ernest "Dutch" Morial, Jefferson Parish Sheriff Harry Lee, Lt. Gov. Jimmy Fitzmorris, Rep. Billy Tauzin, Orleans District Attorney Harry Connick and Jefferson Parish Assessor Lawrence Chehardy.
"Ed is one of the figures that virtually all of us have turned to at one time or another," said former New Orleans Mayor Moon Landrieu upon Renwick's retirement.

Clancy DuBos, the Gambit political columnist who succeeded Renwick as WWL-TV's political analyst, said Saturday that Renwick's accuracy in polling was what earned him clients and respect.

"Of course, it was a different time in politics and polling in general was new, but Ed's polls were accurate and that's what earned him a following. Nowadays polls can be all over the place, but that was rarely the case with Ed," DuBos said. He added that Renwick and the late Joe Walker, also a respected pollster and political analyst, had the lock on polling for local candidates during the 1970s and 80s. The two worked together in a polling firm for a short time.

Renwick was also well-known for his many decades as director of Loyola's Institute of Politics, which brought his knowledge and network of contacts to a wide range of future political leaders. The semester-long leadership training seminar, founded in 1969 by Jim Chubbuck and now overseen by Tommy Screen, focuses on the intricacies of politics and political campaigns. Lectures from professionals in a wide range of fields cover Louisiana's unique political history and current trends as well as the roles of lobbyists, campaign fundraisers, strategists, pollsters and journalists who cover politics.
"It's a program that tries to bring new people into politics and explain to them all of the plusses and minuses and, believe it or not, some of them still stay," Renwick said in a 2008 WWL-TV interview to mark his retirement.
Renwick's trademark humor and dry wit was evident to fellows of the Institute of Politics (IOP) from the first class.
"Each fall, when a new batch of political junkies gathers in his classroom at Loyola University, Ed Renwick offers a strange yet fitting introduction," Times-Picayune political columnist (and IOP fellow) Stephanie Grace wrote in 1999. "'Take a look around you,' Renwick tells the assembled professionals and wannabes. 'Some of the people you see will be elected ... Some of them will be indicted.'"

"This is no stodgy political science course," Grace wrote. "It's a primer on political reality, what you should know and what you have to do to survive the wild world of Louisiana government."
Under Renwick's leadership, more than 900 fellows graduated from the program. Among them are Sen. John Kennedy, former Sen. David Vitter, former Rep. Bob Livingston, Judges Lance Africk, Kurt Engelhardt and Dale Atkins, as well as former U.S. Attorney Kenneth Polite and dozens of other state and local lawmakers, judges, political consultants and journalists, including Grace, DuBos, James Gill and Walter Isaacson. Many well-known names also returned each year to speak to IOP classes.

After Renwick's retirement, Loyola established an annual Ed Renwick Lecture Series in his honor. It has hosted speakers such as James Carville, Mary Matalin, Donna Brazile, New York Times editor Dean Baquet and former "Meet the Press" executive producer Betsy Fischer Martin. Other Renwick lecture events have featured panel discussions with former U.S. lawmakers John Breaux, Billy Tauzin and Bob Livingston; former Louisiana governors Edwin Edwards, Buddy Roemer and Kathleen Blanco; and former New Orleans mayors Moon Landrieu, Sidney Barthelemy, Mitch Landrieu and current Mayor LaToya Cantrell.
A native of Joliet, Illinois, Renwick was a Georgetown University graduate who earned his graduate degrees at the University of Arizona. At first, Renwick said he thought he would become an urban planner. A graduate school mentor suggested otherwise.
"The adviser thought it was a marvelously stupid idea. He was correct, in retrospect," Renwick told the Loyola Maroon in 2002.
To try to change his decision, in 1963 the professor found Renwick a job teaching at the University of Southwestern Louisiana (now the University of Louisiana at Lafayette). "I never worked so hard in my life," Renwick said, but added that he was hooked.
He returned to Louisiana a few years later, to research his doctoral dissertation on political dynasties, with the Long family as a focus. He also worked briefly in the office of Gov. John McKeithen, his wife Polly said, and then joined the faculty at the University of New Orleans in 1967. He left UNO for Loyola in 1970.
His intention was to only stay in Louisiana for a year. "It was hard to leave," he told The Times-Picayune in 2008. "This place is heaven for a political junkie."
At Loyola, Renwick worked alongside Chubbuck, the founding director of the Institute of Politics who was also a pollster. When Chubbuck left New Orleans to work in Washington with Sen. J. Bennett Johnston, Renwick took over their polling business.
As a political science professor at Loyola, Renwick specialized in courses on Louisiana politics, political corruption, polling and voter behavior.
In 1999, he was inducted into the Louisiana Political Hall of Fame in Winnfield, La. He was frequently named "best pollster" in reader surveys conducted by Gambit and was honored as a Role Model by the Young Leadership Council.
Renwick and his wife of 45 years, Polly, were both avid art collectors, who also loved to travel. He was also a retired member of La Societe des Escargots Orleanais, a gourmet society.
In addition to his wife, he is survived by a brother, Robert.
Funeral arrangements are pending.