NEW ORLEANS -- A close friend of murdered HANO police Officer James Bennett is hopeful, speaking out after the recent arrest of an 18-year-old man in Central City.
During that arrest police recovered Officer Bennett's gun.
Those who knew Bennett remember him as a generous, caring and funny guy.
"There's not a day that goes by that I don't think about him," said Detective Nick Vega.
A Jefferson Parish detective, Vega met Bennett in 1997 when he was working with the sheriff's office. Bennett eventually became an officer with the Housing Authority of New Orleans. Last May, while on duty, the 45- year-old was shot and killed inside of his patrol car at the Guste Housing Development construction site. Since then, there have been few leads, but there's now a new development.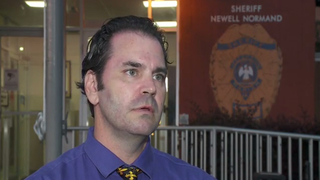 Last Saturday, New Orleans Police arrested Charles Garner after he ran from a traffic stop. According to court documents, when police arrested Garner, he had Officer Bennett's .45 caliber Glock in his possession.
"Finding the weapon is huge it could put them on a more direct path, it's not to say it's the end all
but it's a good jumping point. It's a good lead," said Detective Vega.
New Orleans Police are not saying much about the discovery of the gun, citing the open investigation. Garner has not been charged in connection with Bennett's murder. Eyewitness News Legal Analyst Chick Foret said investigators will certainly try to piece together how the officer's gun got into Garner's hands. It's a task that may be challenging.
"You know when I was a kid, I used to collect baseball cards and would trade a Mickey Mantle for a Roger Maris," said Foret. "Nowadays the kids collect guns, and they trade a Glock
for a Smith and Wesson, so these guns are passed around."
At the time of his arrest, Garner was out on bond with attempted second-degree murder, gun and drug charges pending against him. While it's unclear if Garner had any role in the death of Officer Bennett, the discovery of the gun is giving a new sense of hope in finding a killer.
"Somebody out there has to know something and it doesn't matter if you think the information miniscule because all it takes is an ember that ignites the fire," said Detective Vega.
There is a $35,000 dollar reward in this case. Anyone with information that can lead to arrest is urged