Louisiana couple's honeymoon cruise turns into medical nightmare
Experts say cruise healthcare varies wildly ship to ship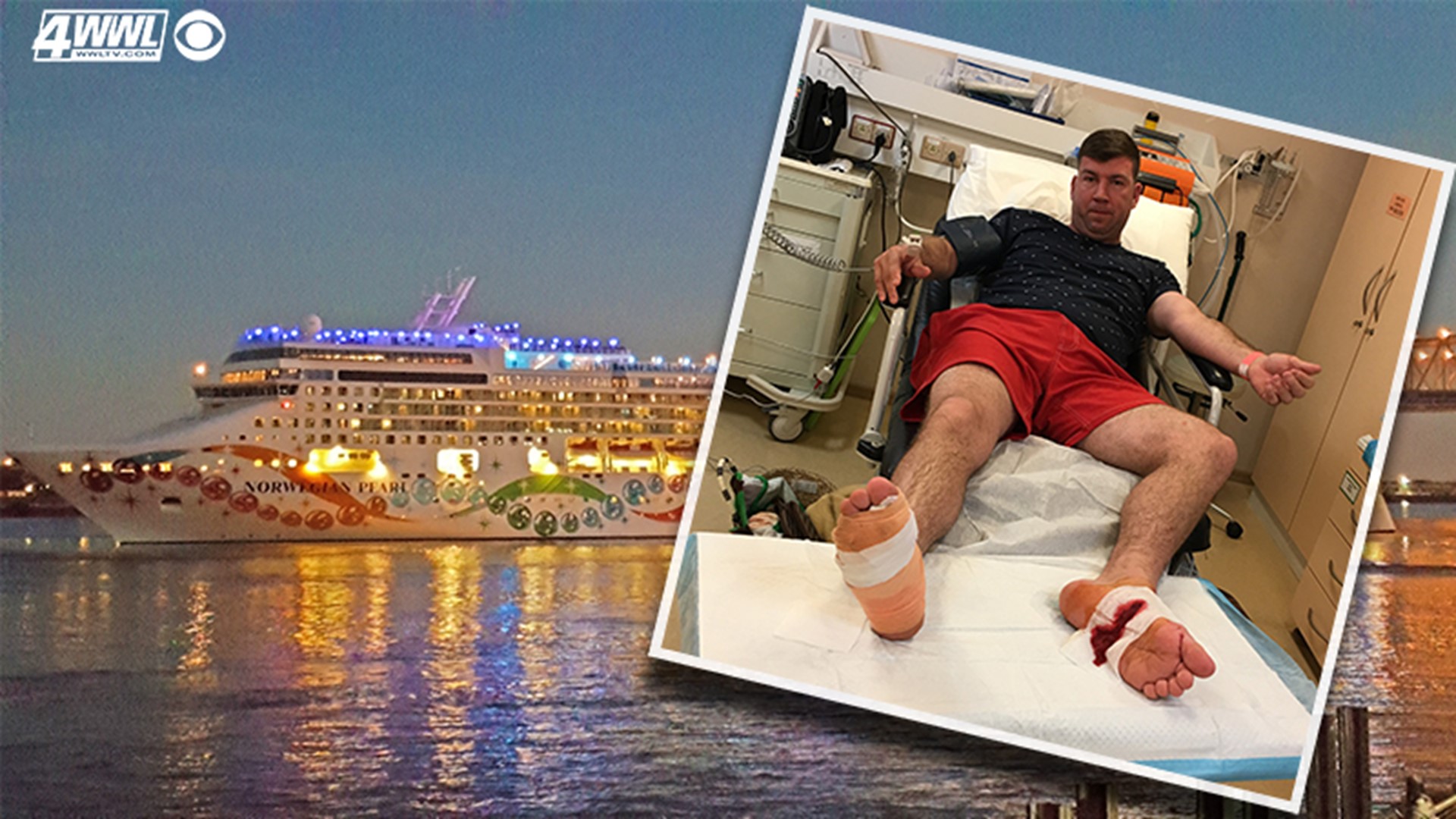 Dream cruise turns into a nightmare
:
GEISMAR, La. - Brant Aymond's paddle boarding accident on a coral reef in Honduras turned his and his wife's honeymoon cruise over Thanksgiving week into a bloody, painful experience.
"It's just unfortunate. I fell off and there was a piece of coral that came right up under the water that I didn't see. So, I landed right on it" and it sliced the soles of both feet, Aymond said.
"There was a lot of blood hit the water," added his wife, Danielle. "So that's what freaked me out, and we were probably 3-400 yards from shore."
A relay of good Samaritans hired rowboats and taxis took two and a half hours to get the erstwhile happy couple back to the port in Roatan, where their 2,400-passenger cruise ship, the Norwegian Pearl, was anchored for the day.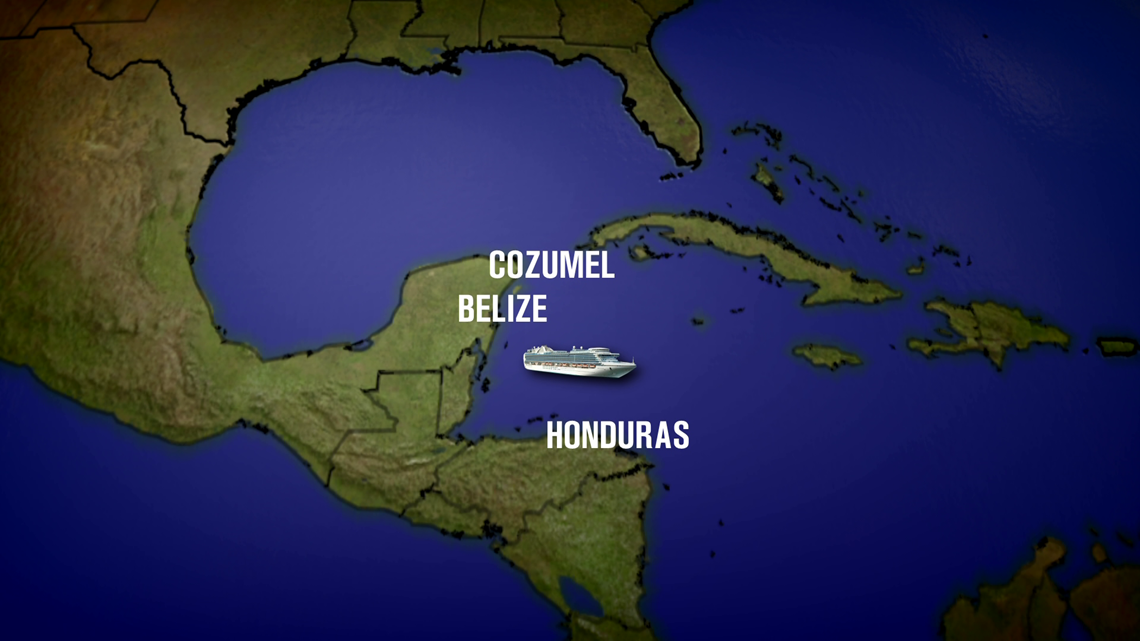 "And you know, there we had to make a decision," Brant said. "Do you want to go to a Honduran clinic, or do you want to get back to the boat? So, based on the fact that we had purchased (extra medical) insurance, I was very confident that getting back to the boat was absolutely the best bet."
What happened next, however, has the Aymonds rethinking that decision and dismayed about the quality of cruise line medical care.
Guidelines and recommendations, not requirements
:
It's an issue that's often overlooked, even though norovirus outbreaks on cruise ships are often national front page news and the federal Centers for Disease Control and Prevention carefully tracks the cruise line industry's sanitary practices and incidences of acute gastrointestinal illness.
Intestinal illnesses that tend to spread quickly on cruise ships, such as norovirus, may get disproportionate attention for how rare they are. The CDC found fewer than two of every 1,000 cruise ship passengers gets an acute gastrointestinal illness onboard, and only about 1 in 10,000 is affected by an outbreak.
But the CDC does not keep statistics for acute injuries or overall patient visits on the vessels. The American College of Emergency Physicians has guidelines for cruise ship medical facilities and staff, and those have been adopted by the Cruise Lines International Association, or CLIA, as official policy for its members, including Norwegian – but they are just guidelines and not requirements.
Medical staff size has been a problem during some well-publicized norovirus outbreaks, including one on a Royal Caribbean cruise in December when hundreds of passengers fell ill and overwhelmed the ship's three nurses. Critics questioned if a ship with more than 5,000 passengers should have had a larger medical staff.
"One of the first things that those anticipating going on a cruise should think about is the health care available to them on the ship, and it's widely variable depending on which cruise ship line they choose," said Dr. Jay Kaplan, a medical director for LCMC Health and past president of ACEP, the national emergency physicians' group that sets the cruise ship guidelines.
He said it's a problem that cruise ships don't always follow the ACEP recommendations for medical equipment and staff certifications. He said cruise lines whose medical directors are ACEP members have been very responsive, but adds, "I can't talk about the others."
The Aymonds' carrier, Norwegian Cruise Lines, is a member of CLIA and reports to ACEP's Cruise Ship Section about its expectations for contracted medical staff. Physicians must "hold a medical degree from a recognized college or university and a current valid medical license … and maintain certification in advanced cardiac life support." It also requires additional certifications for physicians and nurses, three years of post-graduate training for both and expects them to be conversant in English.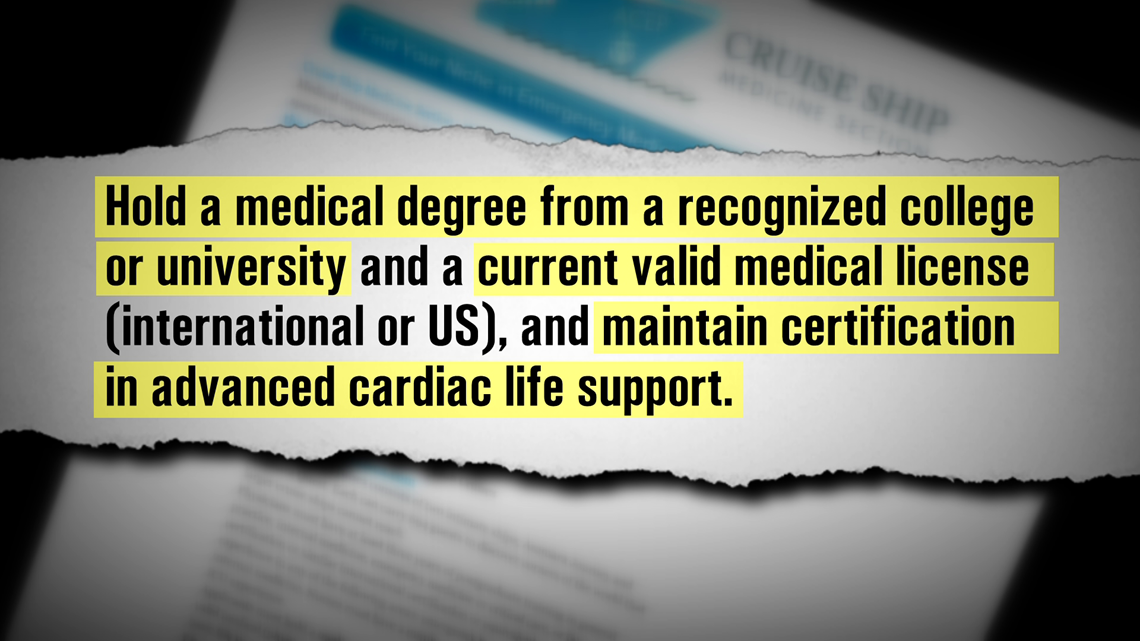 Questionable treatment on the high seas
:
But the Aymonds have not been able to get any information from Norwegian about the licenses, training or certifications for the Mexican physician who saw Brant and stitched up his gaping foot wound. They also doubt whether the nurse who attended to Brant spoke English because they could not get her to answer their questions.
They say the ship's staff did not know how to handle the extra insurance they purchased through Norwegian Cruise Lines and forced them to pay nearly $2,000 upfront.
The physician, Dr. Adrian Gomez, kept telling Brant that his deepest wound was not bad and prescribed him nothing more than Ibuprofen for the searing pain. Gomez also gave Brant an antibiotic the Aymonds later learned was for intestinal bacteria, not wounds.
Couple's honeymoon cruise turns into medical emergency nightmare
Brant's worst wound did become infected two weeks later, and medical records show he needed emergency surgery to avoid possible amputation.
They rushed Brant to Our Lady of the Lake Medical Center in Baton Rouge when the foot swelled and a rash crept up his leg. The surgeon found two pieces of coral sewn inside Brant's foot, along with a severed tendon.
This kind of scenario, where local ERs have to clean up a cruise ship's medical mess, is all-too-common, Kaplan said.
"We see patients come into the emergency department who have been treated, or – I won't use the word 'mistreated' – but not treated optimally when they've been on cruise ships," Kaplan said.
He said travelers need to understand that they can be air-lifted off a vessel in an emergency. Kaplan told of one case where a patient got mononucleosis on a ship and ruptured his spleen, but ended up waiting until he got back to shore to go to the emergency room.
"He had a lot of blood in his belly," Kaplan said. "And he had to go to the operating room. Now, in that circumstance, they had recognized there was a problem (on the ship), but it's not like they stopped the trip."
Norwegian finally responds
:
It took Danielle Aymond more than two months of constant phone calls and emails to get Norwegian Cruise Lines to call her about their experience. The company representative who called Jan. 31 asked about compensating the Aymonds, but Danielle said that wasn't the point. She wanted information about Gomez's certifications and assurances that Norwegian would make policy changes. She got neither.
Norwegian also declined to provide WWL-TV with information about Gomez. The cruise line would only provide a statement saying:
"Norwegian is fully committed to providing medical services through licensed physicians and nurses and all of our ships feature medical facilities that are built, staffed and equipped to meet or exceed the guidelines established by the American College of Emergency Physicians."
The company said privacy rules prevented them from commenting on Brant Aymond's treatment specifically.
Brant is a full-time National Guard soldier and is thankful that he can now walk again, although the pain lingers. He knows cruise vacations can be fun and are extremely popular – the Port of New Orleans set a record last year with 1.1 million cruise passengers – but he hopes his disastrous experience will be a cautionary tale for others.
"Your backup plan can't be that the boat is going to handle it," Brant said. "You've got to have another route."
"Get off the boat," adds Danielle, an attorney with the state of Louisiana. "Figure out a way to get back to the States to seek medical care if it's in any way serious."
How you can stay safe on your cruise
:
The Center for Disease Control recommends that travelers check with their insurance company to see if their policy covers medical care in another country. If it is not included in your policy, some companies also offer travel health insurance to cover you during the trip.
Cruisers should also note any gaps in their coverage. Some policies do not cover costs if you must be evacuated from the ship. The CDC says a trip via air ambulance can cost between $50,000 to $100,000 that must be paid in advance if you are not covered. Travelers should also take a look at options for medical evacuation insurance offered by their insurance company.