NEW ORLEANS -- Twenty-seven years ago this week, on Aug. 16, 1991, a 19-year-old college student named Ta-Tanisha Smith alleged she was raped at gunpoint in a New Orleans auto mechanic's shop.
Two months later, a 14-year-old girl named LaToya Gaines alleged she was sexually battered at knifepoint by the same man.
This week, both women, now in their 40s, could receive a measure of justice by facing that man, 54-year-old Gerard Ladmirault, in Criminal District Court.
(story continues under photo)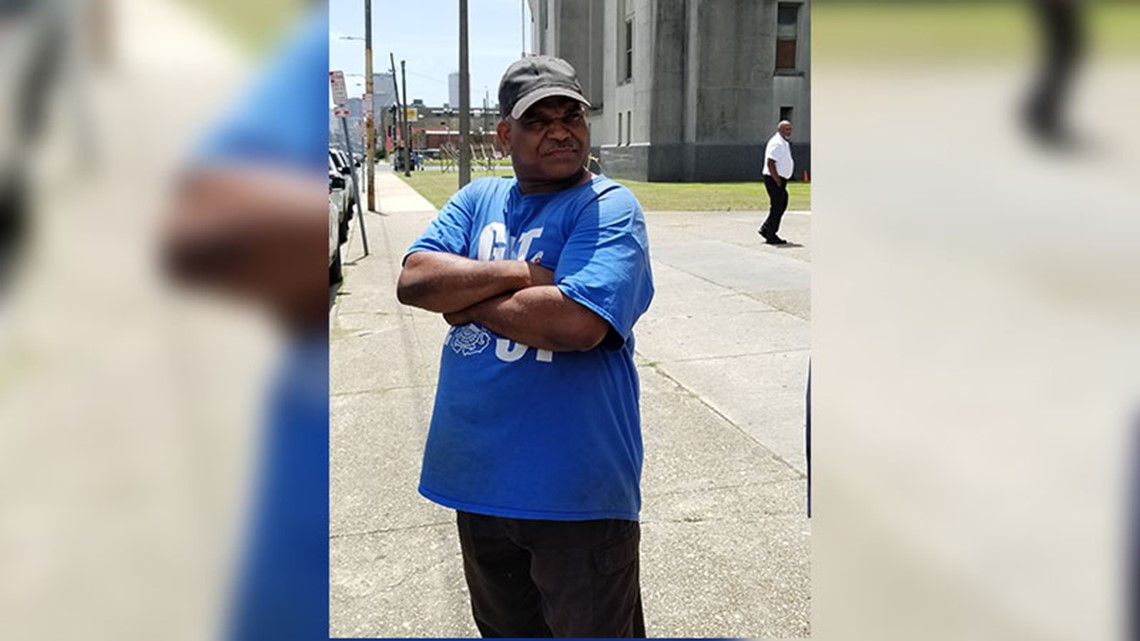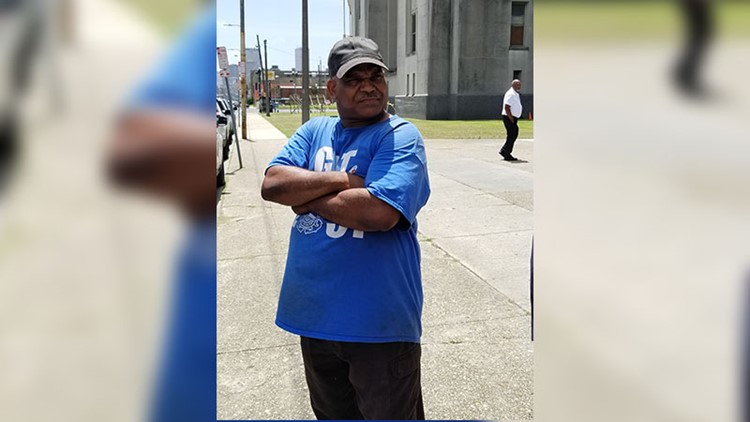 Orleans Parish prosecutors will try Ladmirault for a third time Monday on a charge of oral sexual battery against Gaines, and they plan to bring Smith from her home in Atlanta to testify about her case, to try to establish a pattern of behavior on Ladmirault's part.
The story of how this case ended up in Judge Keva Landrum-Johnson's courtroom this week, nearly three decades after Ladmirault was first arrested, with two of his alleged victims still seeking closure, offers a unique window on the lasting psychological effects and changing attitudes associated with sex crimes.
Smith told police that she had had an argument with her boyfriend and was walking to a hotel by the airport in the early morning of Aug. 16, 1991, when a man she'd never seen before pulled up in a red BMW. She said he offered her a ride, telling her it wasn't safe to be out.
(Story continues under photo)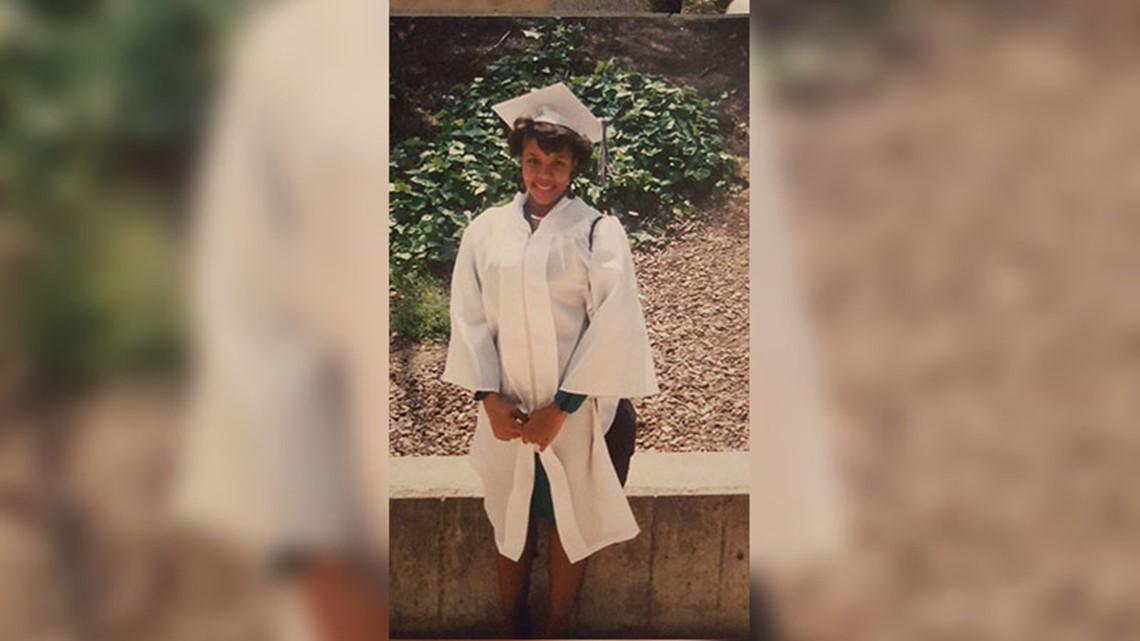 Smith said another car had nearly run her over a few moments earlier, and she believed the man in the BMW was sincerely trying to help her.
"As we were driving to the hotel -- so I thought -- he made a right turn on the interstate, and he pulled out a gun and he said, 'Guess what,'" Smith recalls.
Smith told police the man drove her to a warehouse and automotive shop near the Superdome and made her bend over a chair.
"At gunpoint, he raped me anally, and he made me perform oral sex on him," she said.
After Smith went to the police, NOPD Detective Jean Beckemeyer drove Smith to Earhart Boulevard to retrace her steps from the night before. They ended up at B&G Auto Body and Paint, Ladmirault's shop. Inside was Ladmirault. The red BMW was there too, with his gun under the seat.
(story continues under photo)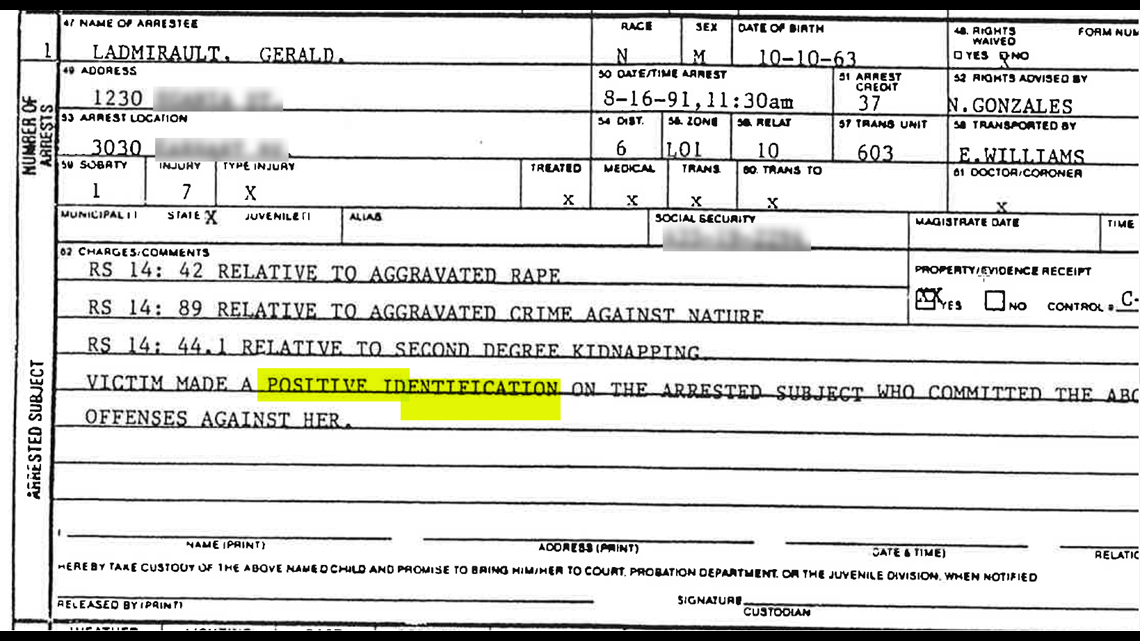 Police records show they found items at the body shop exactly as Smith had described them. A multicolored towel. A black T-shirt. She picked out Ladmirault's gun when it was placed next to a police service pistol. The NOPD crime lab also found semen matching Ladmirault's blood type on Smith's underwear.
(story continues under photos)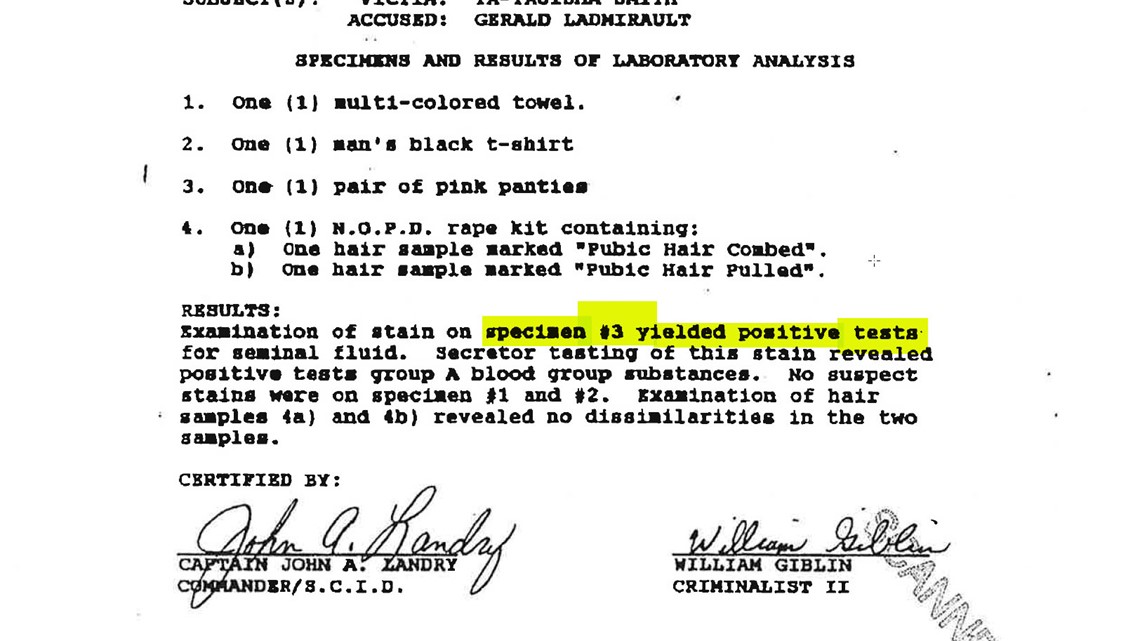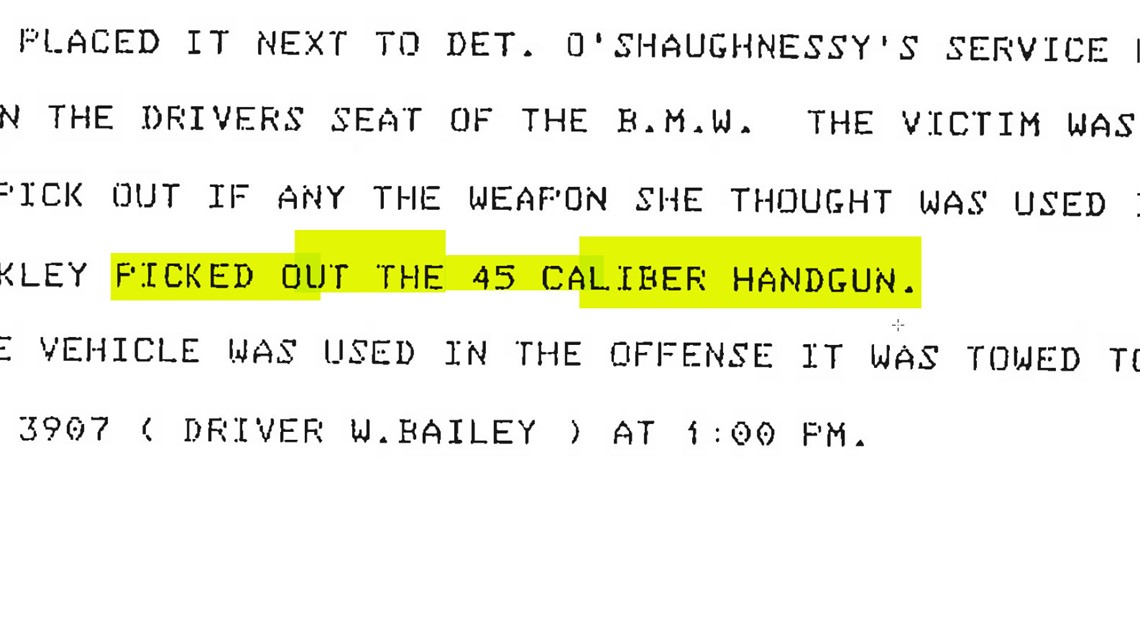 "This man raped me; he needs to go to jail," Smith said in a recent interview.
Ladmirault was charged with second-degree rape and went to trial in 1992. The DA's case file shows that Ladmirault ordered a private lie-detector test in which he claimed to have met Smith at an adult book store, after which they had consensual sex. The administrator of the test said Ladmirault was telling the truth, although the results were not admissible in court.
Defense lawyers are not supposed to be allowed to focus on a woman's sexual history or her appearance either, but 1992 was still two years before the passage of universal rape shield laws. Smith remembers the defense attorney making a big deal about the baby-doll top she was wearing on the day of the alleged rape, and even the style of her panties.
(story continues under photo)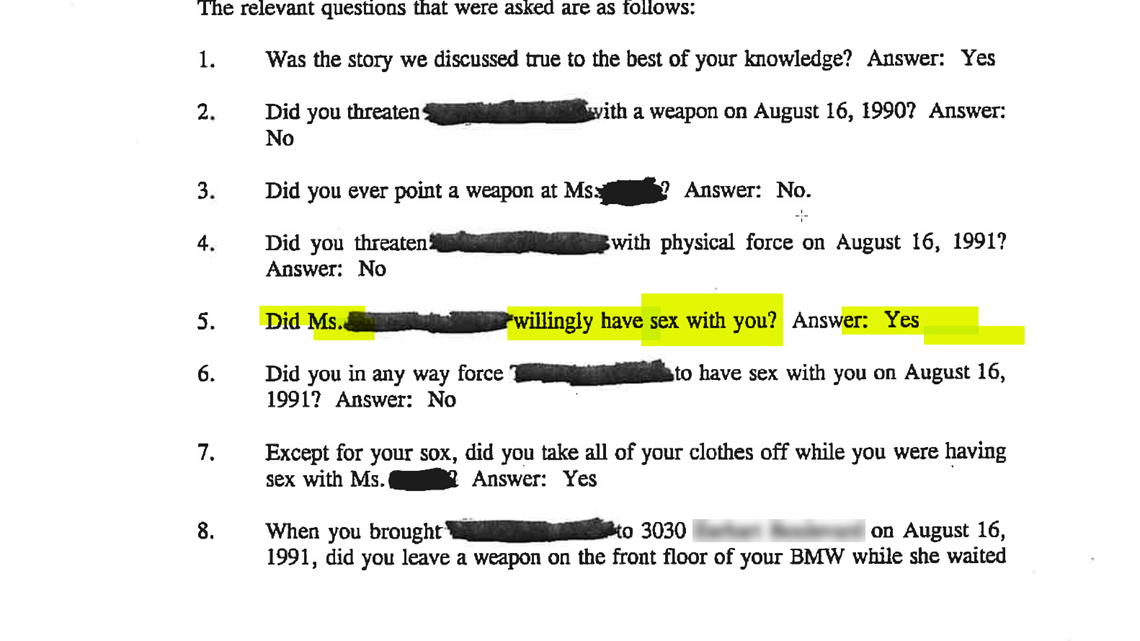 Still, Smith and Beckemeyer believed prosecutors had a very strong case.
They were shocked when the jury found Ladmirault not guilty.
"And I just broke down in the courtroom," Smith recalls. "The judge took me to his chambers and he tried to console me because it was just unbelievable that that happened."
LaToya Gaines has spent most of her life trying to forget the night of Oct. 16, 1991. Gaines says her single mother, now deceased, battled a major drug problem when Gaines was young. The two of them, along with LaToya's two brothers, had been evicted from a string of apartments over the years and were staying with a neighbor in New Orleans East at the time.
(story continues under photo)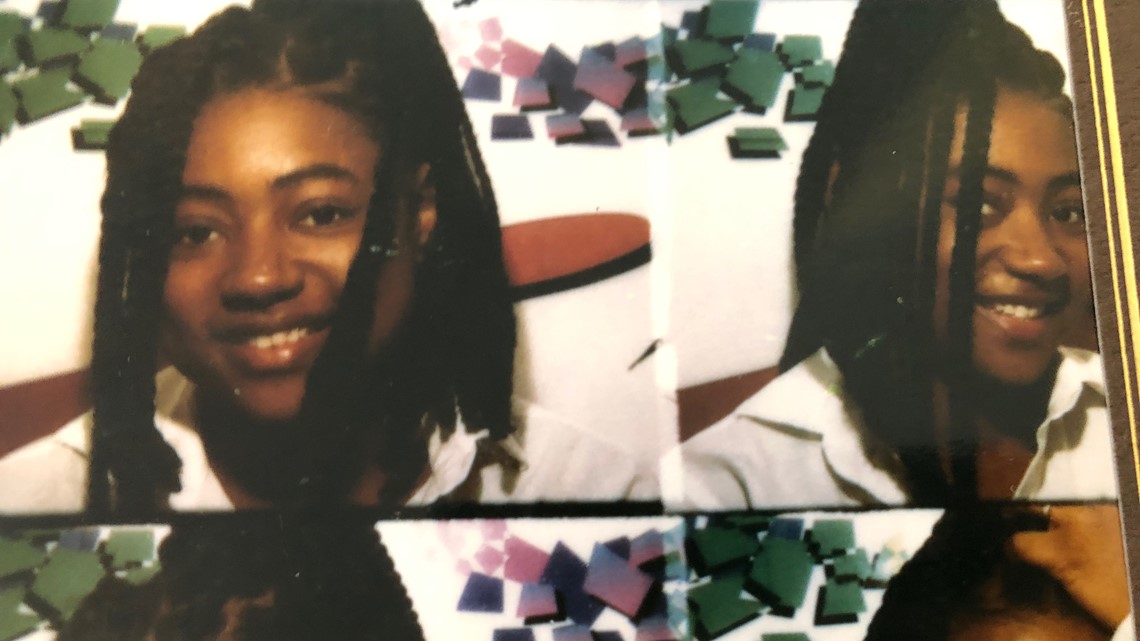 Gaines said Ladmirault was trying to impress the woman who was hosting them. He offered to help her children and the Gaines kids, as well.
Gaines said she had been reprimanded at school for not wearing the proper uniform, so Ladmirault picked her up to buy her new school clothes. She told police they drove past Soul Train Fashions and stopped at Ladmirault's house in the 7th Ward instead. She said he invited her inside and she went to the bathroom.
"Just after I finished washing my hands, I looked up to find the door open with him standing in the door," she recalls. "He pushed me back onto the toilet, shoved me down on my knees and he had a knife, a pocket knife, and suggested I either do what he asked, or I would die."
She told police that night that Ladmirault forced her to perform oral sex on him.
She also told them she knew he had been arrested recently for rape.
"This is something he done did before with another person and they charged him innocent, why get away with it," says a transcript of the 14-year-old Gaines' interview with police. "When you get away with it, that make you want to do it again and again because you're never… you think you'll never get caught."
NOPD arrested Ladmirault for aggravated oral sexual battery on Gaines.
But just a week later, Gaines and her mother signed an affidavit saying they wanted to drop the charges. She says her mother told her to sign it and she didn't understand what was happening. In February 1992, prosecutors in the office of District Attorney Harry Connick Sr. officially refused the charges against Ladmirault.
(story continues under photos)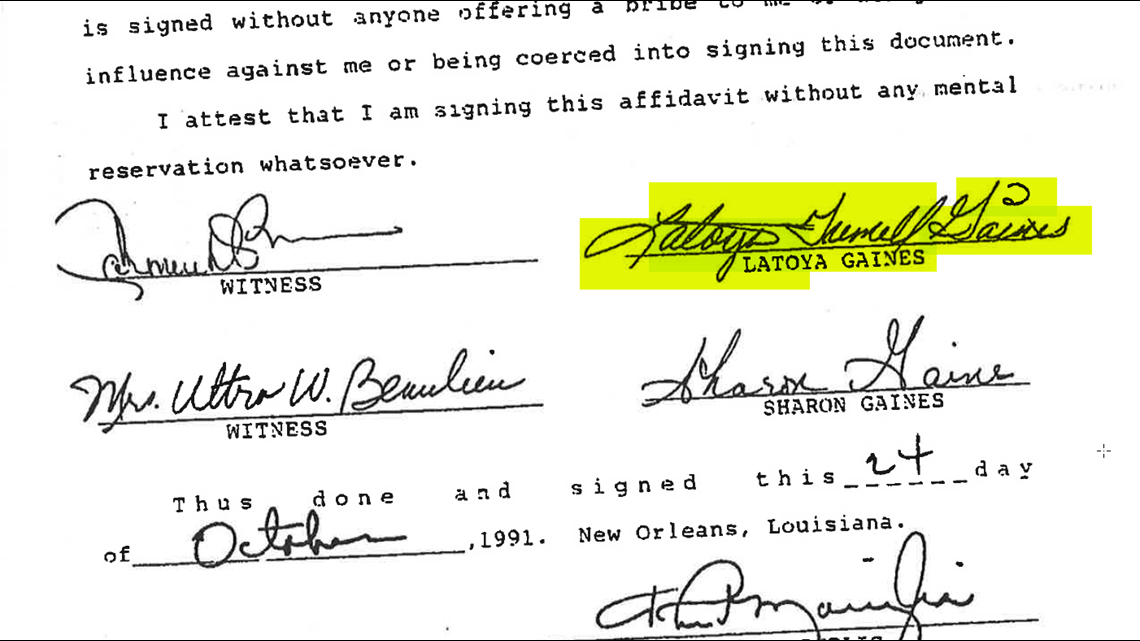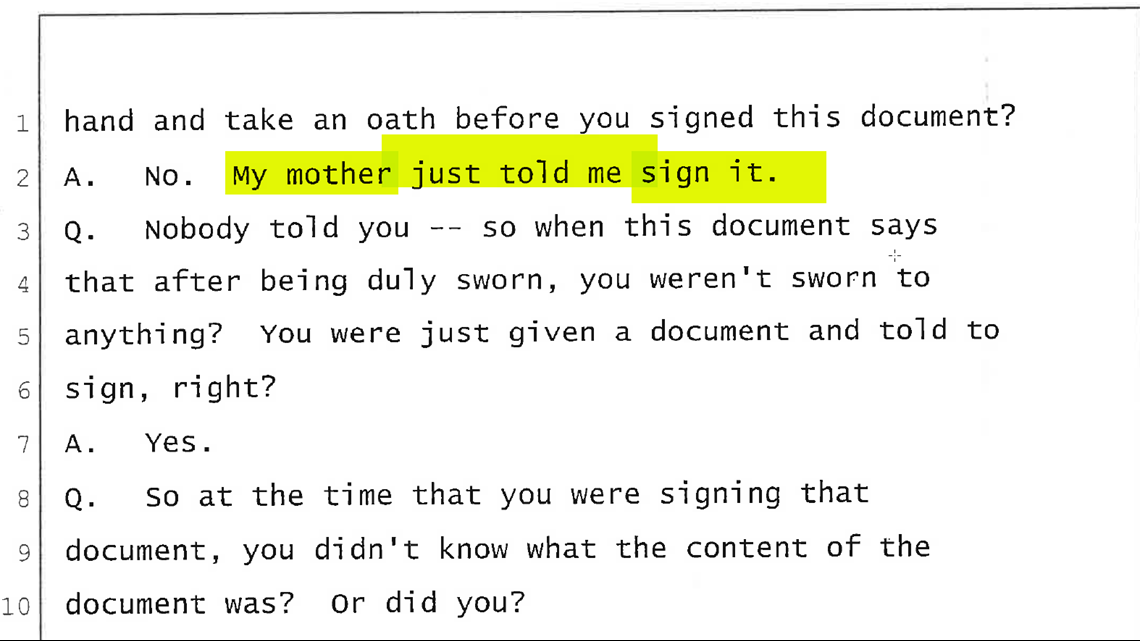 Gaines said she was angry and confused, and soon after, she ran away. She gave birth to a son in March 1992 and had to give the baby to family members to raise. She ended up in a homeless shelter at 16.
"I left my son with his grandmother and his dad, because I knew he would be taken care of until I could get on my feet," she said. "Until I could gain some sanity or some sense of the whole thing. But I just tried my best not to look back."
As an adult, she ran into Ladmirault several times while playing craps at local casinos. Once when she was in her 20s, she said Ladmirault approached her at Harrah's and gave her his business card, apparently unaware she was the same girl he had known in 1991.
"I'm tearing the card into shreds," she remembers. "I walk back over to the table and I threw it in his face. And I said, 'You ought to really be mindful of the people you hurt, when you hurt them and just what you've done to hurt them. Because right now, if I had a gun, I'd probably do you something really bad.'"
At that point, Gaines convinced herself she had dealt with the issue as best she could. She was no longer afraid of Ladmirault, she said. But a counselor later told her that her anger was still locked inside her, in Pandora's box. And that box opened one day in 2014.
That's when she dropped off her son at Warren Easton High School and saw Ladmirault pull up in front of her. She said she had never seen him at the school before. Then a girl got out of the truck and walked into school.
"When that little girl got out of that vehicle, I began to realize that it wasn't about me anymore… that there were other people he could possibly continue doing this to," Gaines said.
She said she drove straight to the District Attorney's Office, even going the wrong way down a one-way street, to ask prosecutors to reopen the dropped charges.
They did. Victims of child sex crimes have 30 years from the day they turn 18 to press charges.
The case went to trial in 2015, but the jury couldn't reach a verdict.
Prosecutors tried the case again in 2016. Another hung jury.
"Truly, I felt like many people: like I was by myself," she said.
But it turns out Gaines wasn't by herself.
She had Smith. Even though Gaines knew Ladmirault had been accused of rape already in 1991, she says she never knew any of the details or who the alleged victim was.
Smith was attending Dillard University at the time, but went home to San Francisco after the 1992 trial. She lives in Atlanta now and thought she had left the New Orleans chapter of her life behind forever, until she was called to testify at Gaines' first trial in 2015.
(story continues under photo)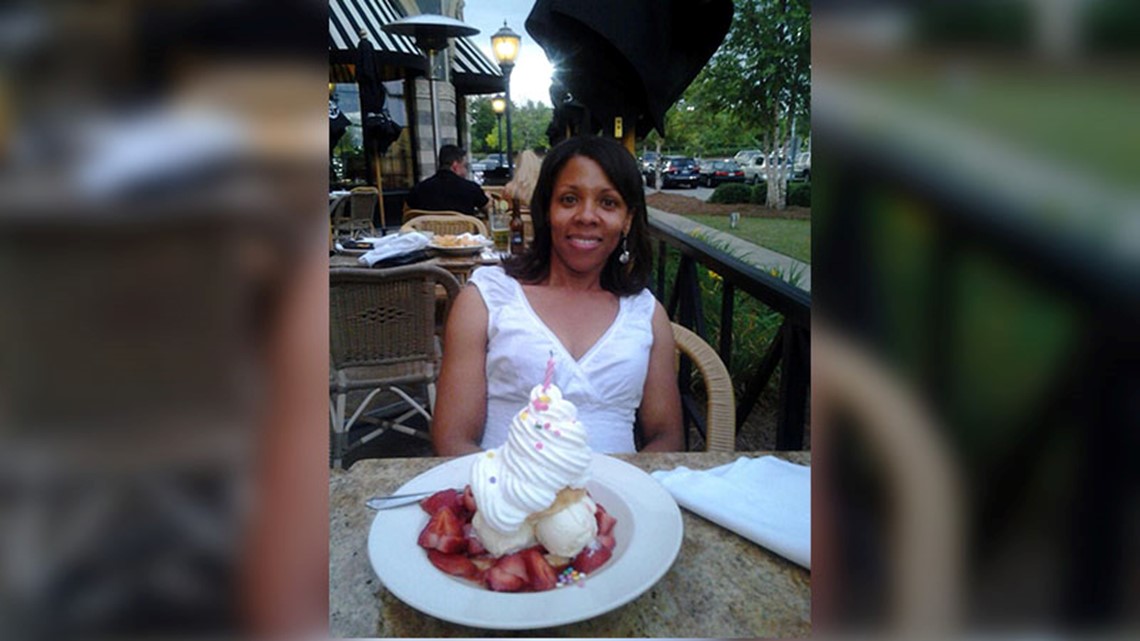 "I guess I kind of suppressed it," Smith said. "But when I got the call, I just kind of felt like I needed to be available and there for her."
The first time Smith and Gaines met, it was in the hallway outside Judge Laurie White's courtroom. They fell into each other's arms, crying.
"Ta-Tanisha being able to get up there and tell this story, I'm thankful because she's willing to do it," Gaines said. "I'm thankful that she has the courage to do it."
Even though Ladmirault was acquitted in Smith's case, testimony about it has been allowed in Gaines' trials, so prosecutors could show a pattern. Smith came in for both trials, and Beckemeyer, the now-retired NOPD detective on her case, did too.
Both are poised to do so again Monday.
Prosecutors have also pointed out Ladmirault's violent crime convictions, for assault with a deadly weapon and domestic abuse battery.
(story continues under photos)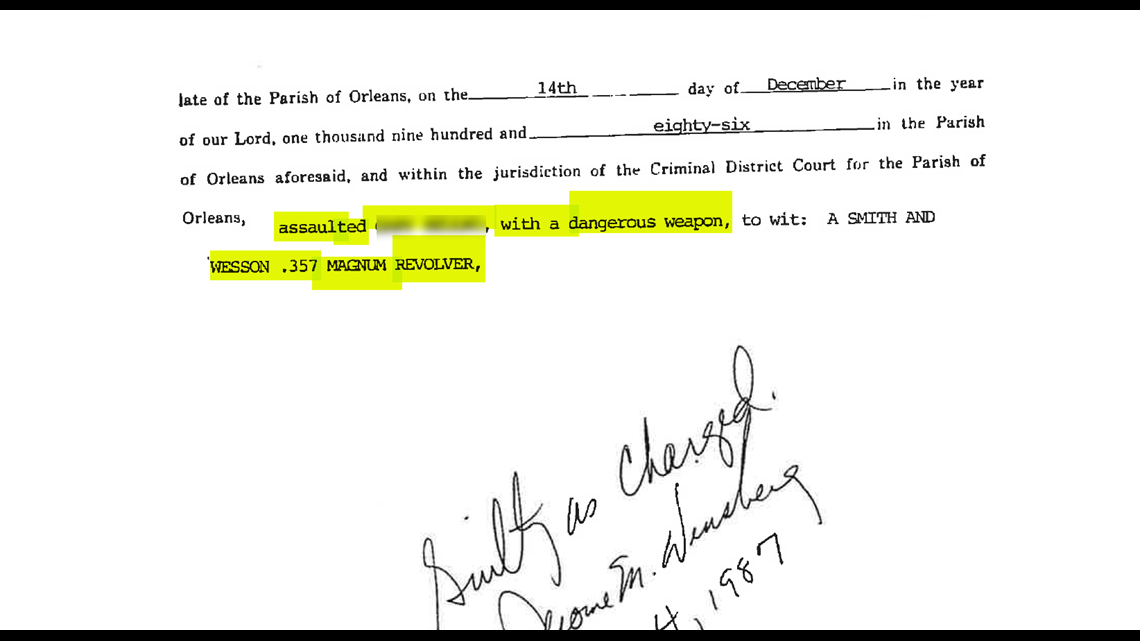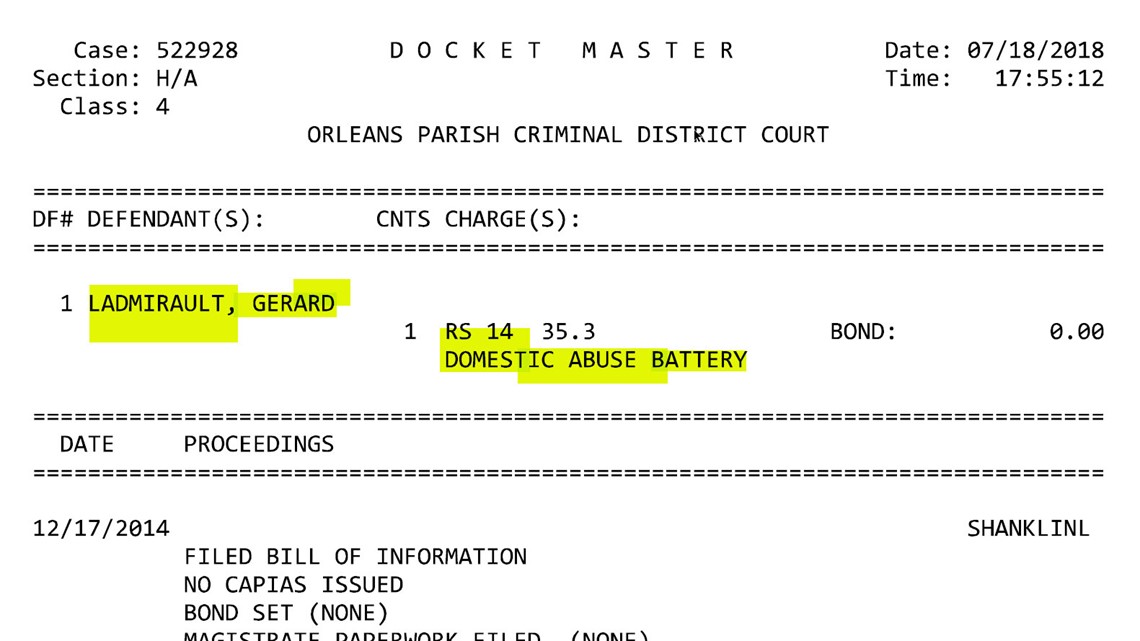 In addition, they have filed a perjury charge against Ladmirault. He testified in 2016 that he never was alone with Gaines, and that he had only given her and her brother a ride to her grandmother's house in the Lafitte housing project. Relatives of Gaines who were in the courtroom notified prosecutors that neither Gaines' grandmother nor any of her other relatives lived in the Lafitte. Two of them testified as rebuttal witnesses.
Meanwhile, the defense has tried, unsuccessfully, to introduce testimony about both women's sexual histories, something that's not admissible except in certain rare circumstances. At one point, in Gaines' 2016 trial, Ladmirault's attorney, David Belfield, asked her the birthdates of her children. He repeated the birthdate of her oldest son, which was five months after the alleged rape, before prosecutors objected.
(story continues under photo)

For both sides, the long time-lag between the alleged offenses and the trial has tested memories and the integrity of the evidence.
Gaines heard her rape kit was destroyed during Hurricane Katrina, which flooded the police evidence room. She also heard police mishandled some of the evidence in her case, taking a towel Ladmirault allegedly used to clean his semen off her, and placing it into the same evidence bag with a pair of his underwear, making it all unusable in court.
But Belfield says a report of what police collected from Gaines' rape kit did survive and none of Ladmirault's semen was found.
"The report does not find any of this gentleman's sperm on that young lady," Belfield said. "And so, it didn't find it in 1991, and they're not going to find it in 2018. Because it doesn't exist."
Belfield says justice has also been unfairly delayed for his client.
"Whenever they're ready, we're ready. It's been 30 years. Whenever they're ready, we're ready. It's been two juries… and it's just an unfair system," he said after a pre-trial hearing last month.
Smith says what's unfair is that Gaines is still waiting for a verdict and hasn't been able to find the closure she found, even from a not-guilty verdict.
"I want her to receive that closure as well," Smith said. "And anything I can do to help her, then that's what I'm going to do."
David Hammer can be reached at dhammer@wwltv.com.