Searching for Ramona Brown: The Possibilities
After four meticulous searches of the debris came up empty, in 1984, police listed 3-year-old Ramona Brown's injury as "Believed to have died in fire" in their investigative report.
Ramona Brown went missing after a fire tore through her family's Algiers home at 2631 Memorial Park Drive on March 6. Aubrey Jr., 4, and Kevin, 2, both died in the fire. Investigators found their remains that morning.
Was Ramona kidnapped?
:
The story investigators didn't hear
One of their sisters, Simona Brown, recalls a vivid memory of Ramona getting into a bronze-colored, Cadillac-type car after the fire.
"Everybody was helping because that's what we do in this neighborhood. We help each other. Old black man, old white lady," Simona continued, "They was like, 'We'll watch her for y'all.' So, I was like, 'Ok, cool.' We just thought they was being helpful and friendly. After that, we haven't seen my little sister since."
Seven of the former neighbors, who are now living in multiple different states, all said they don't remember an interracial couple living in the area in the early 1980's.
However, the fire happened on Mardi Gras day, a time of year when tens of thousands descend on the New Orleans area from out of town.
"I know she's missing. I know. I know what I saw," Simona said.
She is the only one of the surviving siblings who said she remembers seeing Ramona alive after the fire.
"She kept saying like Pam, you don't remember? But I don't remember," said Pamela Nickerson, Simona's older sister.
"I've been telling this story to my mom since I was little," Simona said.
Days after the fire, Simona said she first told her mother, Johnnie Mae Brown about the interracial couple in the bronze car, but because Simona was only 6-years-old at the time, no one believed her.
While the years have passed and the Brown children have grown into adults in their 30's and 40's, Simona's memory of that night hasn't changed.
"When Simona got a little bit older an I asked her again, 'Are you sure what you told me when you were small?Did you really see what happened about the fire?' She told me the same story and up until this day, I still ask her and she still says the same thing," Johnnie Mae remembers, sobbing as she struggles to get the words out.
But she admits, police were never told.
"I can assure you, I would've pursued it, from a professional perspective, from a human perspective. And I can assure you that Chief [Henry] Morris would've not let it alone if he didn't think what we had done was our full commitment to it," said retired New Orleans Police Department Captain Harry Mendoza, the police arson investigator assigned to the Brown fire in 1984.
Johnnie Mae Brown and her husband, Aubrey Sr., were sleeping in their bedroom at the back of the house when the fire broke out.
It was just about 3 a.m. when Pamela, their teen-age daughter, started screaming to get everyone up.
"I thought I was dreaming, but I wasn't," Johnnie Mae remembers. " And I opened my eyes and I saw blazing under the bedroom door."
She describes her husband trying to open the bedroom door, but getting blown back by the pressure. She jumped out their bedroom window.
"I ran around to the front of the house and I heard the kids hollerin' 'Momma! And daddy!' But I couldn't get to 'em," Johnnie Mae sobbed.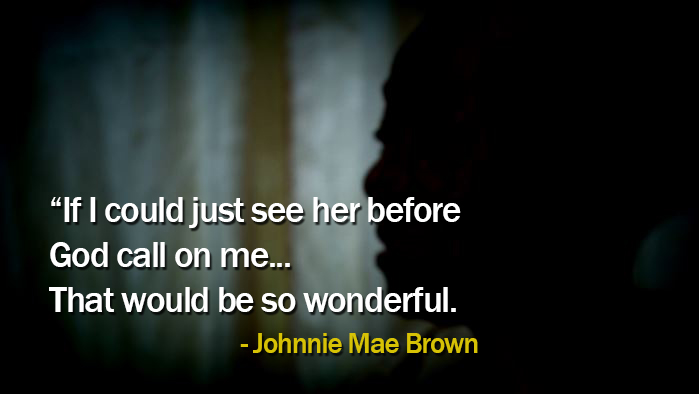 The mother of 10 said she desperately tried to figure a way through the flames to get to her two young sons, all the while hearing the fear in their cries for help.
"You could see from the big window in the front of the house, but I could vaguely see them running back and forth across the sofa and the biggest one was trying to shield the littlest one. They were hugging," she said.
In the police report, investigators described finding the boys' tiny remains with the older child, Aubrey, Jr., face down and Kevin face up.
Records from the Orleans Parish Coroner indicate Johnnie Mae Brown had to identify her sons. The pathologist wrote both boys sustained "100 percent charring body burns."
But the struggle for Johnnie Mae and Aubrey Brown only began with the burial of their two youngest sons.
The two searched through the ash and rubble of their home for days after investigators suspended their search for Ramona.
It was more than any mother should ever have to bear.
"I wasn't in no position to talk to nobody. I didn't want to talk to anybody because I just didn't want to talk," Johnnie Mae said.
The end of the search marked the beginning of 30 years of longing, wondering what happened to her baby girl.
"I've been waiting a long time. A long time. And I'm gonna keep on waiting," Johnnie Mae sobbed.
The Mysterious Phone Call
"Wasn't too many people called [Ramona] Al, but everybody around the house called her Al," remembered Dorothy Nickerson, Johnnie Mae Brown's mother. " Never called her by her name. Cute little thing. She sure was."
While Simona Brown was the only family member who said she saw Ramona alive after the fire, her grandmother, Dorothy Nickerson, swears she received a phone call from Ramona a few days later.
"It wasn't that long after the fire she called me and she said I talk to Al. I said, mom you talk to Al? What you mean? I said well, how you talk to her," Johnnie Mae asked.
Dorothy Nickerson is now 90-years-old. She still lives in the same Algiers house where her three grandchildren came to play the afternoon before they went missing in the fire.
"It's been so long, but I know. I have a sharp mind. The telephone rang. This was about two, three days later. The telephone rang. I pick up the phone, I say, 'Hello?' And somebody said, 'Ma!' I said who is this? 'Al.' I said, 'Al where you at?' And I didn't hear no more," Nickerson said.
She said it sounded like someone took the phone from the little girl and hung up.
On March 9, 1984, three days after the fire, Nickerson's phone number was published in the Times Picayune as a contact number where people could reach out to help the Brown family.
"She didn't know my phone number. Somebody must have dialed it for her," Nickerson said.
"I never received any information about a phone call or anything that would indicate that Ramona had survived or that she was kidnapped or some other foul play had occurred," Mendoza said.
"I told Johnnie Mae about that phone call," Nickerson continued, "but they wasn't interested in finding anything, to tell you the truth. Like this was a lost cause with the kids getting burned up."
Johnnie Mae admits she didn't tell police about the phone call either.
"My mind just wasn't right or something. I don't know what happened to me," and she went on to say she sought psychiatric treatment for a mental break down after the stress and sadness and horror of it all became too much to bear.
Mendoza said the Browns' house fire is one of the hundreds of cases he's worked throughout his long career with the NOPD that stuck with him.
"I just could never give an answer. I can't give an answer today. Where is Ramona," he asked.
While he says he never heard the story about the bronze Cadillac and the interracial couple or about the mysterious phone call from 'Al', "I can assure you I would've pursued it. From a professional perspective. From a human perspective."
Mendoza and his partner, who worked the New Orleans Fire Department, Karl Pfister, never ruled out arson in the Browns' house fire, however, the Orleans Parish Coroner listed the deaths of Kevin and Aubrey Jr. as accidental fire fatalities.
After seven days of trying to find Ramona, Mendoza notes in his report that he visited the family and told them they could file a missing person report, but that was never done.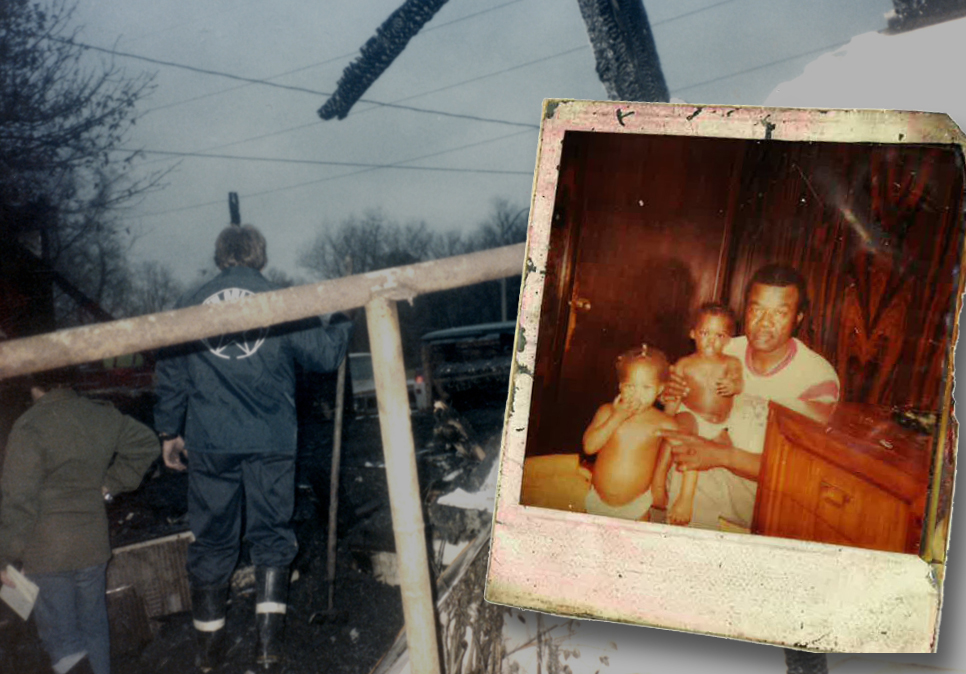 If they had determined the fire was intentionally set, the case would have shifted to homicide and the investigation would have continued. But because no cause was found, the investigation ended when the family buried Kevin and Aubrey in an unmarked family grave down the street from their home.
An article in the Times Picayune shows loved ones gathered on a separate afternoon to remembered Ramona, sitting in chairs, looking at a small photo of her. But they never found closure.
Newspaper clippings from the search for Ramona Brown
Just this week, doctors told Johnnie Mae brown the cancer she has been battling for some time has spread.
It makes gives their search for Ramona even more urgency.
"I'm sickly. If I could just see her before, oh God," she cried, "Before God call on me, oh well that would be so wonderful."
With the hope of a long-awaited reunion with her daughter, who would now be 36 years old, comes fear.
"She's kind of scared if you do find her. Because she don't know what to do. She's been through enough, you know. But she wants to find out what happened to her kid. And I want to know what happened to my sister," Simona said.
"If today you told me that she was alive, I would be delighted to know the outcome," Mendoza said.
"I think about her all the time. How would she be? If she see us, you know would she know how we would act if we see her," asked Pamela Nickerson, Ramona's oldest sister.
"I know she was young but if she can remember us that she'll come back. I'll be happy," Simona said.
After the fire, the generosity of their Algiers community helped give them enough money to rebuild their home.
"We built back on the same property. And the reason for that is because if she ever decides to come home, we're here. I'm not moving. I'm gonna stay here till the end. I'm gonna stay here. All she has to do is come on home," Johnnie Mae sobbed.
Have you seen Ramona Brown? Let us know.