Two weeks ago, the blaring of Lanay Stockstill's alarm wasn't what got her out of bed. When she reached to turn off the alarm, her phone showed an overdraft notification that her bank account was $17,000 short.
"I went downstairs to my computer and I looked and it said Sewerage & Water Board tried to draft $31,000 out of my account," Stockstill said.
The S&WB of New Orleans tried to auto-withdrawal $31,679 to be exact, for nearly 26 million gallons of water.
That's more water than the spectacular fountains hold at the Bellagio hotel in Las Vegas.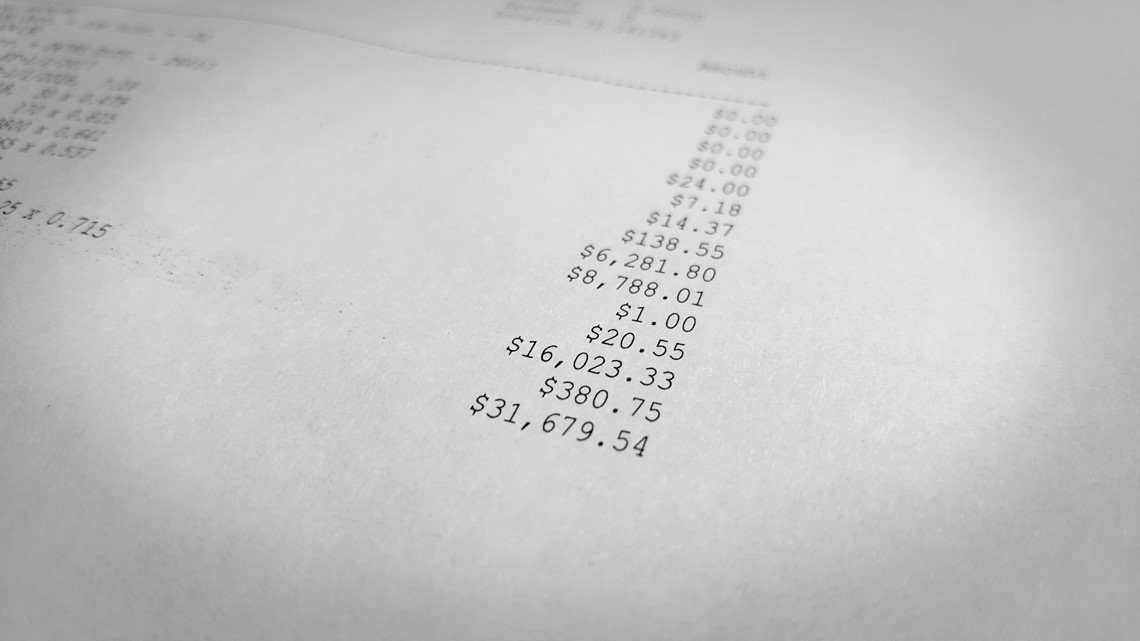 The bill wasn't for her three-person household, it was for a 1,000-square-foot apartment she rents out that houses a single tenant.
Stockstill's is one of more than ten thousand open investigations into problem bills at the S&WB, and while that's a small fraction of the agency's 136,074 total accounts, it's little consolation to those who are bogged down in a dispute.
That process can take months because of a lack of staff to investigate the complaints and address them.
The S&WB recently hired 20 temporary employees to help and Interim Executive Director Marcie Edwards said Tuesday it's her goal to hire 10 more by July.
In the meantime, the frustration of customers like Stockstill and Jasmine Gorawara simmers.
"A week before we were moving home in 2016, our house caught fire," Gorawara said.
Smoke damage forced her to gut her Uptown house and when they rebuilt, they installed water-conserving plumbing and appliances.
Her family's water bills should have gone down, but in December 2017, the S&WB withdrew $950 from her account as an auto bill payment.
The S&WB charged her for using 68,100 gallons of water. Half of the month, her family had been out of town for the holidays.
The average household in the U.S. uses 3,000 gallons a month, according to the US Geological Survey.
"Our plumber came out and guaranteed that there were no leaks on the property because he said if there were any leaks, we would have definitely have noticed it because it would have been the amount of a swimming pool the amount they were charging us," Gorawara said.
Two swimming pools, in fact.
The S&WB bills customers two ways: By reading the meter every month or by estimating usage using a computer formula that considers past usage.
Both Stockstill and Gorawara's problem bills stemmed from actual meter readings.
With their current staff of 41 meter readers, double the number the S&WB had a year ago, it is still nearly impossible for them to read every meter every month.
The board has 136,074 active accounts. That would mean each meter reader has to find and read about 22 meters an hour, manually punching in usage in a hand-held computer for each one.
So, the agency has relied heavily on estimated usage, with some customers getting charged estimated amounts month after month.
Edwards told the S&WB Finance Committee Tuesday that the estimated readings are causing a lot of customer concern.
Raising revenue
"There's no doubt there's some mismanagement. There's no doubt about that," said Paul Rainwater, about what led to the billing debacle.
He's the leader former Mayor Mitch Landrieu brought in to get the S&WB under control after two floods last summer made the city's collective blood boil.
"I think people feel like they were being lied to," Rainwater said, adding that he doesn't know if the citizens were being lied to. However, "When I took over for that 100 days, what I saw was a little bit disheartening."
Rainwater was tasked with trying to get a handle on the billing problems, staying two additional weeks longer than the four other members of Landrieu's emergency team.
When asked how the problems with billing went under the radar so long, Rainwater replied, "I don't think people paid attention to it. I think some of it was managed internally by the folks in customer service. But there's no doubt the former Chief Financial Officer and Executive Director made a policy decision to try to increase revenues."
Bob Miller and Cedric Grant have both since left the S&WB, with Grant forced out after the August flood and Miller taking a job in the fall as the Public Works Director for the city of Jackson, Mississippi. Both men didn't respond to calls seeking comment.
According to Rainwater, Miller and Grant rushed to implement multi-million dollar new billing software that launched in October of 2016. Its implementation has been wrought with problems.
The board blames many of the billing problems on that new software, including the double billing of nearly 5,000 customers last fall.
That new software system was supposed to accurately estimate customer usage based on past bills, but instead of just creating a fair-usage estimate to be used consistently over the months that a customer's meter can't be read, an examination of dozens of water bills shows the S&WB increased estimated usage month-over-month.
For example, New Orleans resident Joseph Cirilo received estimated bills from May to December 2017.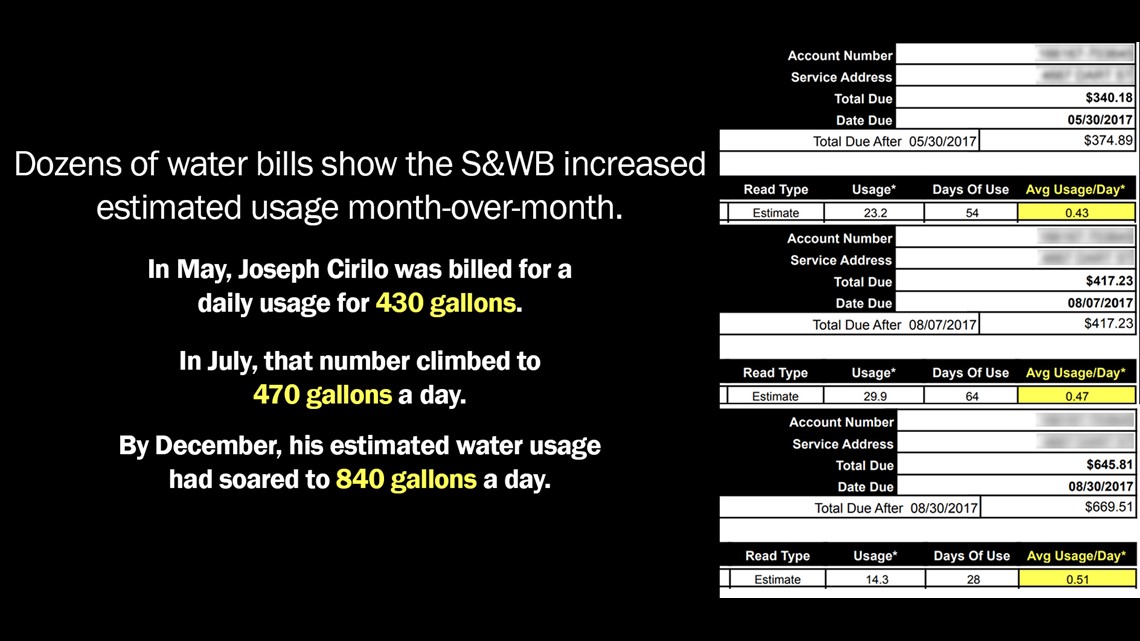 Those bills were not only extremely high for one person, more than four times what the USGS estimates the average household would use, but the series of bills shows a steady climb month-to-month.
In May, S&WB billed Cirilo for an average daily usage of 430 gallons. In July, that number climbed to 470 gallons, and the number kept rising.
In December, his estimated water usage had soared to 840 gallons a day.
WWL-TV requested an interview with S&WB for this story last week. Instead of providing someone to answer detailed questions about it, the agency called the local media to a meeting of the Finance Committee, where Edwards gave a presentation on the latest numbers of billing complaints.
She offered to sit down with WWL-TV for a future interview, but a spokesman said she was unavailable after the press conference.
Edwards told reporters that within the past two weeks, the agency changed the formula it uses to estimate some bills.
For customers who receive bills that are more than 125 percent of their normal usage, the agency should bill them for 100 gallons of water a day until it can investigate the irregular bill.
"Bill estimation is an art form and there is, frankly, no utility that likes to do it, so we need to get to a point where we're not," Edwards said.
Problems reading meters
But at the S&WB the computer hasn't been the only thing estimating usage.
"You had cases where meter readers were estimating. And in some cases where what I saw and what some of our reports showed is you had people just walking by a house and just estimating. And in other cases, you had just repeat billing without even looking at an estimate," Rainwater said.
He said it was "his understanding" those meter readers were disciplined, fired or re-trained.
An administrator for the New Orleans Civil Service Commission, the agency that oversees all city staff, said the commission has not received a personnel report from S&WB since November, so recent disciplinary action information was not available.
"I'll go on Next Door and I'll say 'has anybody had a high bill?' and there's about 28 replies of 'Yes, I've had a ridiculously high bill from Sewerage and Water Board,'" Gorwara said.
Gorawara still has not gotten a dime credited to her account, which is normally how the S&WB handled refunds, instead opting to "adjust" a customer's subsequent bills.
Lanay Stockstill disputed the nearly $32,000 withdrawal at her bank and the bank restored her money after she brought proof that it was a faulty charge from the S&WB.
"I had to pay people today with checks and I can't," she said.
The agency voided her sky-high bill, but on Monday it sent her another bill for that same property for $987.
It was identified on the bill as an actual reading, suggesting Stockstill's tenant used 72,000 gallons of water in two months. With no leaks on the property, Stockstill said she'll now have to make a third trip down to the S&WB to straighten out the new bill.
Edwards told the committee Washington DC-based consultants Blue Drop has been hired to evaluate and recommend improvements for the agency's customer service system, and the Water Company of America has been tasked with identifying customers who aren't paying their bills.