There's been a quiet revolution going on in the New Orleans Criminal Justice System. Bail Out is an investigative series from reporter Mike Perlstein taking an in-depth look bail reform in Orleans Parish. Catch up with the series here:
NEW ORLEANS -- As part of sweeping bail reform that is changing how arrested suspects are being dealt with in New Orleans Criminal Court, about 200 felony suspects have been bailed out of jail thanks to a private pool of money called the Freedom Fund, paid by a group of reform-minded activists.
Among those helped by the fund were seven alleged drug dealers whose arrests were touted by Mayor LaToya Cantrell as part of the NOPD's undercover drug operation dubbed Summer Heat.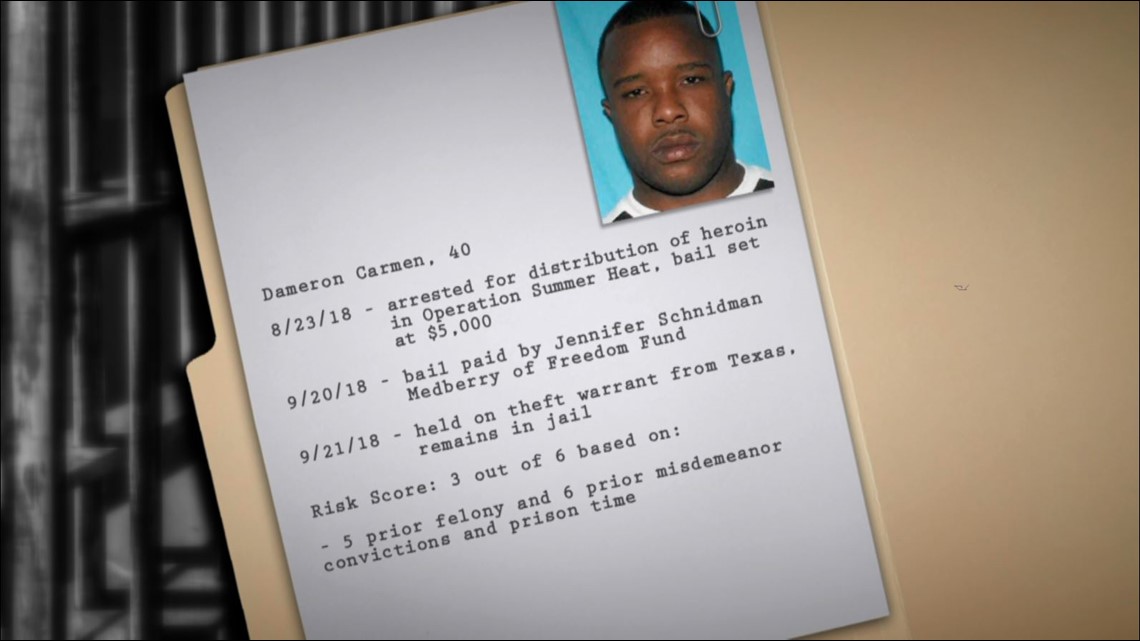 One of the Summer Heat suspects was Louis Cincore, a career criminal with 18 convictions, 10 of them felonies, court records show. Another was Dameron Carmon, bailed out by the fund only to be re-arrested, then bailed out a second time by the fund. His rap sheet shows 11 convictions, including five felonies.
Questions about the Freedom Fund have been raised not only because of rap sheets like these, but also because of the involvement of founder Joshua Cox, a top assistant to the mayor Cantrell.
The mayor has defended Cox's involvement in bailing out suspects. But police have openly questioned the seemingly contradictory positions of the mayor applauding cops for getting alleged drug dealers off the street, then supporting a top assistant releasing those same suspects.
Now, in reaction to a series of investigative stories on WWL-TV called "Bail Out," criticism of bail reform and the methods of the Freedom Fund is coming from a new and unexpected direction: Economically disadvantaged defendants and their families, the constituency that is supposed to the beneficiary of bail reform.
James Brundy, father of Summer Heat drug suspect Rashad Brundy, wonders how bail reform got turned around in a way that made it more expensive – not less – for him to get his son out of jail.
"I figure what they're doing, they're going after the poor. That's the only thing I can think of why they're doing it," Brundy said.
Brundy said he ended up paying more for his son's release in August because Rashad's bail was restricted to "cash only," a policy now being used in hundreds of new cases at Tulane and Broad despite questions about whether it's even legal.
A 1989 state Supreme Court ruling – Louisiana v. Parker –states: "The district court may not exclude all forms of surety bond in preference for cash as a condition of release."
Cannizzaro said the "cash only" designation is ripe for a legal challenge.
"The law does not allow for that," Cannizzaro said. "The law allows that if an individual wanted to put up cash, that's at his option. What is being done is contrary to the dictates of the Louisiana Supreme Court."
Despite that high court ruling, the cash-only designation is a reform that is being coupled with lower bail amounts to cut out the use of bail bond companies. The elimination of the bail industry is one of the stated goals of the bail reform movement across the country. Local activists are pursuing the same goal, arguing that bail unfairly takes money from the poor.
"We all want a safe city, but financial bail does not make us safer. Unnecessary detention does not make us safer. And our community pays the cost," Cantrell wrote in an opinion column she penned recently with City Council President Jason Williams.
Bail reform advocates point out that cash bail is refundable once a case is completed, while money paid to a bail bond agent is non-refundable.
But that difference didn't matter to the Brundy family. For them, the cash-only designation meant they had to scrape together $350, instead of the $174 it would have cost to pay for a bail bond.
Brundy said that getting his son released was urgent because he is dependent on dialysis.
"I had to do what I had to do to get him out. No hesitation," he said. "For his health. For his life, actually."
Brundy said he and Rashad turned to friends to borrow some of the bail money.
"He only gets a check once a month. And I'm the only one working in my house," he said. "That put a strain on me and my wife."
Kenyatta Johnson ran into the same problem when she tried to pay a bail bond company to free her son, Zeray Johnson. Zeray's bail was set at $300 after he was booked with possession with intent to distribute marijuana.
Johnson said she went to a bail bond office with $174 to pay for her son's release, but she was turned away because his bail was designated by a magistrate as "cash only."
"They should at least give the option of a surety bond or cash bond or whatever," Johnson said. "But just strictly cash, it's ridiculous. In my case, it was my bill money."
The Freedom Fund did not come to the aid of Brundy or Johnson, even though Johnson has no criminal history and Brundy's record consists of only an eight-year-old misdemeanor for simple battery. The fund doesn't advertise and has no website or other mechanism for people to request assistance.
Unlike Johnson and Brundy, the Freedom Fund was there to help DeQuan Ayers, court records show. His bail was set at $3,500 after he was booked with distribution of marijuana. Ayers has four violent felony convictions, records show, including two for battery on police in Jefferson Parish. He also has open cases in Jefferson for simple battery and battery on an officer.
Days after the fund paid his bail, Ayers failed to make his next court appearance. He didn't surface until Oct. 10 when he was again arrested in the French Quarter, this time for simple robbery and second-degree battery of a tourist. Those charges are pending.
Jennifer Schnidman Medberry, one of the Freedom Fund's main organizers, said the group decides which defendants to help based on referrals from the Orleans Public Defender's Office. The only criteria used by the fund is that a defendant
must have local ties and bail set at $5,000 or less.
"What I think is most important is to look at the broader picture and across all the individuals that we're bonding out, regardless of their charge," Medberry said. "The judge has determined, based on the risk assessment that looks at criminal history, that that individual can safely return to the community."
Medberry said 92 percent of suspects helped by the Freedom Fund have made their court appearances without any fresh arrests. But some choices by the Freedom Fund have drawn sharp criticism. For example, third-degree rape suspect Lance Lewis had his $5,000 bail personally paid by Cox.
Cantrell declined requests for an interview, but her press secretary LaTonya Norton said the mayor sees no conflict in Cox's involvement with the fund.
"Mayor Cantrell has complete faith in Mr. Cox, and no objection to the work he does independently with the Freedom Fund on his own time. The Mayor is not aware of any impropriety, and we believe there is no conflict with his work as part of the administration," Norton wrote in a statement.
Tenisha Stevens, Cantrell's criminal justice coordinator, re-iterated the administration's push for bail reform.
"I think people have recognized that setting bail is actually keeping poor people in jail," Stevens said.
Cannizzaro said there is room in the criminal justice system for bail reform, but he believes the Freedom Fund and Cox's role need more transparency.
"It is very disturbing," Cannizzaro said. "It has been, I think the best way to say it, it has been a very secretive procedure. And, again, I am extremely appreciative that you are looking into this."