HOUMA -- Terrebonne Parish Recreation Director Sterling Washington has resigned after an exclusive WWL-TV investigation showed an accused sex trafficker was allowed to coach a parish youth basketball team.
That coach, Derrian Williams, was arrested and charged in February 2017 with child sex trafficking and carnal knowledge of a juvenile, and the recreation director, Washington, moved quickly to ban Williams from coaching.
But evidence gathered by WWL-TV found Williams managed to coach 7- and 8-year-old girls all the way to a national championship without anyone stopping him.
Within days of his arrest, Williams, 30, was terminated as a non-faculty assistant coach at Vandebilt Catholic High School. And as soon as he bonded out with an electronic monitoring bracelet around his ankle, he and his father Ryan, a volunteer coach for Terrebonne Parish Recreation, were summoned to a meeting at the TPR offices.
There, parish recreation director Sterling Washington made it clear that Derrian "would not be allowed to be involved in any coaching or any kind of assistance for any TPR team," said Terrebonne Parish Manager Mike Toups.
But parents and other members of the community were shocked and angry to learn that Williams continued to coach young girls this past season, including the parish's 7- and 8-year-old all-star team in two Biddy Basketball tournaments this spring.
"Terrified, first of all, that he was around them," said one mother of a girl who plays in a TPR league, The woman spoke to WWL-TV anonymously out of fear that TPR would punish her family for speaking out. "And I'm shocked that Terrebonne Parish would allow this to happen."
Washington told WWL-TV last week that Ryan Williams, the father, denied that his son had done any coaching since the ban went into effect. Washington said he had seen a post on Derrian Williams' Facebook page after the Terrebonne all-star team won a national championship at a Biddy Basketball tournament in Slidell on March 27, but Ryan Williams told him Derrian was only filling in for him during the celebratory photo, not coaching.
The team photo on the post shows Derrian Williams as the only adult standing with the girls. He's wearing a coach's shirt and above the photo he writes, "We don't RECRUIT, We BUILD!!!! … Great job girls, it was a great season with the players and parents."
Toups, the parish manager, agreed the Facebook post suggested Derrian Williams was more involved than simply filling in for his father, but he said the parish's investigation had determined it was an "isolated incident."
But WWL-TV was able to gather videos and photographs that appeared to show Derrian Williams actively coaching in multiple locations over the course of about three months, including throughout the all-star tournament in Slidell.
When the station showed those photographs and videos to Toups last week, the parish manager expressed concern and said the parish had launched a deeper investigation.
"Today, Mr. Ryan Williams did admit that he erred in allowing his son to participate in those tournaments and we are right now in the process of deciding what appropriate actions will be taken," Toups said Friday. "He is a volunteer coach, he is not employed by TPR and also his son has not been convicted of any crimes yet."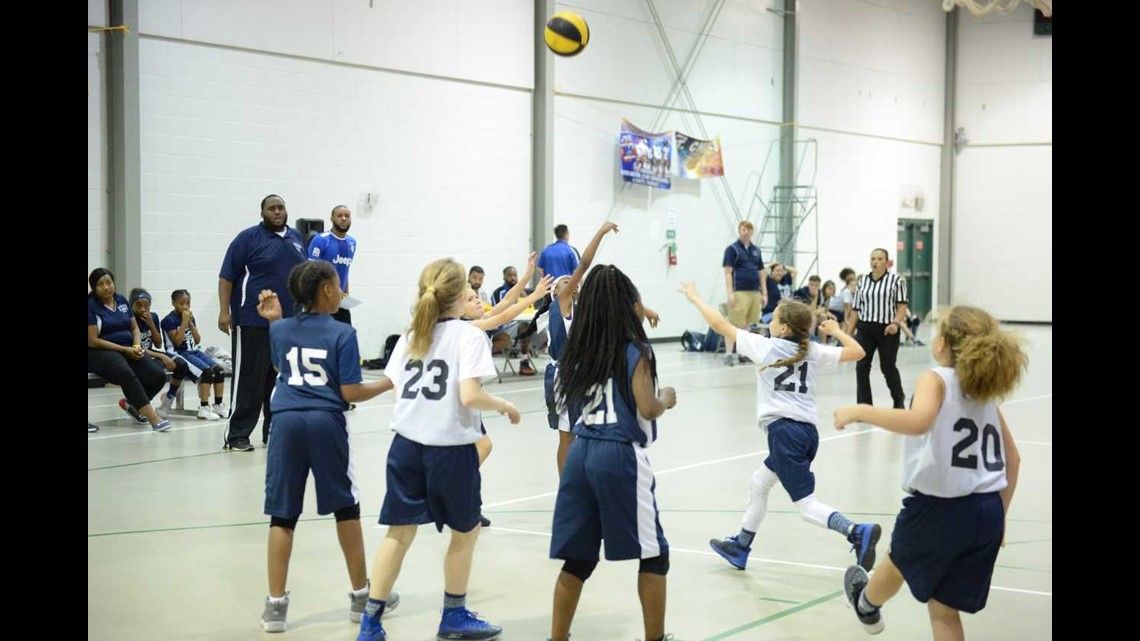 But the father is not the only one who appeared to know about Derrian Williams' involvement as a coach.
One photograph taken Jan. 22 at the Lisa Park Gym in Houma appears to show that Washington, the TPR director, should have been aware that Derrian Williams was indeed participating. The photo shows Williams standing just a few feet away from Washington as they and a few other adults watch tryouts for selecting members of the parish all-star teams.
(Williams is pictured in a gray sweatshirt holding a basketball while Washington is pictured in a white shirt to the far right)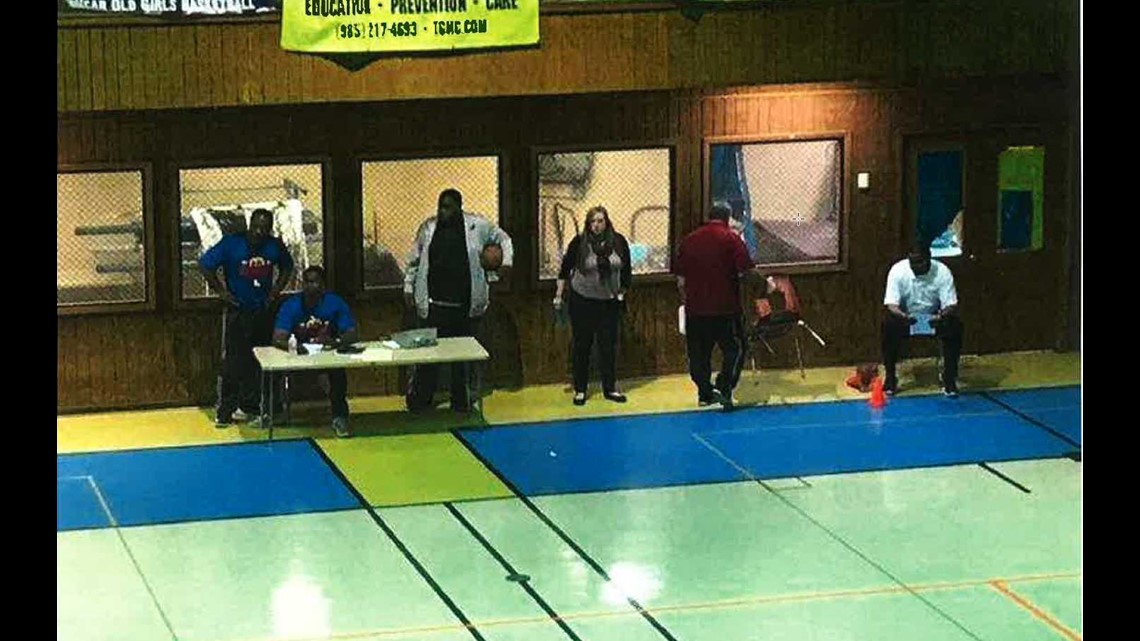 Toups said he was not aware of that until WWL-TV showed him the photo. Asked if the photo suggests Washington was aware of Williams' involvement, Toups said, "You are right. (It's) the first time I'm seeing this picture so all I can say is, it looks like there is some improprieties."
What's more, in response to a public records request from the station, Terrebonne Parish provided WWL-TV with documents showing that Washington signed off on credit card charges for the all-star teams to stay for five nights at a Candlewood Suites hotel in Slidell during the tournament. One of the rooms that cost the Terrebonne taxpayers $107.67 per night was in the name of Derrian Williams.
Toups said parish officials asked Ryan Williams about that and the father "did make comment that he would make restitution" for the $538.35.
The state has charged Derrian Williams with trafficking of children for sexual purposes, attempted trafficking of children for sexual purposes, felony carnal knowledge of a juvenile, as well as marijuana charges and operating a vehicle without a license. He is scheduled for trial in state court Sept. 4.
Terrebonne Parish Sheriff's records state Williams picked up a 16-year-old girl in Gulfport, Miss., and took her to his home address on the east side of Houma. The girl later told police she had run away from home and went on the social media site KIK.com seeking a ride.
The police report says the girl got in touch with her mother to say she was in danger. The mother contacted Terrebonne Parish Sheriff's deputies, who in turn tracked the teen's cell phone to Williams' house. They found them both there, and the girl alleged Williams instructed her to have sex with him as payment for the ride, according to the police report.
The girl also alleged Williams "stated that she now belonged to him and would work for him by having sexual intercourse with his clients."
Stories of runaways connecting with alleged sex traffickers on social media are all too common, said Diane Amos of Free NOLA, a faith-based group that fights human trafficking.
"The kids may do it innocently and not know who they're really connecting with," she said. "Because they can put anything on social media. Anyone's picture, age, profession, doesn't matter."
Williams' attorney, Jerri Smitko, declined comment, either about the criminal charges against her client or the evidence that he had continued to coach after the parish banned him.
The mother who spoke to WWL-TV anonymously said Washington should be fired for allowing Williams to coach after he had been banned.
"I think we need to have a clean house of TPR," she said. "Just start over because they are all friends and they're all connected."
But Toups stood by Washington.
"I think he's the victim of trusting people he shouldn't have trusted," Toups said. "Mr. Sterling Washington is a man of high character. I believe him. Again, I think he trusted the wrong people."
Still, a few hours after WWL-TV published this story, Washington submitted his resignation. Parish President Gordon Dove said Washington resigned on his own volition.
Meanwhile, the mother says she must stay in the shadows.
"It's a sad day to be scared to come forward over protecting children," she said.