Firefighters battled against a blaze at a Jefferson Parish condominium complex that injured two responders Saturday night.
The fire, which was elevated to second alarm status, started around 4:30 p.m. on Saturday at the DeLimon Place condominium complex in the 500 block of Rue St. Peter Street. Two firefighters were hurt while trying to control the blaze, authorities said.
According to Dave Tibbetts, Chief of the Jefferson Parish Eastbank Consolidated Fire Department, both of the injured firefighters were taken to University Medical Center for their injuries. One of the firefighters, 49-year-old Dan Ziegler, sustained second and third-degree burns to his face and hands. He is currently in stable condition. Ziegler, who has been with the department for five years, fell through the roof of the complex while working to create a ventilation hole to assist the crews that were working the fire inside the complex.
A second firefighter, who helped rescue Ziegler, received treatment for minor burns to his fingers.
The fire was contained after more than two hours of crews working the blaze. Officials said that by 6:50 p.m. the blaze was under control.
According to Tibbetts, there were no civilian injuries reported.
However, about 100 residents were displaced and 30 units were damaged in the fire, Tibbetts said.
The cause of the fire is under investigation. Tibbetts said that the department is not able to rule out an electrical fire, and it appears to be accidental. The fire originated on the top floor of the 3-story building.
2-alarm fire at Old Metairie apartments injures 2 firefighters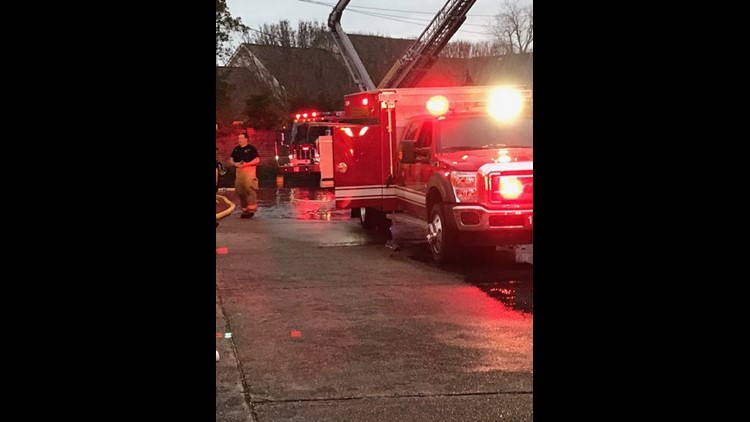 One woman who lost her home and her possessions from the fire told Eyewitness News that she was just thankful for the first responders who answered the call.
"All I want to do is go thank the firefighters who were injured. My things can be replaced but lives can't," the woman said.
Red Cross was on scene to assist displaced families, according to Jefferson Parish officials.
Stay with Eyewitness News on WWL-TV and WWLTV.com for more on this developing story.