NEW ORLEANS — A house in the Bywater has deteriorated so badly the neighbors have had to leave their homes to find refuge elsewhere, fearing it'll collapse onto them.
The city said the owner has been served with several fines over the years. The owner said the house's demise started after Hurricane Katrina.
There's a huge gaping hole in the side of the structure. A hole in the roof. The other side of the house battered to smithereens, and the back, a mess. Now the house is leaning all the way over, towards Toscana Navas' home.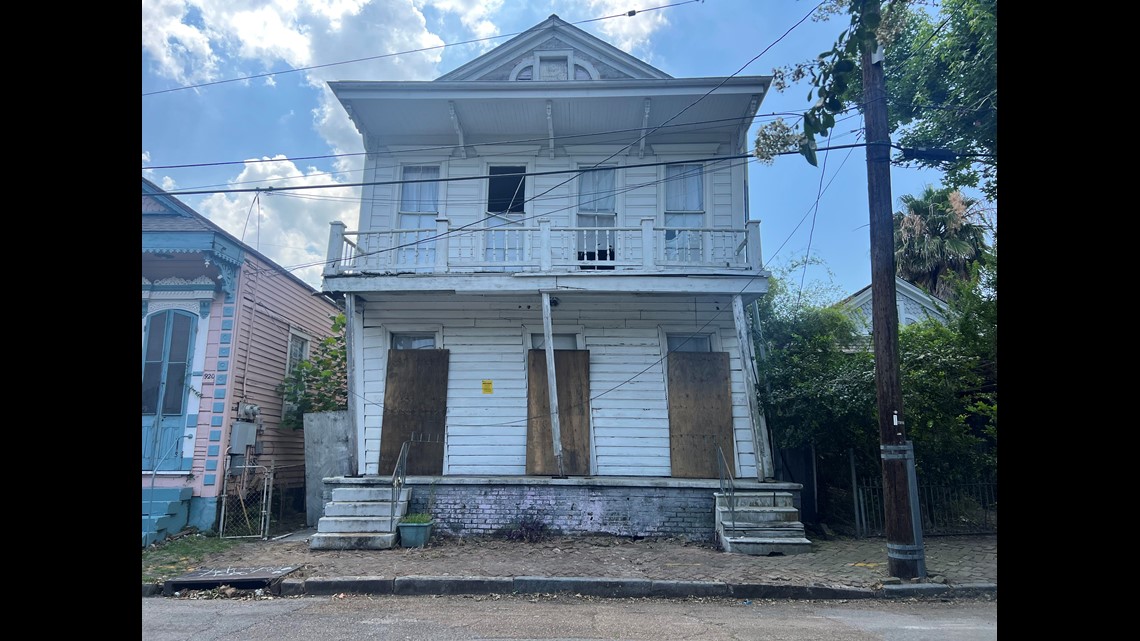 "Now it is an issue of our own lives and our property," Navas said. "We are not able to live in our house, we are living in different places right now. Each time that we have to go home, we try to do it as fast as we can because there's a risk of the house falling."
She said initially the house was leaning the other way, but then Hurricane Ida hit and the house shifted. The storm on Sunday just exacerbated the lean, according to Navas.
"I have never experienced homelessness firsthand, now I am able to understand what that means not having a place to live," Navas said.
Navas even gave the house a nickname.
"It's the leaning tower on Montegut Street. The city say they took the owner to court back in 2015, and the owner actually started to repair the house, but over the years that repair work came to a halt. Now nearly 10 years later, we're left with this, a house that's a danger to its neighbors."
Tom Mulligan, Director of City of New Orleans Code Enforcement department said this week the owner was fined $5000 in violations and now the city plans to demolish it.
"It is blighted, has a number of violations of the minimum property maintenance code. Over the last few months we have been increasingly concerned about the stability of the building," said Mulligan.
Although Mulligan said he believes there are some complexities to demolishing this property.
"There's not a lot of room between this property and the neighboring one, there are also power lines running through this property, phone lines, internet," Mulligan said.
As for Navas, she just wants to go back to living in her own home.
"That space to feel safe each time you go back home that's your refugee and when you don't have it, it effects your mental health and physical health."
According to the Orleans Parish Tax Assessor's office, the block and the house are worth $382,100.