A plan to use paid actors to fill a public meeting concerning a controversial power plant was orchestrated by a large number of Entergy New Orleans executives, including former CEO Charles Rice, according to the results of City Council investigation.
The City Council launched a third-party investigation of Entergy New Orleans after allegations arose the utility had hired actors to fill council chambers and speak in support of the proposed New Orleans East plant.
Energy New Orleans had originally denied any knowledge of the plot, instead saying a public relations company called The Hawthorn group had used a subcontractor to hire 60 actors to attend the meeting held Oct. 16, 2017.
But according to the investigation's findings, Rice was not only aware of the plan, but had specifically asked for a larger number of actors than was originally proposed. Rice even referred to the power plant campaign as a "war."
Story continues under video
Less than two weeks before the public hearing on the power plant, then-CEO Charles Rice exchanged text messages and emails with another Entergy executive, Yolanda Pollard, asking "How is Hawthorn looking getting people to the hearing."
Pollard responded that the group committed to getting 50 people and ten speakers at the meeting. Rice then responded, "Hell I would pay for more if they can get them" and "If Hawthorn can get more people I will pay."
The investigation also notes that many of the paid actors at the meeting wore the same orange shirt and even used unique phrases, such as "cascading outages."
Further, while the public hearing was taking place, Pollard messaged Rice what he thought of the turnout to which he replied, "Looks fabulous."
According to the investigation, days after the hearing Rice again messaged Pollard stating scheduling discussions to get Hawthorn to get more paid actors for a public hearing on Dec. 13.
The report also states that Entergy failed to fully comply with the City Council in its investigation by not turning over documents requested or by claiming the documents requested were "privileged."
Entergy said via a company spokesman following Monday's release of the report: "We have received and are reviewing the report."
Moving forward, City Council president Jason Williams will call a special meeting on Wednesday, Oct. 31 at 1 p.m. to formally receive the report and hear testimony from the investigators.
Mayor Latoya Cantrell said Tuesday the report's findings are alarming.
"I am gravely alarmed by this report's findings, and disappointed to find that my colleagues on the Council and I were deliberately deceived--- and that it was apparently done with the knowledge and support of Entergy executives. I expect Entergy to be held accountable for this deception," she said.
Story continues under photo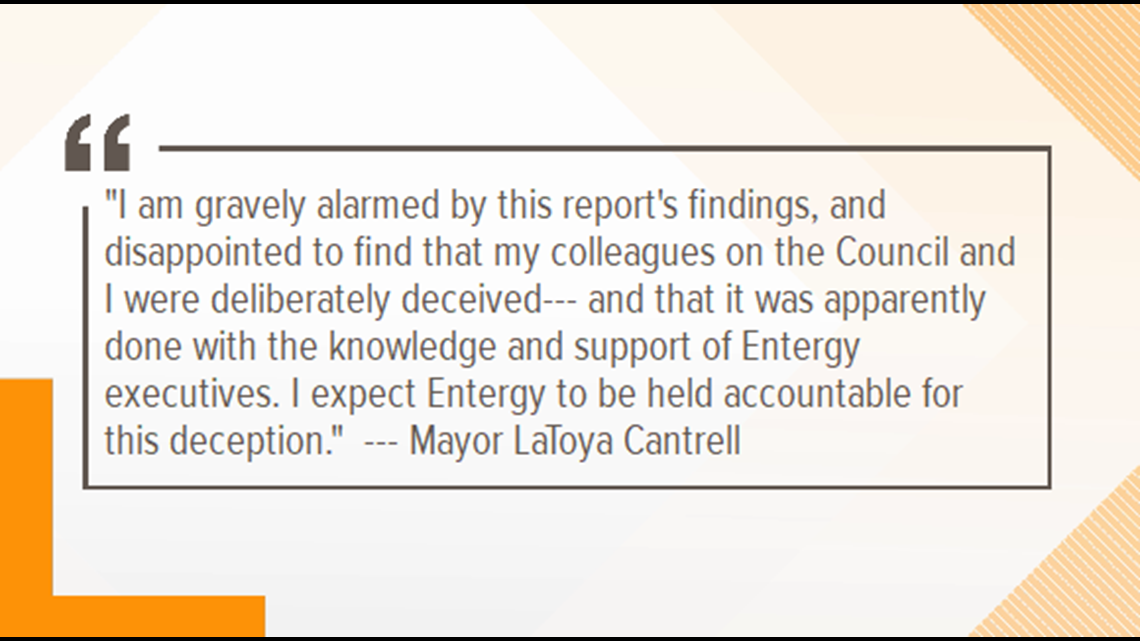 "Transparency is critical to this process. I believe it is important for the public to be able to view the report and supporting documents that have been provided to the Council. This information will provide the Council and its advisers a basis on necessary next steps," said Council member Helena Moreno in a statement released Monday.
"I received the several calls from constituents about the report and I am reviewing the results," said Councilwoman Cyndi Nguyen said in a statement. "A City Council meeting will be held tomorrow, October 1, 2018 at 1:00 PM to discuss the matter. There will be comments from the public. I hope the Council comes up with a Resolution to address the results of the Investigation."
Minh Nguyen of Vayla New Orleans, an organization that focuses on empowering youth and families through supportive services, said Entergy New Orleans needs to be held responsible for what they have done.
"The council needs to revisit the decision that Entergy did withhold information and is still withholding information, which is undermining democracy and the community. And they need to be held accountable. They've wasted the community's time, money and resources and they should not be able to get away with it," she said.
Public advocate Happy Johnson said the City Council should overturn its vote in favor of the plant in order to regain the public's trust.
"On a human level it is heartbreaking to read that Entergy continues to abuse the public's trust and misuse the vital financial resources that are desperately needed for distribution improvements. Unfortunately, this is a pattern of deception and deceitfulness that we have come to expect with Entergy and the gas plant. This public service company has completely mismanaged the public's trust," Johnson said in part in a statement.
Entergy New Orleans released the following statement Thursday morning in response to the council's report:
"We received a copy of the report. Upon initial review, we take exception to certain characterizations and omission of key facts from the report, including specific evidence Entergy provided that confirms it did not pay, nor did it authorize any other person or entity to pay, individuals to attend or speak at Council meetings."
When WWL-TV followed up with questions about this "war" or if there will be repercussions for those involved in this scandal, they had nothing more to say.
See below for the full report. Can't see documents below? Click here.