NEW ORLEANS —
Oi Muchim (Spicy Cucumber Salad)
1 Korean cucumber or 2 pickling cucumbers
1 tsp. kosher salt
1 Tbsp. Korean red chili pepper flakes gochugaru
1 Tbsp. green onion, chopped
1/2 tsp. garlic, minced
1 tsp. vinegar
1/2 tsp. sugar
1 tsp. sesame seeds
1 tsp sesame oil
Thinly slice the cucumber. Toss gently with salt and set aside for about 15 minutes.
Drain excess liquid. Avoid squeezing them. Mix well with all of the remaining ingredients. Taste a little and adjust the seasonings if necessary.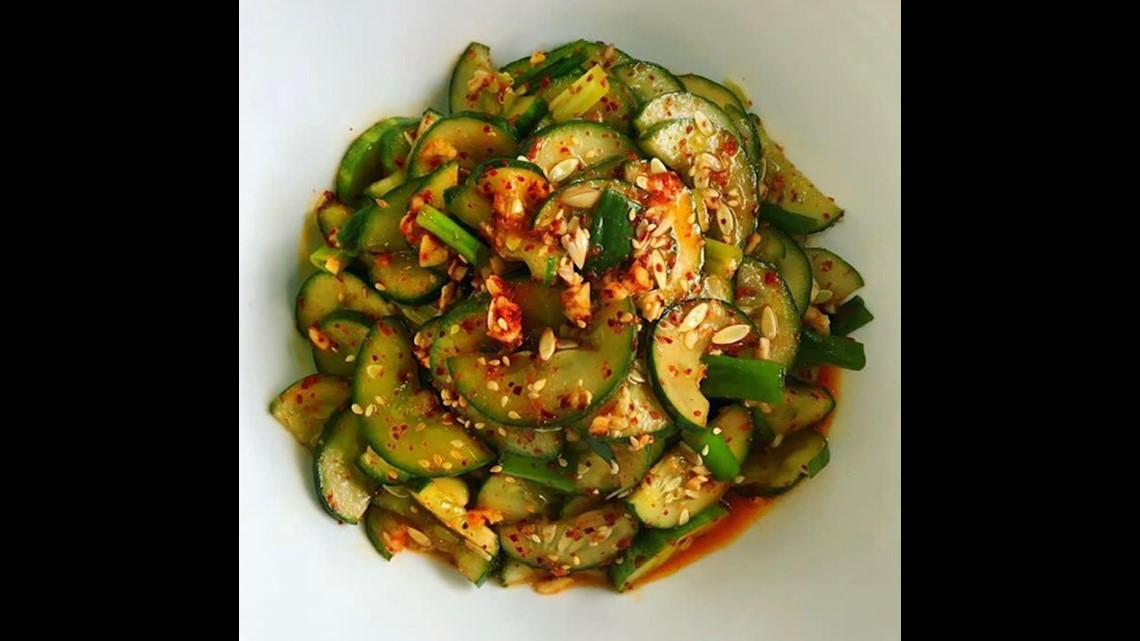 Faux Fried Korean Chicken
2 lb. chicken thighs, boneless
1 cup buttermilk
3 cups cereal, like honey bunches of oats or corn flakes, finely ground
3 Tbsp. all-purpose flour
black pepper
extra virgin olive oil, for brushing
Korean BBQ Sauce
1/2 cup soy sauce
3 Tbsp. honey
1-2 Tbsp. Gochujang (Korean chili paste)
2 Tbsp. rice vinegar
1 inch fresh ginger, grated
2 garlic cloves, grated
2 Tbsp. toasted sesame oil
3 Tbsp. toasted sesame seeds
green onions, chopped, for serving
Add the chicken to a gallon size zip top bag. Pour the buttermilk over the chicken. Toss well to coat.

Preheat the oven to 425 degrees. Line a baking sheet with parchment.

Add the cereal crumbs, flour, and a pinch of pepper to a medium sized bowl. Stir to combine.

Remove each piece of chicken from the buttermilk, and dredge through the crumbs, pressing gently to adhere. Place on the prepared baking sheet. Repeat until all the chicken has been used. Make sure not to crowd your pan, if necessary use two baking sheets. Lightly brush the chicken with olive oil. Transfer to the oven and bake for 15-20 minutes or until the chicken is cooked through.

Meanwhile, make the Korean BBQ Sauce. In a small saucepan, combine the soy sauce, honey, Gochujang (Korean chili paste), rice vinegar, ginger, garlic, sesame oil, and 1/4 cup water. Bring to a boil over high heat. Simmer for 5-10 minutes, until the sauce has thickened slightly into more of a glaze. Remove from the heat.

Brush or drizzle the chicken generously with Korean BBQ Sauce. Sprinkle with sesame seeds and green onions.
Coconut Rice
2 cups jasmine or long grain white rice
14 oz coconut milk
1/2 cup water
1 Tbsp. white sugar
1/2 tsp. salt
3 pandan leaves, knotted
3 kaffir lime leaves, crushed in hand
1 Tbsp, finely shredded coconut, toasted, to garnish
Rinse rice in water until the water runs pretty clear.
Drain rice then soak in water for 15 minutes. Then drain.
Add rice, coconut milk, water, sugar and salt into a small pot or large saucepan over medium high heat. Add pandan or kaffir lime leaf if making Asian restaurant style option.
Bring it to a simmer so the entire surface of the liquid is rippling, stir once, place lid on and immediately turn heat down to low.
Remove from heat, and rest, undisturbed, for 10 minutes.
Fluff with rubber spatula. Garnish with toasted coconut, if using, then serve.