A new book chronicles the life story of "Miss Ella," Ella Brennan, the matriarch of the Brennan family and the woman who built Commander's Palace into a world class institution.
The book, "Miss Ella of Commander's Palace,"was written with Brennan's daughter, Ti Martin, and has the perfect New Orleans and Brennan family subtitle: "I Don't Want a Restaurant Where a Jazz Band Can't Come Marching Through."
In the book, Martin and other colleagues and admirers talk about Ella Brennan's remarkable life and the mark she has left on the restaurant industry. Despite her success, readers might be surprised to learn that Brennan does not like to cook. She does have great taste buds, though she jokes that at age 90 they may not be as keen as they once were. Still, she has had a love for good food since childhood.
"I learned that from my mother. She was a phenomenal cook and I have yet met anybody who can do what she would do as well as she could do it without putting herself under tremendous pressure," Brennan said. "When I started to look back at that period of my life, it excited me very much." Little did she know what was yet to come.
Ella Brennan started her own restaurant career under the watchful eye of her brother, Owen Brennan. At age 18 she went to work at her brother's bar on Bourbon Street. Soon the family expanded to the restaurant that we now know as Brennan's on Royal Street. When Owen Brennan died suddenly at the age of 45 in 1955, Ella found herself at a crossroads. An infamous family split sent Ella and her side of the family (including sister Dottie and brothers Dick and John) to Commander's Palace in 1974.
"We didn't know what to do. I'd been at Brennan's all my life and when we came up here we decided what we were going to do: we're going to run the best restaurant we know how," she said.
We asked her how different she thought her life would have been had she not been forced to reinvent herself.
"I never thought about that. We just left, came up here and boy, has it been fun. We worked our tails off, but when we finished, we had fun. And while you were doing the work, working with people is one of the most exciting things on earth."
Brennan and her family have reigned at Commander's Palace in the Garden District ever since. The family expanded their restaurant holdings – referred to as the Commander's Palace Family of Restaurants - to include Brennan's of Houston, Café Adelaide and SoBou.
'Miss Ella of Commander's Palace'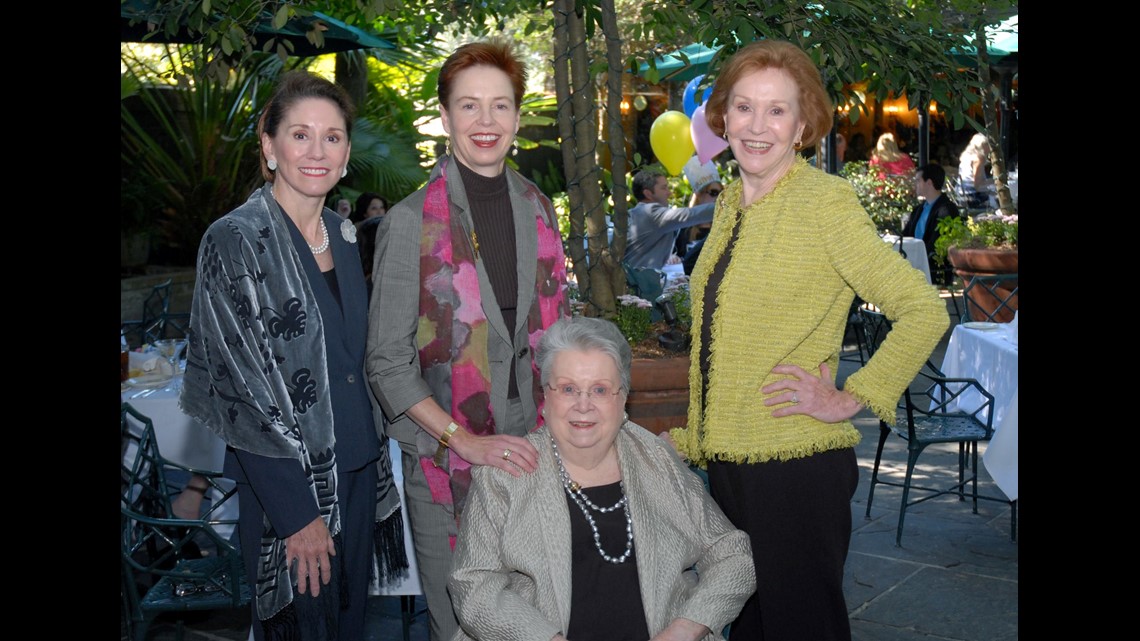 At Commander's, Brennan had quite a knack for picking the right person at the right time to run her restaurant's kitchen. The list of great chefs who've worked for "Miss Ella" includes some of the greatest names in the culinary world: Paul Prudhomme, Emeril Lagasse, Jamie Shannon, Frank Brigtsen and current Commander's chef Tory McPhail, to name a few.
"One of the best chefs we ever had was Jamie Shannon, and he came under Emeril's time, and this young man – wow, what a talent. And what a loss (Shannon died of cancer in 2001 at age 40). But he had Tory ready."
McPhail won a James Beard award as Best Chef: South in 2013 and, with the Brennans' influence, has taken the restaurant to new heights. Brennan said she never doubted McPhail's ability to take over the reins of her restaurant after Jamie Shannon's death. But years earlier when Paul Prudhomme left, she had her doubts about Emeril Lagasse.
"I was skeptical. He was 23 years old at the time. He absolutely had all this inside of him and had no idea. He had no idea!" she said.
But Emeril caught on quick, learning a lot from "Miss Ella" and going on to become one of the most successful and popular chefs in America. Lagasse and so many others who have worked for Ella Brennan say she was crucial to their careers.
"It goes to prove that so many people have this great, great talent but somebody has to work with them, talk to them, be their friend, to make them confident in what they can do," Brennan said.
While most chefs want to run their kitchen, the chefs who worked under Ella Brennan knew she was the boss.
"Well, I guess I was one of those pushy broads. I had to make the restaurant successful, not only for me but for my family," she said. "When I'd sit down with them (chefs), I'd say tell me what you think. Why is such and such on the menu. Why? And forcing them to think that they wanted to be part of something like this, it wasn't just a job. It's not a job. If that's what it is, you don't belong here because that's not what we are."
Similarly, Brennan said the success of Commander's Palace also transcends just a wonderful meal. It's about making memories for their guests.
"When a customer finds Commander's, generally speaking, they're with us for life. Commander's is a restaurant that is joy. People come there for fun, to relax. They want a great meal, the best you can give them, but it's part of the experience," Brennan said. "The young chefs, that was one of the most difficult lessons to teach them. They all had the talent to be friendly and warm and outgoing but they didn't realize it was part of their job. Somebody had to show them."
One of the other things that makes Commander's Palace so successful is that it is family-run. Nowadays, that job falls on Ella's daughter Ti Martin and Ella's niece, Lally Brennan, who are co-proprietors. Ella says it's important to have a family member at the restaurant all times.
"We call it B.O.D., Brennan on Duty. It's on a schedule. If you're not there, you've got to get somebody to replace you. There's going to be somebody there. Nothing's more important to us than greeting the people that come in and visiting and talking with the staff."
Ella still likes hearing compliments about her restaurant, which is easy to admire. It's a place that has stood the test of time. She said she hopes her daughter, niece and other family can uphold the tradition of excellence in years to come. We assured her they will be there for years to come, and Brennan herself will be back for a similar interview when she turns 100 in ten years.
"I hope not," she laughed.
---
Ti Martin will discuss and sign copies of "Miss Ella" Tuesday, Sept. 20 at 6 p.m. at Garden District Books, 2727 Prytania Street.