HARVEY, La. -- The accused gunman in the shooting death of a Jefferson Parish deputy is out of the hospital and behind bars Friday.
The Sheriff's Office is still investigating Deputy David Michel's killing and cooperating with the Federal Bureau of Investigation, which is looking into the 19-year-old's arrest which was caught on cell phone video.
Now one group is calling for an independent medical exam of the teen suspect.
After being transported to University Medical Center by ambulance Wednesday and spending three days in the hospital, a booking photo of Jerman Neveaux was released on Friday. The booking photo is calling into question the Neveaux's arrest captured on cell phone video from an eyewitness.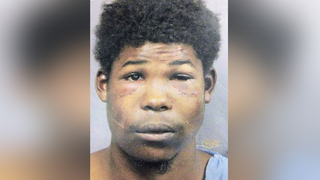 "When he was checked out of the hospital by the sheriff today, he had issues, he had medical issues," said Pat Bryant, with a local coalition of community groups called Justice and Beyond.
The sheriff's office confirmed during Wednesday's arrest the teen received lacerations to his face and an orbital fracture. The video and those details are concerning Bryant's group.
"We have been in contact with the sheriff's office all day today," said Bryant. "It's questionable whether or not Jerman Neveaux is getting the medical attention he needs from injuries he sustained by the sheriff's office. They beat him mercilessly."
During a news conference Friday afternoon Sheriff Newell Normand said Neveaux confessed to carrying a stolen gun and using it to shoot Deputy Michel.
Normand said his office is working with the FBI, which is now investigating the teen's arrest. When asked if the incident would have been easily cleared up with body cameras for deputies, Normand defended JPSO's current lack of cameras.
"We can woulda, coulda, shoulda this to death but when you start talking about $4.8 million in a $100 million budget, it significantly impairs a lot of things we would do," said Normand.
The sheriff claimed it would cost millions of dollars for deputies to wear body cams like those being used by the New Orleans Police Department. He added storing the video for the federally required three years would also be expensive, but isn't ruling out the possibility.
"We're beta testing them now," Normand said. "We're trying to figure out the best way to do this and the most cost effective way to do it. We're looking at policies across the country and trying to minimize the cost."
Loyola University criminologist Dr. George Capowich said more law enforcement agencies across the country are adopting the body cameras.
"I think part of it is to show responsiveness to the public which is a good thing in a democracy, and it can exonerate people including police officers, just like it might show if they did something wrong," said Capowich.
Capowich warned body cam footage can't tell the whole story but preliminary research into the emerging technology does show a certain trend.
"Complaints against officers tend to go down," said Capowich. "Now that could be because police officers are changing their behavior, or it could be the public is changing their behavior because they're being filmed."
Sheriff Normand said he'll no longer comment about the cell phone arrest video and said moving forward the FBI Civil Rights Task Force and U.S. Attorney's Office will be investigating the matter.