NEW ORLEANS — There's a sea of red on the Entergy outage map Friday morning, but it's a little better than it was the day before - marginally.
Entergy's power outage map showed more than 330,000 customers without power early Friday. Cleco, which supplies customers to a large percentage of residents in St. Tammany and Washington parishes was reporting a little over 20,000 without power. .
152,000 of the Entergy outages were in Jefferson Parish and another 108,000 in Orleans Parish as of 4:30 a.m. Friday.
In total, about 356,000 businesses and homes were left in the dark Friday. That total is down from 531,000 at the peak of outages.
Entergy CEO David Ellis said they hoped the majority of customers would have power back at least sometime over the weekend.
"Our objective is to get the majority of power back through the weekend," he said on the Eyewitness Morning News. "We're making a lot of good progress and with daylight we'll be able to knock out a lot of the power outages."
"We prepared for a significant amount of outages and that's what we got," said Lee Sabatini, a spokesperson for Entergy.
Sabatini said previous experience shows that it could take up to 10 days to completely restore power from a Category-2 hurricane but she emphasized that 90 percent of the customers should have their power restored before that time.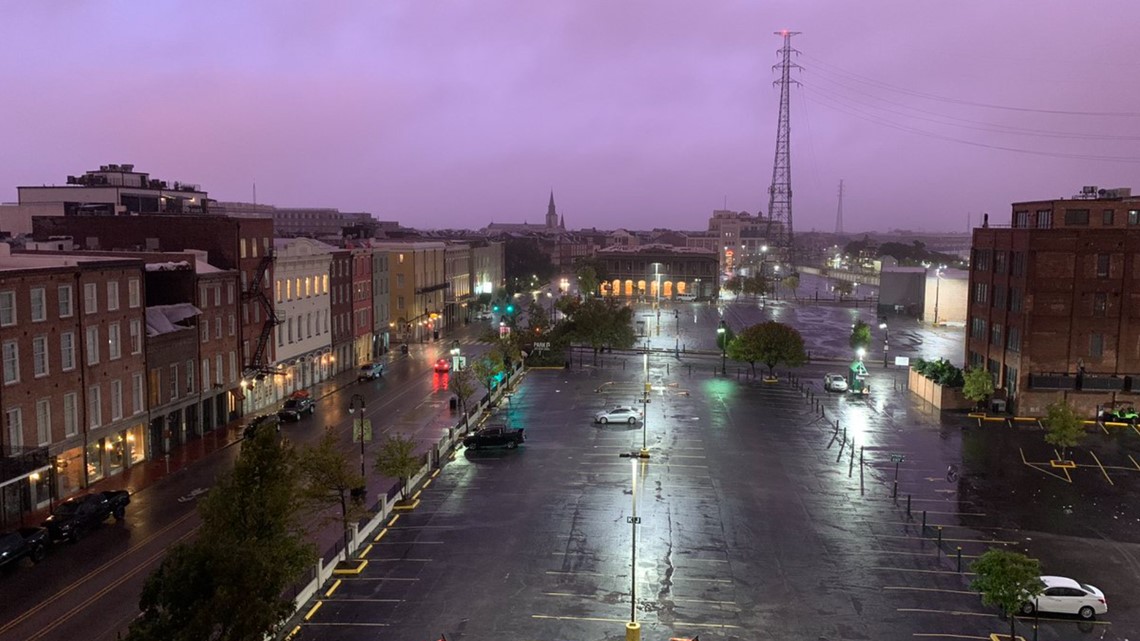 Sabatini said that while 'bucket trucks' that take workers up to address downed power lines can't go out until winds go below 30 miles per hour but she said that a lot of the early work is called 'field switching' which reroutes power from other sources to restore power more quickly.
"We can do some restoration from our field offices, the field switching," she said. "We have reports of tremendous amount of trees down so we have to be able to assess the damage to our system."
Sabatini said the 10 percent who will be 10 days or longer to restore are likely those who were in the path of the worst of the storm and have the most damage or those whose homes can't receive power because of the damage.
She added that several utility workers from out of town will be helping to restore the power more quickly.
You can call 1-800-9OUTAGE to get updates on restoration time.
St. Tammany and Washington Parishes
Cleco said it had restored power to 53,000 customers as of early Friday. They did not give a timeline for power restoration but said crews were already out working before dawn Thursday.
"This morning our crews are already out working to assess the storm's impact on our system by air using helicopters and drones, and patrolling by land in our trucks," said James Lass, director of distribution operations and emergency management.
Below is an overview of how Cleco restores power after a storm:
· Safety is a priority in everything Cleco does. Once conditions are safe, workers begin to access damage by land and/or air.
· Next, transmission and distribution lines are inspected and repaired. Transmission lines are critical because they carry electricity from the power plants to the smaller distribution lines. Distribution lines carry power to homes, businesses, schools are other facilities.
· Power is then restored to critical community services first, such as nursing homes, hospitals, police departments, etc.
· Power is then restored to the greatest number of customers in the shortest amount of time until power is restored to all customers who can receive power.
How to report a power outage:
· Online through MyAccount at cleco.com.