SLIDELL, La. — The Brother Martin head football coach remained hospitalized Wednesday night, recovering from surgery after he almost lost his life.
"He's a good coach, but he's a better man. It's about the people around him. He cares about his players," said Brother Martin Athletic Director Mark Wisniewski.
The Brother Martin community is hoping for good news. Mark Bonis, the head football coach at the high school for 14 years, was rushed into emergency surgery Tuesday.

This health scare follows another his family is facing with his baby son. Now thousands are sending prayers and well wishes to the family.
It's 12:22 p.m., just after 5th period at Brother Martin. The school decided not to have the usual announcements. Instead they prayed. Every student and teacher, no matter where they were on campus stopped and took a knee.

Football players led the school in praying the rosary. It was all for their beloved head coach Mark Bonis.

"The fact that he got through this, from what we're hearing, is nothing short of a miracle. We're all praying for him," said Ryan Gallagher, Principal of Brother Martin High School.

Mark is recovering in the hospital from serious, life-saving surgery. His co-workers say, on Thanksgiving, he began to have back pain, numbness in his arm and leg.

But nothing was going to keep him from coaching the state semifinal playoff game Friday night against Rummel. And nothing was going to keep him from his twin girls' birthday party Sunday. But Tuesday, a tear was discovered in the body's main artery. He almost lost his life. He is only 40.
"We're fortunate. The only thing we can say at this point is God didn't want him yet. He still has some work to do," said Wisniewski.

Students, the principal and fellow coaches agree.

"He's like a father figure to me. He always puts our needs over his needs, that's what's really touching me the most," said Senior Football Player Hunter Lassere.
"He treats me like I'm one of his sons. He texts me, calls me, whenever I'm hurting or need something. He'll be there," said Senior Football Player Davonn Moore.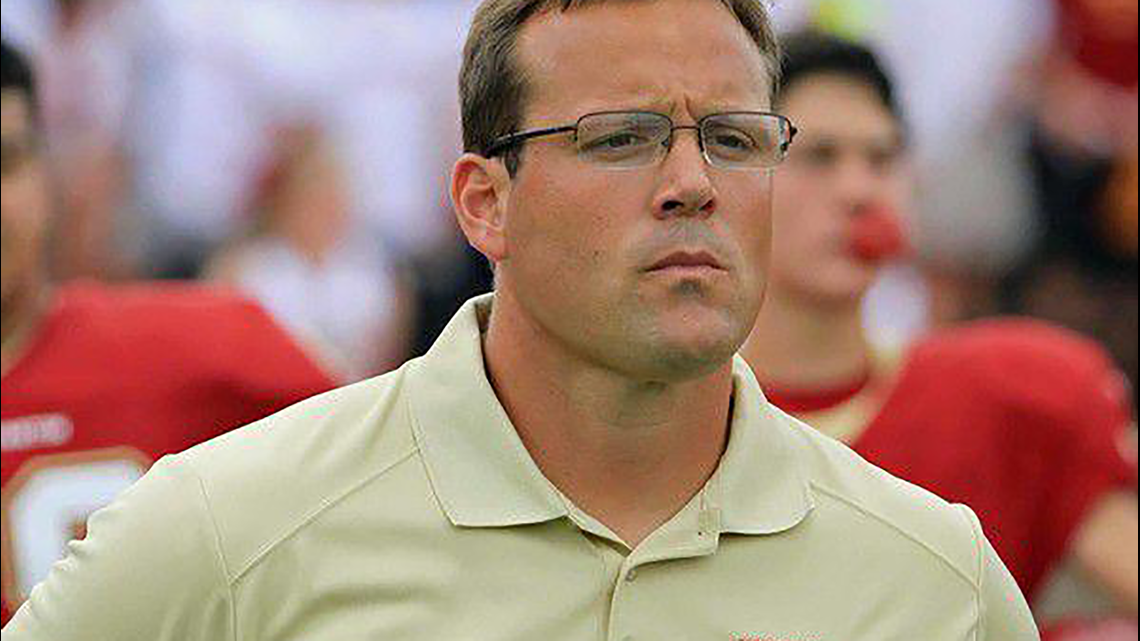 More than a thousand have expressed concern and offered well wishes on social media. Coaches from all over the district and beyond are reaching out. The Assistant Brother Martin Football Coach stayed at his bedside until 4 a.m.

"Just to be there for the family. We're a close family and it's important to us," said Coach Jon Norris.
The Bonis family had already been facing devastating health news. Their baby, Marc, was born with the birth defect Omphalocele. His intestines, liver, and other organs stick outside of his small body through the belly button. But his Brother Martin family say Mark Bonis is a good coach and even a better father, husband and man, with a rock solid character and faith supporting him through it all.
We have not spoken to the coach's doctor, so we don't know his condition tonight. But we did talk to the Chief of Cardiovascular Surgery at LSU Health Sciences Center, Dr. William Risher, who did not treat the coach but is a specialist.

He says when there are tears in the aorta, which is the main vessel that brings oxygen-rich blood to the entire body, 40 percent die before they reach help.
If you make it to surgery, 40 percent of those have major complications.

It requires emergency, open-heart surgery.

And the scary part is there are no symptoms until it starts to tear or rupture.
Coming up on January 25, University Medical Center and Dr. Risher will have another free ultra sound screenings to see if you have an aneurysm that is about to tear.
► Get breaking news from your neighborhood delivered directly to you by downloading the new FREE WWL-TV News app now in the IOS App Store or Google Play.