NEW ORLEANS — The battle of the babies has begun as the creator of a familiar Mardi Gras mascot filed a lawsuit on Tuesday against the makers of a horror film for copyright infringement.
According to the civil lawsuit, New Orleans designer Jonathan Bertuccelli created "King Cake Baby" in 2009. Since then, the "walking head mascot" has been a recognizable figure on the sidelines of Pelicans (then the Hornets) games during carnival season.
"Since KCB's creation in 2009, it has entertained, scared and fascinated sports fans," the lawsuit states. "KCB's iconic blend of sinister, happy and awkward childish delirium has captured audiences around the United States and drove commentary across the media spectrum," it states.
Bertuccelli's lawsuit claims that during this national popularity, elements of his King Cake Baby were unlawfully used to make the mask of the killer in Universal Studios' horror film, "Happy Death Day," the 2017 slasher flick filmed on the campus of Loyola University New Orleans.
"The [Happy Death Day] masked character and KCB are virtually identical in a side-by-side comparison; and in both "HDD" films the character is used to portray a range of emotional and mental cues that derive from KCB's intended design.
The lawsuit names Universal City Studios and the other production companies involved in creating the movies, as well as those financially invested in the films.
It demands that Betuccelli and his business, Studio 3, should receive half of the net revenue from the films, which it states is more than $200 million.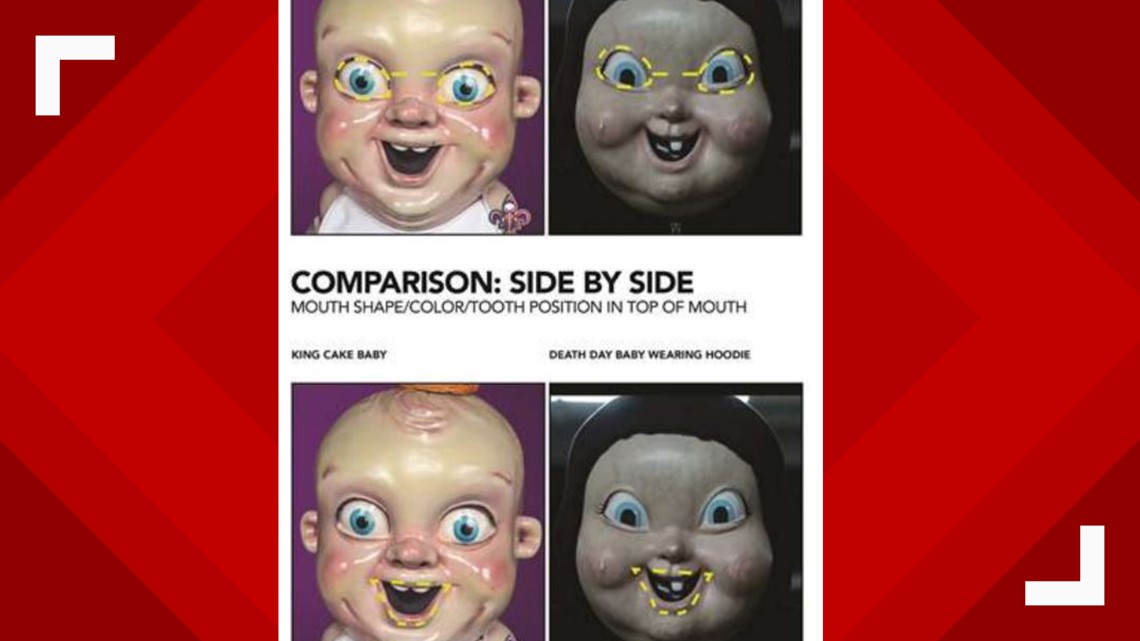 "Happy Death Day 2U," the sequel that recently hit theaters, is named in the lawsuit as well.
The lawsuit goes through Bertuccelli's creation of the mascot, from his early sketches to the process of actually building the eye-catching creation.