Follow the Line: Redlining's effects are still felt today in New Orleans
This is part one of the WWL-TV series "Follow the Line."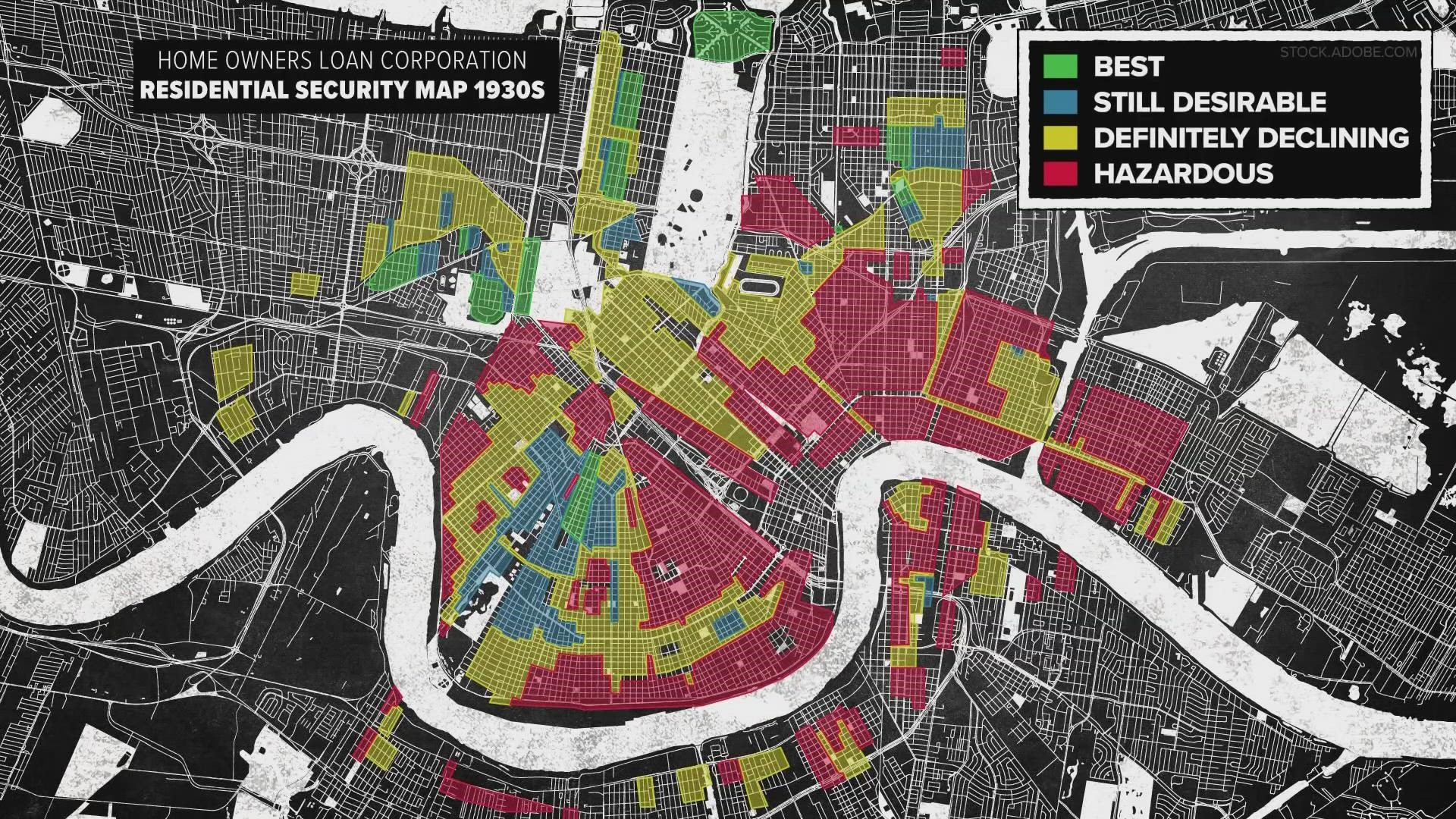 Discriminatory practices like "Redlining" denied credit and home loans to residents based on race or ethnicity, among other factors.
While discriminatory housing was found to be illegal after the Fair Housing Act of 1968, the impacts of housing segregation in New Orleans are felt in many ways.
In our new series, "Follow the Line," Charisse Gibson explores how this policy led to generational turmoil, pushing against the narrative that what we see in present-day New Orleans is the result of our own action or in-action.
The series explores how the legacy of "Redlining" has become so institutionalized that while the physical line has been erased, the mental and social line remains. For that she reached out to experts in the field of housing, urban development and data research like Dr. Eric Anthony Johnson, an urban development and real estate development professional who has taken his expertise across several cities in America.
Origin Stories
:
"I moved a lot when I was a child growing up, but predominantly grew up in Uptown New Orleans," Dr. Johnson said. "That was really sort of the origins of my life experience."
Our origin story can shape who we become, the same can be said for New Orleans origin story. It's a line Dr. Johnson says traces back to the early wealthy settlers, who purchased the high land in New Orleans.
"Before the Civil War, African Americans and Whites in the city, they all were sort of mixing in a little," Dr. Johnson said. "Socially, physically and economically."
New Orleans was rather unique in this sense, thanks to the large population of free people of color living amongst whites and the enslaved.
"Right after the Civil War, we start to see a city that becomes moving towards a greater segregated city," Dr. Johnson said. "After Reconstruction, when African Americans were making progress, it comes down to Jim Crow, let's knock it out of the box, it takes away that sort of progress."
The decision in the Plessy v. Ferguson case was polarizing. Jim Crow, separate but equal laws, went into effect intensifying hostility and division.
"Heading into the early part of the 20th century, there is this sort of movement that's starting to happen to say wait a minute, we need to start to separate ourselves from African Americans," Dr. Johnson said.
Part of that movement was the enactment of racial zoning laws. This meant neighborhoods could explicitly say only Black people or White people could live in them. When the Supreme Court deemed those laws unconstitutional in 1917, the city of New Orleans enacted its own Racial Zoning Law in 1924. It was also deemed unconstitutional.
Dividing New Orleans
:
Stacy Seichsneidre is a Professor of Law at Tulane University School of Law. She added when one obstacle wouldn't work, another was created.
"After the Supreme Court said that we couldn't create neighborhoods based on race we developed another tool that accomplished the same result and that is single family zoning," Seichsneidre said. "It created zones for whites only and the only use that was allowed in the neighborhood was a single-family home. So, any other uses like apartments, industrial uses, commercial, things that were hazardous were restricted and kept out of single-family zones. They were allowed in Black neighborhoods and that sort of created the scaffolding for redlining."
The Great Depression would introduce us to HOLC maps we've become so familiar with.
"The idea was, let's jump start the construction industry through home ownership," Dr. Johnson said. "Here comes the HOLC, Home Owners Loan Corporation, that now creates these maps that starts to divide cities. New Orleans is no different."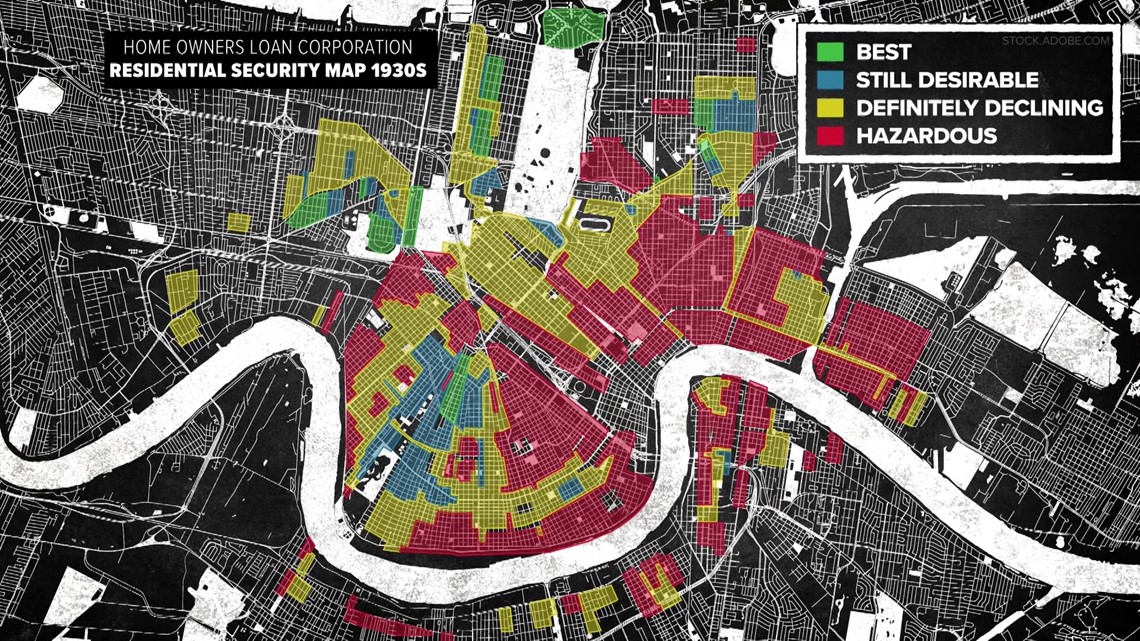 The Blue Color on the map represented neighborhoods still considered desirable while the yellow indicated a neighborhood was declining.
"Banks came in and they saw white neighborhoods were created to be the most desirable neighborhoods," Seichsneidre said. "It was easy for banks to say we're only going to invest in single-family neighborhoods giving them the green designation on the redlining maps. Black neighborhoods that were set up as overcrowded and hazardous places were of course given the red designation on the map."
Seichsneidre says this helped institutionalize a system where if you were Black, you couldn't get a home loan yourself.
"Also, neighborhoods where Blacks lived were not deemed acceptable for investment and so even whites who lived in Black neighborhoods were not able to get loans," she said.
These communities were in a sense designated for failure, through tactics of exclusion now supported by the federal government. Defining the boundaries.
"You started to see African Americans become more contained in areas, let's say, like a Central City," Dr. Johnson said.
Defining Central City
:
The origins of Central City go back to the 1800's when it was mostly occupied by immigrants like the Irish, Germans, Italians and soon African Americans. The data research center described the area as a "large, mosquito-infested and swampy area that was below sea-level."
The homes are mostly clustered tightly together and done shotgun style with a large percent of renters.
"The streetcar line is a natural boundary," Dr. Johnson said. "That begins to create a different feel, and some would say the barricade to the other side. A natural barricade, unnatural barricade creates an extinction and separation."
It's a separation that is only minutes, if not seconds apart.
"If you're going to contain people, they don't have access to the growth of the economy, mobility where economic opportunities are and this whole thing is moving generation after generation," Dr. Johnson said.
Home Ownership & the Wealth Gap
:
Concentrated poverty and segregation not only limit social and economic opportunity but, according to Dr. Johnson, is the impetus of the racial wealth gap in New Orleans.
Data Center Analysis from the U.S. Census Bureau and American Community Survey of 2021 show in 2021 Black households in New Orleans had a median income of $30,292 while Hispanic households brought in $60,358 and White households bring in $83,727.
"The only way you get wealth in this country, if you are either low income or middle is to home ownership and equity built there," Dr. Johnson said. "But imagine, you don't have the ability to own a home or purchase or if you did buy a house, you have interest rates that are so high because the federal government will not insure you to get a loan through the bank."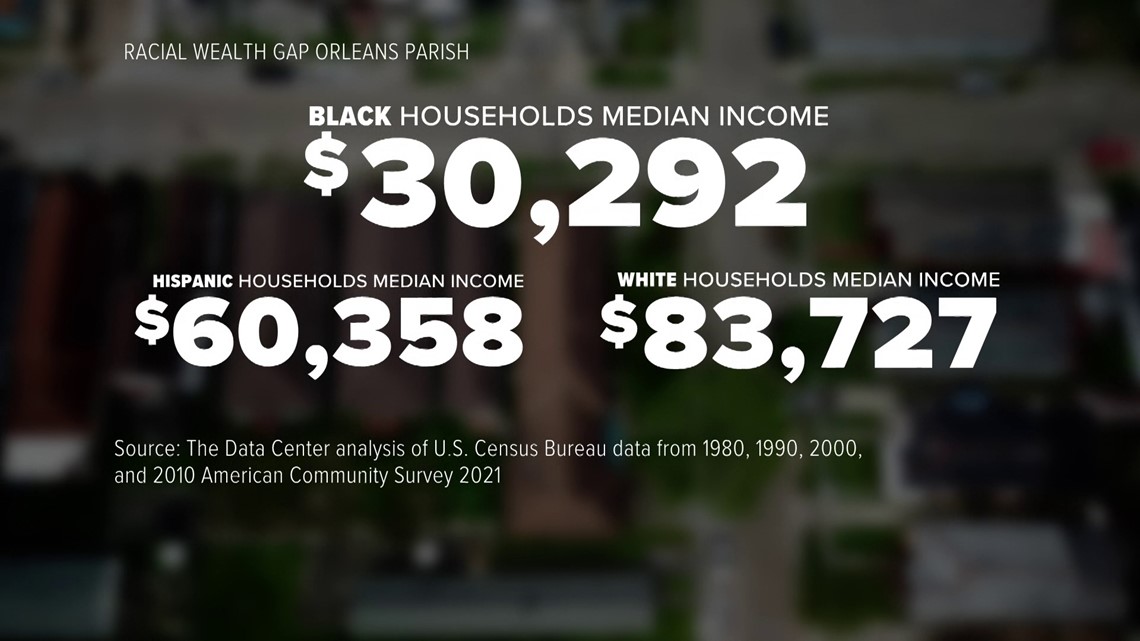 Pair that with a lack of investment, low wage jobs and sub-standard education, your racial zone and redlined zone becomes a disaster zone. Leaving a lot of our responses to modern day issues superficial.
"The housing piece in the ability to create wealth to pass on to each generation is the glue that has created the situation we have