NEW ORLEANS — Everyone wants to make a lot of money, right?
Well, it's no surprise that it takes a lot of work to be successful, but does that mean college is always the best route to achieve that success? There are many jobs out there that pay well and only require a high school diploma.
There are 593,500 jobs in New Orleans according to the Louisiana Workforce Commission. The median household income in Orleans Parish is $39,576 according to the U.S. Census Bureau, 2018. There are thousands and thousands of jobs that pay much more that the average person working in the city and not all of these jobs require college education.
"There is opportunity out there for people coming out of high school that want to go on a career path," said Brandon Smith, Managing Partner with Flexicrew Technical Services.
He works with companies who are looking to hire people that may only have graduated high school. Some of these jobs can lead to high paying positions.
While most of the highest paying jobs in the crescent city are held by college graduates, there are also many jobs with comparable pay, held by workers with only a high school diploma.
"They start earning money several years sooner than someone who goes to college too," said Adam Bermudez, President of Worknet Staffing
Those years of experience also come without what can be crippling student debt. It's Bermudez's and Smith's job to find employees for companies. Many of the companies they work with only require high school education.
"Once they determine you have the proper character they're looking for, they'll provide you with on the job training," Bermudez said.
They believe the idea that a college degree is needed to succeed is outdated.
"That is absolutely changing, especially with the market were in with so many opportunities in different industries," Smith said.
Over at the New Orleans Cold Storage, Marquel Broussard is a Warehouse Assistant Manager. NOCS stores mostly poultry. It's the oldest cold storage company in North America. Broussard started working in the warehouse at NOCS almost eight years ago as what's called a piece worker.
"Pretty much consider them the muscle, so they do the physical work," he said.
"A material handler is going to start on average at $18.50 an hour," said Andre Bourgeois who recruits for NOCS.
Broussard was quickly promoted to forklift operator and kept climbing the ladder.
"The pay was phenomenal so I continued with the career," Broussard said.
Broussard never graduated from college, but at 33-years-old with a manager title he's poised to earn close to, if not more than, a six figure salary.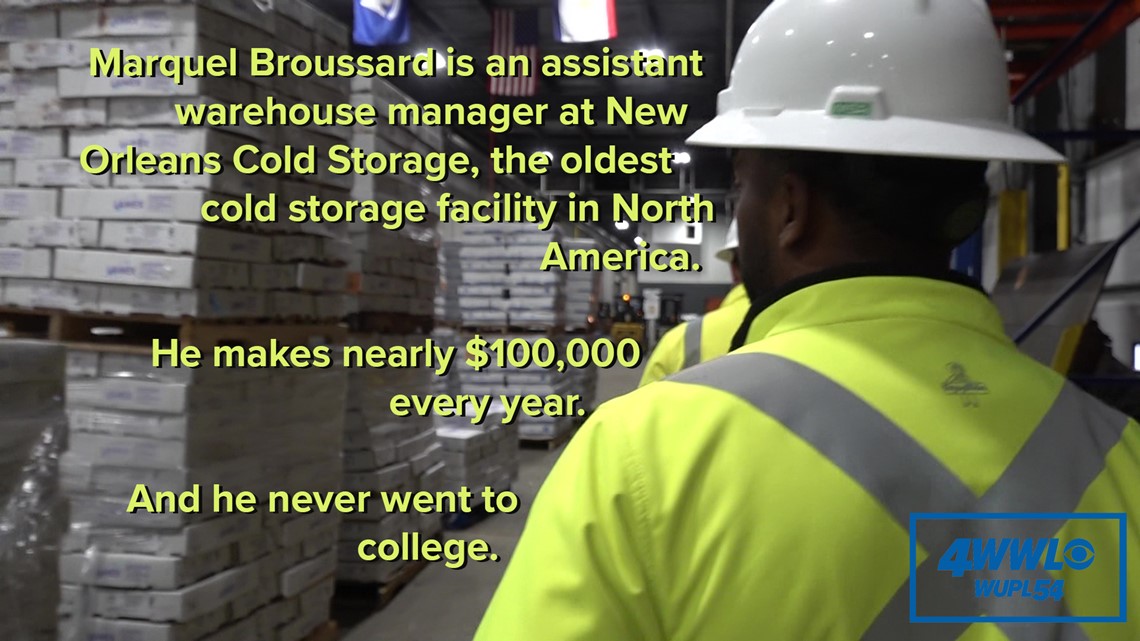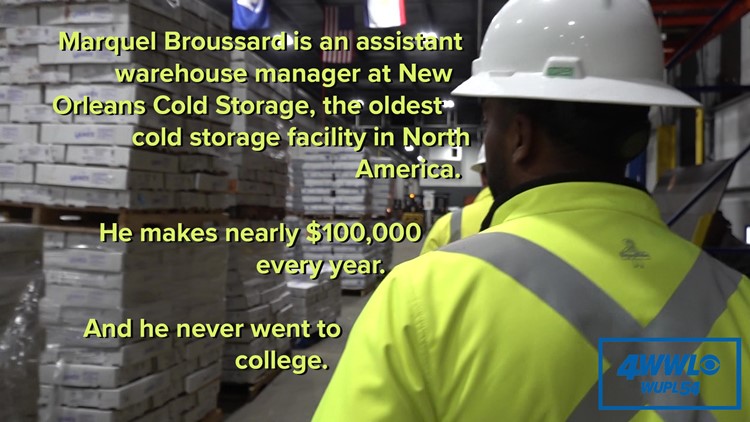 According to the Bureau of Labor Statistics, Transportation, Storage, and Distribution managers, like Broussard, have a median annual wage of $94,730. It's the highest paying job for people with only high school.
"A warehouse manager can make six figures," Bourgeois said.
"It shows when you have self initiative, pride, dedication, and you apply yourself in the right ways, you can conquer all things," Broussard said.
With all of the ports, plants, shipyards, construction, and unique fields in Louisiana, there are opportunities to grow in companies that often prefer to train employees themselves"
"A lot of our leadership is homegrown for us," Bourgeois said.
"In the New Orleans, the gulf coast industry, the maritime industry, construction industry, and petro-chem refineries are very big employers," Smith said.
According to the Bureau of Labor Statistics (2018), these are the median annual wages for some of the highest paying jobs that don't require a college degree:
Captains, Mates, and Pilots of Water Vessels: $93,010
Power Plant Operators, Distributors, and Dispatchers: $83,020
Supervisors of Construction and Extraction workers: $65,230
Police Supervisors and Detectives: $89,030
Commercial Pilots (excluding airline pilots): $82,240
Elevator Installers and Repairers: $79,780
Postmasters and Mail Superintendents: $75,970
One of the fastest growing industries Bermudez and Smith see is I.T. Software Development Firms need people skilled in computer programming and coding. A lot of these people are self taught in high school and as long as they can do the job, many companies will hire them without a college degree.
"They're begging for them," Bermudez said. "Those can easily morph into $80-90,000 a year jobs pretty quickly."
Trade jobs can also pay well.
"I didn't get into this knowing I was going to love it, I just did," said Max Ruehle, an electrician and instructor with an apprenticeship program through the union, IBEW.
"We're in demand and the demand just keeps on increasing," he said.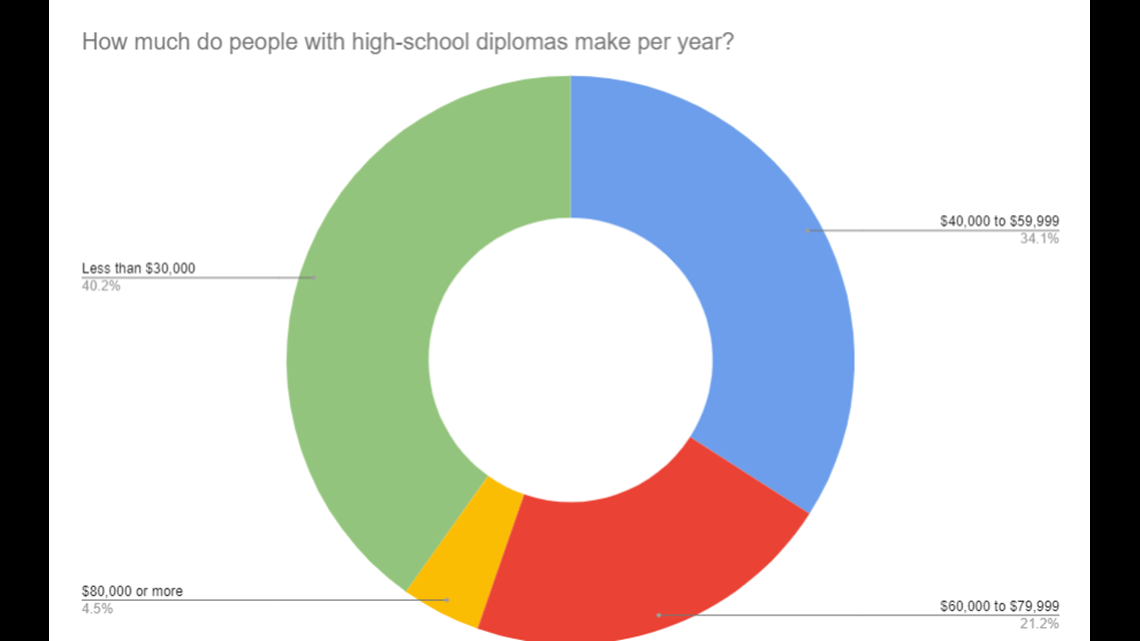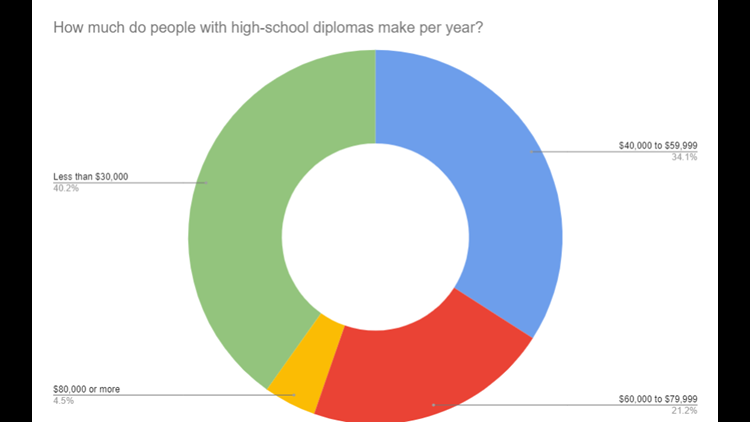 Students get paid on the job and avoid student loans since the five years of training wont cost them.
"Out of the apprenticeship program, the base salary for electricians through the union IBEW LOCAL 130, is $62,524," Ruehle said. "With overtime you could make 80 to 100 grand."
Workers like Ruehle and Broussard are proving there are opportunities that offer success, despite what path you decide to take.
There are programs like YouthForce NOLA and Jump Start that help kids out of high school find successful career paths like these that come with high paying jobs.
► Get breaking news from your neighborhood delivered directly to you by downloading the new FREE WWL-TV News app now in the IOS App Store or Google Play.