The Rex Organization is responsible for many historic moments in Mardi Gras. This year, the krewe makes history of its own - with its first new float builder in more than 60 years.
The 2020 Rex parade is the first to be built by Royal Artists, the float-building company founded in 1975 by Herbert Jahncke Jr. and now owned by Richard Valadie. Since the 1950s, the Rex parade had been built by Blaine Kern and Kern Studios, now run by his son Barry Kern.
"It's a lot of responsibility. It's the King of Carnival after all. It really is a once in a lifetime opportunity," said Royal Artists owner Richard Valadie.
See photos from inside the float den below.
This year's Rex parade theme is "Omens and Auguries." Designed by Rex artistic director Henri Schindler, the 20 theme floats depict various prophetic signs and symbols, including a black cat, lucky ladybugs, symbols of the zodiac, an albatross, the three witches of "Macbeth" and even Edgar Allan Poe's "The Raven."
Step inside the Rex den for a preview of this year's parade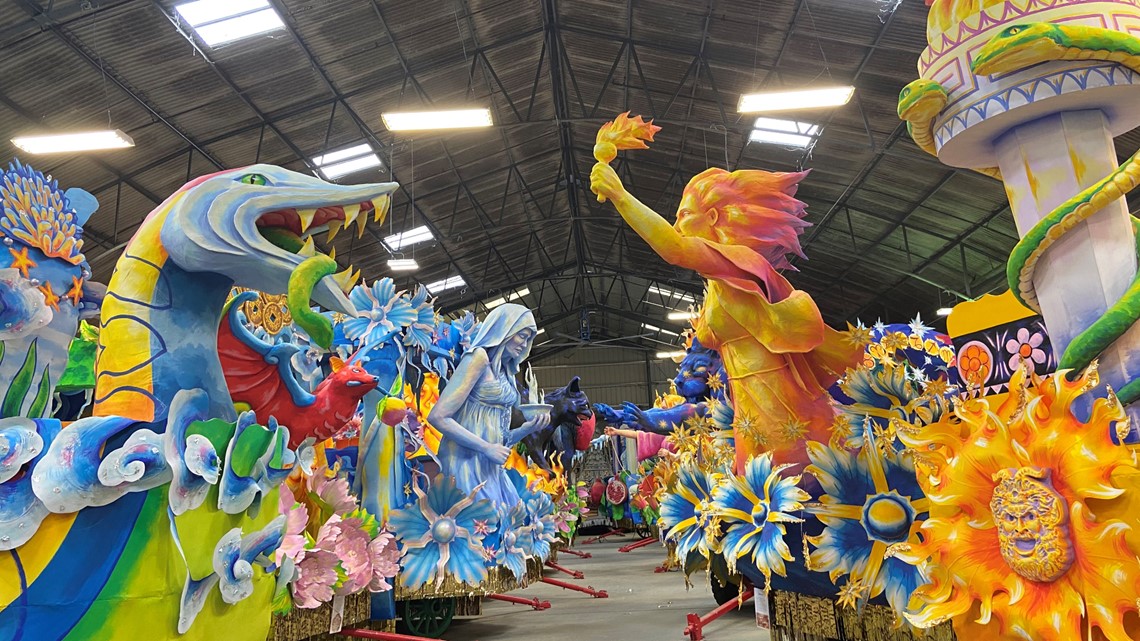 Last year, Rex announced that it had signed a five-year deal with Royal Artists to design and build its floats. It meant an end to the seven decades-long partnership between Rex and Kern Studios.
Although the Rex parade theme and floats originate with concepts created by Rex artistic director Henri Schindler and a committee of Rex officials, for more than 65 years the parade was built by artists and craftspeople at Blaine Kern Artists and Kern Studios, the company founded by Blaine Kern Sr. in 1947.
Kern Studios and the Rex Organization mutually agreed to part ways after the 2019 parade, with Royal Artists taking over construction of the Rex floats for this year's parade.
Royal Artists, founded in 1975, also designs and builds parades for the krewes of Proteus (Carnival's oldest night parade), Chaos and Le Krewe d'Etat, as well as several parades in Mobile, Alabama. It previously built parades for Comus and Momus, which no longer parade.
Royal Artists owner Richard Valadie, a Louisiana native, has been with the company for more than 20 years and trained under the company's founder, Herbert Jahncke Jr. Jahncke, who died in 2007, grew up steeped in Carnival tradition, with his father even serving as Rex, King of Carnival, in 1966.
In addition to the 20 theme floats, the six familiar signature floats will appear in this year's Rex parade, including the iconic king's and jester's floats, the animated Butterfly King float and the traditional Boeuf Gras.