NEW ORLEANS — The 2020s apparently has a Superman, and he will be played by the 30-year-old actor David Corenswet.
Underneath the superhero persona is a deep New Orleans connection.
David Corenswet's father, John Corenswet, was a graduate of Isidore Newman School, and his uncle Jay Corenswet was once president of Temple Sinai, a Reform Jewish congregation on St. Charles Avenue.
And even though the prospective superhero was raised in Philadelphia, earlier this year he decided to get married here in New Orleans. According to officials at Temple Sinai, it was an interfaith ceremony with both a rabbi and a priest as co-officiants.
James Gunn, who co-chairs D.C. Studios, posted on social media about Corenswet's casting back in June. The movie apparently will be called "Superman: Legacy," and will release in July 2025.
"They are not only both incredible actors, but also wonderful people," Gunn said of Corenswet and his costar Rachel Brosnahan, who will play Superman's love interest Lois Lane in the movie.
Corenswet recently left an impression on audiences as a bohemian movie projectionist who falls victim to a violent outburst by Mia Goth's character in the 2022 slasher movie, "Pearl."

Meanwhile Brosnahan, is best known for her Emmy-winning performance as Miriam Maisel on the Amazon Prime show "The Marvelous Mrs. Maisel."
Each generation has their own Superman. And now it's Corenswet's turn to thrust the Man of Steel into the 2020s.
In the 1940s and 1950s Kirk Alyn played Superman in a movie serial and George Reeves played him on the TV show, "The Adventures of Superman," during the 1950s.
Christopher Reeve, defined the role during the 1970s and 80s. 1978's "Superman," starring Reeve, was the second highest grossing movie of the 1970s, after "Star Wars."
In the 2000s Brandon Routh played Superman in the movie "Superman Returns," and Tom Welling played Clark Kent on the long-running series "Smallville."
Most recently, Henry Cavill played Superman in four different movies.
A Jewish Superman
Corenswet will be the first Jewish actor to play Clark Kent and his alter ego.
"Superman" comic book's creators, Jerry Siegel and Joe Shuster were both Jewish. And the comic book's debut in 1938 coincided with the beginning of World War II and the Holocaust.
The significance of a Jewish actor finally playing the Man of Steel was not lost on Kenneth Hoffman, the director of the Museum of The Southern Jewish Experience in New Orleans.
Hoffman noted that Superman's earliest adventures involved beating up Nazis.
"And of course his alter ego is a meek intellectual fella, which in a lot of ways can represent Jews, who are always in the minority and oftentimes being picked upon," Hoffman said. "And so this is sort of like a fantasy, to have a strong alter ego who can defend your people."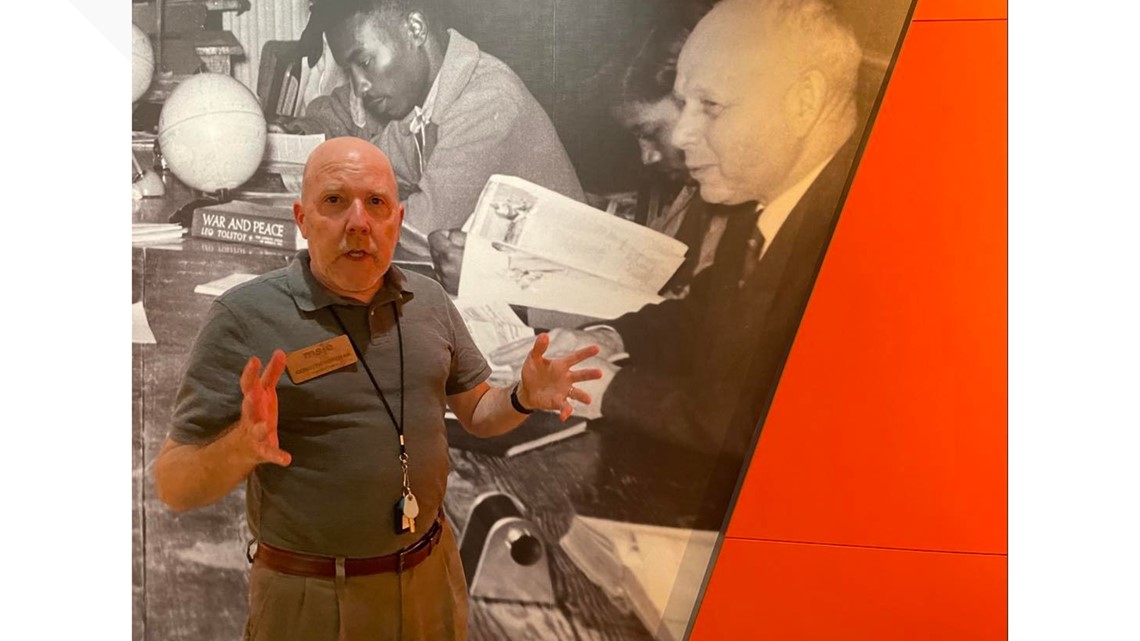 Hoffman said he believes that Corenswet's casting, with his New Orleans roots, is symbolic of the Jewish heroes who have contributed to the Crescent City.
"While we like going to superhero movies, we tell a lot of stories of our own superheroes," Hoffman said. "Folks like Anne Levy, a Holocaust survivor who has spoken to thousands of students over the years about her experience and the importance of tolerance and kindness and speaking out against anti-Semitism."
Other Jewish superheroes celebrated by the museum include Ernst Borinski, a refugee from Germany, who defied segregation laws during his tenure at Tougaloo College, an HBCU near Jackson, Miss.
Hoffman said while Jewish communities have always been a small minority in the United States, that status is even more apparent in the South, making activism a greater challenge.
"To stand up for what is right can be even harder to do in the South," Hoffman said. "But we have wonderful stories of those things happening."
► Get breaking news from your neighborhood delivered directly to you by downloading the new FREE WWL-TV News app now in the IOS App Store or Google Play.