Path of Destruction: Rare tornadoes claim a life, destroy hundreds of homes
Two EF-2 tornadoes slammed into homes in St. Charles, Jefferson, Orleans and St. Bernard, rattling nerves, destroying homes and claiming one life.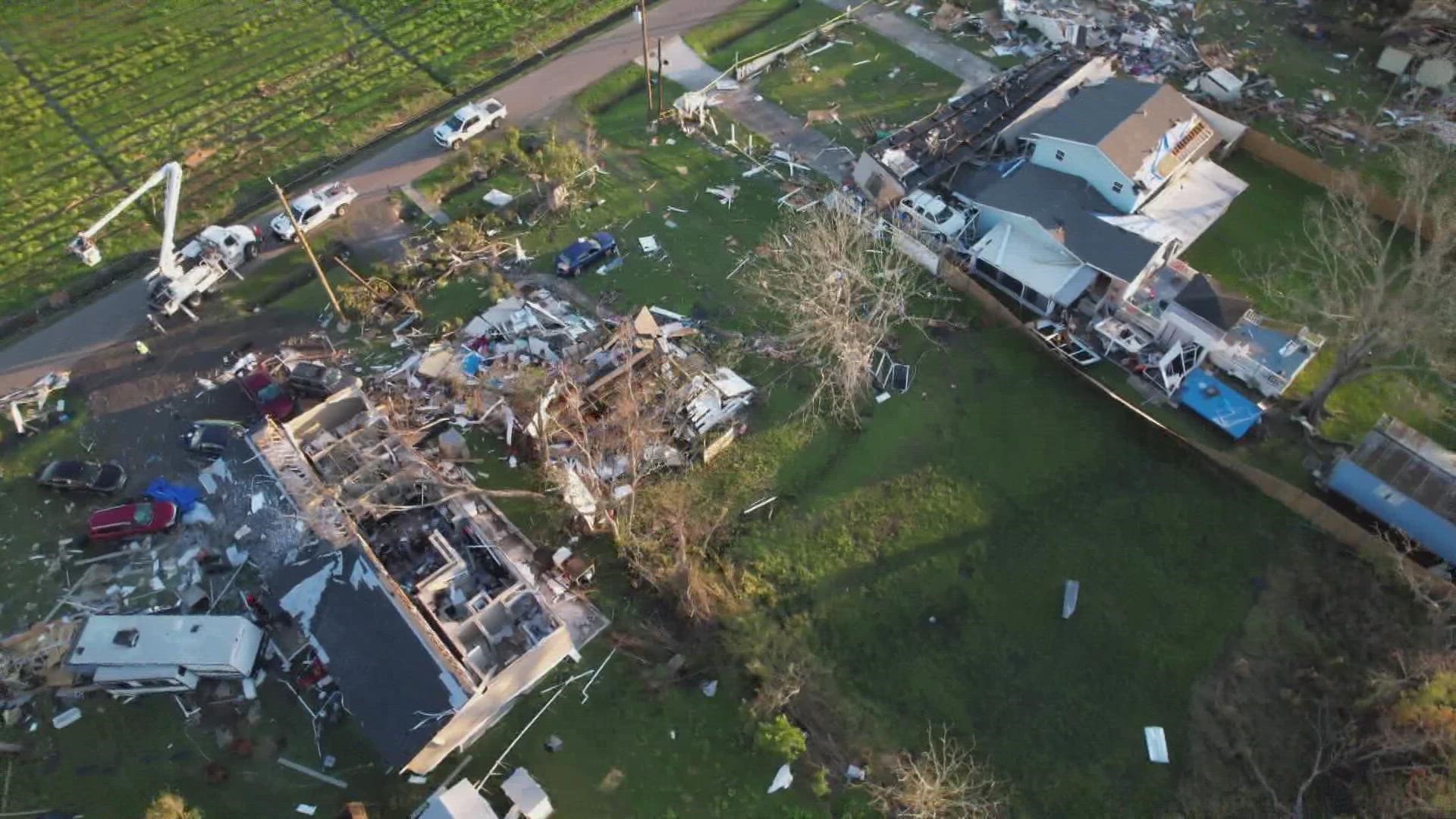 December 14, 2022, like many other dates in southeast Louisiana, will be remembered for quite some time thanks to a severe weather outbreak. Multiple tornadoes ripped across the area with two of the strongest ones on the southshore – an EF-2 that ripped through St. Charles Parish and took the life of Alison Alexander. A second one, an EF-2 as well, tore through the west bank and then over towards Arabi, causing extensive structural damage, some injuries and fortunately, no loss of life.
Southeast Louisiana is used to hurricanes. As devastating as they are, they normally come with a lot of advance notice. Tornadoes form in a moment's time and travel in indiscriminate ways.
WWL-TV's reporters fanned out to each of the hardest hit locations to document the problems that people encountered.
'The scariest thing in my life'
:
Man in SUV caught by tornado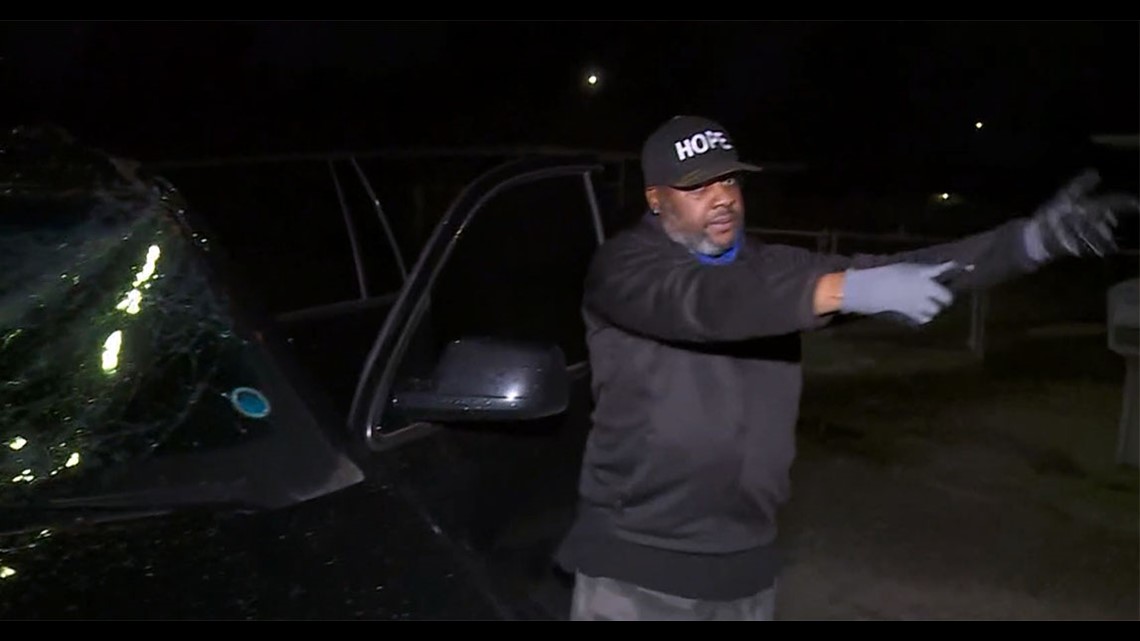 GRETNA - When Michael Willis was running errands Wednesday on the west bank, the sky got dark.
"I promise you, I didn't hear anything or see anything."
Willis was gathering supplies for a weekend toy giveaway from his organization - HOPE - when he found himself in the path of a tornado. He was sitting in his SUV on Franklin Street in Gretna and the tornado lifted him up and spun him around.
"It happened fast. I've never been inside of a tornado before. I'm looking at wood, buildings, all in the same spin, spinning with me."
And then it just let him out, but he said he didn't breathe a sigh of relief immediately.
"I ain't know I was safe. I thought it was coming back. The power lines were everywhere and it started raining hard."
Now, looking at his SUV, he knows how lucky he is.
"I tried to play hard for a second and then I bawled up. God, I ain't ready to go right now."
Debris smashed through his windshield and busted the passenger window.
He believes some tinting he had on the glass saved him. You can see the shattered glass collected on the layer of tinting.
He called 911 and was told it would take a while before crews could get to him, so he drove his vehicle, with his head stuck out of the driver's side window, to his daughter's home in Algiers – grateful to be alive.
"Windows blown out, roofs gone. It's bad"
: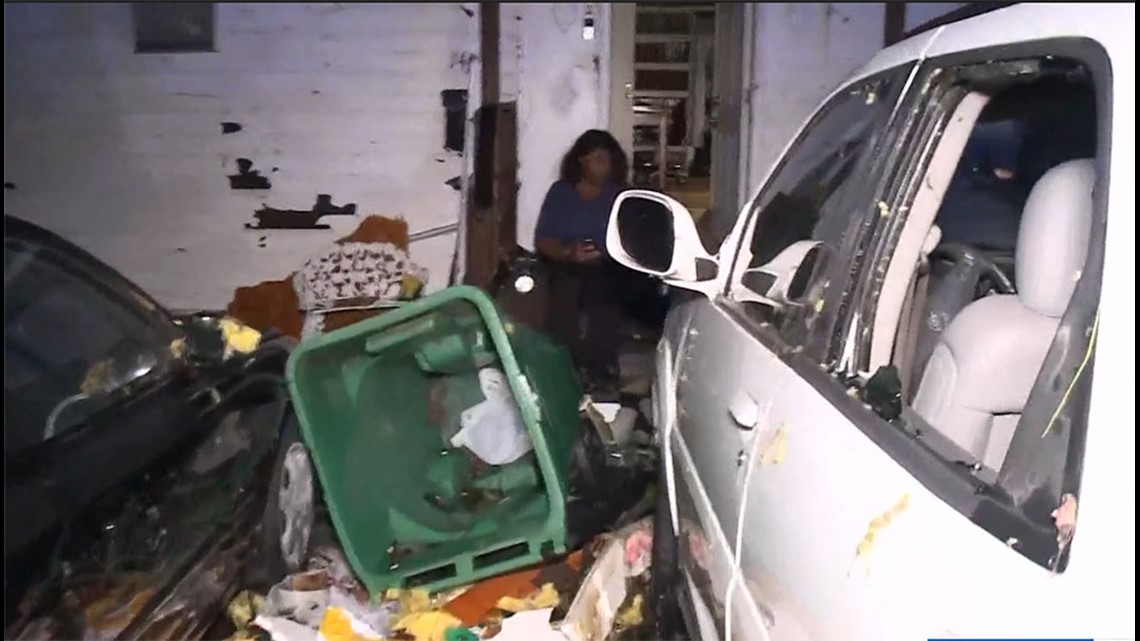 It looked like a bomb exploded on Romain Street in Gretna, with debris everywhere you turn. Power lines were down, homes were damaged, some destroyed. Nick Randazzo said a strong tornado ripped through his house – a 90-year-old former church - in the blink of an eye.
"It happened so fast," he said. "There was a lot of noise, you heard the windows blow out and then you heard a lot of wood cracking and then it was gone. And I'd say all of it in 10 seconds."
The back of his home is gone. The roof separated from the rest of the building and part of the building separated from the rest of the foundation.
To give you an idea of how fast the tornado moved through Randazzo's house, it launched a 2x4 through his house like a spear and embedded it into the wall.
"The effort and work that it's going to take to clean up. I've been through Katrina and the last one last year, wasn't that bad. This is the third time in two years that the fence went down, so, a lot of effort to clean up."
The tornado ripped part of the roof off of a nearby apartment complex. And the owner of another house said she was close to finishing the repairs from last year's Hurricane Ida when the tornado dealt her another blow.
Otis Williams, who has lived in Gretna's McDonoghville neighborhood his entire life, says he's never seen damage like this before.
"There's a house around the corner that has shifted off of its foundation. I've seen windows blown out, roofs gone – it's bad."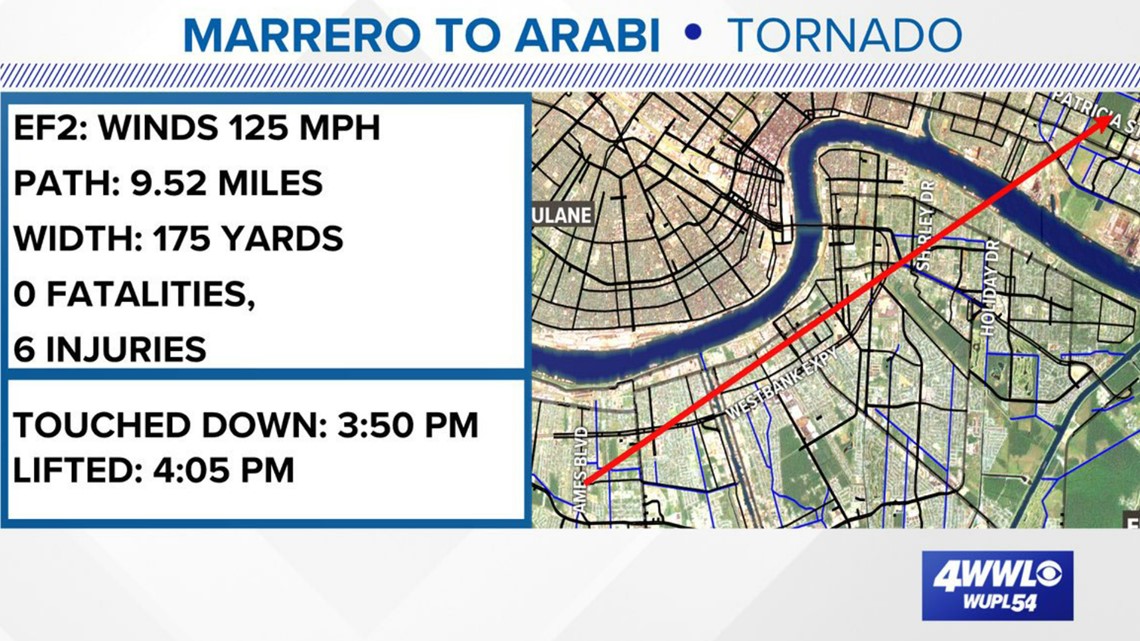 Gretna officials held a press conference and Mayor Belinda Constant said the city is under a State of Emergency. She confirmed that a tornado touched down in her city and then jumped the river and hit Arabi in St. Bernard Parish.
"I'm happy to say at this time that there are no reported deaths. We did have three injuries that went to the hospital. There are some families that have been displaced, staying with family members. We've had hundreds of structures damaged or destroyed."
"We held each other and prayed"
:
The Sirens didn't go off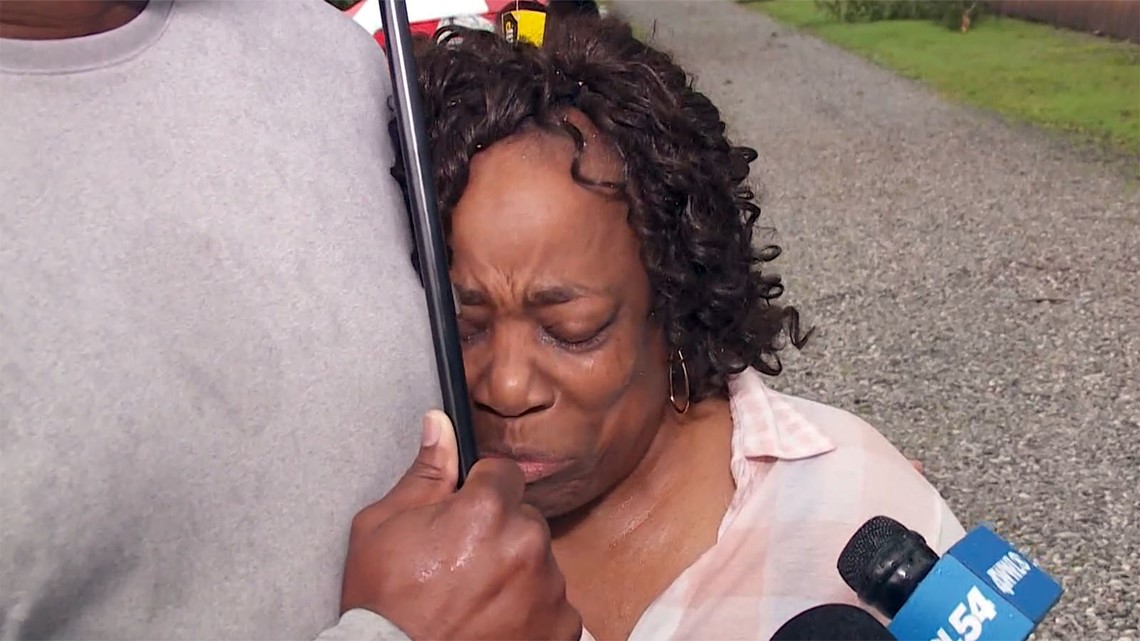 ST. CHARLES PARISH - St. Charles Parish was the first to experience a tornado on Dec. 14 in southeast Louisiana. An area badly hit just the year before by Hurricane Ida still had some people rebuilding their homes and living in trailers - a place tornado experts say you should never be in high winds.
Mary Kinney was just such a person. She was in her trailer while her home next door was being rebuilt. It had just had a new roof placed. She'll need another.
"We were sitting in the trailer and our cell phones went off," she recalled. "I said, 'Devon, we have got to get out of here, there's a tornado.' He said, 'But the sirens didn't go off.' And, I said, 'I don't care, we've got to go.' We ran out the trailer and you could see it coming across the levee. As soon as we got in the house, we got in the bathroom and into the tub. Our ears started popping and everything was gone and everything was falling on us and we just held each other and prayed."
The storm first touched down in Killona and then jumped across the river to Montz. Kinney had the scare of her life in Montz, but, before the tornado approached her, it had already become deadly on the other side of the river in Killona.
"I'd rather lose everything if I could just have my sister back."
:
Deadly tornado in Killona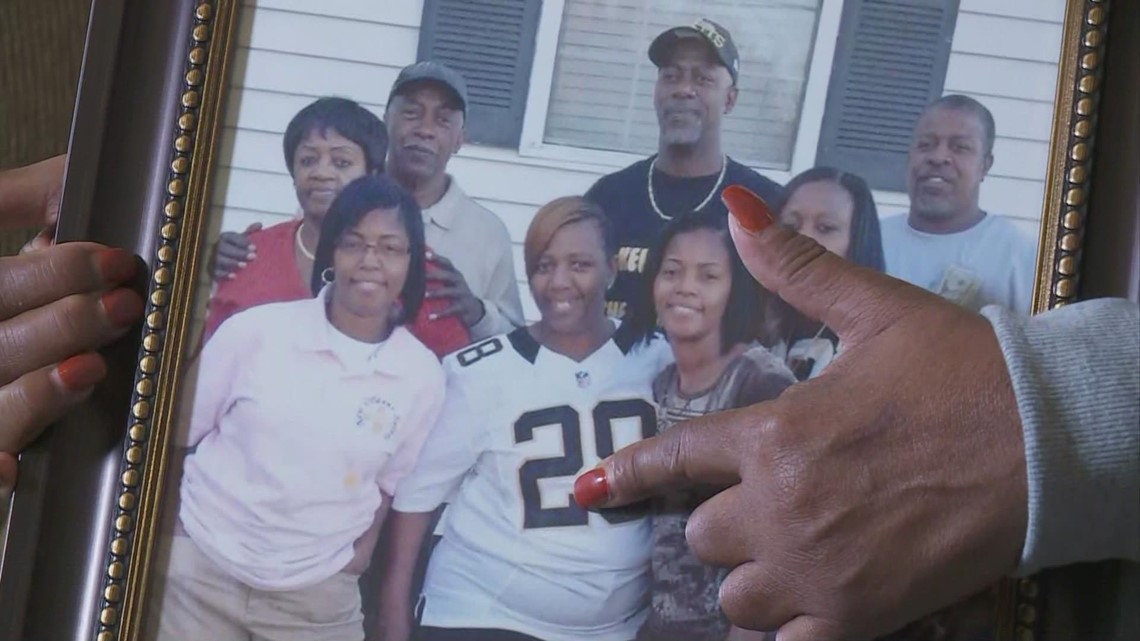 For Yvette Raymond, a photo doesn't quite capture the love and light of her oldest sister, Allison Raymond Alexander.
"She was the life of the party."
After a tornado tore through Killona and ripped her home apart, Allison was found outside. Neighbors called Yvette with the news.
"I'm serious, your sister is not breathing... I just hung the phone up," she said. "I got there and it was just nothing nice. I thought she was just hurt. She was just gone."
Yvette doesn't know where Allison was in the home when the tornado hit, but she knows her sister was alone and may have hit her head during the tornado as she was thrown from her home.
"I would rather lose everything if I could just have my sister back," she said.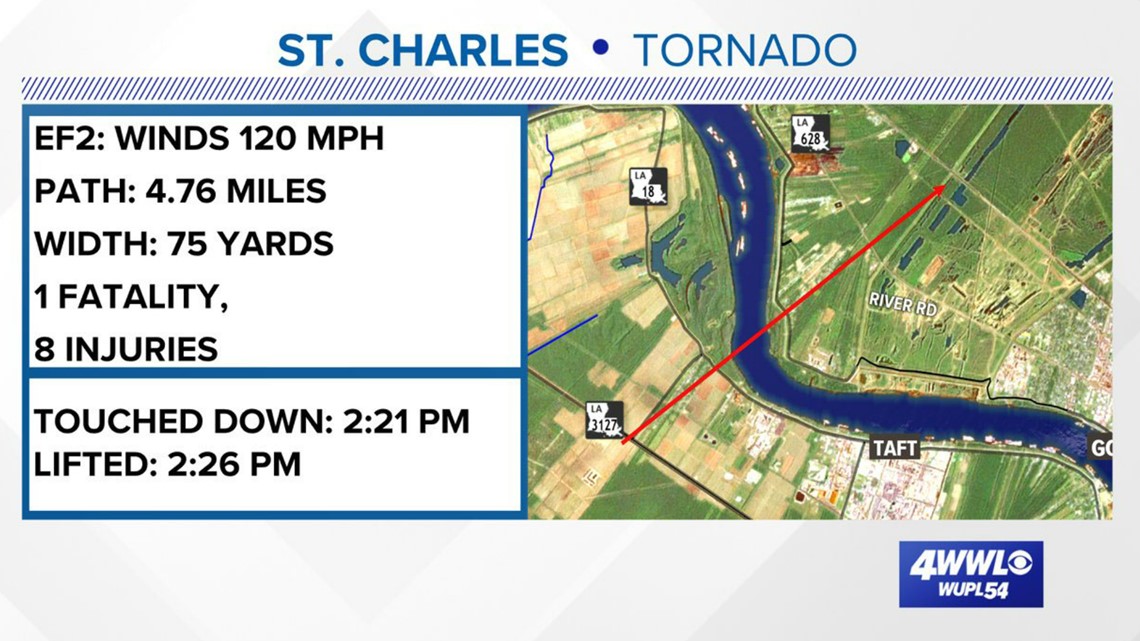 "We got in and they were screaming"
:
Arabi struck again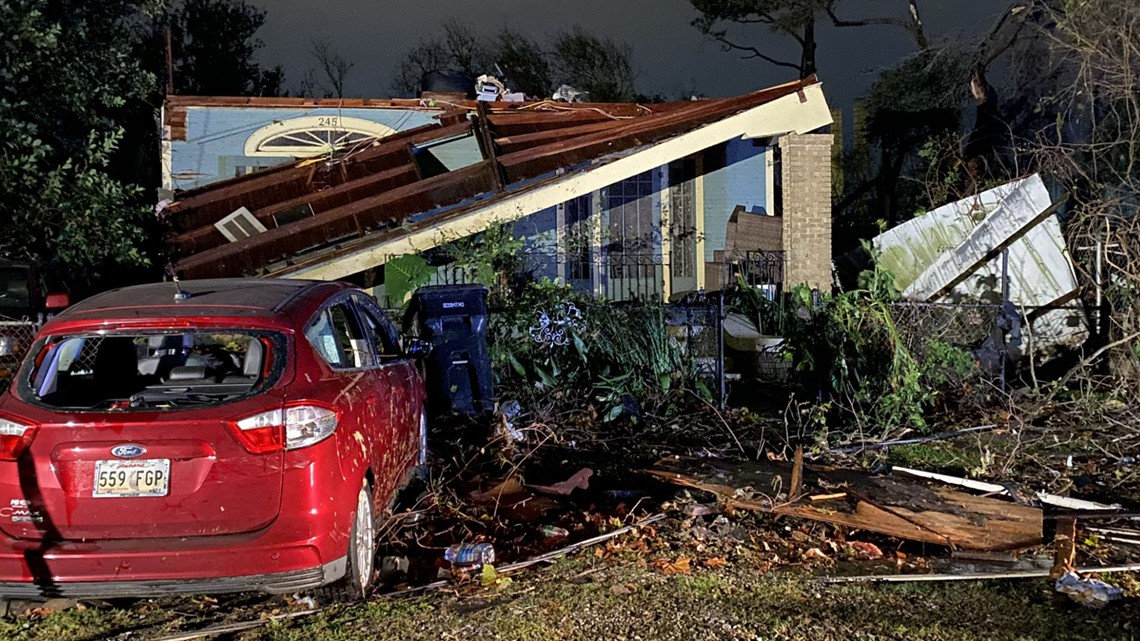 ARABI - St. Bernard Parish had been through this drill before. Nine months earlier a tornado that spawned on the west bank of Jefferson Parish, skipped over Algiers in Orleans Parish, crossed the river, gained power and slammed into Arabi, destroying dozens of home and killing 25-year-old Connor Lambert.
Fast forward from March into December and an eerily similar scenario was playing out. A tornado formed on the west bank of Jefferson Parish, this time made a quick landing in Algiers and then crossed the Mississippi River before slamming into Arabi.
March's deadly tornado was an EF-3. December's was "only" an EF-2 and thankfully Arabi was spared as much damage and any death.
"The whole back of the house was missing," said Ronnie Alonzo, who works for St. Bernard Parish, of the home right across the street from his own.
"Myself and a neighbor had to kick in the door. There was an elderly lady and her so on one side and they were both in the closet. They talk about get into a closet or get into the central part of your home. Well, they were in the closet and it saved their lives."
Down the road a bit, Pastor Collins was at the Christian Fellowship on St. Bernard Highway. Collins said they had just replaced a roof damaged during Hurricane Ida.
Collins and his organization were planning to do a food drive on Saturday for those in need. Now, he will be counting on help.
"It's just a setback for us to come back again."
"Never want to experience that again"
:
Homes, grocery ravaged in tornado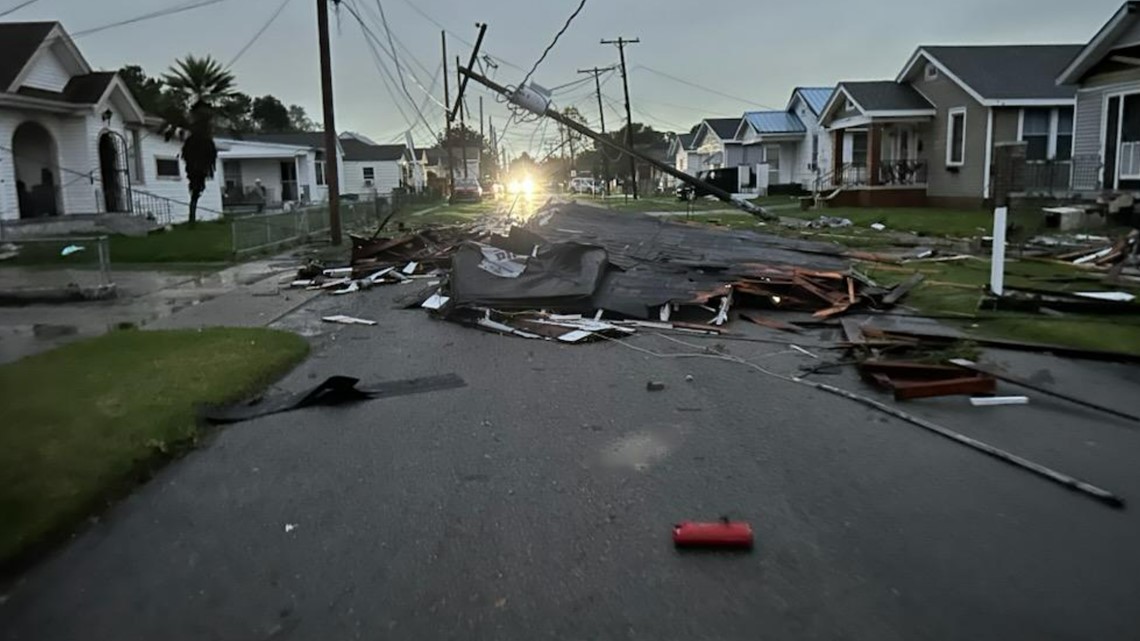 MARRERO - The EF 2 tornado did not spare the Winn Dixie in Marrero, taking with it, the supermarket's roof, leaving behind a mess of debris and an extensive clean up.
The tornado ripping through the center of the store, aerials showing the damage. The storm reached speeds of 125 miles per hour.
From Marrero it moved onto Gretna, in its path stood Trent Theriot's house.
Speaking after the storm, Theriot said, "I took the dog, we got in the closet and maybe no later than two or three minutes the wind picked up and it came through across the street, come through the front door of my house."
He went on to say, "It was like a freight train a loud noise, like a dynamite blew up in the house, it was real, real loud."
He was listening to the weather updates when he realized it was coming straight towards him, saying, "That's where I sitting watching TV when the beam came through."
A beam off someone's house hitting the very spot he was sitting moments before he took shelter, "I was hoping to get out of there alive, and thank god I did, I thank Jesus for that. I never what to experience that again."
He couched inside this closet, praying he'd survive, saying, "Me and the dog was trapped in, the furniture was against the closet doors and I was smelling gas and the lights were still on. My neighbors across the street kinda saved me and kicked the door in to get me outta there."
The aftermath, worse than anything he imagined while inside the very closet which saved his life. The storm so powerful, his entire house was lifted off the pillars.
Stosh Kozlowski from Benton Tree Service using his machinery and manpower to help, free of charge.
Kozlowski said, "It always just hurts a little bit more than it did before, when you se the destruction in your own city."
He went on to say, "I think this is a good way to give back especially during Christmas and the sentimentality of that whole thing, it just seems like the right thing to do."
As for Theriot, in the midst of chaos, he and his neighbors held each other and prayed. The angel sitting on his front porch was the very one which stood by his mother's gravesite. It was untouched by the storm.
"Looked like a bomb hit this place"
: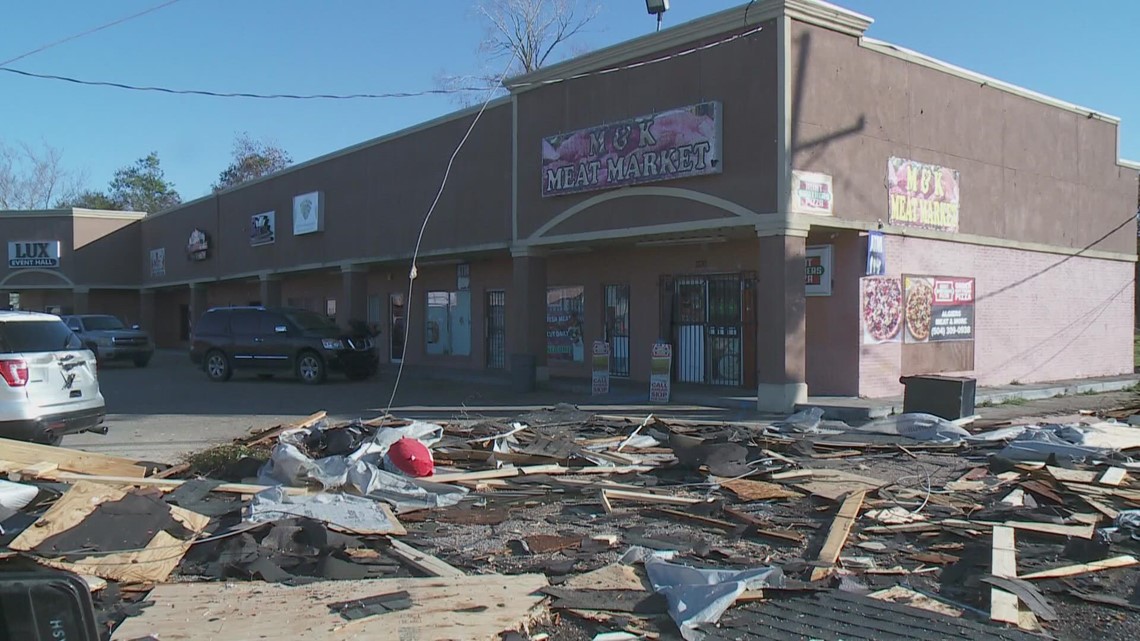 ALGIERS - Terry Johnson owns a strip of businesses along General Meyer.
"It sound like a train come through here," Johnson said.
Johnson is counting his blessings after a tornado wreaked havoc in Algiers.
"They have people around there that lost their whole house. So I can't cry about it you know," Johnson said.
Instead, he's doing what he can to help crews working to restore power.
"Looks like they're pretty much doing all they can do. That's why we're feeding them you know. We have free chicken out before it goes bad," Johnson said.
Another business in the strip is We Cuts Up Barber Shop.
Owner, Charlie Jones, described what he saw after the storm.
"Chaos. It looked like a bomb hit this place," Jones said, "You know we are just glad to be alive."
Johnson said he made repairs to the roof after Hurricane Ida, only to have it damaged once again.
"We don't have any roof in the back," Johnson said.
Rain soaked the businesses overnight.
"We've been here for like almost 18 years in this spot a lot of sentimental value stuff that we'll possibly have to throw away," Jones said.
In the back, the Eric Handley's body shop had several car windows that were blown out and shattered.
"You know people depend on me, and I appreciate their business and I got to fix them," Handley said, "All we got to do now is just cleanup and get back to work."
These business owners are focused on what lies ahead, instead of the storm behind them.
"I'm going to try to help as much as I can, but right now the thing is to try to rebuild. Let's look forward and put this thing behind us and prepare for the next one because I'm pretty sure something else is going to come," Johnson said.
Tornado damage around the area