Photos of two babies with similar smiles and identical hairstyles caught judges' attention this year during Gerber's annual search for a 'spokesbaby.' No, they aren't twins — but little Madison 'Maddie' Mendoza bears a striking resemblance to her mom as a toddler.
Maddie, a nearly 10-month-old girl living in Colorado, was introduced Wednesday morning as the 2023 Gerber Baby. The company, which has held an annual photo contest for the honor for more than a decade, mixed things up this year by also asking for parents' 'throwback' photos. The newly unveiled winning photos show Maddie at 9 months and her mom, Crystal, at 13 months.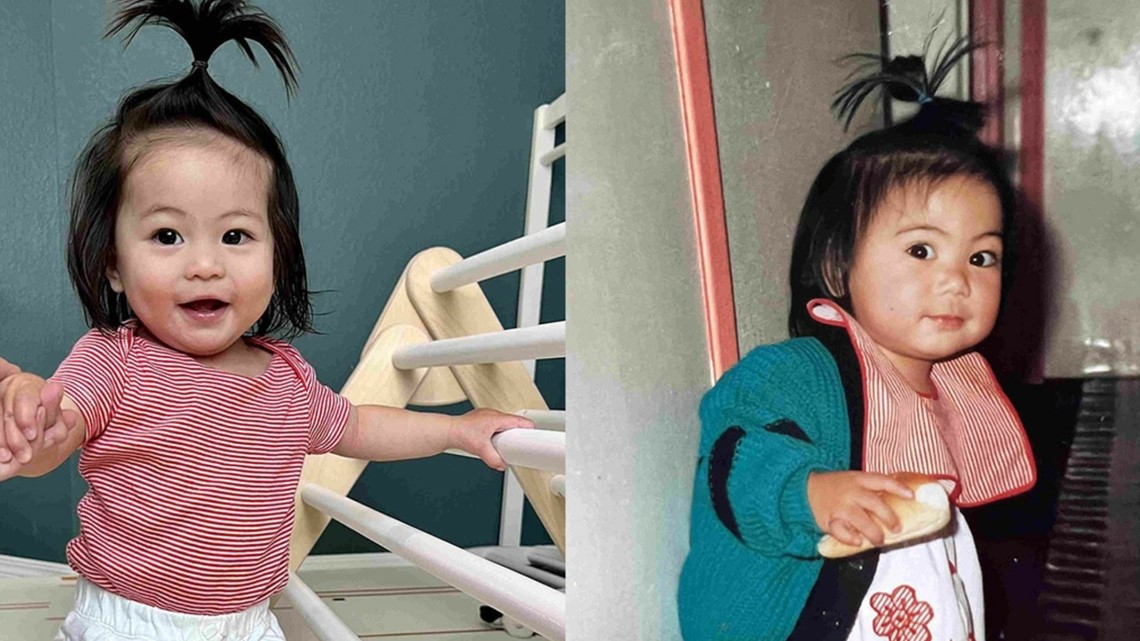 Gerber's judges weren't the only ones surprised by the likeness — even Maddie's grandma was fooled.
"She was like, 'Oh, you used to have a dress like that!'" Crystal said on the TODAY Show, which hosted an exclusive reveal of the winner.
According to TODAY, Maddie is a "rainbow baby" — a child born after a pregnancy loss — and needed supplemental oxygen when she was born. After a few days, she seemed to decide enough was enough and tore off her tubes. That's one of many reasons her parents describe her as strong-willed and adventurous.
Gerber said in a news release that Maddie's parents are high school sweethearts who've been together for more than 20 years, nine of which were long-distance. Her dad Jun is a Lieutenant Colonel physician in the Air Force, and Crystal is a dentist.
"Both parents are from first-generation families from the Philippines, with both of Maddie's grandfathers having served in the U.S. Navy and coming to America with very little," Gerber said in the release. "Their journeys are a testament to resilience and love."
Gerber, a Nestlé subsidiary, first introduced its photo contest in 2010. The winning baby — also known as "Chief Growing Officer" — is featured in social media posts and marketing campaigns for Gerber throughout the year. The family gets a $25,000 cash prize, a new baby wardrobe and a year's worth of Gerber products.
Jun told TODAY it was "surreal" to find out they'd won the contest: "It felt like a one in a million shot."