ATLANTA — In a historic vote, the U.S. House of Representatives impeached President Donald John Trump for a second time Wednesday, making him the only president in American history to be impeached twice.
The final vote, 232-to-197, included 10 Republicans who joined with the entire Democratic caucus in voting against the president. Five members did not vote.
The vote came after Vice President Mike Pence notified House Speaker Nancy Pelosi on Tuesday night that he would not invoke the 25th Amendment of the United States Constitution to take over the reins of government from Trump on the grounds that he was "out of control," and unable to perform his duties during the final week of his administration.
President-elect Joe Biden is set to take over as chief executive on January 20, which is one week away.
A single article of impeachment introduced on Tuesday alleged that the president "committed a high Crime and Misdemeanor against the Nation by inciting an insurrection" in stoking a mob of his supporters at a rally that preceded the sacking the U.S. Capitol last week.
It also asserts Trump "remains a clear and present danger to the Constitution and our democracy" with law enforcement agencies on alert for potential continued protests in D.C. and at state capitols around the country ahead of Biden's inauguration.
The House convened at 9 a.m.to take up the matter. Meanwhile, Georgia counties continue to progress toward certifying last week's Senate runoff results. According to the Secretary of State's website, 96 of the state's 159 counties - just more than 60% - have no certified their results.
They have a deadline of Friday to complete certification. At least one, Bartow County, has initiated its own hand count audit to assure public confidence.
The county said it has "no reason to think the results of the runoff are not accurate."
11Alive provided updates as they came in throughout Wednesday. Please note all times below are Eastern. Here is a look at what occurred.
11:50 p.m. | Earlier in the evening, Rep. Barry Loudermilk issued the following statement after the U.S. House voted to impeach Trump:
"Impeaching the President of the United States is a legal tool, not a political weapon. Speaker Nancy Pelosi and the Democrats have made a mockery of the constitutional process of impeachment, ignored historical precedent, and have poured fuel onto an already raging fire, dividing America even more through this second impeachment attempt. The American people are hurting. Our Capitol Police officers are hurting. We need those in Congress to understand these deep wounds, and who are committed to bringing us together, not tearing us further apart.

"The raiding of the U.S. Capitol on Wednesday, January 6, 2021, was an assault on our institutions of freedom, and we must ensure that this never ever happens again. And while the majority of people were there that day to peacefully attend a rally, there were also those who came to Washington, D.C. intent on causing chaos and destruction. We must bring those individuals to justice.

"This impeachment of Donald Trump, with only days left in his presidency, was rushed to the House floor without any hearings, without any testimony, and with law enforcement having barely begun to gather the evidence of what actually happened on January 6.

"The framers of our Constitution intended impeachment to be a powerful, but rarely used, tool to remove a president from office under dire circumstances. Speaker Pelosi's using of this as a political weapon against her political opponents sets a dangerous precedent for the future of our republic."
10:15 p.m. | Georgia Congresswoman Nikema Williams released a statement about the impeachment.
"Congress had a duty to hold the President accountable for inciting a riot and putting members of Congress, their staff, and USCP officers at risk," part of her statement reads. " The loss of life was senseless and would not have happened under responsible leadership."
8:35 p.m. | Several Georgia Congressional leaders have issued statements about the impeachment. Here are the comments 11Alive gathered so far.
Rep. Drew Ferguson said the following:
"As our nation looks for healing in the wake of last Wednesday's events, this impeachment exercise further drives the division in our country and could lead to more violence when we need calm. With only a few days until President-elect Biden's inauguration, this process also has no prospect for removing the President before the natural end of his term. Congressional Democrats should set aside vengefulness for the good of the country. Furthermore, moving forward with articles of impeachment for political purposes without an investigation or any semblance of due process does nothing to heal this nation. It's time for Congress to listen to Americans from both sides of the aisle, take time to evaluate our failures and begin leading America to ensure the American dream can be realized by every citizen."
8:15 p.m. | The Article of Impeachment as shown on the lectern just before and just after it was signed by House Speaker Nancy Pelosi earlier in the evening: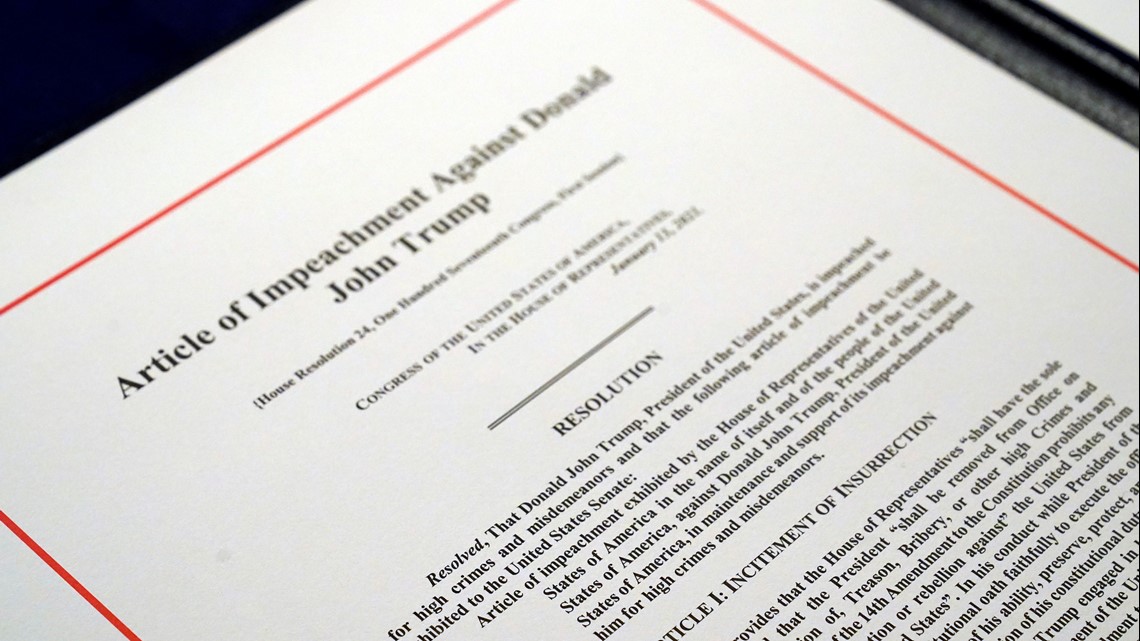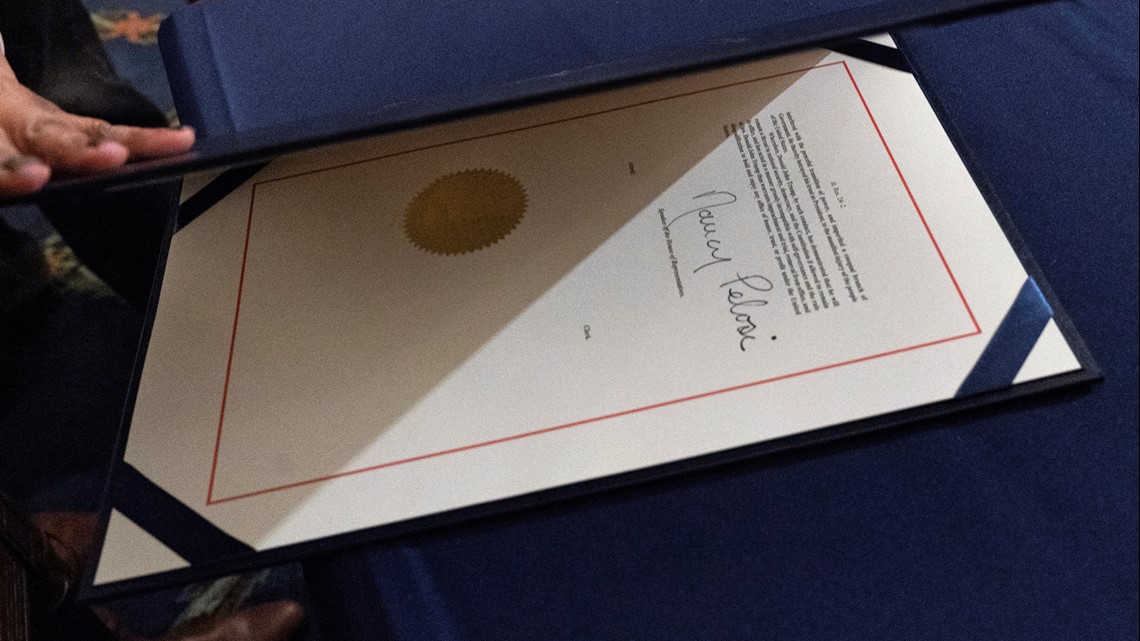 7:30 p.m. | If the trial of President Trump moves forward in the U.S. Senate, eight Congressional Representatives and one Delegate (from the U.S. Virgin Islands) have been named as Impeachment Managers to essentially prosecute the case. They are: Rep. Jamie Raskin (D-8th, Md.); Rep. Diana DeGette (D-1st, Colo.); Rep. David Cicilline (D-1st, R.I.); Rep. Joaquin Castro (D-20th, Tex.); Rep. Eric Swalwell (D-15th, Calif.); Rep. Ted Lieu (D-33rd, Calif.); Del. Stacey Plaskett (D-At Large, U.S.V.I.); Rep. Madeleine Dean (D-4th, Pa.); and Rep. Joe Neguse (D-2nd, Colo.).
7:10 p.m. | Georgia's Congressional delegation was split along party lines, with the state's six Democrats voting in favor of impeachment, and the eight Republicans voting against the impeachment of the president.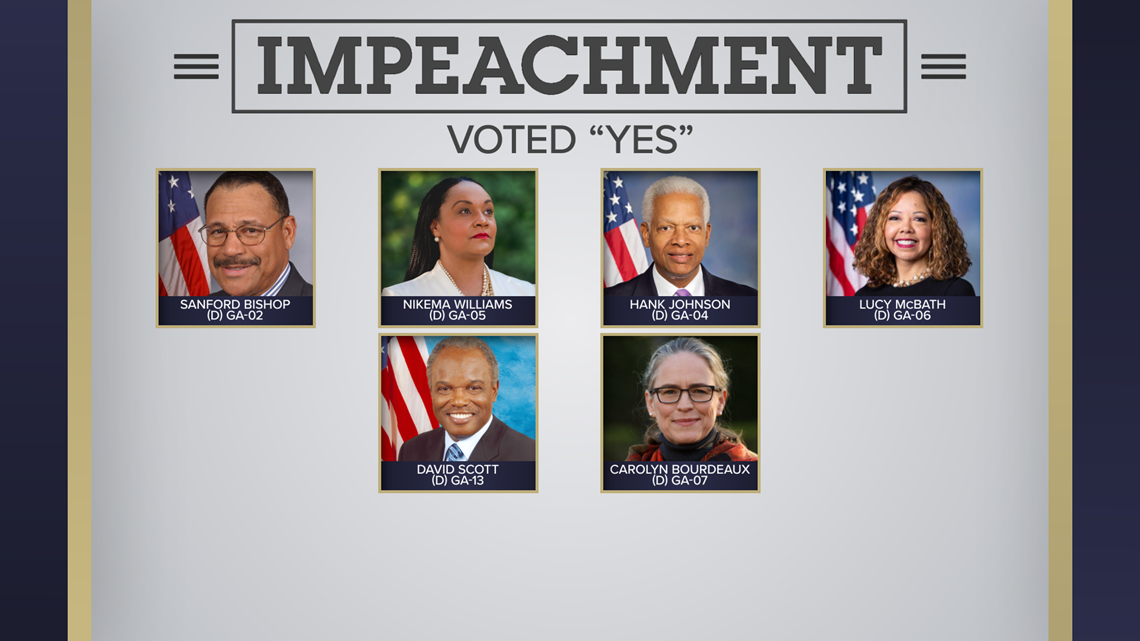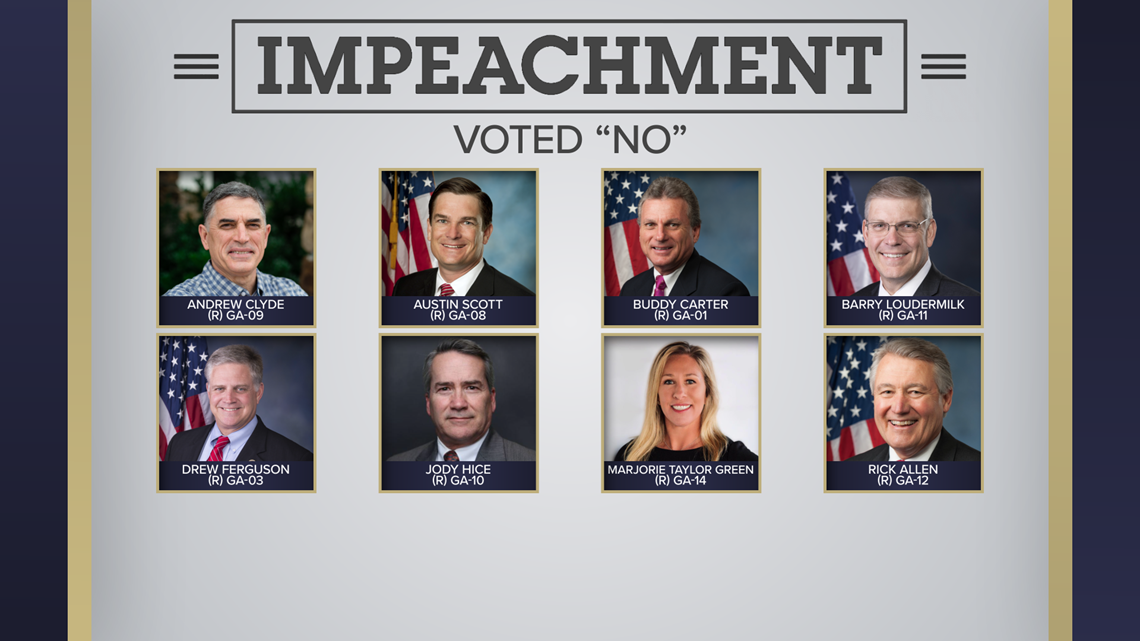 6:20 p.m. | The White House tweeted a video of President Donald Trump where he said he condemns the violence from last week in D.C.
"No true supporter of mine could ever endorse political violence," he said. Watch the five-minute video below. There was no mentioned of the impeachment.
5:50 p.m. | House Speaker Nancy Pelosi, House Majority Leader Steny Hoyer and House Majority Whip James Clyburn expected to sign articles of impeachment and announce impeachment managers before transmitting documents to U.S. Senate.
4:37 p.m. | The U.S. House has voted to impeach President Donald J. Trump, making him the only president in American history to be impeached twice. The bipartisan final vote of 232 to 197 with 5 members not voting included 10 Republicans.
3:53 p.m. | All debate has concluded, voting has commenced on the second impeachment of President Donald John Trump.
3:35 p.m. | Minority Whip Steve Scalise (R - 1st, La.) followed by Majority Leader Steny Hoyer (D - 5th, Md.) made concluding remarks for both sides prior to the historic House vote.
3:01 p.m. | Rep. Scott's remarks:
"Madam Speaker, let me make everybody aware that on those sun-bleached bones of history, of many great nations are written those pathetic words: 'Too late.'
"They moved too late to save their great nations, let us not this day move too late to save our great nation."
3:00 p.m. | Here are Rep. Scott's remarks:
2:55 p.m. | Democratic Georgia Rep. David Scott just spoke.
2:53 p.m. | Rep. Clyde's remarks:
"I rise today in opposition to the effort to impeach President Trump.
"This course of action will only increase dissent and disunity across our country, and it flies in the face of all efforts to heal our nation.
"Quite simply, it is a shameful final act of political retribution - retribution this president has weathered since Day 1.
"I have no doubt that those who breached the Capitol will have due process and their day in court. However there will be no investigation in the people's House into whether the allegation against the president meets the criteria for a crime worthy of impeachment.
"No evidence was presented, no witness testified, no cross examination was conducted, no due process was afforded, and that sets an extremely dangerous precedent for the future.
"If my Democratic colleagues were serious in their efforts to get to the truth, they would convene the House Judiciary Committee and investigate, but they are not.
"And so I am proud to stand before you today to defend our president from the injustices my Democratic colleagues are so giddy to pursue. I oppose this effort to impeach the president and ask all members of the House to do the same."
2:46 p.m. | Here are Rep. Andrew Clyde's remarks:
2:44 p.m. | Rep. McBath's full remarks:
"I rise with a heavy heart for what our nation has endured.
"All those who've incited an attack on these halls of freedom must never forget that in every generation, Americans of all colors and creeds have laid down their lives in the struggles against tyranny, the fight against fascism and the defense against those who would betray the values upon which this nation was founded.
"It is our duty to shoulder that defense of our democracy here today. The president's actions have laid bare his contempt for our Constitution and he must be removed."
2:41 p.m. | Here are Rep. Lucy McBath's remarks:
2:40 p.m. | Rep. Taylor Greene's full remarks (another Republican freshman congressman, Rep. Andrew Clyde, has also just spoken):
"President Trump has held over 600 rallies in the last four years, none of them included assaulting police, destroying businesses or burning down cities.
"Democrats have spent all this time endorsing and enabling violent riots that left billions in property damage and 47 dead across the United States.
"Democrats are on record supporting violence when it serves their cause - in their own words, on social media, in interviews and on fundraising platform ActBlue.
"Democrats support defunding the police when it's someone else's city, someone else's home and someone else's business.
"Democrats will take away everyone's guns just as long as they have guards with guns.
"Democrats' impeachment of President Trump today has now set the standard that they should be removed for their support of violence against the American people."
2:35 p.m. | Here are Rep. Taylor Greene's full remarks (meanwhile, Rep. Lucy McBath just spoke):
2:30 p.m. | Republican Georgia Rep. Marjorie Taylor Greene just spoke at the impeachment hearing.
2:25 p.m. | Rep. Johnson's full statement:
"I'm certain that every member of Congress would say that if they had been in Congress when John Lewis walked across that Edmund Pettis Bridge and the Civil Rights Act was passed, that they would have stood on the right side of history.
"Well, Madam Speaker, today we're going to see exactly what side of history you all are going to be on."
2:22 p.m. | Here are Rep. Johnson's remarks:
2:20 p.m. | Democratic Georgia Rep. Hank Johnson just spoke for 30 seconds at the impeachment debate.
2:03 p.m. | President Trump has just issued a statement urging "NO violence, NO lawbreaking and NO vandalism of any kind."
2:00 p.m. | Rep. Bourdeaux's full statement:
"I teach a civics class where I point out that our democracy is not self-executing. It requires people of good faith and ethics to make it work.
"The president has repeatedly challenged Georgia's election results. But despite three recounts and many investigations, the results are clear: Joe Biden won Georgia.
"The idea that our election was fraudulent is a lie. Our president used this lie to incite a violent mob to attack the Capitol.
"I ask my colleagues to act with ethics and good faith to reject these lies, and in this case to support the article of impeachment."
1:58 p.m. | Here's Rep. Bourdeaux's statement:
1:55 p.m. | Newly-elected Democratic Georgia Rep. Carolyn Bourdeaux just spoke in favor of impeaching the president.
12:45 p.m. | Reps. Nancy Pelosi and Jim Jordan are among those who have spoken so far. The debate process will likely go on much of the afternoon before impeachment comes to a vote.
12:25 p.m. | The House has voted to bring forward consideration of the impeachment bill.
11:50 a.m. | Here were Rep. Carter's remarks in opposition to impeachment:
"What happened on Wednesday, January 6 was nothing short of pure anarchy, and those individuals who broke the law should be held accountable for their actions they should be prosecuted to the highest extent of the law and they should be put in jail.
"This was one of the saddest days of my life last Wednesday. Our thoughts and our prayers are with the police officers and other law enforcement who carried out their duties on that tragic day, including Officer Sicknick and Officer Liebengood.
"Right now our focus should be on healing - healing our nation. With so many upset and dismayed at the actions of last week, it's our responsibility to chart a path forward to subdue the growing animosity and find ways to heal our country.
"Unfortunately I don't believe this resolution will achieve those goals, especially seven days ahead of the inauguration. This is a very serious and concerning effort during such a tense and fragile time in our country. I urge my colleagues to consider how this will further entrench people during such a tense time. I cannot support this resolution."
11:35 a.m. | Here's Rep. Buddy Carter, a Georgia Republican, speaking against impeachment a short while ago:
9:15 a.m. | Many new details here as federal prosecutors in the D.C. District Court have submitted an argument for keeping Cleveland Grover Meredith in jail until he has a trial. The Georgia man was arrested in connection to last week's Capitol riots and for threatening Nancy Pelosi.
7:40 a.m. | Georgia House Speaker Rep. David Ralston will discuss election reform, among other issues, at an "Eggs and Issues" virtual event this morning.
Georgia Republicans in the state legislature are targeting changes to the voting process after the rancor following November's election.
6:00 a.m. | Good morning! If you're interested in the impeachment process, you can read about it here.
Georgia features heavily in the House Judiciary Committee report in support of impeachment, appearing more than 100 times in the document.