New Orleans Pelicans' long-range shooting specialist JJ Redick has been an outspoken supporter of social justice causes and he and all of his teammates knelt during the playing of the national anthem Thursday night prior to the NBA game against Utah.
Redick, a white player who has been in the league for more than a decade, was asked by Yahoo! Sports afterward about President Trump's recent Tweet where he said he was looking forward to live sports but that he would be turning off any game where a player or coach knelt.
"I don't think anybody in the NBA cares if President Trump watches basketball. I couldn't care less," Redick told Yahoo Sports after the loss to Utah.
"As far as his base, I think regardless of the specificity of tweeting about the NBA, every tweet of his is meant to divide, every tweet is meant to incite, every tweet is meant to embolden his base. So [last week] was no different."
The NBA is giving players plenty of support in their move for social justice. The words Black Lives Matter are on the courts being used in Orlando. The players wore black t-shirts with the words 'Black Lives Matter' on them during the anthem and pre-game. And, players were allowed to put social justice sayings on their jerseys. Redick's said "Say their names" in place of his own name.
The kneeling protest during the anthem began a few years ago with San Francisco 49ers quarterback Colin Kaepernick leading the way. He paid a big price for his actions, going unsigned by any team for the past few seasons despite being a starter prior to being released by the 49ers.
Following a Trump rally in 2017 where he used vulgar language to refer to kneeling players, several players joined the action and that led to a fan backlash.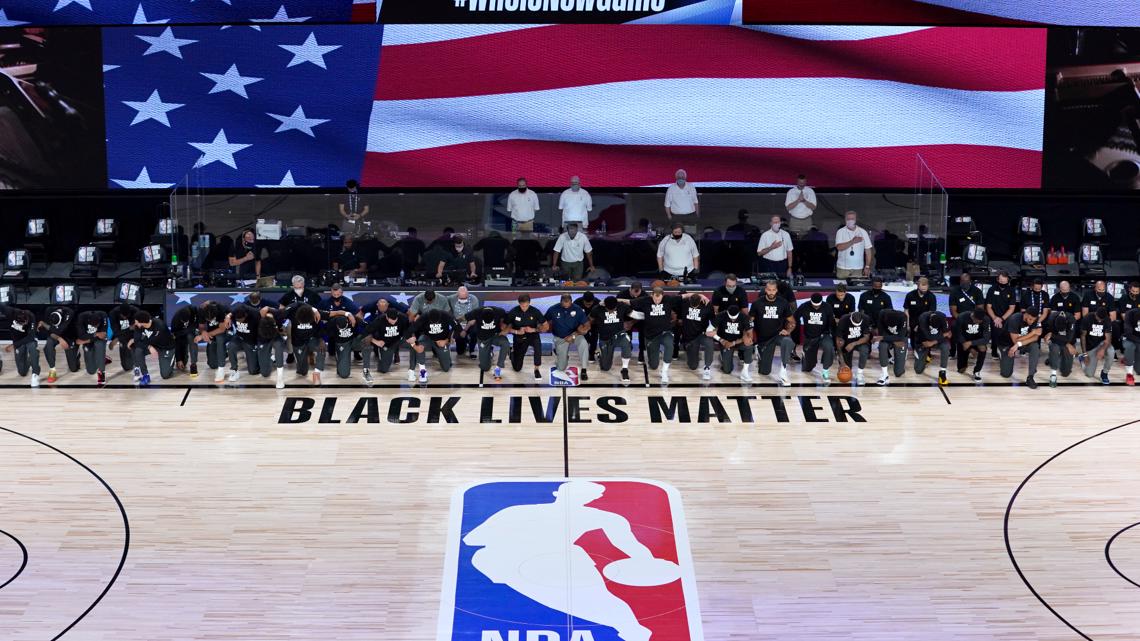 There seems to be more support for players protesting in the wake of the social unrest following the killing of George Floyd by a Minneapolis police officer and other high-profile killings, including those of Ahmad Arbery and Breonna Taylor. However, it remains to be seen if there will be a backlash in the stands.
For now, fans aren't allowed to attend the games, so there's no telling how the decision to kneel for the anthem will impact the live gate. TV ratings should be available soon.
It is also not known how long the players intend to hold the protest.