Snow days were spontaneous vacation days that dotted the annual academic calendar for many school districts in the northeast portion of the United States, but the reason for those class cancellations usually revolved around the safety of students traveling to and from the school building.
But what happens when those learning environments relocate from the classroom to the living room? In a year defined by pandemic restrictions, snow days may be one of the many traditions that kids and teachers alike can bid farewell to -- for better or for worse.
Chariho Regional is located in the town of Richmond, one of many areas in southern New England that could face widespread power outages as a result of heavy snow and fierce winds from a major nor'easter that's expected to hit during the middle of this week.
The school district, which is still currently meeting in person, continued in its statement by saying that separate plans have been developed for students "who have access to WiFi as well as plans for those that have no power." Superintendent Gina Picard said later in the statement that plans will be continually reassessed and a decision regarding the move to distance learning would be made on Wednesday morning.
An alert on the district's site Tuesday afternoon read that Dec. 16 will be an early release day. High school and middle school was expected to dismiss at 11:30 a.m. and elementary school will end at 12:45 p.m.
For other school districts, such as the Waterbury Public Schools in Connecticut, classes have already been transitioned to be completely remote since mid-November.
"For the 2020-2021 school year, Waterbury Public Schools, will eliminate inclement weather days and other emergency closure days by utilizing virtual instruction," the district says on its website. "On those days, students will follow their current daily schedule, logging in virtually. The only exception will be if there are widespread power outages throughout the city. In that situation, the district will cancel school and make up the day at the end of the school year similar to previous years."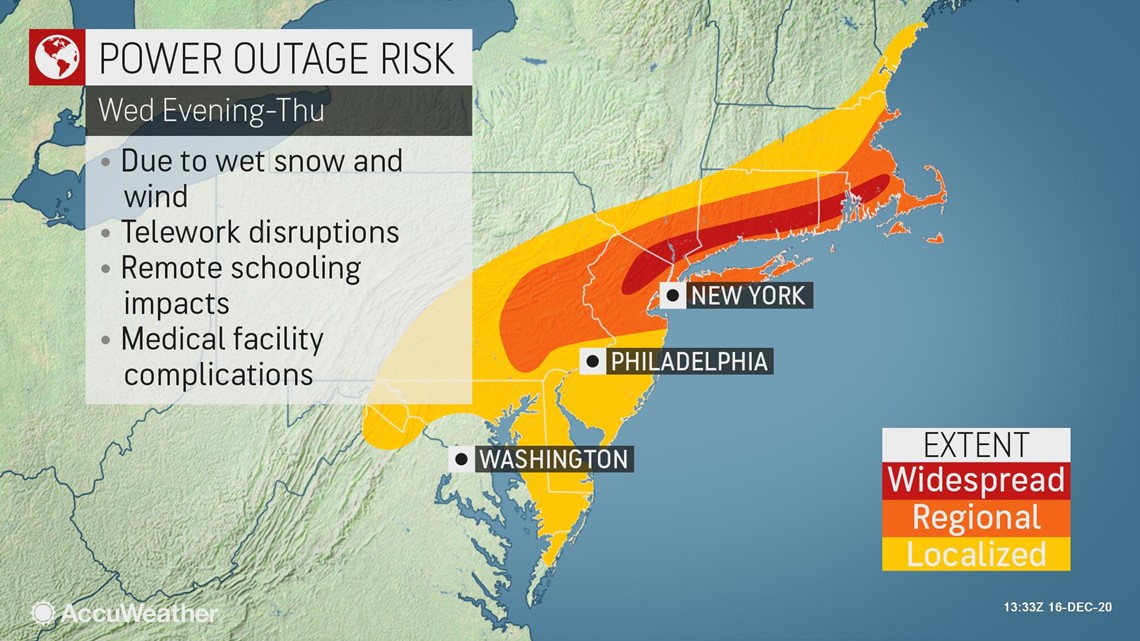 Sujata Wycoff, the district's Director of Communications, told AccuWeather that the decision to hold classes remotely would remain through the entire school year.
"Whatever the weather may bring, we'll take a look at isolated storms and their power outages and continually reassess, but this is for the duration of the school year," she said.
"We're very aware that that occurs very often in Connecticut even with just wind gusts, we see power outages. What we'll look at is how widespread they are from a storm," Wycoff said. "If it's a majority of our students and staff that are impacted, then we will likely have some kind of closure and that day would be added to the end of the school year, similar to previous years. But we're really going to take it one storm at a time, one case at a time and assess as we go through the winter months."
Similarly, the nation's largest school system, in New York City, also made the decision to permanently cancel snow days, citing the pandemic.
Many schools in Massachusetts have made similar decisions, although superintendents such as John Marcus of Stoughton Public Schools, just outside of Boston, recognized that even with remote learning, delayed starts or snow cancellations may still be necessary.
"We anticipate that most snow days will be 'remote' days; however, circumstances at the time (primarily power outages) may require us to call it a regular snow day," Marcus wrote in a letter to families. "Delayed starts for both in-person and remote learning are also still a possibility depending upon the weather."
AccuWeather forecasters have warned that power outages, along with travel shutdowns and shipping delays, could be very likely results of this week's major storm.